Always dreamed of building your own home on the East Coast? If a shortage of time or money is holding you back, a barndominium in New York could be the perfect solution. Offering equal amounts of personality and practicality, barndominiums can be tailored to your fit your exact requirements, without breaking the bank. Sound good? Read on to learn everything you need to know about building a barndominium in New York.
Barndominiums in New York
While most people associate New York with the bright lights of Manhattan, the wider state is actually more than 86% rural. In fact, New York's landscape boasts stunning rivers, forests, lakes, and working farmland. And this open countryside is the ideal spot for a barndominium.
From Albany to Buffalo, barndominiums in New York offer an escape from the hustle and bustle of city life. You can build a custom barndominium on a budget on a plot of land of your choosing, while never being too far from the action. So, whether you want to be close to good commuter links or out in the sticks away from noisy neighbors, the choice is yours! You'll also enjoy the state's warm, sunny weather from springtime right through to the fall.
Not sure where to start with your build? From the initial concept to creating barndominium floor plans and finding the best builder, our Dream Barndo eBook will help guide you through the process.
What is a Barndominium and what are its advantages?
A barndominium is a home built using the structure of a metal pole barn or post-frame building. Barndominiums are typically made from robust steel posts and panels, to create a highly durable, weatherproof home for all seasons. This means you won't have to worry about your barndo warping or rusting when winter rolls around.
Custom barndominiums can also take on any configuration you like, though they usually incorporate a living area built around or above a large open space. Traditionally, this would have been a barn, but the space can be used for a variety of different purposes. Think workshops, garages, art studios, fitness suites, retail stores, or even just extra storage space.
Barndominiums are generally much cheaper to build than traditional homes. This is even more true in New York – a state known for its pricey property market. The average cost of building a home in New York was $330 per sq. foot. Of course, this doesn't include any fixtures or fittings – just the bare bones of the house.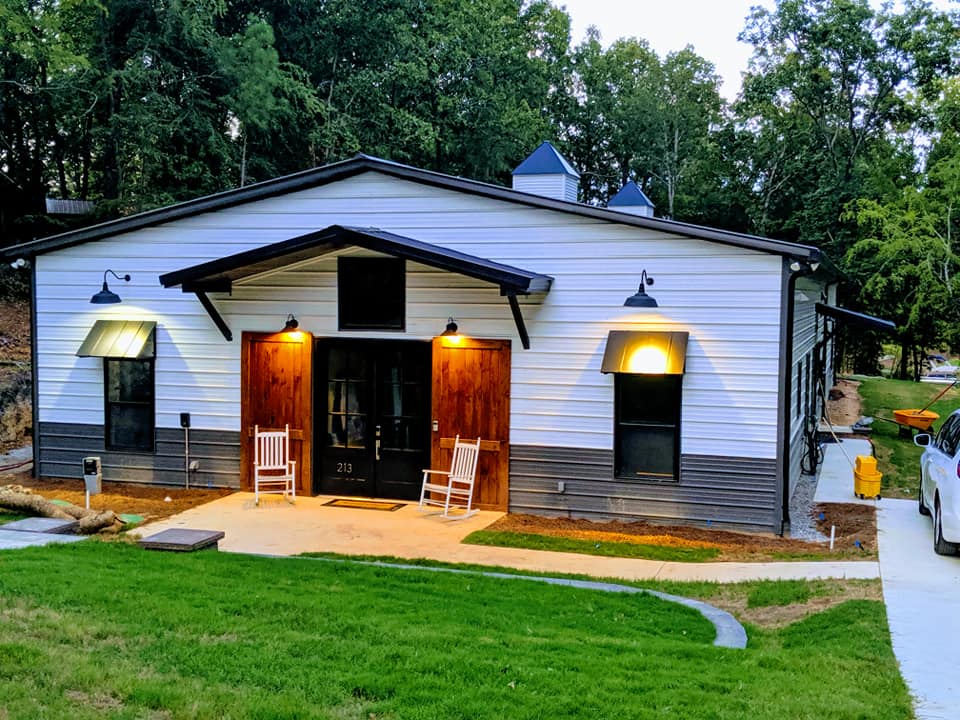 In comparison, the cost of building a barndominium in New York is roughly $270 per sq. foot. This is considerably less than a brick-and-mortar home, especially if you're planning a large property. As a result, you'll have money left over to customize your home however you wish.
Wondering how long it will take to build a barndominium in New York? Well, another key benefit of this type of home is that it can be constructed in half the time of a classic home. This is thanks to their post-frame structure and concrete slab foundations, which are much faster to assemble. So, instead of waiting for at least a year for your home to take shape, you could move in within 6 months.
Barndominium Builders in New York
One of the most important parts of building a barndominium in New York is choosing the right team to help you. While a general builder may be cheaper, they will likely lack the expertise to make your dream home a reality. Instead, you want to look for experienced barndominium builders in New York. They should have a great track record of constructing homes similar to the one you're planning, with lots of positive reviews to back them up.
If in doubt, Fingerlakes Construction is one of the top-rated post-frame builders in New York, serving the Finger Lakes and Central New York region. Their team has been building barndominium homes, garages, pole barns, and more for over 50 years. They can also help to ensure your home meets all the regulations for your area, so you don't run into problems down the line.
If you want to speed up the building process even more, why not invest in a barndominium kit? Instead of having to craft a design from scratch, these kits include tried and tested plans that you can utilize when creating your own home. They also provide advice on suppliers and materials in your area, which is ideal for those who have never built a barndo before.
All you need to do is choose the size of home you would like, along with the overall aesthetic and any optional extras for the interior. Barndominium kit providers for New York can then provide all of the pre-made components needed to bring your home to life. This approach will also make life easier for your builder, as each piece is designed to fit together perfectly.
Alternatively, since everything is provided, you could even construct your own home! As well as reducing costs, this would also be a very rewarding experience for you as the owner.
Barndominium Financing in New York
Whether you decide to build your barndominium in New York from scratch or use a pre-fabricated kit, you'll likely need some help to fund it. Luckily, there are several different options when it comes to barndominium financing in New York.

One of the best resources for getting barndominium financing is by using BarndominiumLoans.com. They are a quote service that takes down your information and works behind-the-scenes with vetted lenders who are best for your location and financial situation.
Whether you have a perfect credit score or a subpar one, and whether you're located in South Carolina or South Dakota, you can submit your information to get a quote within 24-48 hours.
Barndominium Financing Request
Farm Credit
Farm Credit offers a multitude of financial products and loan options to customers across New York state. They serve everyone from agricultural business owners and local cooperatives to individuals and families looking to buy or build homes in rural locations.
Farm Plus Financial
Farm Plus Financial is another leading farm loan provider in New York that provide flexible loans for refinances, purchases and expansions. In addition, they finance the development of rural properties and large acreage homes that don't quite fit the residential mortgage box.
Maple Tree Funding
Alternatively, if you're on a low-moderate income, you may be eligible for a New York USDA Mortgage. If you qualify, Maple Tree Funding can help you access a deposit-free loan to help you purchase a rural barndominium in New York within a designated location.
Barndominium Floor Plans in New York
Looking for inspiration for your own build? From open-concept plans to designs that incorporate shop space, explore some of our favorite barndominium floor plans below:
Don't want all the hassle of building a barndominium from the ground up? Then you may want to buy an existing barndominium in New York! With our Barndominiums for Sale Marketplace, you can browse to your state and find a barndominium for sale near you.
The beauty of buying an existing barndominium is that it can be really easy to customize the floor plan to your liking. The previous owners' setup is just a starting point! Also, by buying a barndominium in New York, you bypass the potential troubles of the building process – delays, dealing with contractors and subcontractors, and city or county bureaucrats trying to make your build process a nightmare.
Don't delay – find a barndominium for sale in New York now!
Conclusion
We hope this guide has helped you gain a better understanding of building a barndominium in New York. If you'd like more tips and tricks on how to move forward with your project, don't forget to order a copy of our Dream Barndo eBook.
Or if you have a more specific question, you can read more helpful articles on our dedicated FAQ page. From essential plumbing advice to choosing the best exterior color for your property, we've got you covered.