People all over the world tend to have one thing in common: they all share a dream of building their own homes for themselves and their families. By building your own home, you can be certain that it will be up to your exact specifications and that you will be as comfortable as possible there. Unlike buying a home that is already built, you can design something that will be personalized to your exact lifestyle and will work for you in the long run. Plus, you can build it to match your own visual style and use it to say something about who you are as a person.
However, almost anyone who has looked into building their own home will have had the same thoughts when it comes to actually get the project started. The cost of doing something like this along with the procedures and red tape that you have to jump through in order to build a home can be enough to put someone off for a long time. Luckily, building a barndominium in Florida can be quite a bit easier and cheaper than a traditional home build, and this can open the whole process up to a wider range of people and incomes.
In this guide, we will lay out everything you need to know about building a barndominium in Florida. By understanding what it takes and what you need to keep an eye out for, you can get this project started off on the right foot and give yourself a much higher chance of success.
What Is a Barndominium and What Are Some of the Advantages?
A barndominium is a home that is built from a metal post frame structure. While these homes may look like barns on the outside, on the inside they are built out like any other traditional home. This allows you to create the exact type of home that you want without having to sacrifice anything in the budget that you would normally have to. Barndominiums started popping up in planned communities in the 1980s but didn't become popular until the mid-2010s when the country home style really started to take off. Since then, they have become more and more common in rural areas and suburban areas alike and have been taken to some very interesting places design-wise.
One of the main advantages of building a barndominium in Florida is the fact that it can be so much less expensive to build. The construction itself is quite a bit easier to do and this can save you both time and money on your build. Unlike a traditional home, a barndominium in Florida can be built in about six months as opposed to a year or more. This saves money on labor and also makes the process easier for you and the builder you end up hiring. By saving this money and time on your initial construction, you end up having more time to design the things you want to be sure you have in your custom dream home.
One of the other major benefits of building a barndominium in Florida is the fact that they are so much easier to maintain. Since barndominiums are built from steel, there is not nearly as much wood involved as there would be with a traditional home. This is perfect for a state like Florida where there is a lot of moisture and humidity in the air. Barndominiums are much less susceptible to things like rot and mildew, which can quickly turn into deterioration and structural issues.
Cost of Building a Barndominium in Florida
When you are figuring out how much money to spend on a barndominium build, you will first have to figure out just how much house you can afford. This is done by calculating the cost per square foot for your project. One of the main benefits of budgeting this way is that you get to find out how much square footage you can actually afford to start with. By understanding the limitations you are working with, you can start to design your home from the ground up. This is a very important part of building a barndominium in Florida as well as any other custom home build you might be thinking of starting.
The cost of building a traditional home in Florida is around $300 per square foot on average. This is the cost for the initial construction, meaning it does not include any of the extras like custom cabinetry or appliances. Because of this, you will have to build the cost of those things into your budget. This can quickly elevate the cost of your home build and take you far away from what you originally thought your home would cost.
The cost of building a barndominium in Florida is quite a bit less. In fact, a barndominium in Florida costs, on average, $220 per square foot. While this doesn't seem like a very large difference, when it is spread out over the course of a 2,000 square foot or more home, this can add up very quickly. This gives you all kinds of extra money in your budget for the things that you might want to include in your custom home.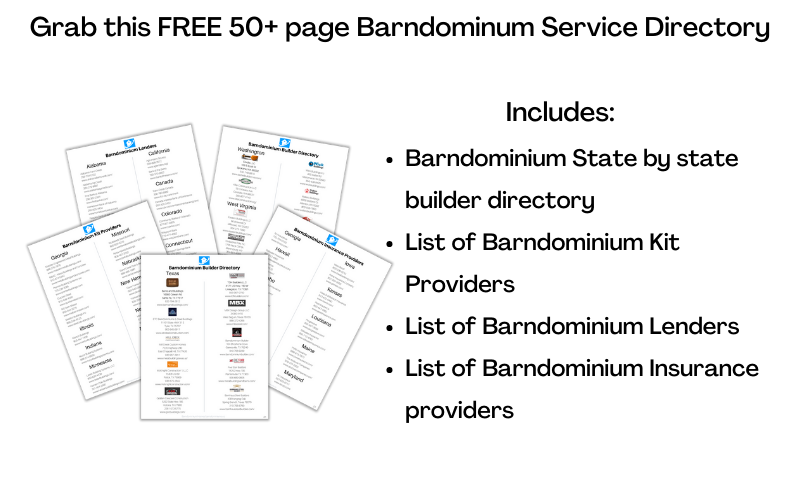 Barndominium Builders in Florida
Finding a builder is an important part of building a barndominium in Florida. There are a few things you should look for in a barndominium builder and the more of these boxes you can check off, the better off your barndominium build will be. Not all construction companies are going to be equal, so it is important that you know what to look for.
One of the things you should look for in a builder for your barndominium in Florida is experience. Some construction companies will not have experience in building metal pole structures. It is very important that you look for a builder that has built this kind of structure before and knows what they are doing when it comes to metal buildings. The process is very different from a traditional home.
You should also make sure you find a builder that has good relationships with their previous customers. There are many places online where you can look for reviews of construction companies. Try to find builders that have delivered high-quality results that their customers were satisfied with. To help you through the process, we have put together a short list of some of the best builders for a barndominium in Florida.
CC Welding & Construction
CC Welding & Construction has experience in all kinds of metal structures and buildings. If you are looking for a builder who can help make your barndominium in Florida a reflection of your personal taste, they could be a great option.
Greene Construction
Greene Construction works exclusively in steel and concrete structures. Because of this, they could be a great choice for building your barndominium in Florida. They have the ability to build the whole thing from the ground up.
Buildings By Bill, Inc.
Buildings By Bill, Inc. serves the entire Florida and specializes in custom homes and barns. Each of their buildings is designed and built according to your needs and your budget to fit what works for you. Great customer service ensures that they put great attention to detail so you get what you desire.
Keen's Portable Building
Keen's Buildings is a local provider of metal buildings and pre-fab portable structures. They also provide assistance with financing to free you of stress. Founded in 1999, the company ensures customer satisfaction in the entire Florida and Georgia.
Barndominium Kit Providers in Florida
Not everyone wants to build a barndominium in Florida completely from the ground up. If this is the case for you, a barndominium kit could be the solution you are looking for. Barndominium kits come with everything you need to get your barndo up off the ground and ready to go in one convenient package. Check out these barndominium kits under 50k and barndominium kits under 100k.
Barndominium kits can be ordered from providers all over the country. Some providers will even have recommendations for contractors in your area that are certified for building their specific kits. Many of them will also provide comprehensive support for your entire build process.
Barndominium Financing in Florida

One of the best resources for getting barndominium financing is by using BarndominiumLoans.com. They are a quote service that takes down your information and works behind-the-scenes with vetted lenders who are best for your location and financial situation.
Whether you have a perfect credit score or a subpar one, and whether you're located in South Carolina or South Dakota, you can submit your information to get a quote within 24-48 hours.
Barndominium Financing Request
Farm Bureau Bank
Farm Bureau Bank is dedicated to helping people within the farming community of Florida find the financing for their agricultural projects. Working with them to get the loans for your barndominium in Florida could be a great choice if you are planning any agricultural projects.
Farm Credit of Northwest Florida
Farm Credit of Northwest Florida understands what the needs are of the community in Northwest Florida and beyond. If you want to work with a bank that will support you every step of the way, they could be a good option.
Barndominium Taxes in Florida
Just like with any other home, you will have to pay taxes on your barndominium in Florida. One thing that you will have to remember is the fact that most barndominiums will have separate areas for shops and garages that are all storage. Some states will require you to pay different taxes on these spaces than you would normally pay for your living space.
To work out the taxes on your barndominium in Florida, you will have to get a tax assessment on the property. The tax assessor will come out and inspect the property. They will then let you know how much you will be required to pay when tax season rolls around.
Where to Find Barndominium Insurance in Florida
Barndominium insurance will be necessary if you plan on living in your home for an extended period of time. It is highly recommended and could end up saving you a lot of money and time in the long run. Barndominium insurance is generally the same as any other type of homeowner's insurance, with a few different caveats.
One of the major differences between barndominium insurance and standard home insurance is the dual-use. Some barndominiums will fall under the category of dual-use insurance meaning part of it is for residential purposes and other parts are for storage. An insurance company can let you know what kind of category your barndo falls under.
Barndominium Floor Plans in Florida
Finding a floor plan for your barndominium is incredibly important. There are a wide variety of floor plans available and finding one for your barndominium in Florida should be fairly simple. Depending on your needs and wants, there may be a plan that is already drawn up for you to start with.
If not, you can work with a draftsman to put together the floor plan for your barndominium in Florida. A draftsman can help you design your home and make sure you get everything you want included with your home. They can also make sure the plan is standardized and will be easy to follow for your builder. Or you can also be creative and make your own floor plan with the help of our best barndominium design software.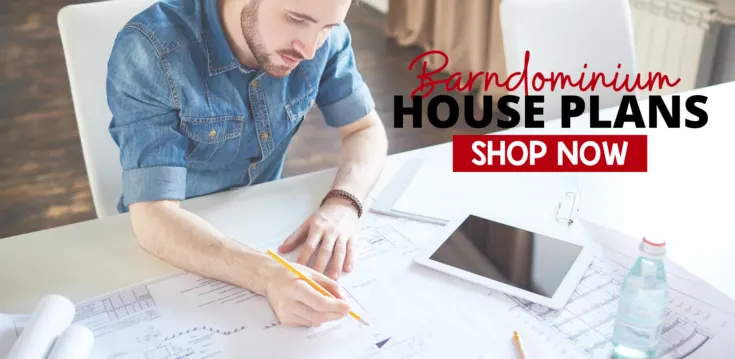 Don't want all the hassle of building a barndominium from the ground up? Then you may want to buy an existing barndominium in Florida! With our Barndominiums for Sale Marketplace, you can browse to your state and find a barndominium for sale near you.
The beauty of buying an existing barndominium is that it can be really easy to customize the floor plan to your liking. The previous owners' setup is just a starting point! Also, by buying a barndominium in Florida, you bypass the potential troubles of the building process – delays, dealing with contractors and subcontractors, and city or county bureaucrats trying to make your build process a nightmare.
Don't delay – find a barndominium for sale in Florida now!
Conclusion
Building a barndominium in Florida is a rewarding project for anyone. By saving some money on your labor and materials, you can get the home you have always wanted. Plus, it will be something that is incredibly unique and specific to your tastes.
If you would like some more information, be sure to check out the rest of Barndominiums.co. We have all kinds of in-depth guides and information to help you get started on the right foot with your barndominium in Florida.