Building a custom home is a dream for a lot of people. Being able to design your house to fit in with your unique and particular lifestyle is something that most people would love to have in their lifetime. A home that you have designed yourself and created to be a perfect fit for you and your family is a wonderful thing and if you have the means to do it, it can be incredibly rewarding. However, it can be incredibly expensive and stressful to build your own home. It's not an easy project and there is a lot of money to save up and hoops to jump through with a big project like this.
That's why building a barndominium in Ohio is such a great option. There are so many benefits to this unique and interesting style of home and it can be a lot more accessible to a wider range of people. With the alternative housing movement booming, it's no wonder barndominiums are becoming more and more popular. Banks are becoming less reluctant to lend out money for this kind of a project and many more construction companies are starting to specialize in homes that are less than traditional. This makes building a barndominium in Ohio a good option for someone who might be a first-time home builder or perhaps hasn't been able to get the funds together for a traditional house.
In this guide, we have put together everything you need to know about building a barndominium in Ohio. By understanding everything that goes into a project like this, you can get yourself started on the right foot and give yourself a much better chance at success.
What Is a Barndominium and What Are Some of the Advantages?
A barndominium is a home that is built from a metal post frame structure. Metal post-frame structures are usually used for things like barns, stables, and shops on farms and in other areas of industry. Because of this, they tend to be very easy to build and can be put up in a short period of time. However, this doesn't mean that they are any less durable. A barndominium is framed up and finished on the inside just like a traditional house. In fact, once you are inside a barndominium, you would be hard-pressed to know that it looked any different on the outside.
One of the major benefits of building a barndominium in Ohio is its ease of construction. A traditional home can take a year or more to get up off the ground. A barndominium, though, can usually be built in around six months if everything goes smoothly. Because of this, they are a favorite option for people who want to save money on their construction costs and make the process a little less stressful.
A barndominium in Ohio is also going to be quite a bit more durable than a traditional home. The all metal construction makes it less susceptible to things like snow and ice. When homes go through harsh winters, they can end up with large amounts of rot and deterioration on the wood. A barndominium in Ohio won't have this issue and will require far fewer repairs after a particularly brutal winter.
Cost of Building a Barndominium in Ohio
When deciding on a budget for a home build, you will have to figure out how much it will be per square foot. There are many benefits to budgeting this way, but one of the biggest ones is that it will allow you to decide how much home you can actually afford. The cost per square foot will only include liveable space, though. It will not include things like garages, shops, attics, or outbuildings that you might want on your property. It will also only include the cost of the initial construction and not anything like electronics or appliances, so those will need to be added to the budget separately.
The cost of building a traditional home in Ohio is around $210 per square foot. This will get you the actual structure of the home and finishing it out will require you to add quite a bit more money to the budget. It will also heavily depend on the area that you are planning to build and the time of year. You will have to get a quote from a builder to find out exactly how much a project like this will cost.
A barndominium in Ohio costs, on average, $186 per square foot. At first glance, this might not seem like that much of a difference. However, when this amount is spread out over the entirety of a 2,000-square-foot home, it can quickly add up to a much cheaper build cost. With this extra money, you can include all the things that you would probably want to add to a custom home that you have designed yourself like appliances, electronics, and custom cabinetry.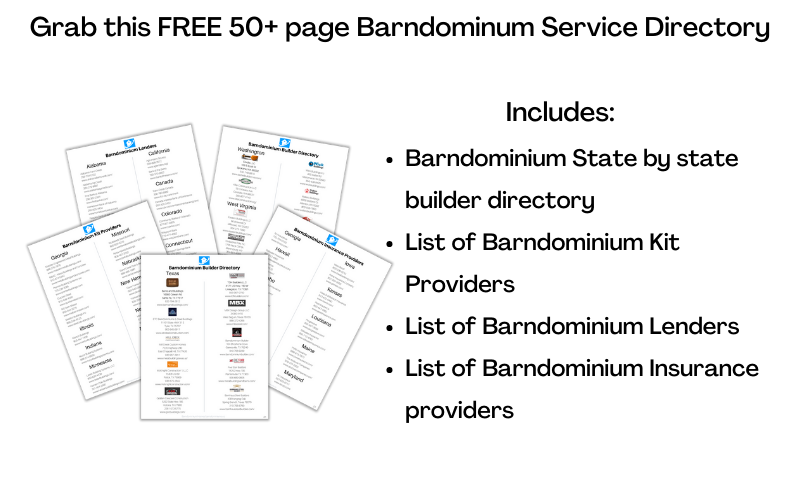 Barndominium Builders in Ohio
One of the most important decisions you will have to make when building a barndominium in Ohio is your choice of a builder. Someone will have to do a lot of the heavy lifting and skilled work that is required for a complicated project like this one. For your safety and the safety of your family, it is very important that you find someone who knows how to do this kind of work and can manage it successfully. It can be difficult to find the right builder for your barndominium in Ohio since the construction business is so varied. However, there are a few things you can look for in a builder that can help you along in the process.
One of the things you should look for in a builder is experience. Not every builder will have the knowledge and expertise to build a metal pole building. Finding someone who has done this kind of work before is a good way to ensure that your barndominium will be built correctly.
You should also look for a builder who has a good relationship with the people they have worked for in the past. If a builder has a lot of good reviews, you can be more or less certain that they will be able to deliver a high-quality product to you as well. To help you along in the process of finding a builder, we have put together a short list of some of the best builders for a barndominium in Ohio.
Craig Moran Construction
Craig Moran Construction is a fairly new builder, but they have years of experience that they can bring to your barndominium in Ohio. They are dedicated to helping their customers get the homes that they have been dreaming of and can work with you to build the home of your dreams.
Dutch Builders
Dutch Builders specializes in post-frame buildings and have been working with customers all over the Ohio area since 2008. They know everything there is to know about building this kind of structure and can make sure that yours is constructed to your exact specifications.
Extreme Post Frame
Extreme Post Frame is a builder that can help you come up with the best possible construction plan for your barndominium in Ohio. Their staff is professional and experienced with this kind of project and they can work with you to put together a floor plan that will work best for you and your family.
Barndominium Kit Providers in Ohio
If you are not interested in building a barndominium in Ohio from scratch, there is another option for you. You can order a prefabricated barndominium kit from a provider that will arrive in one complete package at your build site. Many people choose this option because it can cut the time of your construction down considerably.
Many barndominium kit providers will help you find a builder in your area that is familiar with their kits and can help you with the construction. Many of them will also provide comprehensive support throughout the entire process so you have someone on your side until the kit is completely built. Check out these barndominium kits under 50k and barndominium kits under 100k
Barndominium Financing in Ohio

One of the best resources for getting barndominium financing is by using BarndominiumLoans.com. They are a quote service that takes down your information and works behind-the-scenes with vetted lenders who are best for your location and financial situation.
Whether you have a perfect credit score or a subpar one, and whether you're located in South Carolina or South Dakota, you can submit your information to get a quote within 24-48 hours.
Barndominium Financing Request
Citizens National Bank
Citizens National Bank is committed to helping the people of Ohio get the lending they need for their projects. They are the official lender for the Farm Services Agency and are one of the largest lenders in the entire state.
Southern Hills Community Bank
The bankers at Southern Hills Community Bank have relationships with everyone they work with. They are connected to the community and do their best to get the people who live and work there the funding they need for their projects.
Barndominium Taxes in Ohio
Taxes on your barndominium in Ohio will need to be paid just like they do for any other type of home. However, one difference is that a barndominium will often fall into the dual-use construction category of the tax code. This is due to the fact that barndominiums are often used for residential and storage purposes.
To find out what category your barndominium in Ohio falls under, a tax assessor will have to come to do an inspection. This can be done through your local assessor's office and will help you find out what kinds of property taxes you need to pay.
Where to Find Barndominium Insurance in Ohio
If you are planning on living in your barndominium in Ohio for a long period of time, insurance is a good idea. For the most part, you will be able to get regular homeowner's insurance just like you would for a traditional home. In this way, there is not much difference aside from what kind of insurance will be the right kind for you and your specific purposes.
Barndominium Floor Plans in Ohio
Before you can begin construction on your barndominium in Ohio, you will have to get a floor plan drawn up. Floor plans will dictate what the interior of your barndo looks like and what the layout of all the different rooms will be.
A draftsman can help you create a floor plan that can be followed by a builder. Before going to a draftsman, write down all your ideas and everything you want to include. Then, they can take those ideas and create something that is drawn to scale and will be used throughout the construction process to guide the interior design. If you want to be more hands-on, you can design your own plan with a barndominium design software.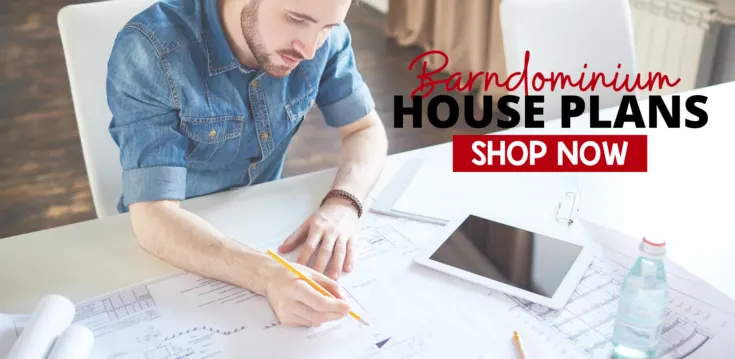 Don't want all the hassle of building a barndominium from the ground up? Then you may want to buy an existing barndominium in Ohio! With our Barndominiums for Sale Marketplace, you can browse to your state and find a barndominium for sale near you.
The beauty of buying an existing barndominium is that it can be really easy to customize the floor plan to your liking. The previous owners' setup is just a starting point! Also, by buying a barndominium in Ohio, you bypass the potential troubles of the building process – delays, dealing with contractors and subcontractors, and city or county bureaucrats trying to make your build process a nightmare.
Don't delay – find a barndominium for sale in Ohio now!
Conclusion
Building a barndominium in Ohio is an incredibly rewarding and valuable thing. If you are able to see a project like this through to the end, you and your family could be very happy living in a place that is conceived, designed, and built by you.
By reading this guide and the rest of Barndominiums.co, you have a good idea of what it takes and what you need to consider when building a barndominium in Ohio. Having all of this information will get you started on the right track and get you thinking about what steps to take to get your project off the ground so you can build your very own custom dream home.