A complete home build is a big project that takes a lot of skill and planning no matter what the floor plan and blueprint is like. It can be very difficult and there are a lot of things to consider. However, it can also be incredibly rewarding and allow you to live in a home that is built to your exact specifications and needs.
This is something everyone dreams about at some point and being able to actually do it is one of the most amazing things. When many people get started, though, they often find that the money they need in order to get it going as well as the hoops they have to jump through are just too much. They can put a roadblock in front of anyone and make it seem like the task is nearly impossible.
That's why building a barndominium in North Carolina is such a great option. There are many advantages to building this unique and interesting type of home and it is also much more accessible to a wider variety of people than a traditional home build. Plus, with the popularity of alternative housing like tiny homes, RVs and vans, there are a lot more options open to you when it comes to finding builders and getting financing.
In this article, we have laid out everything you should know before you start planning to build a barndominium in North Carolina. By understanding everything that goes into a project like this, you can be as prepared as possible when the time actually comes to start building.
What Is a Barndominium and What Are Some of the Advantages?
A barndominium is a home that is built from the shell of a metal post frame structure. Post-frame buildings are usually used for industrial and agricultural applications like stables, shops, and barns. However, they can be framed up on the inside and made to look and feel just like a traditional home. With a little bit of extra work, you would never even know that the home you are in was built from the shell of a barn.
One of the major advantages of building a barndominium in North Carolina is the cost and ease of construction. Metal pole barns are generally easier to get up off the ground than a traditional stick-framed home. Because of this, the cost of construction is less and the labor that is required is generally cut in about half. This takes away a lot of the stress and aggravation that comes with a long, drawn-out construction process and can make building a barndominium a much easier undertaking.
One of the other benefits of building a barndominium in North Carolina is its durability. Barndominiums have an all-steel construction and are less susceptible to things like rot, mold, and mildew. This is a perfect feature for a home that is located in a humid area with a lot of atmospheric moisture like North Carolina. It can help cut down on costs associated with large repairs and structural problems further down the line. This contributes to the lower overall cost of a barndominium in North Carolina.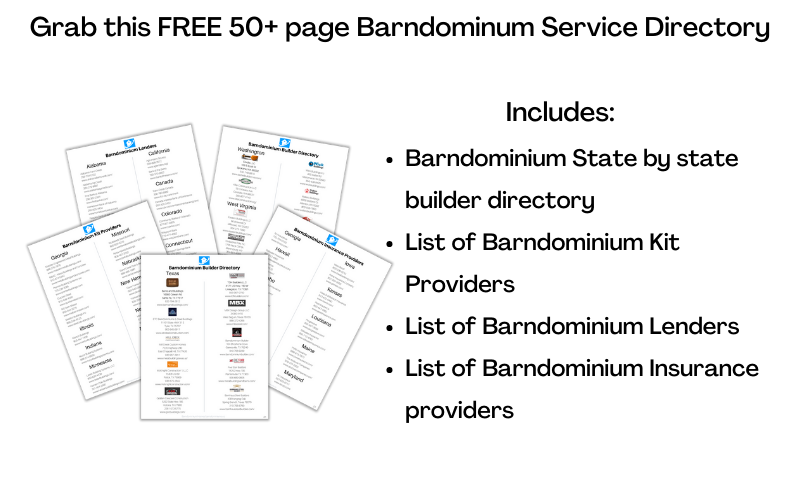 Cost of Building a Barndominium in North Carolina
One of the first things you will have to do when building a barndominium in North Carolina is to figure out what your budget is. Not everyone will have the same amount of money available to them to get their dream home built and doing this will help you get an idea of what you can afford. When you are budgeting for a home build, you should figure it out by finding out the cost per square foot. This will help you decide what the overall size of your barno can be and that will dictate how many bedrooms, bathrooms, and other utility-type rooms you can include.
The cost of building a traditional stick frame home in North Carolina costs, on average, about $320 per square foot. This will cover the initial construction of the actual structure itself. It will not include things like windows and doors, painting, and appliances. Those things will have to be budgeted out separately and included in your overall budget plan. This can quickly add up and cause the complete cost of your home to escalate beyond what you might be able to afford.
A barndominium in North Carolina costs, on average, $240 per square foot. At first glance, this may not seem like it is a huge difference. However, when you spread this out over the entirety of your barndominium, which can be upwards of 2,000 square feet or more, you can see how this lower cost can end up saving you a lot of money in the long run. This opens up more room in the budget for things like custom cabinetry, countertops and all the things that make a home you have built yourself worth all the work.
Barndominium Builders in North Carolina
After you have figured out your budget, you will have to decide who you are going to hire to actually build your barndominium in North Carolina. If you are skilled enough, you can do many of the construction jobs yourself. However, when it comes to putting up the actual structure and getting everything up to code, it is highly recommended that you hire a professional to ensure that the jobs are done correctly and safely.
One of the things you should look for in a builder for your barndominium in North Carolina is experience. Not every construction company will have the experience necessary to build a metal pole barn. Many construction companies work with stick frame buildings and don't have the right background for the type of work you need. Luckily, there are companies that specialize in metal buildings, and finding one of them will be your best bet for getting the end result you need.
You should also look for a builder that has a history of good relationships with their clients. Building a home is an incredibly personal thing and finding someone who will work with you and be there every step of the way is very important. Look around at reviews from previous customers and see how companies have worked with them and if they have been happy with the final product. To help you get started, we have put together a short list of some of the best builders for a barndominium in North Carolina.
Amplify Buildings
Amplify Buildings serves customers all over the United States and has helped thousands of people build the steel buildings they need for their construction projects. They specialize in exactly the type of projects you will need to build your barndominium in North Carolina
Circle M Construction
Circle M Construction focuses on boutique construction projects and work to create things that are beautiful and specific to your exact taste. They can help you design and build the barndominium of your dreams.
Hoover Buildings
Hoover Buildings specializes in metal pole structures and post-frame buildings. They work with people all over North Carolina and will help you every step of the way through the construction of your barndominium in North Carolina.
Barndominium Kit Providers in North Carolina
If you don't want to build a barndominium in North Carolina from scratch, you also have the option of purchasing a barndominium kit. Barndominium kits will come prefabricated and with detailed instructions on how to get the post-frame building up off the ground. Plus, they come in one convenient shipment so you don't have to spend time sourcing materials.
Many barndominium kit providers will also help you find a builder who is familiar with their kit types. Some of them will even send a contractor out to your build site to supervise the construction as it happens. Check out these barndominium kits under 50k and barndominium kits under 100k
Barndominium Financing in North Carolina

One of the best resources for getting barndominium financing is by using BarndominiumLoans.com. They are a quote service that takes down your information and works behind-the-scenes with vetted lenders who are best for your location and financial situation.
Whether you have a perfect credit score or a subpar one, and whether you're located in South Carolina or South Dakota, you can submit your information to get a quote within 24-48 hours.
Barndominium Financing Request
Farm Credit of North Carolina
Farm Credit of North Carolina works with people in the area to get the financing they need for their agricultural construction projects. If you want to go with a bank that is connected to the area, they could be a great choice.
Southern Bank
Works closely with their clients to ensure that they get the funding they need when they need it. If you are interested in dealing with a bank that focuses on the individual instead of seeing them as a number, they might be the right option for you.
Barndominium Taxes in North Carolina
Once your barndominium in North Carolina is built, you will have to pay taxes on it like with any other home. However, there may be some stipulations that are different depending on the area. These differences are highly individual and will have to be worked out by a local tax assessor.
One of the main differences in barndominium taxes is that they often fall under dual-use construction. If your barndominium has multiple uses like with a shop and residence, you may have to pay different tax rate percentages.
Where to Find Barndominium Insurance in North Carolina
If you plan on living in your barndominium in North Carolina for a long time, barndominium insurance is a good idea. This will protect you and your home as well as the investment in the long term. You never know what might happen and it is always best to be prepared.
Your barndominium should fall under the same categories as any other home for homeowner's insurance. However, it is best to have an insurance agent come look at the home and assess whether or not there is any extra coverage you might need.
Barndominium Floor Plans in North Carolina
When planning out your barndominium in North Carolina, you will have to come up with a floor plan. This will dictate how the home is laid out and where all the different rooms will be. It acts as a guide for the builder once the metal post frame building is put up.
When coming up with your floor plan, write down all of your ideas and all the things you want to be included in your barndo. Then, take these ideas to a professional draftsman. A draftsman will be able to work with you and create a standardized floor plan that can be followed by builders to create your dream home. But if you're up for designing your own plan, you can also do so using a barndominium design software.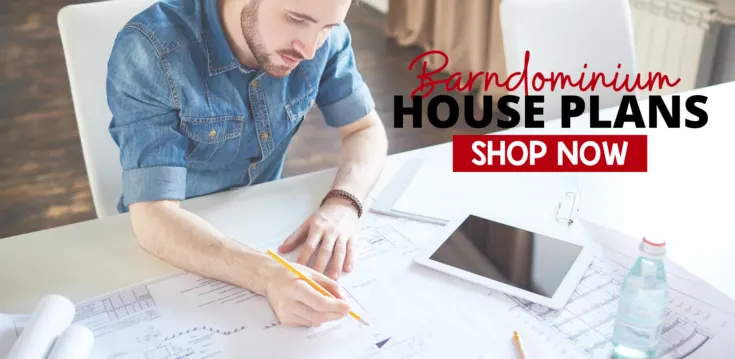 Don't want all the hassle of building a barndominium from the ground up? Then you may want to buy an existing barndominium in North Carolina! With our Barndominiums for Sale Marketplace, you can browse to your state and find a barndominium for sale near you.
The beauty of buying an existing barndominium is that it can be really easy to customize the floor plan to your liking. The previous owners' setup is just a starting point! Also, by buying a barndominium in North Carolina, you bypass the potential troubles of the building process – delays, dealing with contractors and subcontractors, and city or county bureaucrats trying to make your build process a nightmare.
Don't delay – find a barndominium for sale in North Carolina now!
Conclusion
Now that you understand everything that goes into building a barndominium in North Carolina, you can get started on your own project. By having this information at hand, you know where to start and what to look for. This is one of the best ways to get yourself on the right track.
If you want more information on barndominiums and some more in-depth guides, check out the rest of Barndominiums.co. There, you will find everything you need to know as your project progresses and you get closer to move-in day for your custom dream barndominium.