There's a lot of aspects you'll need to consider in the course of building a barndominium, but one of the first and most important things on your list is always going to be the floor plan you'll use.
With the barndominium building niche exploding in popularity over the past few years, there's countless options for barndominium floor plans on the market today, each with their own unique proportions, aesthetic nuances, and optional features.
Your budget, your personal lifestyle needs, and other factors are all going to come into play as you go about finding the barndominium floor plan that's right for you.
In today's post, we'll take a closer look at the key things to bear in mind when you're choosing a floor plan, and list off some of our favorite 30×40 barndominium floor plans to help you get more inspiration and direction.
Before we begin you may want to consider using a 30×40 barndominium kit with your barndominium build. This can help you save time and money!
Barndominium Floor Plans – Things to Consider
Though there are a few standard formats among barndominium floor plans, you'll quickly see that the possibilities are practically endless when you start looking for one that suits you!
When you're looking to narrow down your search, though, there are a few crucial things to keep in mind when you're assessing whether a floor plan is the right choice for you…
Space and Lifestyle
One of the most important aspects to consider when looking at floor plan options is the space you'll need to accommodate your lifestyle.
When faced with all the barndominium floor plans that are on offer, it's a good idea to start by considering the space that you have available in your current home and how much you'd be willing to downsize in the areas where you spend a lot of your time, such as the bedrooms, the living room, and the kitchen.
This will be influenced greatly by the way you see your household changing in the near future.
Is your family poised to grow, or will it shrink as your children fly the nest?
Will you build your barndo as a "forever home" to retire in, or will you be renting it out as a vacation property?
By considering these aspects early in the process and setting non-negotiable minimums in terms of space, you'll be able to avoid disappointment further down the line.
The Flow of Traffic
The natural traffic flow of your household is another important thing to think about when you're filtering out floor plans.
To do this, look at a few floor plans that have already caught your eye, and imagine your household moving through them during the course of a normal day.
Think about how the floor plan will facilitate your moving from your workspace to your kitchen, from the kitchen to the living room, and from the living room to the front and back doors.
Other aspects like being able to stay close to young children, or being within reach of any pets or livestock you're planning to keep on the property, could also be things you'll need to consider.
Obviously, you won't know for sure how well a floor plan will suit your household's traffic flow until the home is built and you're able to walk around it yourself, but taking the time to look at floor plan options and picturing your family living there will go a long way in assessing their suitability for your needs.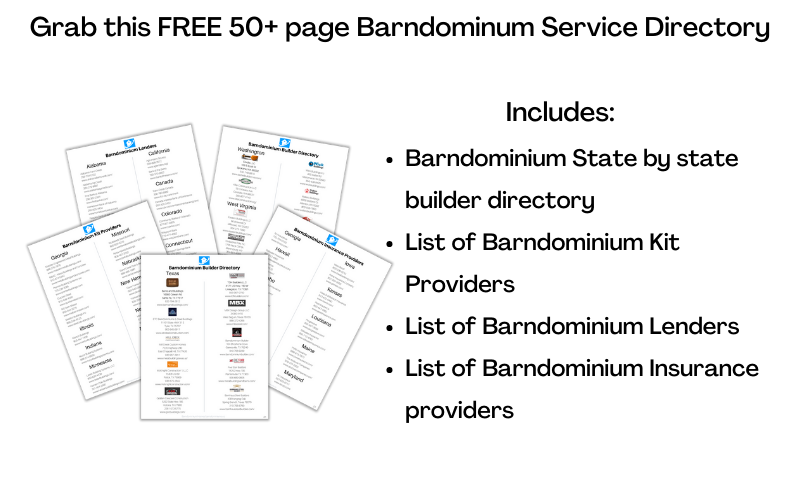 Resale Value
Like traditional self-build homes, a barndominium can be a good property investment.
If there's a possibility that you might sell your barndo at some point in the future, it's important to look at a barndominium's assets from a homebuyer's perspective and how a given floor plan might stress them or dampen them.
Consider things like how the exterior colors will look compared to the area where you're building, the natural views that the windows will face, and how the floor plan will be received by different types of buyers, like newlyweds and retirees.
By framing each floor plan you look at with these kinds of questions, you'll quickly decide on a new set of requirements and be able to filter out a lot of plans that are going to make selling tough later on.
Do some research on the kinds of things homebuyers want, and you'll be able to inform a floor plan choice that will pay dividends in the long run!
30×40 Barndominium Floor Plans with Pictures
Now that you know how to assess your floor plans, here are some of our favorite 30×40 Barndominium floor plans.
We hope these will help you narrow your search and make finding your ideal barndominium floor plan that much easier.
Featuring 2 bedrooms and 2 bathrooms spread across 1233 square feet, this luxurious home was built with your comfort and convenience in mind. Walking in, you'll see a huge great room/kitchen combination, and the kitchen is a cook's dream. Enjoy all that PL-60001 offers in style, comfort, and convenience.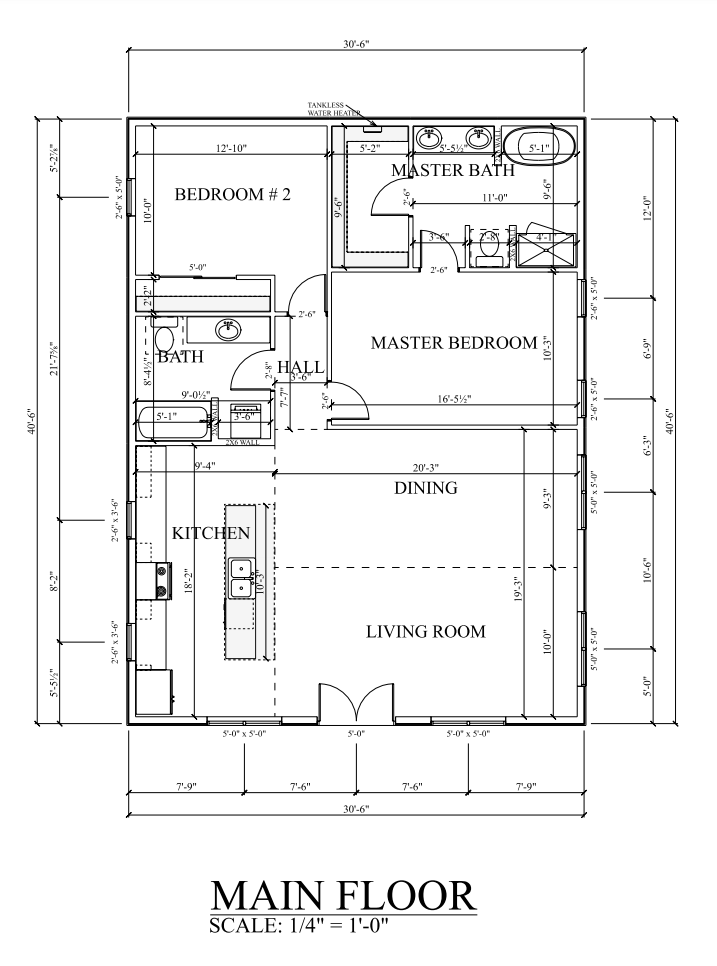 This barndominium is rustic and modern with 2 bedrooms and 2 baths. The open-concept living room, dining room, and kitchen will immediately wow you. The main bedroom's ensuite bathroom adds luxury to this spacious room. The second bedroom is also well-appointed and flexible. It can be a guest room, office, or playroom. Residents and guests can use the nearby bathroom.
While many barndo designs emphasize large, open spaces, this floor plan has partitioned the interior enough that it's much closer to the layout of a classic suburban home.
We love the symmetry between the two bedrooms and how each one has direct access to a central bathroom and near-direct access to a half-bathroom next to it.
This 30×40 Barndominium floor plan has done a great job of using a limited amount of space to create a layout that still feels open, breathable, and welcoming.
The living room has a nice, wide hall straight through to the kitchen, and with both spaces served by doors to the outside, you'll enjoy fantastic freedom of movement from the moment you step through the door!
This barndominium floor plan is perfect for people who value their privacy and like to take a step back from socializing once in a while.
We love the way it affords each of the two bedrooms access to their own equally-sized bathrooms, with each side of the home divided by a neat line of access from the front door to the back.
This is another 30×40 barndominium floor plan where communal space has taken priority.
Though the kitchen is pretty compact, the space sacrificed here has allowed for a large living area, with plenty of room for furniture and amenities past a standard living room suite.
This floor plan is another great example of the perfect use of space, with a clear emphasis on the communal areas and shared experiences.
The two bedrooms share a single bathroom, with direct access from both. This has allowed space for a large kitchen and an even larger living room, connected by a wide passage that starts from a side door and is conducive to laid-back socializing.
This floor plan exhibits a perfect layout for retirees or couples who are living without kids.
The 8 x 18 bedroom almost takes the lion's share of the barndo's total area, with an attached bathroom and walk-in closet that's sure to add a feel of luxury to the space. There's ample room here for a remote working set-up, too, allowing the occupant to get the peace and quiet they need to focus.
This floorplan exhibits an impressive balance, with plenty of floor room allocated for each space without any single area having to make much of a sacrifice.
The living room and kitchen are particular highlights, with each one occupying a long portion in the center of the home, easily accessible from a hallway spanning the width of the house that connects the main entrance to the back.
If you would like more helpful advice from the pros, be sure to check out the rest of Barndominiums.co. There, you will find information on barndominium cost, financing and insurance, and other tips and tricks. You will also find featured barndominiums to help get you inspired and design your floor plan for your own custom home.