Introduction
Here we present Barndominium Decorating Ideas – 5 Inspiring Barndominium Kitchens!
For many people, the kitchen of a house is the heart of it, where you cook for friends and family, socialize and get creative. Choosing a barndominium property is usually born out of the convenience and simplicity of the entire concept, but don't make the mistake of thinking that you would have to compromise the size and style of your dream kitchen. Far from it.
Let us show you some awesome barndominium decorating ideas that focus entirely on creating inspiring and exciting kitchens specifically for your barndominium. Whether you are looking for ideas to renovate your existing kitchen or you are building from scratch, take a look at these barndominium decorating ideas with 5 inspiring barndominium kitchens that you can add to when designing your floor plans. For more inspiration and ideas for your barndominium kitchen, be sure to check out our barndominium ebook which is packed full of vision!
Inspiring Barndominium Kitchen
Rosebud Barndominium, Texas
The creators of this stunning barndominium in Texas certainly succeeded in pulling off a stylish and functional kitchen. The high ceiling provides a bright and airy feel and has been cleverly accented with modern light fixtures that show some of the designer's flair for attention to detail.
The huge granite island in the center of this splendid kitchen is as aesthetically pleasing as it is practical and convenient. Plenty big enough for the chef of the house for preparing a meal, while kids sit doing homework or chatting about their day, or guests enjoy a glass of wine. It is the perfect social space and one that offers plenty of storage solutions too, essential for modern life.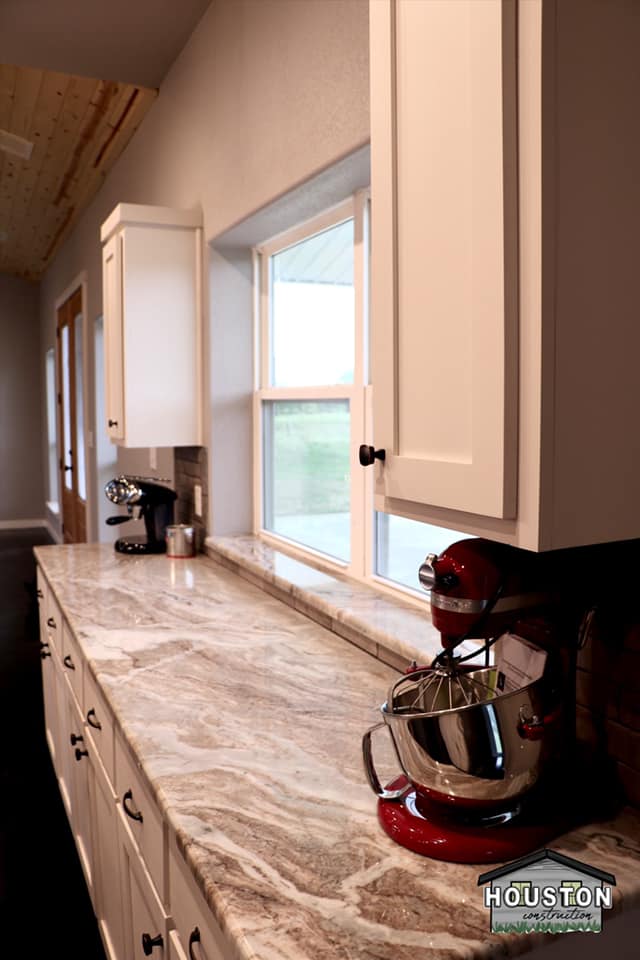 The large, white-framed windows allow for plenty of natural light, and the colors contrast beautifully with the marble work surfaces. The white-fronted cupboards, light granite, and occasional almost futuristic features create a clean, modern kitchen that is as functional as it is stylish.
Grand Design Barndominium Texas
Here we have another awesome property offering inspiring barndominium decorating ideas. Just one look at this magnificent barndominium kitchen should alleviate any concerns you ever had of having to settle for anything less than your dream kitchen. It is an absolute triumph in design, individuality, and style. This kitchen boldly combines modern with traditional as the metal frame blends effortlessly with the classic farmhouse style cupboards, doors, and windows.
Every inch of this kitchen has been thought about in the greatest of detail and each carefully placed element lends something to the final picture. This kitchen really is a testament that you can be bold and individual with your taste and design and the result can be sensational. We particularly love the addition of the chandelier-style light hanging above the center island. It injects sophistication, individuality, and bling!
Texas Red Barndominium
The Texas Red Barndominium really goes for the wow factor and succeeds! The open floor plan kitchen and living room are enormous, yet the warm wood detail throughout still brings a comfortable and almost cozy feel to this impressive space.
The dark wood cupboards, doors, and frames complement the granite worktops, which are very bold and adventurous, majestically mixing splashes of greys, browns, and blacks. The kitchen is undeniably traditional and almost old-fashioned in places but this theme is then freshened up with the clever addition of contemporary fittings and fixtures. I can't help but wonder how easy it is to maintain that extraordinary shine on the floor!
Decatur, Texas Barndominium
The owners of this handsome and imposing barndominium in Decatur, Texas have chosen to celebrate the corrugated tin roof and walls rather than disguise it and the result is clever and attractive.
The way that the light naturally reflects from the corrugated tin creates a bright and spacious room, although I can't help but wonder how much effort it takes to maintain the clean, polished effect of the tin!
The kitchen designer of this fascinating barndominium has also chosen to, perhaps bravely, follow no continuity in the choices of wood, granite, or floor color. The result is a feast for the eye, proving that it isn't always necessary to match and coordinate everything, diversity is beautiful.
Grand Hobbit Barndominium
The barndominium decorating ideas in the kitchen of this property are nothing short of sensational. They are so clever and inspired that it is hard to believe that this isn't a renovated kitchen in an old English manor house. The design showcases the vision and ingenuity of the very talented architect of this space.
The brickwork and stone arch, wooden beam combination oven surround has to be the most awesome feature. The way that it cleverly interlinks with the wooden beam ceiling above but also just as naturally fits with the white tiling and shabby chic pale turquoise cupboard fronts are the work of a skilled, artistic eye. As well as being aesthetically pleasing, this kitchen is also practical, with masses of storage and workspace tall modern families need these days.
The addition of thoughtfully placed spotlights draws the attention of the eye to the various stand-out features, that can be found throughout the design of this barndominium kitchen.
Conclusion
We hope that these beautiful and unique barndomium kitchens and barndominium decorating ideas have inspired you to be brave and let your individuality shine through as you create your own exciting space. I think it is clear from these superb examples that the fundamental barndominium concept actually enables us to be braver and more ambitious with our interior design, not less!
If you have enjoyed this article and would like to explore more innovative ideas then be sure to buy our fabulous ebook, which is absolutely crammed full of crucial tips; guides on financing, insurance, and more; and inspiration for building your own barndominium.