When building and designing a barndominium, one of the most important decisions you will have to make is the color. The color of your barndo will dictate the entire aesthetic of your home's exterior. It will also dictate things like insulation, temperature control, and much, much more. Black barndominiums are your chance to create something that is unique to you and fits in with your style.
Black may not be the very first color you think of when deciding on home colors. However, with the right combination of trim colors and design elements, it can be incredibly beautiful. To show you what can be done with black, we have put together a list of the best black barndominiums. By seeing how amazing these black Barndominiums can be, you can decide if it is the right color for you.
A Rundown of the Most Beautiful Black Barndominiums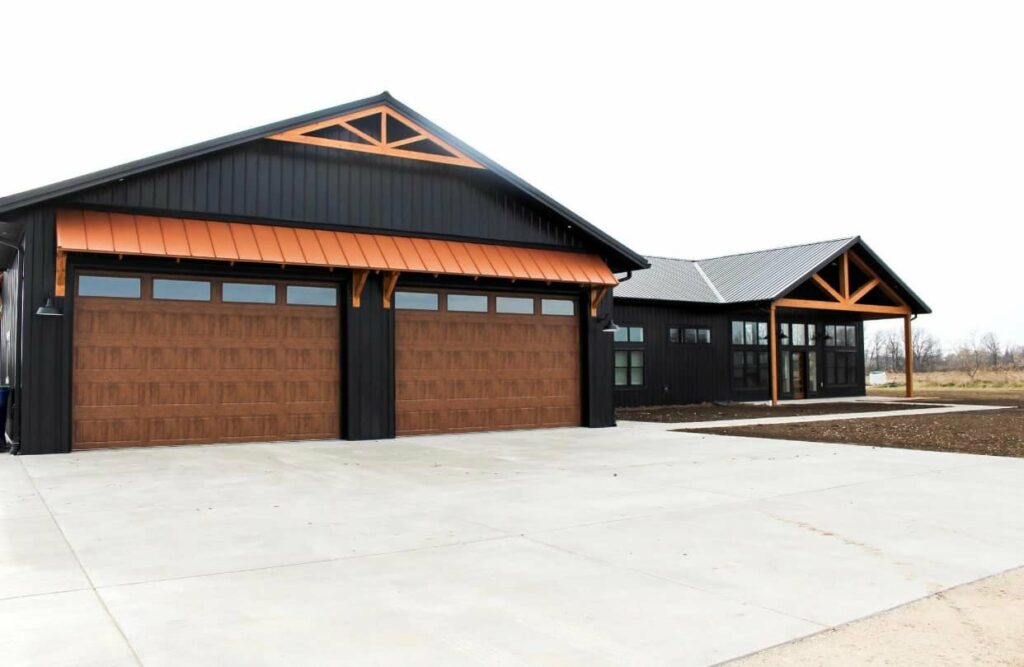 This barndo is one of the most incredibly well-designed black barndominiums we have seen. The thing to consider with black is that it will be set apart from its surroundings. This is a bold, beautiful statement and this barndo does a great job at utilizing this. The designers have used the boldness of the color to allow this home to cut a great profile.
One of the most beautiful things about this black barndo is the natural wood color. Because the color itself is so dark, you can use lighter, more organic colors as highlights. This is illustrated exceptionally well here with the wood-colored garage doors. They create their own accent pieces and draw the eye to make the home incredibly striking.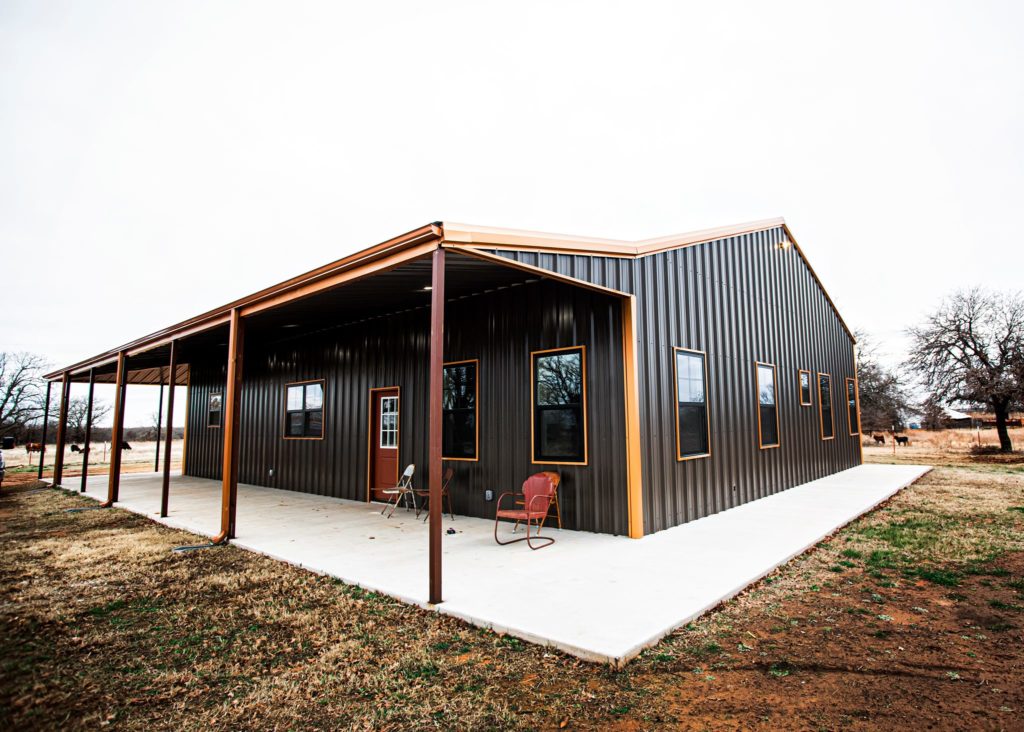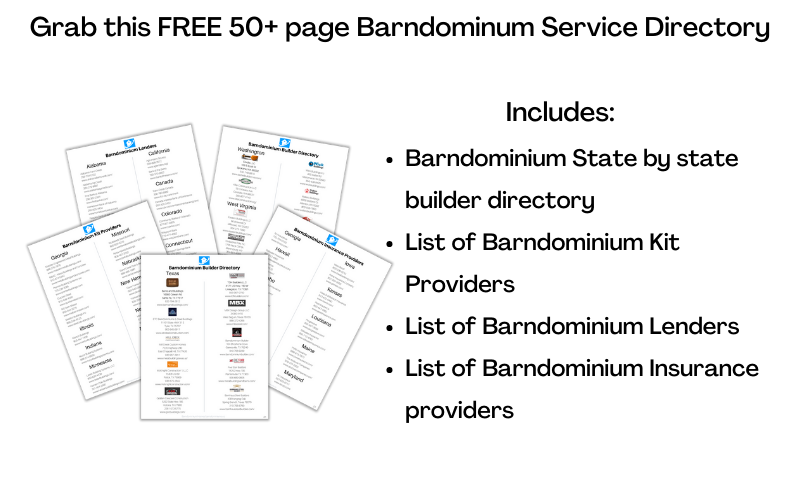 Painting a barndominium black can be a risk, but when it is pulled off, it is absolutely stunning. Building a barndominium is all about using what you have to create something very unique. This barndo is a perfect example of this, due to the exposed corrugation of the metal siding. It gives the home a modern, contemporary feel that works so well here.
One of the things this barndo does very well is use color and space. The light-colored porch that surrounds the home is a great addition that pops visually. The minimal copper trim is also a fantastic detail that gives the whole home a great, cohesive feel. We also love the red door, which is such a beautiful accent piece.
Black barndominiums can serve all kinds of visual purposes aside from their own aesthetic. One of the things they can do is act as a visual backdrop for landscaping. If you are interested in having a beautifully manicured front yard, black could be a good color. It can essentially be a blank canvas to set your landscaping against.
This barndominium is a wonderful example of how black can be a great companion to your yard. We love the plants that hang from the front porch beams and how they pop. Because this barndo doesn't have much in the way of a trim, the plants do that job. This is a great choice for people who are passionate about plant life.
Black can be an excellent counterpoint if you want to really make your trim pop. This is one of the best things about using black as your main color. It allows you to get creative with your trim pieces so they will absolutely draw the eye. It acts as a great backdrop for your different design elements no matter what they are.
This barndo uses its black exterior to draw the eye to the white trim and very cool Texas stars. These star pieces flank the front door and create a great accent for the rest of the home. They attract your attention and give a great, symmetrical feel to the exterior. A black backdrop is a great option for small touches like this.
If you are considering painting your barndominium black, keep in mind that you have many options. You don't have to only use black, you can also choose different colors and textures. In fact, by combining different shades and hues, you can create an excellent overall aesthetic. You are not limited to a drab, dark color that won't have the excitement you are looking for.
This is one of the most amazing black barndominiums we have seen. We love the use of natural wood and black that adorns the exterior of this home. By having large portions of the facade in that natural wood color, it emphasizes both of the textures. This is a wonderfully designed barndo that makes great use of both the black and light natural tones.
Black can also act as a fantastic backdrop for other, more organic textures. Because it is such a modern and contemporary color, it acts as a wonderful counterpoint. This is especially true with materials like brick and stone since it contrasts so boldly. Black is not a natural color so it can make natural things really pop.
This barndo takes that principle and rolls with it. It uses stone facades and the black of the metal siding makes that stone the main attraction. This mid-century modern exterior is incredibly popular right now and black is a great color for it. We also love the wood pillars holding up the covered parking space for an even more organic texture.
Black is a great color for not only making trims and textures pop but it also works well on its own. If you are looking for a color that will make your barndominium stand out, it is a perfect option. Barndominiums are already unique but black barndominiums are something else altogether. Combining this color with an interesting design gives you something that has never been seen before.
This barndominium is a beautifully designed and unique home. The barn design mixed with the cupolas on top creates something unlike anything else. The black is not the main event here, it is only one element of the entire home.
Conclusion
By understanding how amazing a black barndominium can be, you can decide if it is right for you. If you are looking for a color that will bring your vision to life, it could be a good option. It will make your home stand out and give your design elements a whole new feel.
If you would like more guides like this one, be sure to check out the rest of Barndominiums.co. There, you will find information on building a barndo in different states, the different costs that will affect your budget, financing information, and getting your barndominium insured. You will also find featured barndos that will get you inspired to create your own design.