Windows are an integral part of any building, providing natural light to the interiors and aesthetic character to the exteriors. If you've been living in pre-built properties your whole life, there's a chance you may have been taking windows for granted, and haven't spent a lot of time thinking about them in the context of your barndominium.
With so many options for such an essential element of your build, it's important to know how to approach the subject of barndominium windows. In today's post, we'll look at how to choose the best windows for your barndominium, and list off some of our favorite barndominium window ideas to help get you inspired!
Finding the Best Barndominium Windows
Finding good windows, both in terms of functionality and style, is essential to the long-term comfort of your barndominium. To find the windows that are best for your project, there are three main things you need to consider…
R-Value and U-Value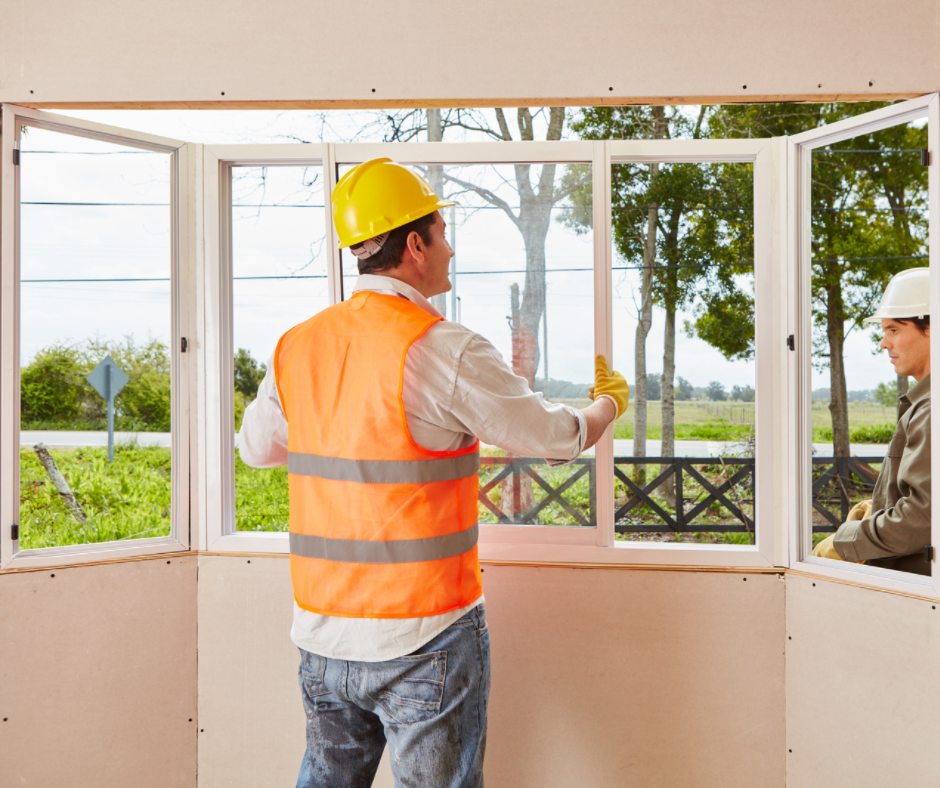 When you start shopping around for your barndominum windows, you'll notice that each unit is given an R value and U value.
The R-value is essentially an indication of how well the windows will resist the flow of heat, which is important to keep in mind when planning your barndo build, as heat will naturally transfer from the warm side (interior) to the outside (exterior). The actual R-value is determined through a calculation aimed to determine how much energy it takes to maintain a steady temperature inside a building, regardless of the conditions outside.
We won't get into the science of R-values here, but by and large, the higher the R-value, the better the barndominium windows will insulate the home.
U-values, on the other hand, are just the inverse of R-values, so when it comes to U-values, the lower the number, the better your insulation.
Your Lifestyle
Now we get to the fun part – choosing barndominium windows based on your lifestyle and tastes! As windows are generally seen as a functional element rather than a cosmetic one, you may not have had the luxury of choosing windows based on preference alone, so we recommend pushing the boat out and exploring all the different options before defaulting to common, conventional styles.
Top-hung or awning windows, sliding sash, gliding, full-pane, small-pane and bay windows are just a handful of the designs to consider when you're choosing windows for your barndominium, each with their own distinct looks, benefits, and drawbacks. There's even exceptionally modern options like smart dynamic windows if your budget allows for it. Spend a while thinking about the visual style you're going for and how you interact with your current windows, and use this information to find a style that will work for your project!
Safety
Another important thing to consider is safety. According to the current International Residential Codes, every room used for sleeping must have an outward-facing window large enough for egress (getting out), so about 5 square feet.
While fires and other crises are extremely rare, these codes are put in place for a reason, and there's no sense in overlooking safety precautions for the sake of style or convenience. Take a look at the barndominium floorplan you've settled on, and be 110% sure the layout of your barndominium windows isn't going to bring up any kind of safety hazard.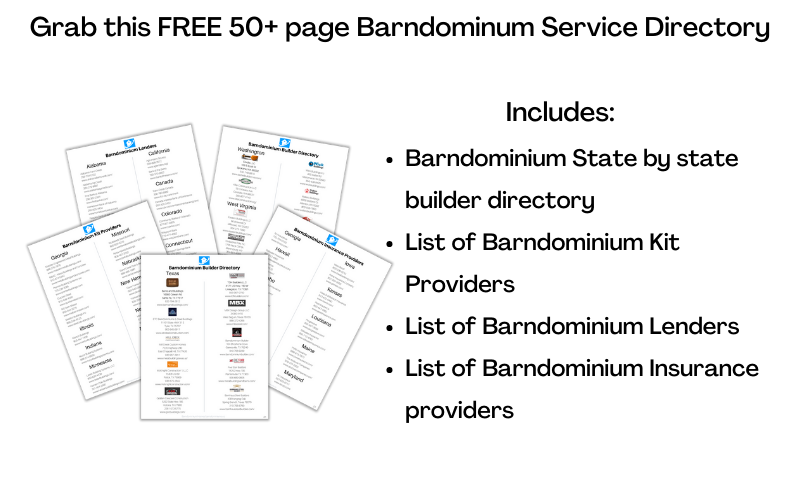 Barndominium Window Ideas
Now that we've gone over the key considerations to keep in mind when choosing your barndo windows, here's some of our favorite barndominium windows chosen from our featured homes. We hope they'll be a source of inspiration for you, and help you choose the ideal windows for your build!
Georgia Barndominium – Triangles and Squares
The windows on the side facade of this gorgeous Georgia barndominium are immediately eye-catching from the outside, and let natural sunlight flood into the rooms inside. The large, square windows at the base topped with right-angle triangles give the home an open, welcoming feel from first sight!
Inside, these windows face into the grand living area of the home, flanking a natural stone fireplace and chimney for a stunning visual effect. We particularly love how the wooden framing blends with the brown furniture suite, the dark woods, and the mounted deer heads.
Tennessee Barndominium – Peaked Gable Window Rhombuses
This large Tennessee barndominium has made great use of these rhombus-shaped gable windows in the front facade, where they're installed at slightly off-kilter angles to mirror the shape of the roof above.
Inside, these windows do a great job of filling the main first-floor space with sunlight, helped along by the ample use of white paint on the walls and kitchen features. They're also level with a large mezzanine on the second floor, which gives anyone upstairs a view of the pastoral landscape outside. The "peak" of the windows is marked by a ceiling beam in a beautiful dark color, which seems to anchor the windows as their own focal point visible from many parts of the house.
Oklahoma Barndominium – Casement Windows and Cupolas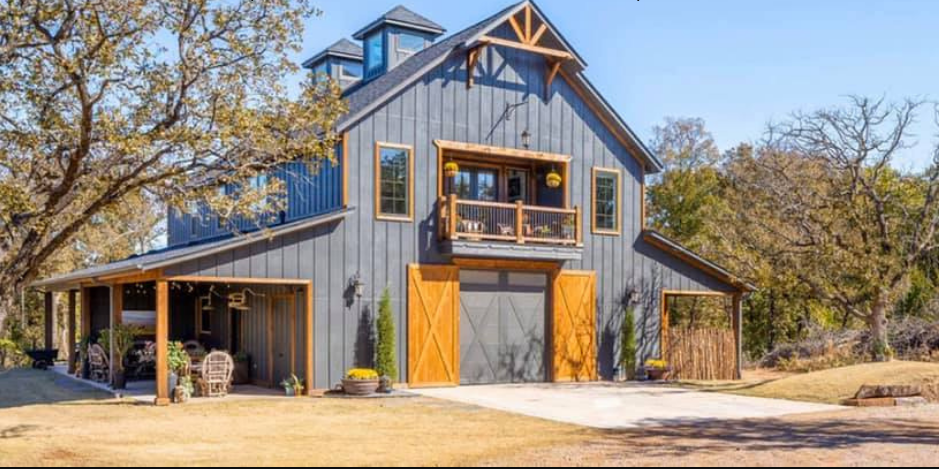 This beautiful Oklahoma barndo shows how the positioning of fairly conventional windows in your barndominium can create a distinctly beautiful effect both inside and out. Looking at the home from the drive, two casement windows frame a pretty balcony with its own set of windows on either side of the doors, which acts as a tall, bright window in its own right. The sides of the home have several classic sash windows each, evenly spaced out for a timeless, homey feel.
One feature of this barndo we really love is the sash windows placed in two cupolas near the center of the roof. These not only create an eye-catching external feature, but let light stream down into the living room, emphasizing the already impressive size of the space and making the whole place feel more bright and airy.
Wisconsin Barndominium with Large Windows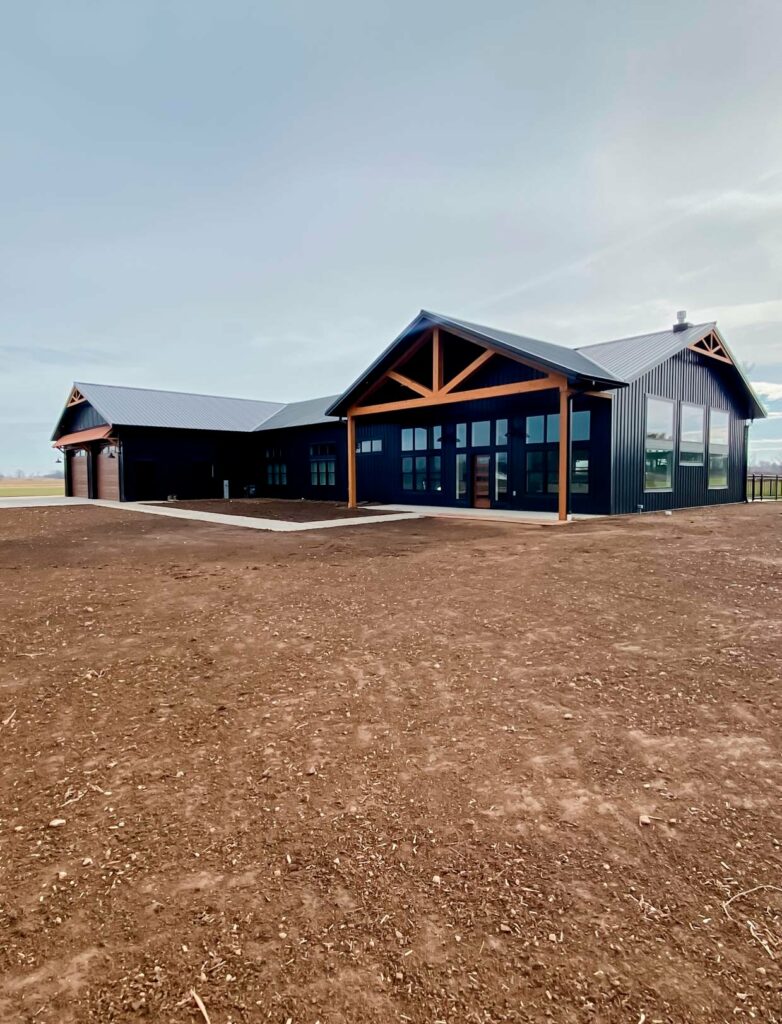 This black wisconsin barndominium has a design that takes a huge amount of surface area and doesn't let an inch go to waste! The side of the home is marked by two huge windows flanking a slightly smaller one for a grand, imposing-in-a-good-way character. The front door is nicely framed by a unique array of slim windows on either side and a single square above, and further to the left and right, tall squares of glass divided into nine.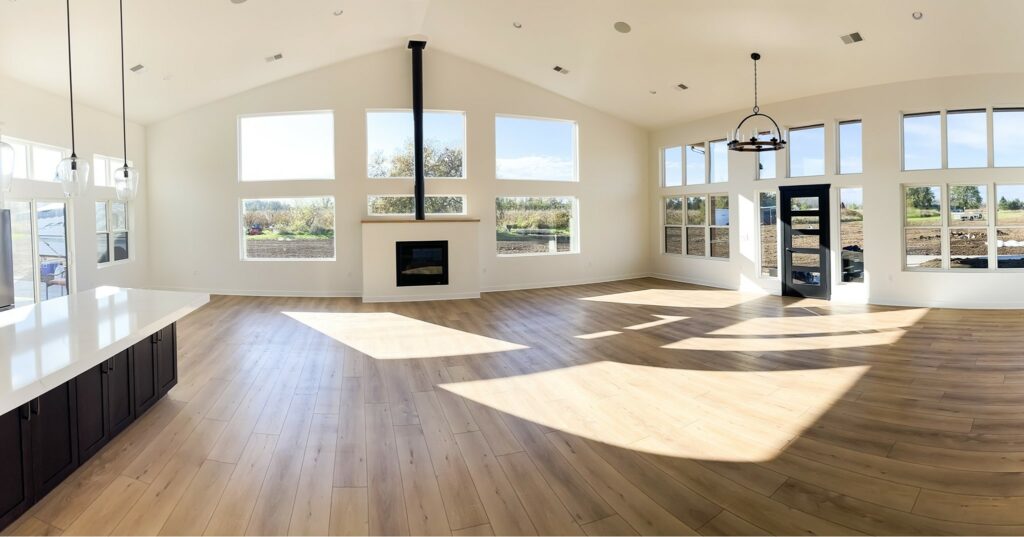 These large windows are impressive enough from the outside, but viewing them from inside the house takes the layout to a whole new level! Facing into a magnificent living area, the place is flooded with natural light which fills the white walls and gives the whole home a distinctly open, modern mood.
Wrapping Up…
We hope you've enjoyed reading about the key considerations when choosing barndominium windows, and found some inspiration in some of our favorite homes.
If you would like more helpful tips and tricks, check out the rest of Barndominiums.co. There, you will find all kinds of guides like this one as well as cost analysis, barndo financing, and insurance. You will also find some featured barndominiums to help you get inspired to design your own plan.