Are you interested in owning a rustic barndominium? These unique homes are becoming increasingly popular, especially among those who love the country lifestyle. If you're thinking about making the switch to a barndominium, here are some of our top rustic barndominiums I know you will love.
Rustic Barndominums
You may be wondering what exactly is rustic when it comes to a Barndominum. The word rustic is used to describe a design that is natural, rough, and even country-like. This style is increasingly popular and really has such great charm.
The Best Rustic Barndominums You Will Love
Whether you're a city slicker who's looking for a taste of the country life or a true country bumpkin that's ready to move on up, these barndominiums are sure to please. Check out our list of the top rustic barndos today and start making a list of things you love and want in your own home. With a little inspiration from each of these examples, you may be able to create your own plan that works best for your needs and lifestyle.
The rustic charm of this barndominium comes alive with the most unique furniture and amazing details. With flooring made from hickory to outdoor patio furniture that is built using all-natural materials; you'll be sure not to find anything you don't love in this home. If you are looking for ideas to add some rustic to your own barndominium then you'd love using these gorgeous Saltillo tile floors as well as similar exterior materials in your own build.
A beautifully designed Tennesse barndominium that has such a great natural feeling and will for sure give you inspiration if you are looking for an amazing barndo. This barndo gives you a unique feel but also puts off a rustic charm. Using a lot of rustic, organic textures and colors throughout the home really helps you fall in love with all the things. Don't forget to take a look at the kitchen you will adore the bold but natural colors of the countertops and cabinets making this one of my favorite rustic barndominium.
This Wisconsin Barndominium shows you exactly that you can do whatever you want with your style especially if you are wanting that rustic country lifestyle. This barndominium uses such bold colors and the black and natural wood complementing each other makes this a great rustic feel. Don't you just love how the natural wood works so well to accent the smaller trim pieces to give this home such a great exterior look? Some may say the inside of this home is more modern but the use of black and white can also make this barndominium easily customizable to whatever design you wish to add to the inside.
The bathrooms in this Wisconsin barndominium give you the chance to find your favorite color scheme and design elements. Gold fixtures are just one example, but they can easily change out lanterns or globe lights for something more rustic if that's what suits you better! Plus there is plenty of space available here so no matter which style fits best with home decorating preferences everyone will be happy.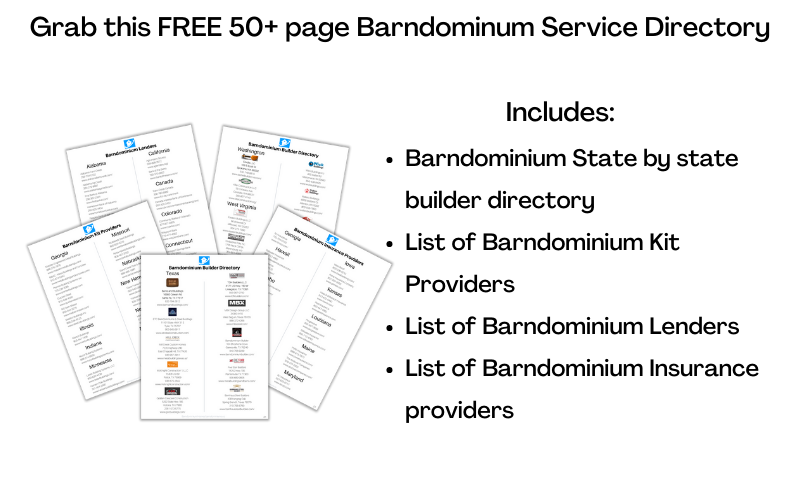 This Kansas Barndominium is a real barn-style home with an equally captivating exterior and landscape. The landscape of this home is breathtaking and there are views from the back porch that will make you want to relax in your own hammock day after day. Just where this home sits and the landscape around it is not the only thing that makes this home rustic.
The rustic feel carries inside the home where it uses reclaimed materials and has some stunning large windows. There's beauty in old things that are restored to give new life again—just take one look at these cabinets made of rough-cut oak wood for example! The interior is mainly dark earth colors brightened up. Just check out all the rustic touches in this home! From bathroom to bedroom and kitchen – there's no place without its own special feel.
Tennessee Shouse
The home's exterior is full of character, with its white siding and black-trimmed windows. The attached shop also adds some nice charm to this little piece of heaven for anyone looking to call it their own! From the wrap-around porch with natural wood as columns; oh and don't forget to check out how amazing the chandelier looks which hangs under the porch right before you enter through the double door entryway (I'm dying over here).
You can see the beautiful and natural charm of this home in its design! From the entryway, you'll see the large stone fireplace that will be perfect for entertaining guests. The elegant flooring throughout also adds so much character – it's hard not to fall head over heels with how charming everything looks as soon as you walk through those doors.
This North Dakota Barndominium on the outside might not have all the vibes to make it feel rustic but the inside has so much farmhouse-style character that you can easily switch the exterior to match the inside. This is a great option if you want a rustic look both inside and out. The kitchen is designed with an open space that creates a warm and inviting feel. Perfect for anyone looking to add some rustic charm to their home. The living area has a fireplace that can easily be switched to more natural colors giving it more charm that matches the rustic look. However, the bathrooms are perfect for giving off a rustic appeal. Using natural cabinets and a soaking tub makes it the bathroom of anyone's dreams.
We hope you've enjoyed these rustic Barndominiums. Each one is unique and has its own charms. Which one did you love the most? And if you're thinking about building your dream home, be sure to check out these floor plans as we would love to help make your Barndominium dreams a reality!
If you're selected the best plan that works for you, here are also other important guides on barndominium cost, financing, and insurance for your build