If you have been interested in the idea of building your own home, you have probably considered what you would want and what you could add that would make a home perfect for you and your family. Building your own home is something that almost everyone thinks about at some point and many even start looking at what it would take to get a project like this up off the ground. However, once you got a good look at what it takes in both time and money, you may have stopped dead in your tracks and gone back to looking at homes that are already built.
That's why building a barndominium in Tennessee is such a great option for a wide variety of people. This unique type of home is perfect for those who have priced traditional home builds and found that they were either out of their range or altogether too difficult to get going.
Barndominiums are a great alternative to the regular old house building project and can be much more accessible as well. With alternative homes becoming more and more popular, there are plenty of resources for you if you want to start looking into building a barndo.
In this guide, we have put together everything you might want to know about building a barndominium in Tennessee. Having the right information in regards to cost, builders and insurance can get you started on the right foot and ensure that your barndominium project goes as smoothly as possible.
What Is a Barndominium and What Are Some of the Advantages?
A barndominium is a home that is custom-built from the steel shell of a metal pole structure or post-frame building. Usually, these types of buildings are used for more industrial purposes. Garages, stables, and barns all use post-frame buildings because of how easy they are to build and how durable they are even in the face of poor weather.
However, they can also be used for residential purposes and can be framed up on the inside just like a traditional home. This is why they have become so popular with home builders and buyers all across the country.
One of the biggest advantages of building a barndominium in Tennessee is the fact that they are easier to build than traditional stick-frame buildings. Metal pole barns can be purchased in kits and put together by a professional in about half the time it takes to build a traditional house. This not only cuts down on the amount of money you need to get one off the ground but the amount of stress you have to deal with throughout the whole build process.
One of the other benefits of building a barndominium in Tennessee is the fact that they are so durable. Unlike traditional wood frame houses, barndominiums hold up to wet weather and moisture very well.
This is especially important in Tennessee where humidity can cause a lot of problems in homes. Rot, mold, and deterioration are all rampant in traditional houses, but a steel frame building will not have these same issues. This can save you money on repairs in the long run and ensure your house is structurally sound for longer.
Cost of Building a Barndominium in Tennessee
When you are deciding on a budget for your barndominium in Tennessee, one of the first things you will want to do is figure out how much money you want to spend. This will allow you to decide on all the specific features you will want for your barndo.
When you are budgeting for a home build, you will usually do this by figuring out the cost per square foot. This will give you a blank canvas on which you can plan out your floor plan including how many bedrooms and bathrooms you want as well as where they will be placed in the home.
The cost of building a traditional home in Tennessee is about $260 per square foot. One important thing to remember is that this will not include things like countertops, cabinetry, or appliances. This is not a complete build number. Instead, this covers the cost of the initial construction of your building. You will have to set money aside in your budget for those other things that really make a home complete once you have finished putting together your actual building.
The cost of building a barndominium in Tennessee is quite a bit less in comparison. The average cost per square foot for a Tennessee barndo is $204. This may seem like a small difference at first glance, but when you consider that barndominiums can have total square footage of more than 2,000 square feet, you can see how this can eventually add up. With this extra money, you could afford to add the custom countertops and cabinetry that you would want to include with a home you are building yourself.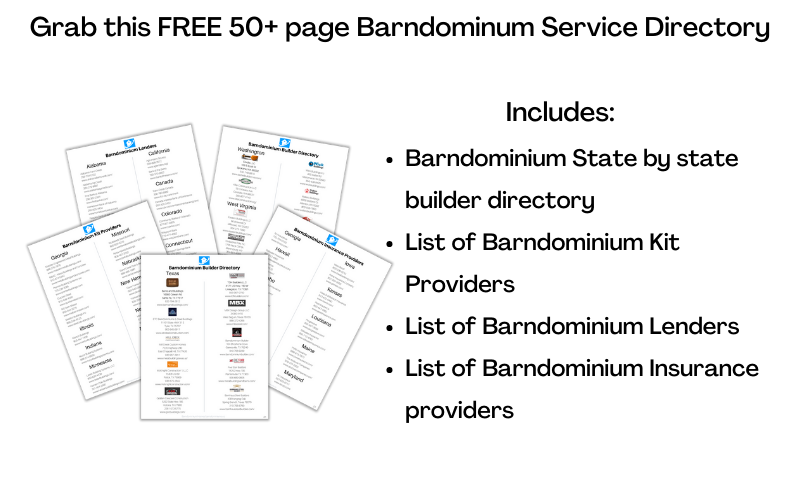 Barndominium Builders in Tennessee
After you have figured out your budget, you will want to move on to choosing a builder for your barndominium in Tennessee. This is one of the most important decisions you will have to make in the course of your entire barndominium project. The builder you choose will be someone that you spend a lot of time working with and it is important that you pick the right one for you and your project.
The construction business is incredibly varied and it can be difficult to find someone that you can trust and whom you get along with. Luckily, there are a few things you can look for in a builder for your barndominium in Tennessee that will get you started on the right track.
One of the first things you should look for is a builder that has experience. If you choose a builder who has never worked on a metal post frame building before, you could run into issues in regards to the timeline and quality of work. There are quite a few builders who specialize in this type of project now that barndominiums are becoming more popular, so you should have an easier time now than you might have 5 or 10 years ago.
One of the other things you should look for in a builder is their general demeanor and the way they treat their clients. You can look up online reviews for builders and take a look at what their previous customers have to say about the service they received as well as the end product. This should give you a good idea of how a builder deals with the people they work for and how it all panned out. To help get you started, we have put together a small list of some of the best builders for your barndominium in Tennessee.
Krypton Builders
Krypton Builders specialize in all kinds of projects and have worked on homes that are incredibly unique and specific. If you are looking to build a barndominium in Tennessee that is unlike anything you have seen before, they could be a great option.
White Construction Company
White Construction Company works specifically with metal post frame buildings and their website even features a design program that you can use to start looking at your barndominium's style before building. If you want to deal with a company that knows what a barndominium owner wants, they could be the one for you.
Rick's Construction and Roofing
Rick's Construction and Roofing has been working in the Tennessee area for over 30 years. They have a reputation of honesty and integrity when it comes to their clients. If you have been looking for a builder that will do their best to serve you, they might be a good choice.
Barndominium Kit Providers in Tennessee
If you are not interested in building your barndominium from scratch, you have the option of using a barndominium kit. Barndominium kits are completely prefabricated and come in one convenient package to your build site. Everything comes at once so you don't have to spend time trying to source materials and make everything fit together.
Some kit providers will even send out a contractor that they work with to supervise the construction. Almost all of them provide extensive support as well so you always have resources as you go through the construction of your barndominium in Tennessee. Check out these barndominium kits under 50k and barndominium kits under 100k
Barndominium Financing in Tennessee

One of the best resources for getting barndominium financing is by using BarndominiumLoans.com. They are a quote service that takes down your information and works behind-the-scenes with vetted lenders who are best for your location and financial situation.
Whether you have a perfect credit score or a subpar one, and whether you're located in South Carolina or South Dakota, you can submit your information to get a quote within 24-48 hours.
Barndominium Financing Request
Farm Credit
Farm Credit is one of the oldest agricultural banks in the United States. They are a national organization and they have a lot of experience helping people like you get the financing they need for their construction projects.
First Bank
First Bank has been in business for over 40 years and in that time they have become one of the top agricultural banks in the country. Because of this, they could be a great choice for people who want to work with a bank they can trust.
Barndominium Taxes in Tennessee
Just like with any other home, you will have to pay property taxes on your barndominium in Tennessee. In some regions, barndominiums fall under what is known as dual-use construction. This means that a certain percentage of your home counts as residential and another counts as storage or utility.
A tax assessor can come out to your build site or your finished home and let you know what your home falls under. In some cases, you could end up saving money with this tax classification, so it is best to have someone come out and check.
Where to Find Barndominium Insurance in Tennessee
You should also make sure you have good barndominium insurance for your home. This will help protect you, your family, and your investment and will also make sure that anyone who comes over is protected as well.
The type of insurance you get for your barndominium in Tennessee will depend on where you are building. If you live in an area that sees frequent floods or wildfires, you will want to make sure your insurance includes a clause for these types of incidents.
Barndominium Floor Plans in Tennessee
A good floor plan is one of the best ways to set your barndominium in Tennessee up for success. First, gather all of the ideas you have and write them down on a piece of paper. This will include how many bedrooms and bathrooms you need and whether you will have any workshops or utility rooms.
Then, you can bring these ideas to a professional draftsman. They will take your raw ideas and turn them into a workable floor plan. Your builder will then use this to turn your ideas into a reality. Or, you can also make use of a barndominium design software.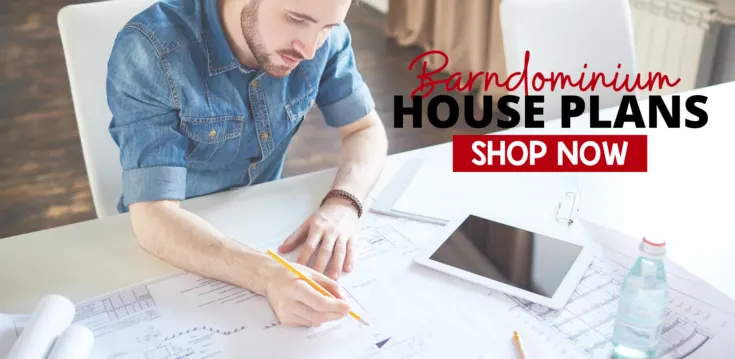 Don't want all the hassle of building a barndominium from the ground up? Then you may want to buy an existing barndominium in Tennessee! With our Barndominiums for Sale Marketplace, you can browse to your state and find a barndominium for sale near you.
The beauty of buying an existing barndominium is that it can be really easy to customize the floor plan to your liking. The previous owners' setup is just a starting point! Also, by buying a barndominium in Tennessee, you bypass the potential troubles of the building process – delays, dealing with contractors and subcontractors, and city or county bureaucrats trying to make your build process a nightmare.
Don't delay – find a barndominium for sale in Tennessee now!
Conclusion
By reading this guide, you now have a good understanding of what it takes to build a barndominium in Tennessee. Knowing what to expect is one of the best ways to set yourself up for success and ensure that your barndo gets started on the right track.
If you would like even more expert information, be sure to check out the rest of Barndominiums.co. There, you will find all kinds of in-depth information and guides like this one that can help you understand what it takes to get a custom dream barndominium home up off the ground.