Building your own home can be one of the most rewarding projects you can take on. With so many options for customization and the ability to make your home as close to your personal standards as possible, there are a lot of great reasons to build a home from the ground up. However, if you have ever actually looked into what it takes to get a custom home project up off the ground, you may have had second thoughts. The amount of time, money, and stress that it takes to get a home build finished is simply not within reach of everyone. That's why so many people give up before they ever really start.
Building a barndominium in Kansas is one of the best ways to get a custom home build finished. With alternative housing and different types of homes becoming more and more popular, there has never been a better time to start work on a unique home. Banks and builders are finally starting to understand the demand for these kinds of homes and you are certain to be able to find the help you need to get the job done.
In this guide, we have put together everything you need to know to get a project like this finished. By knowing what to expect throughout the process, you can give yourself a head start on building your custom dream home.
What Is a Barndominium and What Are Some of the Advantages?
A barndominium is a home built from the shell of a post-frame structure or pole barn. These types of buildings are usually used for things like agricultural applications and industrial purposes. However, with just a little bit of modification, they can be turned into beautiful custom homes. Barndominiums are built on top of concrete slab foundations and use metal poles driven into the ground instead of stick frames like traditional houses use. This makes them a great choice for people who don't want to wait for the amount of time it takes to build a home from the ground up.
One of the main benefits of building a barndominium in Kansas is the price. Because a barndominium will take about half the time it takes to build a traditional home, you can save yourself a lot of money on your construction and materials. Plus, you can get a home built much quicker than you could if you were going the traditional route.
A barndominium in Kansas is also going to be extremely durable. In a climate like the one Kansas has, this is very important as it will be able to stand up to all kinds of weather and different challenges when it comes to the elements. This can save you a lot of money in the long run on repairs due to mold, mildew, and rot.
Cost of Building a Barndominium in Kansas
Once you have decided to build a barndominium in Kansas, you will want to decide on a budget. This will allow you to figure out exactly how much home you can afford and what it will include as far as bedrooms and bathrooms go. When you are building a project like this, you will want to figure out the price by square foot. This is a great way to know how big your piece of property needs to be as well as how many rooms you can afford to put into the space itself.
The cost of building a traditional home in Kansas is around $270 per square foot. However, this price does not include things like the finishing work and furnishing that you will need to make your home livable. If you want to include things like custom cabinets and countertops, you will need to add extra money to your budget. This is how custom home prices get inflated and start to become inaccessible.
The cost of building a barndominium in Kansas, on the other hand, is just $210 per square foot. When this $60 difference is spread out over the entire home, you can end up saving yourself a lot of money on your whole project. With this extra money, you can afford all the little conveniences and style touches that you would want to include with a custom home.
Barndominium Builders in Kansas
Once you have decided on the budget for your barndominium in Kansas, you will then want to figure out who you are going to hire to do the actual building. While there are certainly some things you can do yourself, you will want to be certain that your barndominium in Kansas is up to code and in compliance with all of your local zoning laws. Navigating the construction business can be difficult, but there are some things you can look for that will help you make the right decision.
One of the most important things to look for in a builder for your barndominium in Kansas is experience. If possible, find a builder who specializes in these specific types of buildings and can help you make sure that yours is as perfectly designed and constructed as possible. Not all builders will have the expertise you are looking for, so this is an important aspect that should not be overlooked.
You should also look for a builder who has a good relationship with their previous clients. Not only is the final product important, the customer service you receive is equally crucial. Look for reviews online of any builder you are thinking of hiring and see what their former customers have to say about them. This will give you a good idea of whether or not a builder will be able to treat you with compassion and work with you on an equal footing. To help you get started, we have put together a short list of some of the best builders in the area for your barndominium in Kansas.
VAP Construction
VAP Construction has been working with people just like you for over 25 years. In that time, they have been working on all kinds of metal post frame projects and they have the experience and knowledge to get you the perfect barndominium in Kansas.
Richardson Brothers Construction
Richardson Brothers Construction has been in the post frame building business for three generations. They are a family-owned business that has passed on their knowledge and skills throughout the years and has some of the best techniques for building your barndominium in Kansas.
Art of a Craftsman
Art of a Craftsman specializes in custom homes and they can help you figure out exactly what you are looking for and then execute it. If you want your barndominium in Kansas to be something that is incredibly unique and designed to your exact specifications, they could be a great choice.
Barndominium Kit Providers in Kansas
Not everyone will want to build their barndominium in Kansas completely from scratch from the ground up. If this describes you, you might want to look into a barndominium kit. Barndominium Kits come completely prefabricated with everything you need to get your project finished. They are a great choice for people who don't want to spend a lot of time sourcing materials and figuring out what they need to buy.
Almost all barndominium kit providers will include detailed and comprehensive support with their kits. Many of them also have a stable of contractors that they work with on a regular basis and can work with you on your particular project. 
Check out these barndominium kits under 50k and barndominium kits under 100k to make building your barndominium even easier.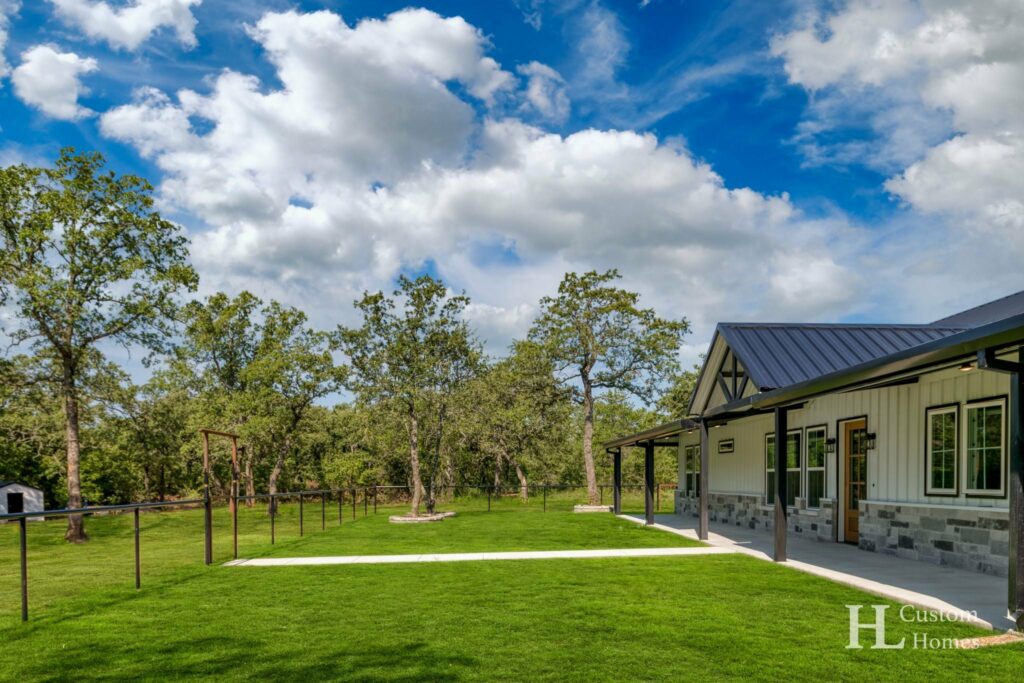 Barndominium Financing in Kansas

One of the best resources for getting barndominium financing is by using BarndominiumLoans.com. They are a quote service that takes down your information and works behind-the-scenes with vetted lenders who are best for your location and financial situation.
Whether you have a perfect credit score or a subpar one, and whether you're located in South Carolina or South Dakota, you can submit your information to get a quote within 24-48 hours.
Barndominium Financing Request
First Bank Kansas
First Bank Kansas has been working with people like you in the area for many years and they pride themselves on their understanding of the specific needs of the people of Kansas. If you want a bank that knows the ins and outs of the construction business, they could be your best bet.
Citizens Bank of Kansas
Citizens Bank of Kansas has been in business since 1905 and in that time they have learned everything there is to know about building in the area. If you want that kind of experience backing you up, they could be a great choice for a construction loan.
Barndominium Taxes in Kansas
You will need to pay taxes on your barndominium in Kansas just like you would with any other kind of home build. However, barndominiums sometimes fall under something called "dual use construction." What this means is that you will most likely have to pay a different tax rate for the areas of your home that are for residence and the areas that are for storage. A local tax assessor can help you figure out what you should be paying.
Where to Find Barndominium Insurance in Kansas
You should be able to get barndominium insurance anywhere you get regular homeowner's insurance. However, it might be difficult to get the best possible coverage because insurance companies may have a hard time classifying and valuing your barndominium in Kansas. Make sure you work with an insurance agent that will help you get the best policy for your barndominium and make sure you are protected.
Barndominium Floor Plans in Kansas
Your floor plan is one of the most important things you will put together for your barndominium in Kansas. This is how you will determine the layout of all the bedrooms, bathrooms, and living areas. To get it started, make a list of all the things you want out of your custom home. Then, bring this to a professional draftsman. They will be able to take your list and put together a workable floor plan for you and your builder.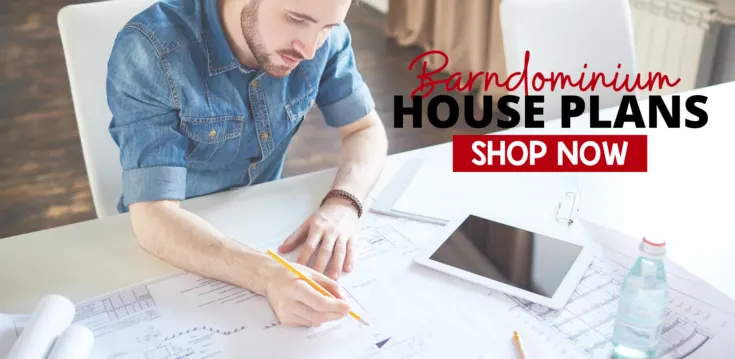 Don't want all the hassle of building a barndominium from the ground up? Then you may want to buy an existing barndominium in Kansas! With our Barndominiums for Sale Marketplace, you can browse to your state and find a barndominium for sale near you.
The beauty of buying an existing barndominium is that it can be really easy to customize the floor plan to your liking. The previous owners' setup is just a starting point! Also, by buying a barndominium in Kansas, you bypass the potential troubles of the building process – delays, dealing with contractors and subcontractors, and city or county bureaucrats trying to make your build process a nightmare.
Don't delay – find a barndominium for sale in Kansas now!
Conclusion
By reading this guide, you should have a good idea of what it takes to build a barndominium in Kansas. Having this information at hand is a great way to stay ahead of the curve as you move forward on your project and get it up off the ground.
If you would like even more helpful tips and tricks, be sure to check out the rest of Barndominiums.co. There, you will find more in-depth guides like this one and information on insurance, taxes, and more. You will also find featured barndominiums to help you get inspired and start thinking about what your custom dream home will be.