A custom home build is one of the most challenging and rewarding projects a person can take on. Designing and building your own home can be a worthy project for the right person and it has a lot of benefits and advantages. Being able to build a home that is specifically designed for you and your family can end up being incredibly worthwhile. It can also get you a place that you can enjoy for years to come.
However, if you have ever sat down and looked at what it takes to get a project like this built, you probably understand why so few people actually get it done. It can be a tough process and the expense can add up incredibly quickly.
That's why building a barndominium in Pennsylvania can be such a great option. With the alternative housing movement gaining momentum, there has never been a better time to take on a project like this. Banks and builders are starting to understand the demand for interesting homes and unique construction projects. This means that you will have more support than ever when it comes to the kind of financing you can get for your barndominium in Pennsylvania.
In this guide, we have put together everything you might need to know about building a barndominium in Pennsylvania. By having information like this at hand, you can be sure that you are getting started on the right track once you begin.
What Is a Barndominium and What Are Some of the Advantages?
A barndominium is a home built from the shell of a metal post frame structure or pole barn. There is a wide variety of these types of buildings available and you have a lot of options when it comes to what you want your home to look like. Metal pole barns are usually used for things like agriculture or industrial projects. For example, stables and warehouses are generally made with metal post frame structures. They use poles that are driven into the ground and a concrete slab foundation instead of a traditional stick frame on a regular foundation.
One of the main benefits of building a barndominium in Pennsylvania is the cost. Because post frame structures take about half the time to build as traditional homes, they can end up saving you a lot of money when it comes to your labor and materials. They can also cut out a lot of the stress that is involved with home construction.
One of the other advantages is that barndominiums are incredibly durable. Their all-steel construction makes them a perfect choice for people who live in moist or cold climates where snow is common. There is much less of a chance of mold and rot with a metal building than there is with a traditional home, which can save you money on repairs down the line.
Cost of Building a Barndominium in Pennsylvania
Once you have decided to build a barndominium in Pennsylvania, you probably want to know how much it is going to cost. One of the unique things about building a home is that you figure out the cost by the square foot. With a barndominium, this is beneficial because you can then figure out how big your concrete slab foundation needs to be and how many bedrooms and bathrooms you can afford to put in it.
The cost of a traditional home in Pennsylvania is around $305 per square foot. Something that is important to note is that this price does not include things like finishing the actual inside of the home. This will only get you your basic structure. From there, you will need to add extra money to your budget so you can include all the things you would want for a home like plumbing, electricity, and furnishings.
The cost of building a barndominium in Pennsylvania is an average of $200 per square foot. This means that you can cut almost a third off your home build budget. With this extra money, you can afford all the things that you would want for your custom home build. Electronics, cabinets, and countertops can all be included in your basic structure budget.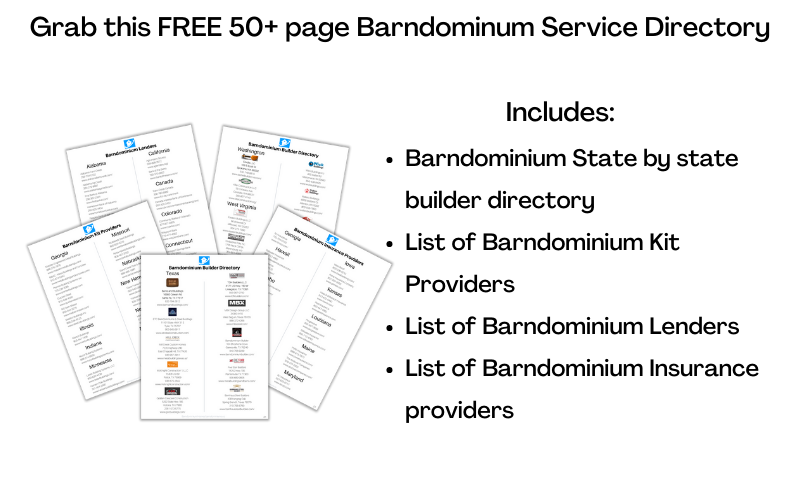 Barndominium Builders in Pennsylvania
After you have decided on a budget for your barndominium in Pennsylvania, you will want to decide who you are going to hire to do the actual construction. While there are some aspects of the job you can do yourself, it is very important that you hire someone who knows how to make sure your barndominium in Pennsylvania is up to code and that it is in compliance with all the local zoning laws. The construction business can be difficult to navigate, but there are some things you can keep an eye out for that will help you decide if a builder is the right choice.
The most important thing you should look for in a builder for your barndominium in Pennsylvania is experience. There are a lot of different construction companies out there, but not all of them will have the expertise you need for a metal post frame building. This kind of project requires different skills than traditional home builds. If possible, find a builder who specializes in metal building construction.
One of the other things you should be watching out for when searching for a builder for your barndominium in Pennsylvania is good customer service. Building a home is a very personal thing, so it is important that you find a builder who understands this and will work with you to ensure that you get the final product you have been looking for.
Milburn Design and Construction
Milburn Design and Construction takes a huge amount of pride in the work they do and they want to make sure that you are happy with your finished product. They will work with you and help you figure out what you want and how to make it a reality. If you want help with your design for your barndominium in Pennsylvania, they could be a great choice.
Quarry View Building Group
Quarry View Building Group has been building homes in the Pennsylvania area for many years. In that time, they have worked through a process that ensures that your needs are met and that everything is up to your standards. This makes them a great choice if you have a specific vision for your barndominium in Pennsylvania.
Black Label Builders
Black Label Builders has built a wide range of post frame buildings in Pennsylvania. They do everything from multi-unit projects to small cabins. If you have a unique type of barndominium you want to build, they could be a great choice.
Barndominium Kit Providers in Pennsylvania
If you don't want to build your barndominium in Pennsylvania from scratch, you have another option. Barndominium kits are a great way to get everything you need in one package delivered straight to your build site. They come completely prefabricated so you don't have to spend time sourcing materials and getting parts.
Almost all barndominium kit providers provide comprehensive support for the people who buy their kits. Many of them even have builders that they work with on a regular basis. They can help you pick the right builder and offer you help throughout your entire build process. 
Check out these barndominium kits under 50k and barndominium kits under 100k to make building your barndominium even easier.
Barndominium Financing in Pennsylvania

One of the best resources for getting barndominium financing is by using BarndominiumLoans.com. They are a quote service that takes down your information and works behind-the-scenes with vetted lenders who are best for your location and financial situation.
Whether you have a perfect credit score or a subpar one, and whether you're located in South Carolina or South Dakota, you can submit your information to get a quote within 24-48 hours.
Barndominium Financing Request
Mid Penn Bank
Mid Penn Bank is dedicated to making the loan process as simple and stress-free as possible. They have a large roster of lenders who are experienced with these kinds of projects and can help you get the financing you need for your barndominium in Pennsylvania.
Peoples Bank
Peoples Bank has been named Agricultural Business of the Year by the York County Pennsylvania Agriculture Business Council and they understand what it takes to get a project like yours up off the ground. They try to live up to their distinction every time they work with a client so you can be certain that you are in good hands.
Barndominium Taxes in Pennsylvania
You will need to pay taxes on your barndominium in Pennsylvania, but unlike with a traditional house, there are a couple of stipulations you need to keep in mind. For example, your barndominium might fall under something called dual use construction. This means that you will pay a different tax rate for the portions of your home that are for storage and the portions that are for residence. A tax assessor can help you find out what you need to be paying every year.
Where to Find Barndominium Insurance in Pennsylvania
You can usually find insurance for your barndominium in Pennsylvania anywhere you get traditional homeowner's insurance. However, you want to make sure that you are covered for any eventuality. This means that you will need to have clauses in your policy that cover you in case of any kind of emergency or accident that could take place on your property. To fully protect your barndominium, work with an insurance agent to find the right policy.
Barndominium Floor Plans in Pennsylvania
Your floor plan is one of the most important things you will put together for your barndominium in Pennsylvania. This will lay out how your rooms are situated on the concrete slab and how much living space you can afford to have with the amount of bedrooms and bathrooms. Write out everything you need for your barndominium in order to be comfortable and productive. Then, take this list to a professional draftsman. They will be able to turn that into a workable floor plan that your builder will use to build your perfect barndominium. You can also choose any of these user-friendly software to design your own barndominium.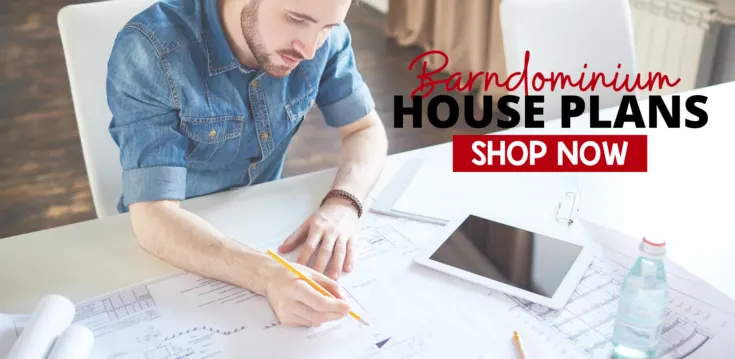 Don't want all the hassle of building a barndominium from the ground up? Then you may want to buy an existing barndominium in Pennsylvania! With our Barndominiums for Sale Marketplace, you can browse to your state and find a barndominium for sale near you.
The beauty of buying an existing barndominium is that it can be really easy to customize the floor plan to your liking. The previous owners' setup is just a starting point! Also, by buying a barndominium in Pennsylvania, you bypass the potential troubles of the building process – delays, dealing with contractors and subcontractors, and city or county bureaucrats trying to make your build process a nightmare.
Don't delay – find a barndominium for sale in Pennsylvania now!
Conclusion
Hopefully, by reading this guide, you have a good idea of what you need to get your barndominium in Pennsylvania started. Having this information at hand can help you be prepared for everything along the way and make sure you don't experience any hiccups.
If you would like more guides like this one, be sure to check out the rest of Barndominiums.co. There, you will find all kinds of helpful tips and tricks and advice from the pros. You will also find featured barndominiums that will give you some inspiration for your custom dream home.