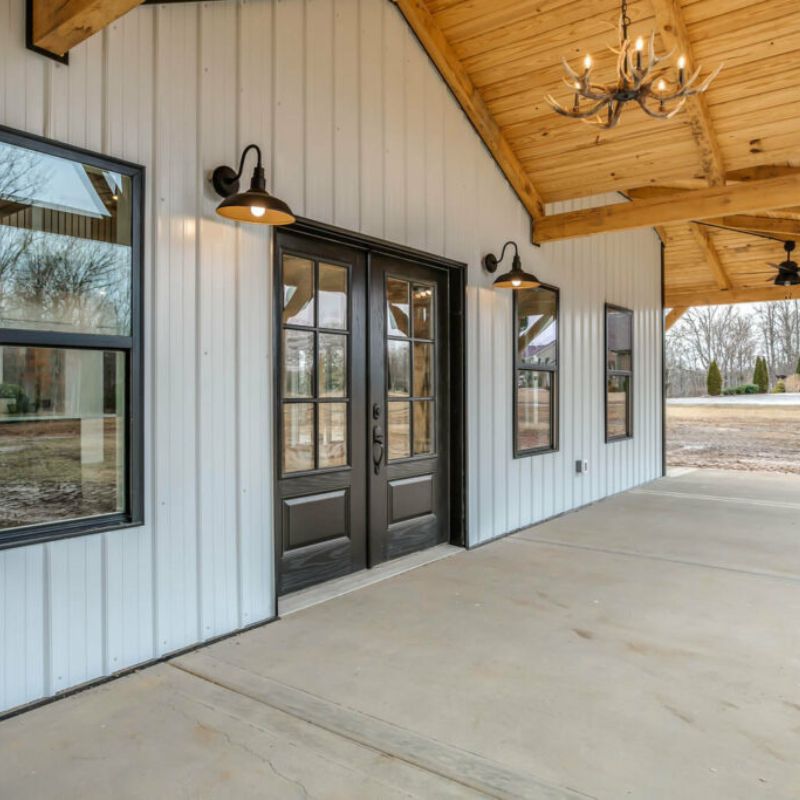 Why Choose a 30×50 Sq Ft Barndominium Kits?
Witness the realization of your dream home with a 30×50-square-foot barndominium. This space promises numerous benefits over conventional homes, boasting of superior strength and unmatched flexibility in home design.
With the help of a 30×50 sq foot barndominium kit, your dreams can become a reality even quicker and more affordable.
What is a Barndominium?
Originating in the state of Texas, a barndominium is a unique architectural concept that might sounds like itcombines your traditional barn with a condominium. Not the case! Barndominiums are metal buildings that folks are using as their primary residence, a vacation property, or an AirBNB. Barndominiums continue to gain in popularity, especially in rural areas.
Initially, barndominiums were primarily refurbished horse barns that integrated living spaces. However, modern barndominiums are now being built with residential areas in mind while still exhibiting barn-like characteristics such as post-frame construction. This includes large posts and roof trusses, enabling spacious living areas and a broad array of design opportunities.
The Pros of Building a Barndominium
At first glance, a barndominium may not be your first choice when planning to construct a new home. However, its unique advantages over other construction choices make it an enticing option.
Superior Versatility
Compared to conventional homes made with wood stud frames, barndominiums offer exceptional flexibility. The structure's frame supports an open floor plan, and the post spacing enables broader doors and windows fitting.
The generous frame offers countless design possibilities and layouts that exceed those of regular houses. Moreover, the surge in barndominium popularity has led to a diverse selection of available designs, providing you with numerous options to find the perfect layout that caters to your needs.
Economical Option
Building a barndominium is often less expensive than constructing a standard home of comparable size. Barndominiums usually cost around $50 to $100 per square foot, whereas new home construction generally costs between $100 to $200 per square foot.
These cost savings give you the power to create your dream home. You can opt for a larger structure or incorporate unique features without exceeding your budget.
Quicker Construction Timeframe
Constructing a barndominium often requires less time than building a regular house with a stud frame. Normally, building a new house from scratch takes about eight months.
With the help of contractors, you can complete a barndominium project in roughly six months. If you choose to go the DIY route using a 30×50 sq ft barndominium kit, you can finish even sooner.
For DIY constructions, the timeline relies on your experience, availability, and assistance. Consider seeking the help of friends to speed up tasks such as framing the structure and internal construction, as these phases require substantial labor.
Durable and Long-Lasting Structures
Barndominiums are known for their durability, often exceeding the lifespan of traditional homes. This is particularly true for those built with a metal frame, although those with wood post frames also offer increased resilience against severe weather conditions. If your area is susceptible to extreme weather events like hurricanes or tornadoes, a barndominium can offer additional peace of mind.
Moreover, barndominiums typically require less maintenance than other housing types. This reduction in upkeep costs adds to the overall appeal of choosing a barndominium over a conventional home.
Easier Additions
Unlike traditional homes with narrowly spaced stud frames, barndominiums have posts spaced 8 to 12 feet apart, effectively doing away with interior load-bearing walls. This unique design allows you to add to a home without compromising the structural soundness of your home. Whether your vision includes more windows, doors, living areas, or garage space, the adding-on process is smoother and less complicated.
Why Choose a 30×50 Sq Ft Barndominium Kit?
When constructing a barndominium, a 30×50 sq ft barndominium is a popular choice because of its generous floor space, comparable to the average traditional home.
A 30×50 sq ft barndominium provides a perfect template for bringing your dream home to life. Notably, the 30×50 sq ft ground area is merely the starting point, as the tall frame could accommodate a loft or even a full second floor, allowing you to increase your living space easily.
The ample room in a 30×50 sq ft barndominium allows you to adapt the floor plan to suit your specific requirements. Whether you plan to use the entire area for living space or include a sizable workshop, there is plenty of room for personalization.
Other Uses for 30×50 Sq Ft Barndominium Kits
Though barndominiums are often built for residential use, their adaptable design allows for various other uses. The residential and garage sections of a barndominium can be repurposed for several different uses, such as:
Workshop
Farm Storage
Recreational Storage
Business Use
Workshop: Barndominiums can easily accommodate large doors, making them suitable to house a workshop or large garage. This space is perfect for hands-on activities like autobody work or carpentry. Your tools and equipment are close at hand, eliminating commute times and allowing you to work on projects conveniently.
Farm Storage: Many barndominium owners utilize their buildings for agricultural purposes, harking back to the origins of the structure as a hybrid of living quarters and horse barns. By leaving a part of the barndominium unfinished, you can create a sizeable storage area for farming needs. This space could house smaller livestock like chickens or store farming equipment, supplies, and grain.
Recreational Storage: A 30×50 sq ft barndominium provides enough space to store recreational vehicles, camping equipment, or hobby-related gear like fishing tackle. This space can help keep your belongings organized and protect them from potential damage in tighter storage areas.
Business Use: In rural areas, the space and layout of a barndominium can be advantageous for establishing a small business. The post-frame construction, which features widely spaced studs and trusses, allows for higher ceilings and flexible floor plans, surpassing the constraints of traditional stick-built structures.
Average Costs of 30×50 Sq Ft Barndominium Kits
Prices for a 30×50 sq ft barndominium kit generally fall between $75,000 and $150,000. However, if you're only purchasing the barndominium kit, you can expect to save a considerable amount of money. Several elements affect the final cost, including:
DIY project versus hiring a professional contractor
Geographic location
Quality of materials used
Inclusion of special features
The average cost per square foot for a barndominium kit ranges from $50 to $100. Should you hire contractors, the price may rise to between $100 and $130 per square foot, potentially taking the maximum total cost up to $195,000.
The cost of labor and materials can also fluctuate depending on your location. The Southeast and Midwest regions are usually less expensive, while the Northeast, Southwest, and West Coast regions are generally pricier.
Choosing higher quality materials or incorporating special features can additionally elevate the building costs of a 30×50 sq ft barndominium. For example, if you decide to add a swimming pool or a basement, expect the overall expenses to rise significantly.
In the end, barndominiums provide a more straightforward construction process compared to traditional stick-built structures. Plus, choosing a metal frame offers enhanced resistance against severe weather conditions.
Building a barndominium has many advantages, including lower costs, quicker construction times, and increased durability compared to conventional homes. If you're thinking of building your own home, considering a 30×50 sq ft barndominium kit is an effective way to save both time and money.
Get a Barndominium Kit Quote Now!
After submitting this form, you'll be sent pricing by up to 5 companies. This pricing service is 100% free to you. Some companies will compensate us for helping them find people in need of metal buildings.