With their accessibility, affordability, and wide range of options for design, barndominiums are quickly becoming one of the most popular self-build options in the States.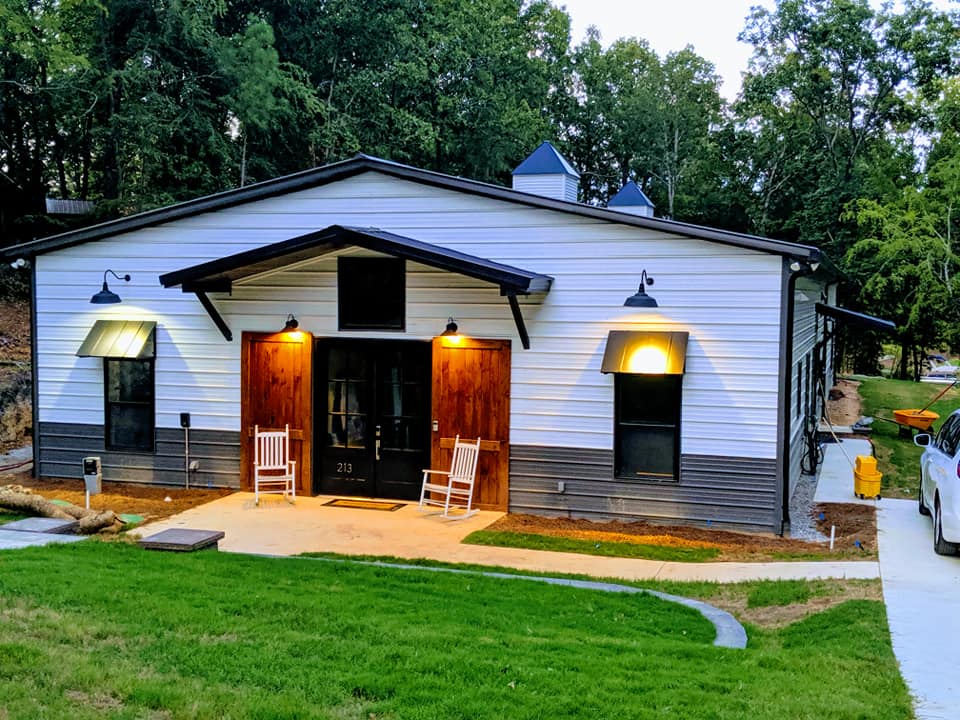 Barndos are known for their customization, and as such, there are several different ways you can go about building one. One of the most affordable ways to build a barndominium is to purchase a barndominium kit, which will provide all the materials needed to construct a barndo yourself.
In today's post, we'll run through a brief introduction to barndominium kits, their benefits, and drawbacks, and help you decide whether this method of building a barndominium is right for you.
So, What is a Barndominium Kit?
Put simply, a barndominium kit is a set of pre-made barndominium components to be assembled at a building site. They're available in a wide variety of styles from most suppliers, and usually come with a number of options for customization, letting you choose homes ranging from the simplest, most compact classic designs to sprawling modern barndominiums with luxury amenities.
Though there's a lot room for customization when purchasing a barndominium kit, they typically come in a handful of set sizes, including 30×40, 40×60, and 60×70 (square feet).
Aside from the variety of design options out there, some barndo kit suppliers also offer a range of optional extras that will help make your barndo more liveable, and make long-term maintenance less of an issue. Some companies stock barndo kits which include concrete slab foundations, bracing, and gutters and spouts.
Many suppliers also provide structural assurances, including standard paint warranties, bracing, structural warranties spanning several years, and stamped, assured floor plans.
Though barndo kits are gaining in popularity, some states will have significantly more barndo kit suppliers than others. Just search "(state name) barndominium kits" and you'll quickly get an idea of how many of these options are available to you.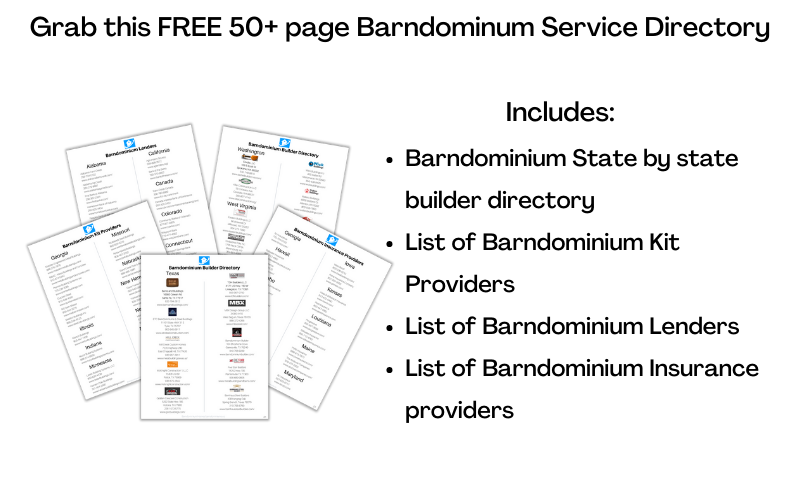 Barndominium Kit Builds vs Custom Builds: The Costs
Though at first glance, it may seem that barndominium kits are the cheaper option when compared to custom build jobs, the answer unfortunately isn't as cut-and-dry as that.
While it's true that many barndominium kit jobs will work out cheaper than a custom build of a similar size on the same plot of land, there are various factors that will determine this. The size of the building, the state and region where you're building it, the materials that you're planning to use, and various customizations, can all have a profound impact on your barndo's final price tag.
Having said that, barndominium kit builds tend to have a lot more downward leeway in terms of total costs. While a custom-build barndominium will typically start at around $80 per square foot, you can find kit floor plans starting at $20/sq ft, with the most basic kit barndominiums costing just $10,000 in total.
Like any construction project, the barndominium financing isn't going to begin and end with the cost of materials needed to construct the building, and you'll need to carry out thorough research to compare the cost of any two barndominiums accurately.
Having said that, the fact that you're not starting from scratch and simplifying the whole construction process generally makes barndominium kits the cheaper, faster option.
The Benefits of Barndominium Kits
All things considered, barndominium kits are a great choice for anyone who wants a functional self-build barndo and doesn't need much in the way of nuanced customization. Aside from them being potentially cheaper, some of the key benefits of barndominium kits are:
Faster Construction: As we mentioned in our previous point about the cost of building a kit barndominium, the relative simplicity of buying pre-made components from a barndominium kit supplier will simplify the overall construction process, and help things move along faster.
Of course, building a barndominium is a pretty big project, and there's always room for things to go wrong and cause delays. Still, if you've been planning to build a barndo for a long time and you're desperate to see some real progress, then kits are often the best way to go for speed!
Reliability: Because barndominium kits are based on tried and tested constructions, they tend to be more reliable compared to custom designs. When the doors, roofs, and other core components are sent pre-made, there's a guarantee that they'll fit together perfectly without requiring too much specialist construction work.
Custom builds, on the other hand, leave more room for error, especially if they're made according to an especially unique or complex design. This is because the components have to be made specifically to fit the plan. From this initial stage to the actual building, there's a lot of opportunities for things to go wrong due to miscommunication or sub-par workmanship. All too often, these issues only become apparent when construction is in progress and can cause serious delays and complications.
The Ability to See What You're Building: Because barndominium kits are based on proven structures, you'll often have the opportunity to see images and videos of finished barndos that have been made from the same kit, giving you a much clearer idea of the end result and helping you decide whether or not the kit is for you.
For many people, their first barndominium is going to be their first-ever self-build project. If this is true for you, you might find investing in a property that doesn't exist yet a little disconcerting. Though you'll never be familiar with every last detail of the home until it's complete, checking out finished barndominium kits can be a big help when deciding whether or not it's right for you.
Wrapping Up…
We hope you've found this introduction to barndominium kits helpful as you navigate the various options for building your barndominium. But first, get your floor plan ready, whether you prefer to buy it or design your own. If you want to learn more about building a barndominium, be sure to check out barndominium insurance and the other handy resources on barndominiums.co!