Are you considering building a barndominium? If so, you'll want to check out these open-concept barndominium floor plans.
With plenty of space for living and storage, these plans are perfect for any family size. So don't wait any longer – explore these barndominium floor plans today and be able to design your own plan with our recommended software!
Get Inspired With These Open Concept Barndominium Floor Plans
Do you love the open concept floor plan trend? Or are you on the fence about it?
Either way, I think we can all agree that there are some definite pros to this popular style. An open floor plan not only creates a spacious and airy feeling in a home but also makes it easy to keep an eye on kids or pets while you're cooking which is a great benefit when raising smaller children.
Advantages of Open Floor Plans
A big advantage of an open floor plan is that your home will feel larger as it isn't sectioned off by walls and doors.
When you aren't in need of adding walls and doors to make hallways and section off rooms it really does help make your whole home feel more spacious and roomy.
Here are a few other advantages of building an open concept Barndominium floor plan:
More Natural Light: Having very minimal walls in your main living areas will allow natural sunlight to come inside your home. This will allow you the ability to add some live plants as decor and liven up your living space with some natural greenery.
Easier To Entertain: You don't want your guests to feel crowded so open plans are perfect when it comes to entertaining a larger crowd. The layout also makes hosting easier because of their large kitchens that allow people plenty of room to serve your food when they come to visit!
More Space: More space in general not only feels larger but also allows for flexibility and the ability to create more freedom. It's easy to work with oversized furniture pieces or larger kitchen tables or even counter space.
No matter which floor plan you go with when building an open concept barndominium you will not be disappointed choosing this style.
The bonus to an open floor concept is that they are known to increase home value and are cheaper to build as they require fewer materials.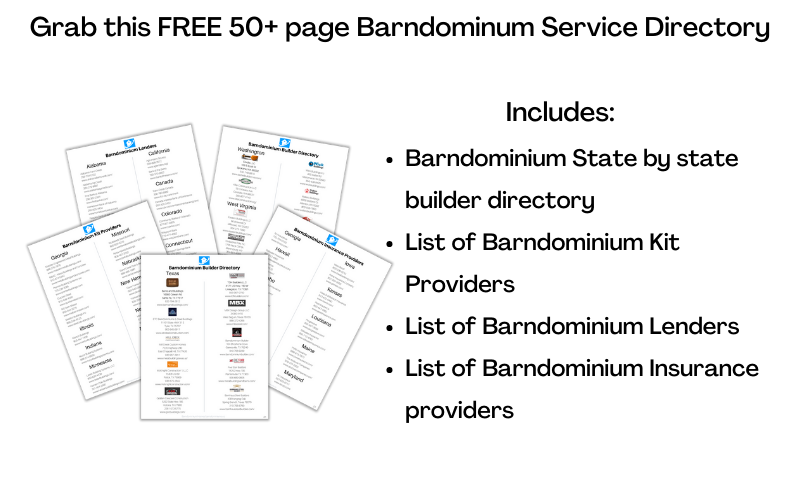 Things to Consider When Choosing An Open Floor Plan
How Many Bedrooms you will need
Depending on the size of your family you may need more bedrooms than others. This would cut down on your living space when needing to make more rooms to accommodate the bedrooms needed. However, more bedrooms could also mean room for a playroom/game room allowing these toys and gaming systems to be out of your living room.
Bedroom placement
Open floor plans typically cause your home to be noisier. Where you put your master bedroom and a child's bedroom is something to highly consider.
I would suggest you put the master bedroom closest to your living room so you can still be awake watching TV and doing things in your kitchen without the fear of waking a child if their bedroom is next to the main area.
Having a bedroom that shares a jack and jill bathroom will also help allow you more room to get that open concept feel to your home.
Storage/Garage
Be sure you have planned out a large enough garage. This is mainly to help with storage. An open floor plan typically means fewer closets and less room to store holiday decorations and seasonal clothing that isn't being worn.
Planning ahead in your floor plans really helps lessen the frustration later when you realize you are without closets for storage.
Open Concept Barndominium Floor Plans
Open floor plans have become increasingly popular in recent years, and for good reason—they offer a lot of flexibility and versatility.
Check out these open-concept floor plans before you make your final decision and make sure you get exactly what you are looking for.
With this 2-floor Texas-sized Barndominium, every corner of the house screams space, especially with its vaulted high ceilings. Aside from the bedrooms, the house also has other functional rooms- the office, storage, and movie room; and even has a bonus room. You have front and back porches and a balcony at the back. It also has an attached small garage.
Open Concept Barndominium Floor Plan 90601
With an open floor plan like this, you can see the benefits of having your living room and kitchen along the right side wall of your home. This will allow for more natural sunlight as well as more room to have a living room area with furniture placed where you desire, instead of having to worry about a tight space with walls.
Open Concept Barndominium Floor Plan 90602
This open floor plan is perfect for families looking to live in style without sacrificing comfort. The spacious and inviting living room allows guests, relatives, and friends a great opportunity to be in the same area but comfortable.
The two bedrooms allow for a little more privacy if needed from the main living areas.
Open Concept Barndominium Floor Plan 90603
The three bedrooms on this floor plan provide plenty of space for the growing family. With an open concept living room and kitchen where you can gather as a whole unit during the day, it would be perfect to put up with each other throughout dinner time or just after school is done! At night though; when everyone has gone off in their own direction-the bedrooms are there if needed so that children don't have any noise distractions while getting ready before bedtime
With fewer walls dividing the home you will love the freedom to move around. The kitchen has a bar with space for stools allows for more guests together and not be crowded. This floor plan has a walk-in pantry allowing for less cabinet space and giving the kitchen a more open feel.
Open Concept Barndominium Floor Plan 90604
With most any open concept barndominium floor plans you will see the main entrance typically opening up into the living room, as we do in this floor plan. As you walk into this home from the front entrance you will feel welcomed by the flow the house has from the living room to the kitchen area. The natural light that is able to shine in from the large windows in the living room will really help the home feel more open as natural light overflows in.
Three bedrooms, two of which a tucked away from the main living areas allow for more separation when time is needed from the main living area. A nice size utility room separates the two bedrooms in the back of the house as well as a bathroom.
Open Concept Barndominium Floor Plan 90605
If you are wanting more bedrooms with an open concept barndominium floor plan then this one is for you. With four bedrooms, a large pantry, and a great open area from the kitchen to the living room that is so inviting there isn't anything to not love about this open concept floor plan.
Open Concept Barndominium Floor Plan 90606
This open concept floor plan offers four bedrooms, 3 baths, and a kitchen with bar seating that backs up into the living area, allowing conversations to easily be had with guests from the living room to the bar area.
A floor plan like this one would be ideal for a larger family who is in need of more rooms to accommodate a larger family size.
Open Concept Barndominium Floor Plan 90607
For anyone looking for a floor plan that would be perfect to have an office, and more bedrooms but still keep the open concept in the main areas of the home you can find that in this floor plan.
When you walk into this home you will have the office on your left and a hallway to get to all the bedrooms to your right, or you can reach another way from the living room.
This home is centered around a bathroom and a utility room making it the perfect area to help allow a bit of separation from the main areas to the individual bedrooms.
The living room and kitchen area on the left side of the home totally opposite the 5 bedrooms. Featuring a large kitchen island, and a living room that will be the perfect area to bring family and friends to gather whenever you desire.
Open Concept Barndominium Floor Plan 90608
You'll have plenty of space to entertain your family as well as guest in the living room and kitchen area of this home. The kitchen allows for more seating as well as serving with the extended bar.
With another separate room, you don't have to worry about anyone interrupting when work needs to be done with a separate home office with doors that can close.
On the other end of the house are 4 bedrooms where one can easily be transitioned into a game room that will keep the kids entertained and happy.
I love this layout as it separates the kid's bedrooms from the main living areas for privacy and to allow their sleep to not be interrupted.
If you are looking for Barndominium open floor plans, these floor plans are a great option for just about any family size and lifestyle. Be sure to check out all our other barndominium floor plans for more ideas and options!
Get your barndo planning running smoothly with these guides on cost, financing, and insurance.