One of the many charms of barndominiums is their tendency to have high, open-feeling ceilings and the wide variety of materials and designs that their ceilings can take on. In this post, we go in-depth all about barndominium ceilings and which type is right for you.
While traditional homes tend to use the same kind of materials and styles, the barndominium self-build community puts the great stock on the huge array of options when it comes to barndominium ceilings.
If you're building your own barndominium, and you're feeling a little overwhelmed by the sheer amount of choice out there, then this post is for you.
Here's a run-down of some of our favorite barndominium ceiling ideas, and the things you'll need to take into account when considering them for your build. Let's jump right in!
Barndominium Ceiling Height: To Vault or Not To Vault?
Many barndominium floor plans are characterized by their tall walls and a varied array of roof pitches, a design that lends itself to vaulted ceilings a lot more than more traditional styles of home.
These lofty barndominium open ceilings will give any interior a grand, high-end feel that's far more affordable and accessible when building a barndo vs other self-build options.
Though barndominium vaulted ceilings may look great and give the home's interior an open, airy feel, there are some drawbacks that are important to look at when you're considering a vaulted ceiling for your home. Here are the key pros and cons to think about:
Pros
A powerful 'wow' factor that will set the property apart for resale.
An open, airy feel to the home.
Creates more space for skylights and other windows to fill great halls with natural light.
Cons
Lack of accessibility makes maintenance a challenge, and especially high vaults may require specialist workers and equipment to paint or repair.
With many floor plans, committing to a vaulted ceiling can mean that you're sacrificing space that could potentially be used for second-floor loft living space.
It can create echoes that you may find irritating.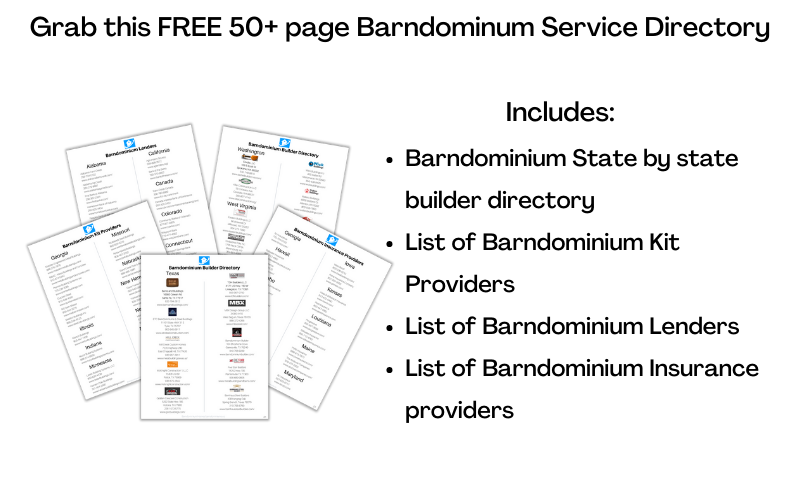 Classic Drywall Ceilings
Drywall gets an unfairly bad wrap sometimes, often seen as a kind of lazy, "default" option. But there's a reason why you'll see drywall on a lot of classic barndominium plans – it works!
Versatile and accessible, drywall can be used on almost any shape of the ceiling, whether flat, peaked, or tray-style. It's also compatible with a wide variety of paint compositions and colors, giving you plenty of flexibility when making interior design decisions.
The one drawback with drywall is that its flat texture won't give you any reason to pause from a visual perspective. While it may not have the same kind of distinctive texture as other options, drywall is still a solid and dependable choice for almost any barndominium design.
Wooden Planked Ceilings
Textured wood ceilings are another popular choice, in large part due to the warm, rustic feel it promises, offering an effective foil to the cold, industrial feel of a barndo's metal shell.
Though natural wood may be more of a 'classic' choice in terms of material, and it certainly lends itself to a rustic aesthetic, that doesn't mean that choosing a wooden ceiling will limit you to one style of interior.
Light, cedar-colored woods can look beautiful in a modern, minimalist home, and darker hues can give a contrasting homey warmth to the same kind of aesthetic, just as much as a classic ranch-style barndo.
Another great thing about wood-planked barndominium ceilings is that they're more compatible with a hands-on, DIY approach to construction compared to other materials.
Though the materials needed for a wood planked ceiling may be more expensive, installing one requires far less skill than drywall for instance, and could therefore save you a lot on labor.
Exposed Wood Beams
If you're one of the many people who love the accessibility of barndominiums as a self-build option, but you're not much of a fan of the palpable modernity, then exposed wood beams could be the perfect choice of ceiling for you.
Rustic and beautiful, exposed beams are a great way of turning barndominium ceiling framing into a beautiful interior design feature, and off-setting the heavy use of steel that some people might find a little harsh on the eyes.
Though exposed wood beams have an undeniable aesthetic value, constructing a ceiling around the beams of a barndominium frame is a fairly complex task, and can potentially add a lot to the cost of labor for your barndominium.
However, if authenticity isn't a huge sticking point, then you may want to consider installing faux beams instead.
When compared to real exposed beams, these are lighter and much cheaper to install and will look just as good as the real thing when added to drywall ceilings.
Wrapping Up…
We hope this run-down of some of the most popular barndominium ceiling options has brought you closer to finalizing your vision for your barndo build.
Design your own barndominium plan with these recommended design software. For more inspiration, be sure to check out our barndominium cost, financing, insurance, and FAQ guides on Barndominiums.co!