If you are in the market for a new home, you may want to consider building a barndominium. Barndominiums are becoming increasingly popular, and it's easy to see why. They offer all the benefits of traditional homes, but they are also much more affordable. Plus, they can be customized to fit your specific needs and preferences.
If you are looking for some inspiration, check out these stunning barndominium exterior ideas. You will love them!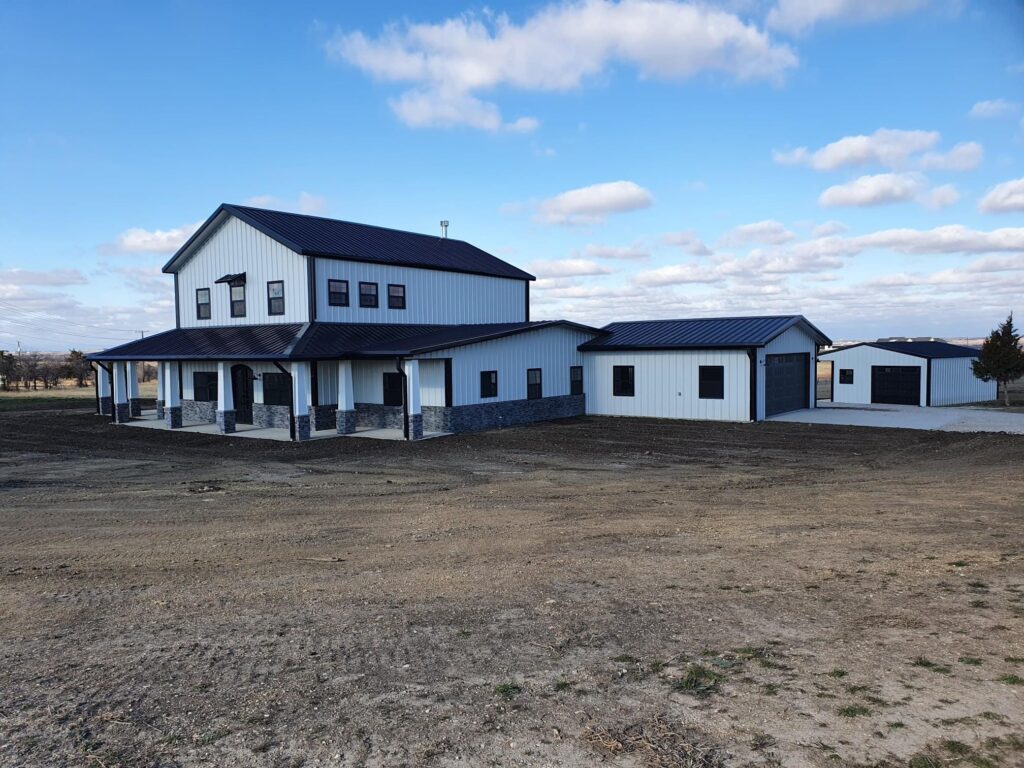 Stunning Barndominium Exterior Ideas You Will Love
As barndominiums continue to grow in popularity, many builders are looking for the best exterior ideas to make their projects stand out. If you're one of those builders, or if you're just curious about what's popular right now, read on for some inspiration.
These eye-catching barndominium exteriors are great for you to consider as you plan out your new build or are just starting your research.
Best Barndominium Exterior Ideas To Consider
Siding
There are many types of siding to choose from and each has its own unique advantages. No matter what you decide on, adding some texture or color will make your home stand out! You might want to stick with choices that will be trendy in years to come. These include:
Alumuninal siding
Stucco Siding
Corrugated Metals
Vinyl Siding
Some great barndominium exterior color options for siding that will help with your exterior curb appeal are: 
White: timeless color and make for a softer appearance
Beige: a great way to get a tan color that isn't tinted yellow. Beige isn't everyone's favorite but it is climbing the trends of most colors used exteriorly on a home.
Bronze or Brown: this color is great if you plan to have a lot of shrubs and landscape close to the home.
Dark Gray: such a great color to choose and pair with any other color. You will find that dark gray works well with most any color trim.
Black: is a great option if dark gray isn't dark enough for you. Black is timeless and won't get dirty.
No matter what siding color or texture you choose you just want to make sure you love it as what your home looks like on the outside will reflect how you feel inside your home.
Roof
From shingles, clay tiles, and metal roofs when picking your roof you want to make sure you consider the maintenance and price as well as color options. A roof can exteriorly enhance a home. Landscaping and exterior paint are great for enhancing curb appeal, but there's something about metal roofs that just gives you an old-fashioned feel. They come in many colors to match any style or design preference – plus they're durable too! If you aren't wanting to hear the noise that comes with a metal roof then you may want to consider clay tiles.
Clay tiles are one of the most popular roofing materials in the world and date back 5,000 years. Clay tiles may be the most expensive option but they are the most durable than any other roofing material.
So take the time you need to make sure you make the best informed decision you can when it comes to selecting your roof.
Outdoor Kitchen
The outdoor kitchen is the perfect place to entertain friends and family. From grilled fish on a summer night, or roasted chicken during winter holiday gatherings. When you have your very own built-in BBQ area it's easy and such a fun way to entertain.
When designing your outdoor kitchen consider the space you will use as well as what you will see from the inside of your home. Make sure you design it to what you know you will love using as well as looking at. There are benefits of having an outdoor kitchen and I am sure you will enjoy the investment made when adding one to your barndominium build.
Landscape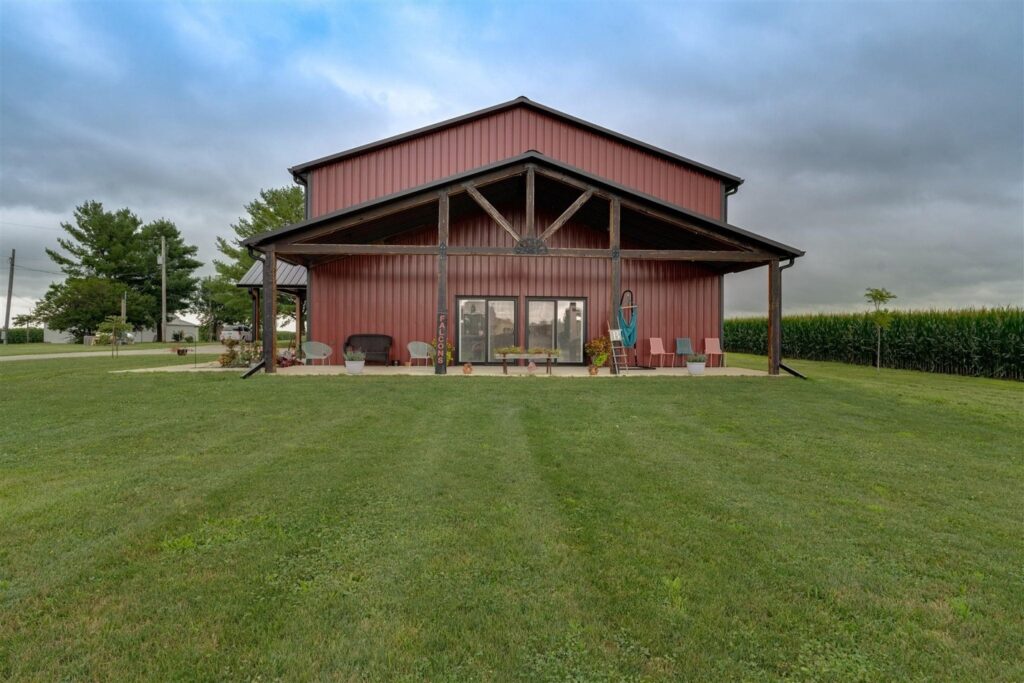 To spruce up the exterior of your property what better way than to focus on your landscaping. With some native trees and shrubs, your home will be looking better than ever. You don't have to go all out to start with as landscaping can be expensive. Start small then add as the years pass.
Adding a pond to your property can be a great way to enhance the natural beauty of your landscape. If you have plenty of land, consider making this addition to your home. Ponds are relatively easy to construct and maintain, and they can provide years of enjoyment for you and your family.
Columns
The columns of your home not only provide support for the structure but they can also serve as beautiful exterior features, especially when enhanced with stonework and stained to match any color scheme.
Patio
If you are looking for a place to relax outside your barndominium? Then putting a patio is the perfect exterior addition to your barndominium build. You could even incorporate the patio area into a wrap-around covered porch section of your home. This gives you huge amounts of space for outdoor furniture, such as chairs and tables!
Large Windows
Large windows can be a great way to bring the outside in and make your home more appealing. Larger windows also provide an opportunity for natural light which will make any space feel bright, alive, and welcoming!
Chimney
Chimneys come in many different styles, from the traditional brick chimney to metal ones. They're an excellent addition to any home that reflects your personal style and preferences! Making a chimney a great option to add to your barndominium exterior ideas you are gathering.
Conclusion
When it comes to customizing your barndominium's exterior design you will want to consider adding one or more of these stunning barndominium exterior ideas to your new build. No matter what you choose out of this list you will love calling your new home yours.
To get more guidance on how to build your own barndominium check out the rest of Barndominiums.co to get more helpful tips on building your own barndominium.