Looking for barndominium floor plans with shop attached? You're in luck! We've gathered some of the best designs to get you inspired
Barndominium Floor Plans with Shop– Get Inspired With These Floor Plan Ideas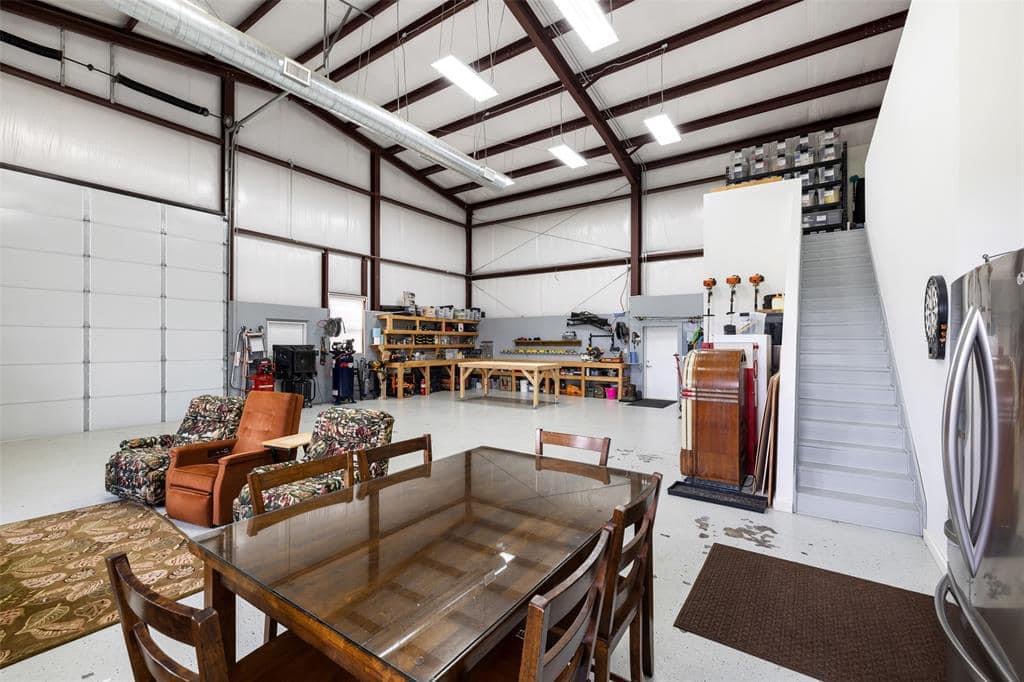 If you are starting out with the planning of your dream home and are in need of a large shop to add on to your home then these barndominium floor plans with shops are worth considering to use for your own future build.
Being able to look at different types of barndominium floor plans will help inspire you to build the home that will work best for your family. With these floor plans with shops, you can see how exactly a setup would work or not work for you, whether it be due to size, layout, or pricing. Pick up little bits of ideas from each of these and you can even design your own floor plan with our recommended software.
Once your floor plan is drafted you can start contracting your builder, know your cost estimate, apply for permits and loans if needed, as well as securing your lot.
Check out these inspiring floor plans with a shop to see if you find any of these floor plans that inspire you.
Things to Consider Above Brandominium Floor Plans With Shop
The possibilities are endless when it comes to designing a floor plan with a shop for your new build. You may get overwhelmed with all the things you need to consider when building a barndominium but these floor plans should help you narrow down what you want as well as what you need.
When looking at these floor plans for inspiration you will want to take these factors into consideration:
Lifestyle
The first thing that you need to think about when designing your home is family size. It determines the number of bedrooms and bathrooms and what type or size garage it will have- whether small enough for just one car but big enough if three cars could fit comfortably in there with plenty more space left over!
Is your family adventurous and needs a place to store ATVs, boats, or RV. These things really factor into what size shop you need to add to your floor plan.
Closet and Storage
You may also not be adding a lot of closet space into your main home to give you an open floor plan concept. This is something to factor in when picking your shop size. If you have fewer closets for storage, you will utilize your shop to store more things than you might think.
Traffic Flow
Who knew traffic flow was such an important factor when it comes to selecting a barndominium floor plan with a shop attached.
Consider what your shop will be used for and where you wish the entrance to your home to be. Is your shop for a business and need it to be next to your office? Could your shop be for more personal use as a gym and hobbies storage? If so, then you may want it to be closer to your main living areas.
When looking at these floor plans, consider where you enter and exit the home to and from your shop before making your final decision.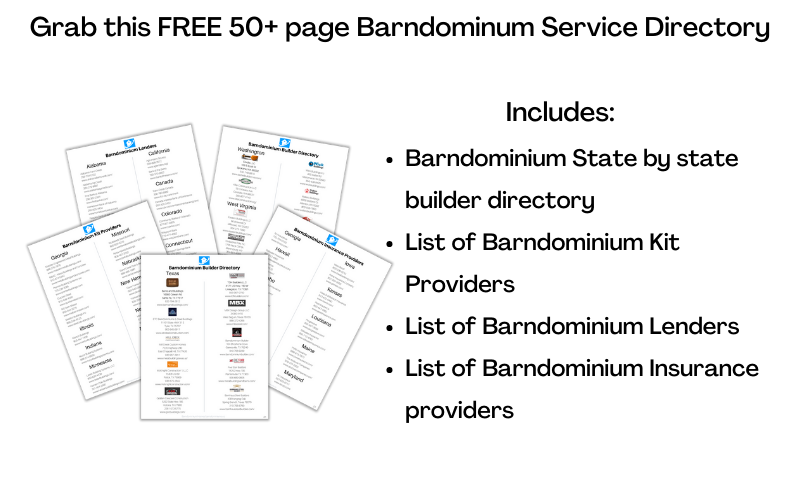 Barndominium Floor Plans with Shop
Here are some great barndominium floor plans with shops attached to help you choose what best suits your lifestyle.
As you look at each floor plan, imagine yourself living in these setups. When you visualize yourself walking through the homes and working in the shops you can better pick which one best suits your needs and wants.
This 4 bedroom shouse is packed with features that we absolutely love. Not only is the garage/shop connected to the house, but it's also a bit separate so you don't get dust and particles inside the house. Also, the garage is huge which leaves plenty of room for activities. Last, don't miss out on this shouse's master bedroom area. It's absolutely huge and I love how it connects to the kitchen pantry and laundry through the closet.
This plan is the perfect design for leisure. The Living space is just the right size for one or for a couple and great for mancave or she shed use. Whether chilling and small gatherings on its wraparound porch, tinkering with your vehicles in this massive shop, or hobbies that require a huge space, this home accommodates lots of relaxing time.
Barndominium Floor Plan with Shop 91001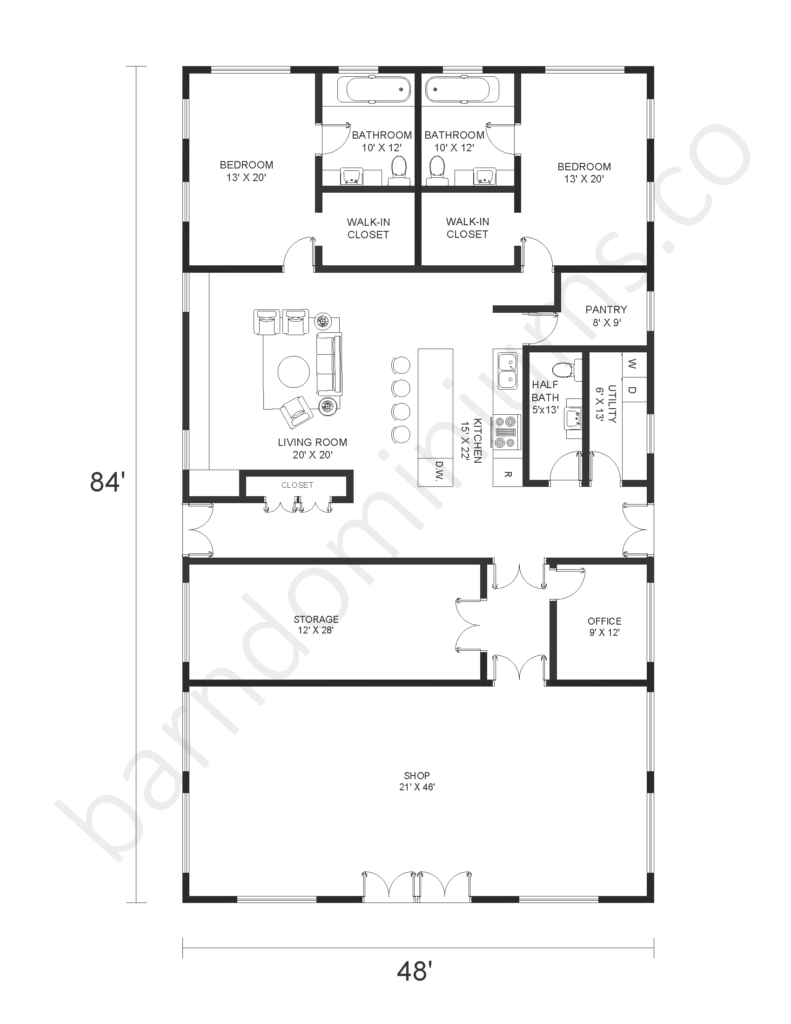 This floor plan is perfect for someone who wishes to use their shop as a business. With plenty of room to work, as well as park a car. The shop allows you to enter the main home through an entryway that has separate storage on the left and an office on the right. That way, you can easily have access to your office that is separate from where you work but close enough to step back out to the shop when needed.
Barndominium Floor Plan with Shop 91002
This floor plan living space is plenty of room for someone not needing a lot of bedrooms, offering only 2 bedrooms and 2 and a half baths.
Barndominium Floor Plan with Shop 91003
If you are looking for a floor plan with a shop that has the option for three bedrooms then this is it. This build would be perfect for a young family with an open floor plan concept. Having an open floor concept makes it easier to tend to the kids as well as gather together as a family at one time.
The shop on this floor plan enters as well by a storage room and office. Allowing your shop to be on the opposite side of your bedrooms. This will help reduce the noise level if you need to work late into the night hours and your kids will be sleeping.
Barndominium Floor Plan with Shop 91004
This barndominium floor plan with a shop has a nice entryway into your home, leading right into the living space. You will pass another hallway that leads to a large storage room as well as an office on your right.
With three bedrooms, this home would be a great option for someone who is needing more than a one-bedroom home.
Barndominium Floor Plan with Shop 91005
This barndo floor plan with a shop attached is perfect for a large family who is looking to run their business from home.
The shop is close to an office as well as a nice storage room.
You can also see that the entrance to the home from the shop leads to a half bath and closet. This is very nice so that you don't have to walk all the way through the home to find a bathroom.
Barndominium Floor Plan with Shop 91006
With three bedrooms, an open concept floor plan, a laundry room, as well a walk-in pantry this home has it all before even looking at what the shop has to offer.
With the attached shop, this home can be a great floor plan to use when looking to have a place to store all your family's hobbies.
With an office, craft room, and storage that is close to the shop entrance you can have easy access to all the things you need to have fun and enjoy life as a family.
Barndominium Floor Plan with Shop 91007
If a lot of bedrooms are high on your priority list, then you will like this floor plan. With 5 bedrooms opposite the shop, you can easily separate working days from evenings at home. With the entrance to the shop opposite the front entrance, you can truly separate work from home life.
Barndominium Floor Plan with Shop 91008
This floor plan offers another great option for a family with small children who wants to be able to run a productive business from home.
With the option to have your office right near your shop, it can really help ease the confusion with your kids about when you are working or not. With the office right by your shop, it will really help eliminate walking through the home to get to your office.
With 5 nice size bedrooms. With a large kitchen and living area, this floor plan will be a great one to use if you are looking to make great memories as well as plenty of space for your family to stretch out.
Choosing a barndominium floor plan with a shop doesn't have to be that hard when you have these amazing floor plans to help inspire you. If you are looking for more inspiration when it comes to building your dream home be sure to check out other barndominium guides to create the home of your dreams.