There is a wide range of different things to think about when you set out to build a barndominium, but one of the first and most crucial things to think about is the floor plan. Today we are sharing our favorite 40×40 barndominium floor plan options to help give you some great ideas!
With the barndominium building niche expanding in popularity in recent years, there are innumerable barndominium floor plan possibilities on the market today.
Your floor plan will have a huge impact on the overall experience you have with the finished home, with each individual plan characterized by its own distinct proportions, aesthetic nuances, and extra features.
When it comes to choosing your perfect barndominium floor plan, you'll have to consider a number of different factors, like your budget, personal lifestyle demands, and future plans for the barndo, among others.
In this article, we'll break down the key things to consider when you're shopping around for floor plans and list some of our favorite 40×40 barndominium floor plans to help you get inspired.
Barndominium Floor Plans – Things to Consider
Though there are a few basic barndominium floor plan layouts, once you start your search in earnest, you'll quickly realize that the options are nearly endless!
When it comes to narrowing down your search, there are a few key considerations to keep in mind when determining whether a floor plan is a good fit for you…
Space and Lifestyle
When looking at floor plan alternatives, one of the most crucial factors to consider is the amount of room you'll need to support your lifestyle.
When looking at all the barndominium floor plans out there, it's a good idea to start by thinking about how much space you have in your home now and how much you'd be prepared to downsize in places where you spend a lot of time, such as the bedrooms, living room, and shop/garage.
The way you envision your household changing in the future (both near and far) will greatly impact this.
Are you expecting your current household to grow, or will it shrink as your children fly the nest?
Will you construct your barndo as a permanent home to retire to, or will you rent it out as vacation accommodation?
You can minimize disappointment later on by considering these factors early in the process and setting non-negotiable minimums for the space you need.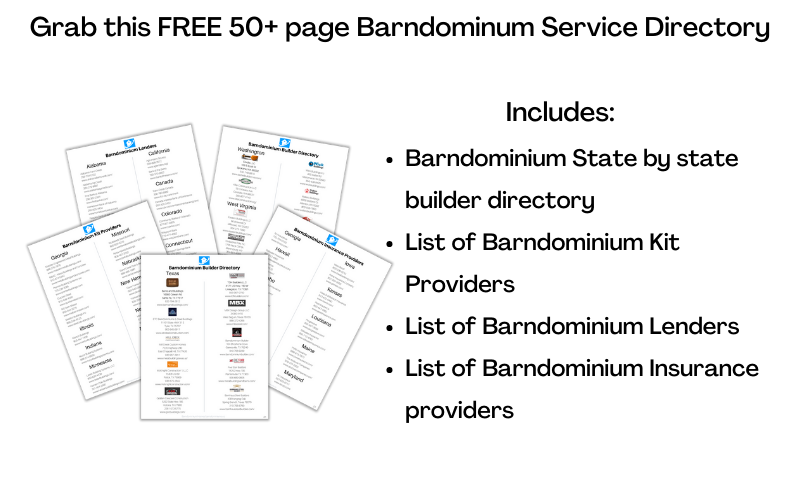 The Flow of Traffic
Another factor to consider while selecting floor plans is your household's natural traffic flow.
We recommend getting a few floor plans that have already caught your attention on your computer, then imagining your family moving through them like they would on a normal day.
Consider how the floor layout will help you get from your desk to the kitchen, the kitchen to your bedroom, and your paths to any other spaces where you spend your day.
Obviously, you won't know for sure how well a floor plan will suit your household's traffic flow until the house is constructed and you can walk around it, but taking the time to look at established floor plans and envisioning your family living there will help you assess their suitability for your needs.
Resale Value
A barndominium, like traditional self-build homes, can be a smart investment.
If you plan to sell your barndominium in the future, it's important to consider the assets of a barndominium from the perspective of a homebuyer and how a specific floor plan might stress or dampen them.
Consider how the exterior colors will contrast with the surrounding region, the natural vistas that the windows will face, and how different sorts of customers, such as newlyweds and retirees, will react to the floor plan.
Soon enough, you'll be able to settle on a fresh set of needs by framing each floor plan you look at with these kinds of questions and quickly filtering out a number of plans that will make selling difficult later on.
If you do some research on what homebuyers are looking for in the modern market, you'll be able to pick a floor plan decision that will make selling infinitely easier!
40×40 Barndominium Floor Plans with Pictures
Now that you understand the kinds of aspects to consider as you search for your floor plan, here's a list of some of our favorite 40×40 barndominium floor plans to help you get inspired and get that much closer to the floor plan that's right for you.
This floor plan features a cozy and functional layout that includes three bedrooms, two and a half bathrooms, a convenient mudroom, and a porch. The bedrooms are strategically placed to offer privacy and comfort to the occupants. The master bedroom includes a private ensuite bathroom, while the other two bedrooms share a full bathroom. The kitchen, dining, and living areas flow seamlessly, creating a spacious and open-concept living space. The mudroom provides a place to store shoes, coats, and bags. The back porch is perfect for outdoor entertaining or simply relaxing in the fresh air. Overall, this floor plan is designed for comfortable living.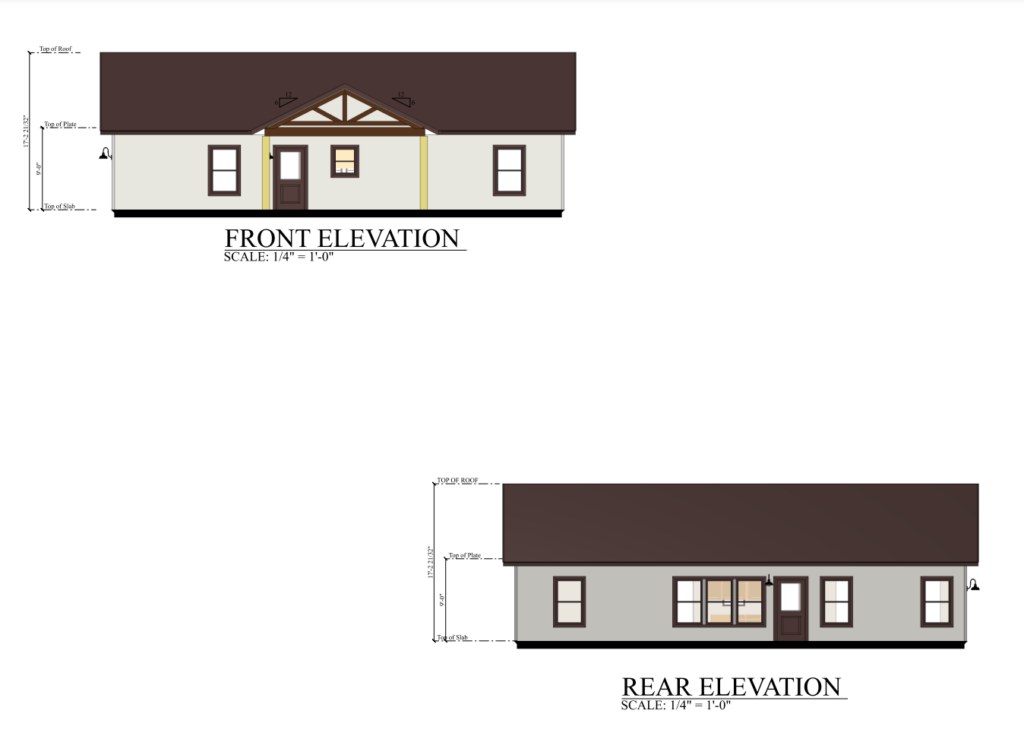 This floor plan has managed to partition the home into several different rooms while still maintaining an open traffic flow that will suit almost any family.
The two bedrooms are positioned logically around a central hub of the living room/kitchen area, and a front, back, and side door all allow total ease of movement from one end of the home through to the other.
This floor plan is another fantastic example of the efficient use of space.
The bedrooms, both of them boasting a generous size, don't eat too much into the open-plan living area and kitchen in the central part of the home.
The positioning of each of these spaces has been based around the exterior doors in an ergonomic and logical way, with each entrance and exit offering immediate access to either the living room or kitchen.
In this floor plan, we see a more traditional home layout with a couple of interesting design conventions that add a dash of unconventional intrigue.
Nestled between the standard layout of the living room, kitchen, and bedrooms, you'll find a utility room that's lined up perfectly with a side door and a communal half bathroom within easy reach of the open-plan front room.
We love the sense of symmetry that's been applied to this 40×40 barndominium floor plan.
The kitchen and living room are set apart from each other by an invisible line that runs straight through the center of the home and then serves to partition the 2 12×12 bedrooms at the rear of the house.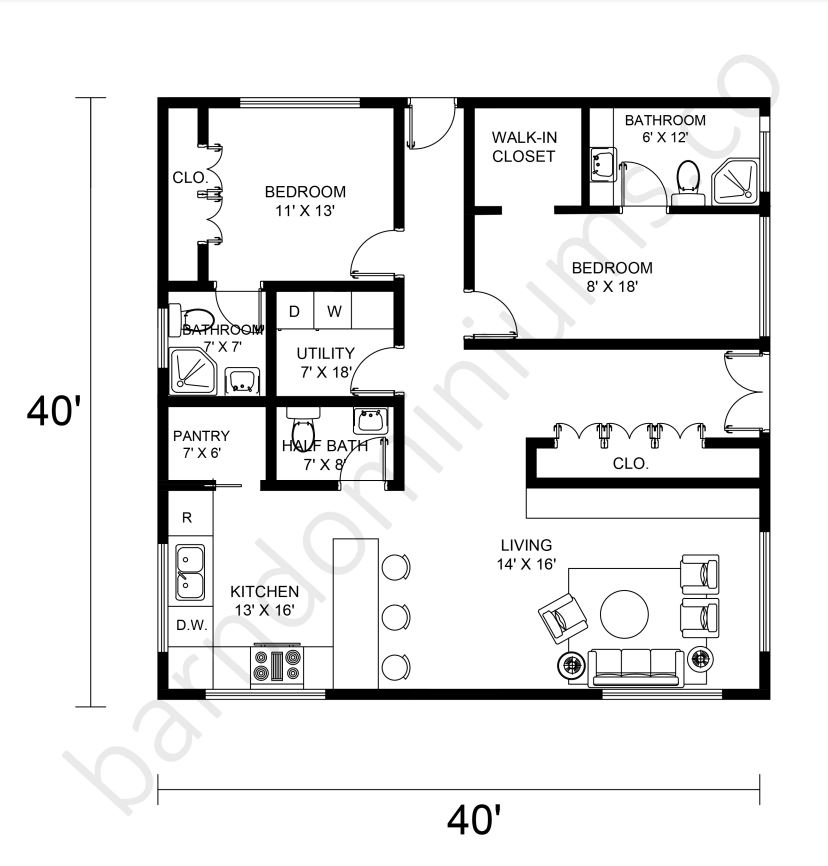 Here's a floor plan that's managed to put a lot of emphasis on storage and utility, without sacrificing anything in the way of leisure and comfort.
The two bedrooms have an ample size and their own bathrooms and closets.
In the communal areas, you'll find a utility room, pantry, half bath, and a large hallway closet, all within easy reach of the living room and kitchen, where people will spend most of their time.
This is a barndominium that's perfect for a vacation home for small groups, where two scaled-back bedrooms have allowed a huge amount of space in the communal areas.
This barndo floor plan also features an open L-shaped channel for a smooth flow of traffic from one exterior door to the other. We're seeing a lot in this barndominium floor plan that we absolutely adore.
This floor plan's design allows for quick and fluid movement between the communal areas, and a near-luxurious amount of private space in the two 10×14 bedrooms, each one with its own bathroom and closet.
A small yet functional kitchen occupies a far corner of the barndo, with direct and convenient access to the pantry and utility room.
This barndominium is perfect as a solo getaway for remote workers and people living alone who have the occasional guest.
The master bedroom, complete with an attached half-bathroom and large closet, occupies practically an entire quarter of the floor space, promising a pervasive sense of luxury for the main occupant.
The living room and kitchen are equally generous in terms of space and offer quick and easy access to a central half bathroom and storage areas.
What better way to put your own vision to reality than by designing your own floor plan with available software.
If you would like more helpful advice from the pros, be sure to check out the rest of Barndominiums.co. There, you will find information on financing and insurance and other tips and tricks. You will also find featured barndominiums to help get you inspired for your own custom home.