One of the first things you'll need to think about when building a barndominium is the floor plan you'll choose. There's a huge range of barndominium floor plans to pick from, each with its own distinct proportions, extra features, and aesthetic tweaks.
Finding the ideal barndominium floor plan for you requires careful consideration of a number of things, including your budget, lifestyle needs, and how your use of the property may start to look different over time.
In this piece, we'll look at how to choose the ideal plan for your unique situation, and provide a list of some of our best 40×80 barndominium floor plans with shops to help you get started on your own project.
Before we begin, you may want to consider using a barndominium kit under 50k with your barndominium build. This can help you save time and money!
Barndominium Floor Plans – Things to Consider
When it comes to picking a barndominium floor design, you'll quickly notice some of the standard formats, but the possibilities are practically endless!
Having said that, there are a few crucial considerations that should always take priority while searching for your ideal floor plan…
Space and Lifestyle
When comparing different floor plans, the most crucial thing to consider is how much space you need and the kind of lifestyle you wish to accommodate.
Start by considering the space you live with now, how much of it you use, and how much downsizing in certain areas, such as the bedrooms, kitchen, or dining room, you'd be willing to tolerate.
Are you expecting your family to shrink as your children leave for college, or is your family set to grow even larger? Is this barndominium going to be a rental vacation property accommodating for large groups, or is it intended to be a "forever home" for you and your partner to retire in?
You'll be able to filter out floor plans and avoid disappointment if you think about these aspects early in the process, and start your search off with certain non-negotiable minimums in mind.
The Flow of Traffic
Consider how you and your family move throughout your current house in a typical day and what the "traffic flow" of your daily domestic life looks like when choosing your floor design.
Start looking at prospective floor designs that have caught your eye, and imagine your family moving through them on a typical day.
Consider how long it would take you to travel from your shop to the kitchen, the front, and back doors, and anywhere else you would need to go if you plan on spending a lot of time there.
Other things like having a place for your pets, or being able to stay close to small children if you have them, might also be something to consider.
One of the big drawbacks of self-build homes is that you won't be able to walk around the property before making a decision as to whether you want to commit to it or not. With this in mind, it's essential to spend a long time analyzing your options for floor plans and determining how suitable it is for the way you're planning to live in them.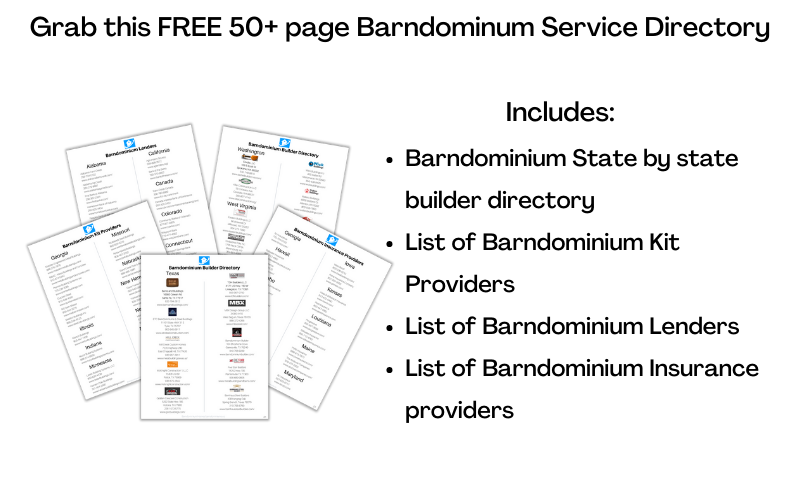 Resale Value
If you want to create a barndominium as an investment property, consider the property's assets from the buyer's perspective, and how a particular floor plan might highlight or dampen them.
How will the home look from the curb?
Will the windows in the master suite afford nice views? Is there enough space for additions and house improvements considering where the barndominium will stand within your plot? What will the floor plan seem like from the perspective of retirees, newlyweds, and other demographics of potential buyers?
You'll be able to come up with a list of requirements for your barndo by framing floor plans through these questions.
Take time to understand what buyers look for, and you'll make things much easier for yourself when it comes time to sell.
40×80 Barndominium Floor Plans with Shops
Now that you've got an overview of the kinds of things you'll need to consider when searching for a floor plan, here's a selection of our favorite 40×80 barndominium floor plans with shops to help you get inspired!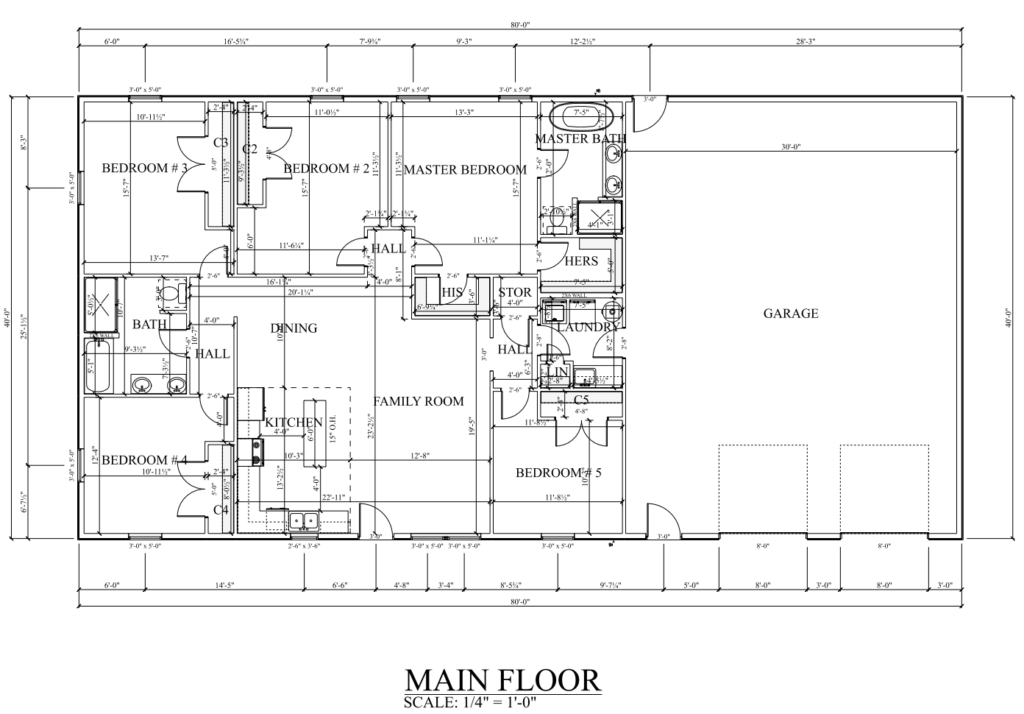 With open space for the living room, dining room, and kitchen, this barndo breathes a welcoming and homey atmosphere. Ideal for a large family, it offers a master bedroom and bathroom as well as 4 other bedrooms, one of which can be the designated guest room. An equally large shop is built to the right side of the house and is accessible from the inside through the laundry area, and from the outside via a separate door.
This barndominium floor plan holds work and play in perfect balance, with a huge proportion of the home taken up by the 20×39 shop, an ample storage room, and a 9×11 office.
In the rest of the home, a large living area makes up a central portion of the home, open to a small but functional kitchen, and a hall that leads to three well-sized bedrooms, each with its own half bathrooms.
This plan also affords ample room for the work-based portion of the home, with a 26×39 shop with an attached craft room, office, and storage.
Past the living room and kitchen with a fairly standard setup, we find a trio of bedrooms hugging one side of the home in a layout that's clearly made the most of available space. We love how the two smaller bedrooms have closets with opposite-facing doors, giving both rooms their own built-in storage while maintaining privacy.
This floor plan shows a barndominium that's been designed to highlight the communal areas, and it looks great while doing it!
The front doors open onto a large, open-plan area containing both the living room and kitchen, with a short hallway space leading through to three bedrooms of varying sizes. We also like how the office/utility room has a door on either end, connecting the shop to the living area and offering fantastic freedom of movement.
If you've decided on a 40×80 barndominium, you may think that having a large shop will mean that you'll have to make sacrifices in the living areas or bedrooms.
This floor plan shows that this certainly isn't the case! With its 18×39 shop, with attached storage and office areas, this floor plan also allows space for two large bedrooms with attached bathrooms, and a medium-sized living room and kitchen, giving you both comfort and functionality.
This is another barndominium where plenty of living space exists alongside a big shop in total harmony.
Straight past the front door, you're welcomed into a large 16×26 living room, which is divided from the kitchen by a nice, long breakfast bar/kitchen island. Though there's no stand-out master suite, the three 12×12 bedrooms (two of them with their own bathrooms) give the interior a nice, neatly set-out feeling.
Though the communal areas in this barndominium are a little smaller than the other floor plans, it more than makes up for it in the size of the functional areas and bedrooms.
A 20×21 shop offers plenty of space for working on projects and has its own office and storage areas nearby.
Past the living room, you'll find four well-sized bedrooms, each with its own built-in closet and direct access to a bathroom.
This 40×80 barndominium floor plan follows a fairly unconventional design, but still offers a lot in the way of both comfort and functionality.
With a small, but not cramped, living area and kitchen, most of the floor space is devoted to a huge 16×39 shop and storage area, as well as four bedrooms, two of which are master suites with large closet space.
If having a large workspace is your priority, then you could do a lot worse than this floor plan!
The shop, office, and storage take up a huge chunk of one end of the floor space, with the shop itself covering 868 square feet.
Though there's lots of room to tinker in, there's also a large living area in the center of the home and three comfortably-sized bedrooms further down the building.
If you would like more helpful advice from the pros, be sure to check out the rest of Barndominiums.co. There, you will find information on cost, financing and insurance and other tips and tricks. You will also find our recommended barndominium design software and lots of featured barndominiums to help get you inspired for your own custom home.