If you love the look of rustic properties but want the comfort and functionality that only modern houses can provide, you may want to consider a barndominium as your next home. Combining classic charm with up-to-the-minute design features, a custom barndominium in New Hampshire offers the perfect middle ground and can be tailored to fit your specific needs.
Eager to learn more? In this post, we'll touch on everything you need to know about building a barndominium in New Hampshire, from planning to eventual construction.
Barndominiums in New Hampshire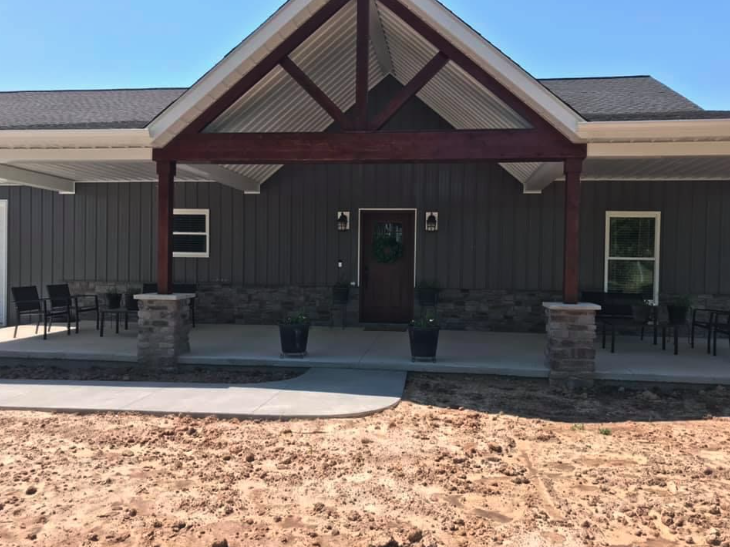 Bordered by Massachusetts, Vermont, and the Gulf of Maine, New Hampshire is a small state nestled in the northeastern corner of the US. With dense forests, lakes, rivers, and impressive mountains, its landscape is a hub for both nature lovers and adventure seekers.
From skiing and snowboarding at some of the highest ski resorts in New England to moose and deer spotting in the Great North Woods and canoeing in the Lakes Region, you certainly won't get bored while exploring New Hampshire's wilderness.
If you prefer a slightly faster pace and want to learn more about the state's history and culture, the capital Concord and its largest city Manchester are popular destinations. Meanwhile, its 13-mile coastline is ideal for watersports throughout the summer months.
Thanks to its continental climate, New Hampshire's weather is very varied, but generally, the warmest temperatures are found in the south and the coldest, snowy winters in the north.
With so much to offer its residents and visitors, it's clear to see why building a barndominium in New Hampshire is so appealing. Keep reading to learn more about the process, or order a copy of our Dream Barndo eBook which covers each stage of the building from start to finish.
What is a Barndominium, and what are its advantages?
A barndominium is a type of dwelling inspired by the look of a traditional barn while functioning as a regular home. They typically feature an open floor plan that provides the flexibility to include an office, workshop, or storage space separate from the living area.
Constructed around a metal pole structure with steel panels and a concrete foundation, barndominiums are sturdy structures that can withstand extreme weather conditions, including New Hampshire's heavy winter snowfall. They are also very low-maintenance and easy to clean, so you won't have to spend lots of time and money keeping up with repairs.
And, because barndominiums are prefabricated, they can be built to your specific needs on a relatively low budget. On average, a barndominium in New Hampshire will set you back around $210 per square foot. To put that into context, traditional homes in the Granite State cost around $280-320 per square foot – just for the outer shell. On top of that, you'll need to add fixtures, fittings, and furnishings. But don't worry. Opt for a more affordable barndo, and you'll have plenty of leftover cash to customize your home however you wish!
Barndominium Builders in New Hampshire
When choosing a barndominium builder, it's important to do your research. You'll want to find an expert construction company with lots of experience in building this type of home. To gauge the quality of their work, it's a good idea to read online reviews from past customers and carefully study the images in their portfolio. And, of course, you'll want to ensure that the builder you choose is fully licensed and insured. If you're looking for barndominium builders in New Hampshire, here are two dependable companies with a great track record.
American Barns and Building
With over two decades of experience, the American Barns and Building team is highly trained in constructing new buildings and barns. In particular, they specialize in erecting timber frame properties and transforming old barns into livable homes. Plus, they can also undertake excavation work and craftsman-quality carpentry as required.
Construx Inc.
Construx Inc. has been designing, supplying, and installing pre-engineered metal buildings for 35 years. Based in Plymouth Construx is also an authorized builder for metal building systems by top brands like Corle and Nucor. As such, you can rely on their industry-leading products and skilled barndominium builders in New Hampshire to deliver first-rate results.
Barndominium Kit Providers for New Hampshire
If the notion of building a custom home from scratch feels intimidating or you're stuck for ideas, a ready-made barndominium kit may be the perfect solution for you. Kits come with a list of trustworthy suppliers and a ton of inspiration.
Consider using a barndominium kit under 100k to save money and time on your barndominium build.
Once you've chosen a design, your barndominium kit provider for New Hampshire will provide all the components you need to construct a prefabricated home that your builder can quickly erect. This will help to speed up the process and eliminate any doubt about whether your design will be successful while still allowing you to tailor your barndominium with your preferred color, size, and finish.
Barndominium Financing in New Hampshire

One of the best resources for getting barndominium financing is by using BarndominiumLoans.com. They are a quote service that takes down your information and works behind-the-scenes with vetted lenders who are best for your location and financial situation.
Whether you have a perfect credit score or a subpar one, and whether you're located in South Carolina or South Dakota, you can submit your information to get a quote within 24-48 hours.
Barndominium Financing Request
Unless you have the money to pay for your build up-front, it's likely that you'll need some sort of financial support to help foot the bill. Depending on the size, location, and purpose of your proposed barndominium in New Hampshire, finding a suitable lender may be challenging. However, several options are available to help you fund your dream home.
Farm Credit East

Established over 100 years ago, Farm Credit East provides lending services for agricultural properties across the northeast US region. From large acreage homes to farm buildings and rural home lots, this financial cooperative with over 18,000 customers is on hand to help.
Farm Plus Financial
As a national lender specializing in rural loans, Farm Plus Financial offers a variety of long and short-term credit options with fixed or flexible rates. And whatever kind of barndominium financing in New Hampshire you're looking for, their country home and land loans are a great alternative for properties that aren't eligible for traditional residential mortgages.
USDA Loan
Alternatively, you may be eligible for a USDA loan to help develop a single-family home. You'll need to meet several requirements, such as earning a low-median income and living within a designated area. But if approved, you could fund your new barndominium in New Hampshire with no deposit and low monthly repayments, so it's definitely worth a try! Want to learn more? Read a more detailed USDA loan guide on our blog.
Barndominium Floor Plans in New Hampshire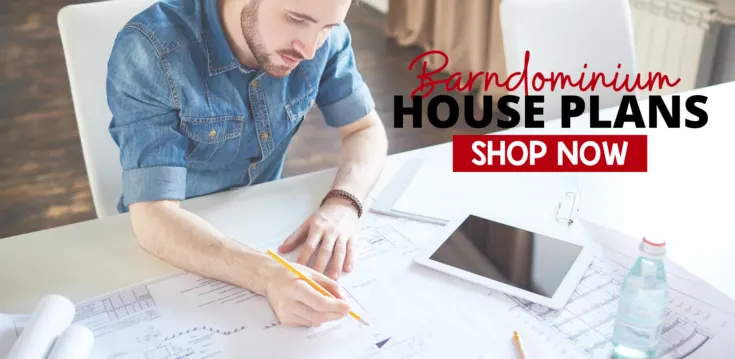 Don't want all the hassle of building a barndominium from the ground up? Then you may want to buy an existing barndominium in New Hampshire! With our Barndominiums for Sale Marketplace, you can browse to your state and find a barndominium for sale near you.
The beauty of buying an existing barndominium is that it can be really easy to customize the floor plan to your liking. The previous owners' setup is just a starting point! Also, by buying a barndominium in New Hampshire, you bypass the potential troubles of the building process – delays, dealing with contractors and subcontractors, and city or county bureaucrats trying to make your build process a nightmare.
Don't delay – find a barndominium for sale in New Hampshire now!
Conclusion
We hope this article has provided some much-needed insight into building a barndominium in New Hampshire and some useful pointers on how to get started. If you'd like to learn more, remember to order a copy of our Dream Barndo eBook packed full of tips that will help guide you on your journey to becoming a fully-fledged barndominium homeowner.