If you are looking to build a larger barndominium you will want to check out these 5 bedroom Barndominium floor plans to help inspire you on your new build.
Building your own home is such an exciting prospect that many people think about often. However, if you have ever looked into what it actually takes to get a project like this up off the ground, you know how difficult it can actually be especially with estimating the cost, finding a company that will fund your build, and also finding the right company and coverage to get your home insured.
There are a lot of things to consider and many different ins and outs that you can get hung up on if you aren't careful. Plus, the more time you take to get yourself organized and allow for mistakes to happen, you can cost yourself a lot of money in the process. This is especially true if you are trying to build a larger home with a lot of rooms. There are even more things to consider and on top of that, things that can go wrong.
That's why building a 5 bedroom barndominium is such a great option for so many people. With a barndominium, the whole process is easier and is much more accessible to a wider range of people. Since they can be built using the shell of a metal pole barn or post frame structure, your actual structure is much simpler and that leaves more time for you to plan the interior and how it is going to be laid out.
A floor plan is an integral part of the building process for any 5 bedroom barndominium. In this article, we have put together some incredible 5 bedroom barndominium floor plans for you to take a look at and gain some inspiration for your own home build project. You can even design your own floor plan of choice using a software and create what works for your needs and lifestyle.
5 Bedroom Barndominium Floor Plans – Things to Consider
Your Design Style
One of the first things you will want to think about when putting together your 5 bedroom barndominium floor plan is your specific design style. It is very important that you know what kind of interior you are going for before you start putting together your floor plan. This will help guide you through some of the decision-making process and allow you to come up with something that will fit your specific style and needs.
There are certain things having to do with your individual style that will have to be decided before you start putting together your floor plan. For example, if you are certain that you will want to include a loft with your 5 bedroom barndominium, this will need to be built into your floor plan. Consider these things before you get started and you will find that your final product reflects who you are much more accurately.
Your Family's Needs
While your style concerns are important, your family's needs are just as essential to a high-quality floor plan. Thinking about these requirements will help you come up with a floor plan that will not only look nice, but will also ensure that you and the other people living in your 5 bedroom barndominium are comfortable and happy.
One of the major things to consider when it comes to your family's needs is different scheduling requirements. If you or someone else in your family has to keep unique hours, it may be a good idea to plan to have the bedrooms be as far away from the living area as possible. This ensures that whoever is sleeping in the rooms will not be disturbed by the rest of the people in the home.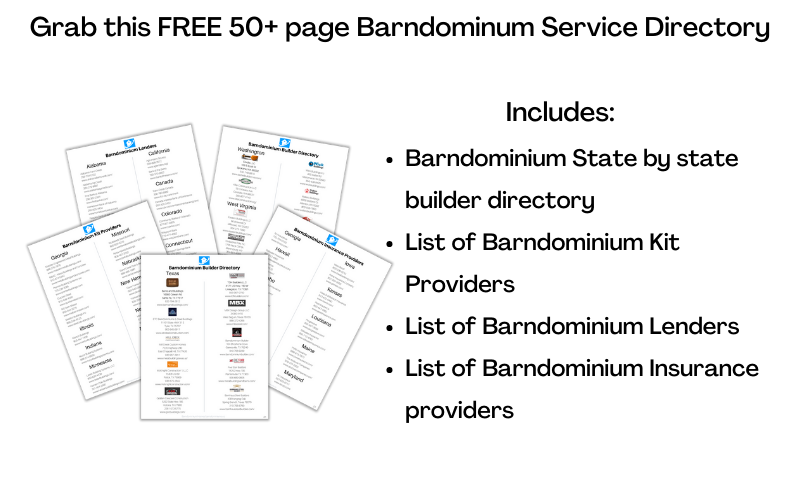 Storage
Storage is one of the most important things a home can have. Proper storage ensures that no one in the home will feel like they don't have anywhere to put their belongings and it also prevents clutter throughout the house. Making sure that you include ample storage with your floor plan will help you keep your home looking nice.
One great solution for storage in a 5 bedroom barndominium is to include a lot of built-in shelving. Built-in shelving eliminates the need for lots of shelving units that can take up a lot of space and ruin the flow of the space. You can also put some built-in shelving in the closets to help make sure that they are kept clean and organized.
Traffic Flow
One of the main concerns when putting together a floor plan for your 5 bedroom barndominium should be the flow of traffic. Because of the fact that you are going to have a fairly large number of bedrooms within the space, there should be a lot of thought and care put into how the space is arranged and how the rooms relate to one another.

One of the most important things to consider with traffic flow is whether you will have an open- or closed-concept layout. This means that you will decide whether or not your kitchen will be cut off from the rest of the living area with a wall. There are a lot of benefits and drawbacks to both and having this figured out beforehand can help you make some important decisions early on.
5 Bedroom Barndominium Floor Plans – Get Inspired With These Floor Plan Ideas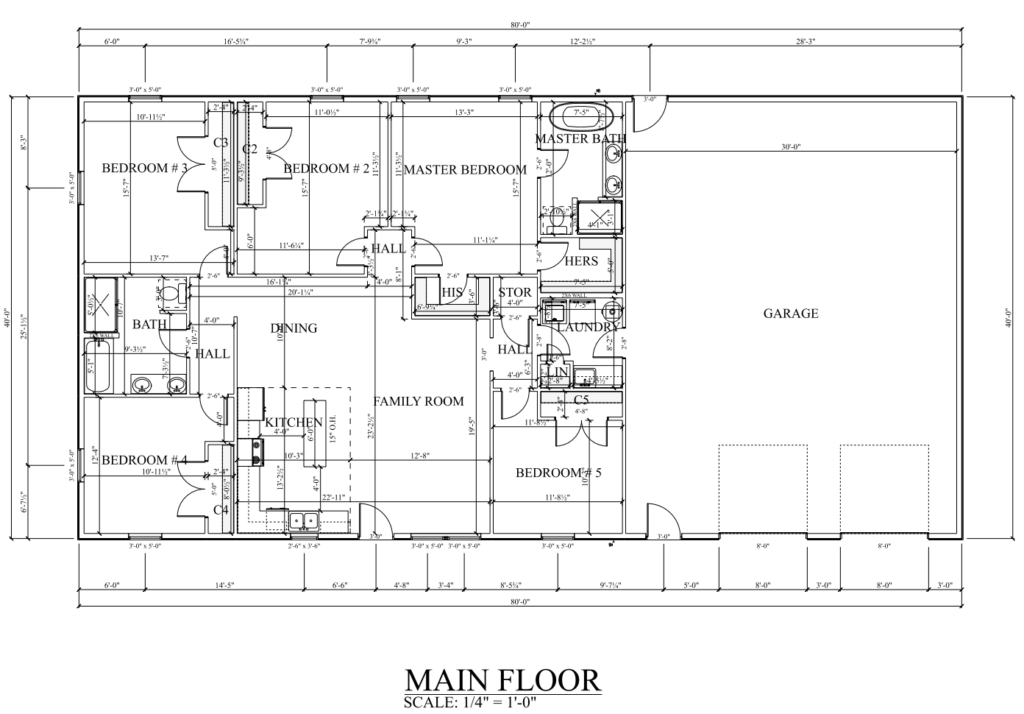 With open space for the living room, dining room, and kitchen, this barndo breathes a welcoming and homey atmosphere. Ideal for a large family, it offers a master bedroom and bathroom as well as 4 other bedrooms, one of which can be the designated guest room. An equally large shop is built to the right side of the house and is accessible from the inside through the laundry area, and from the outside via a separate door.
This barndominium with garage is perfect for a big family, or those who love to have guests over. It also has a room for an office, which can be converted to a playroom or craft room, whichever suits your family's needs. An open-space living room and kitchen is spacious enough for a gathering indoors. A small garage is attached and the huge master bedroom is on the opposite side.
This floor plan features 4 bedrooms, including a master bedroom with an attached bathroom, and a spare bedroom that can be easily converted into an extra bedroom or study room. The plan also includes 3 bathrooms, with the master bathroom featuring luxury amenities. The living space is further enhanced with a spacious playroom, perfect for children or as a home entertainment center. The wide front porch is perfect for outdoor relaxation and adds to the charm of the house. With its ample living space and versatile rooms, this floor plan offers a comfortable and flexible living experience.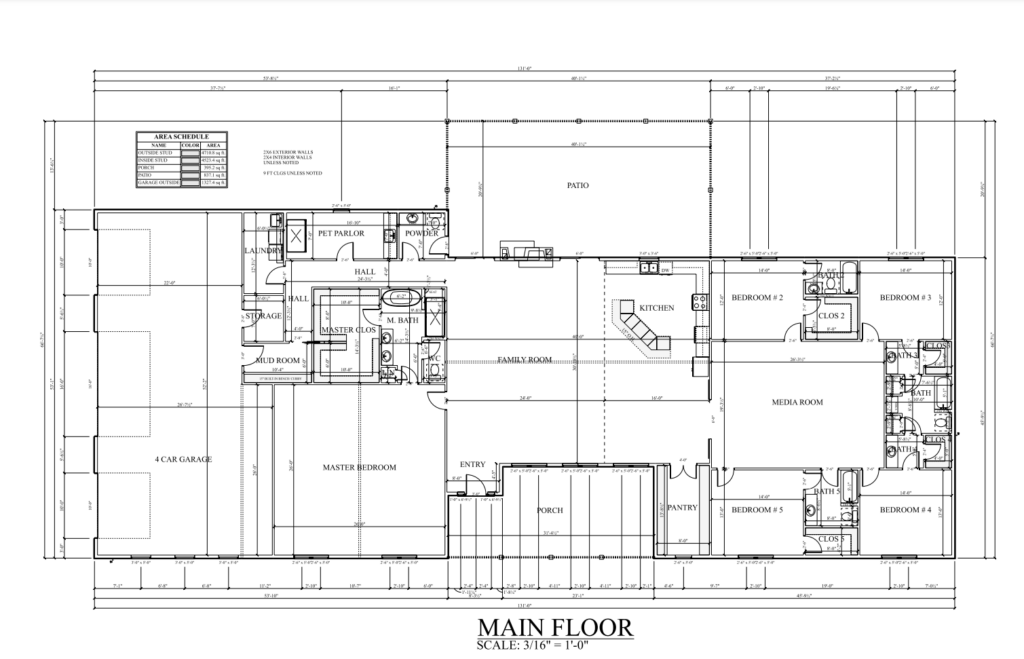 We love this layout that separates the master bedroom from the other bedrooms for privacy. The kid's bedrooms are centered around a large playroom, giving them the perfect spot to let their imaginations run wild as they play. Outside, a huge porch overlooks a playground area, which will be a great spot for them to spend time outdoors and burn off some energy in the process!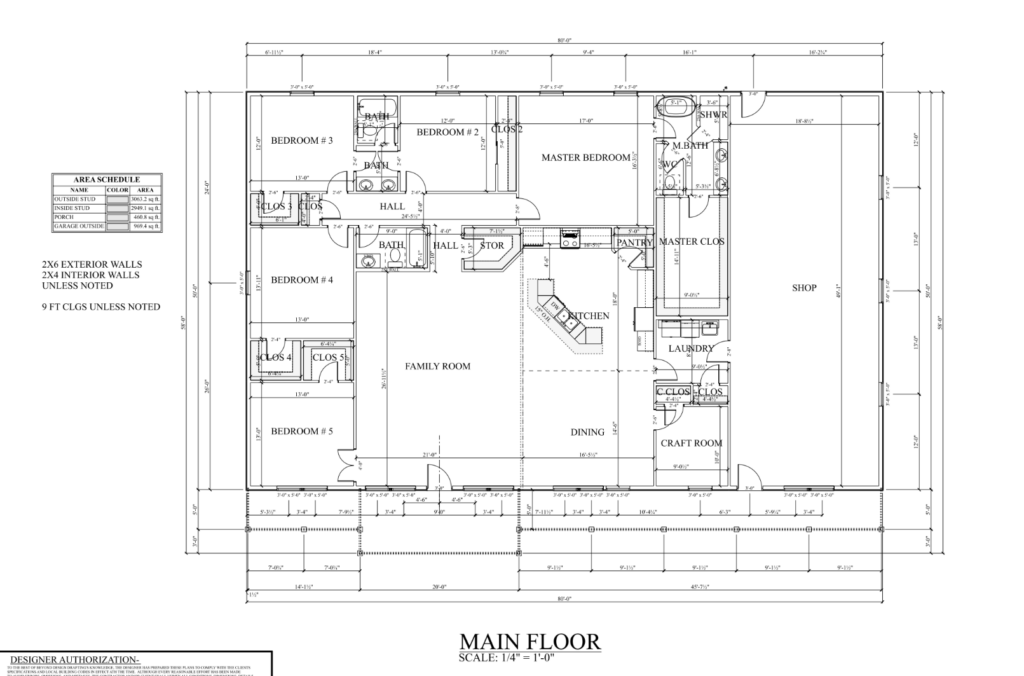 This spacious 5-bedroom house boasts a family room at its center, providing a cozy gathering spot for the whole family. The bedrooms are arranged around the family room, offering privacy and a peaceful retreat for each family member. Additionally, there is a craft room, perfect for pursuing hobbies or creative projects. The house also features three well-appointed bathrooms for added convenience. The living space is enhanced by the presence of a shop, which offers a practical and functional area for woodworking or other activities. This house is an ideal choice for families seeking both comfort and functionality.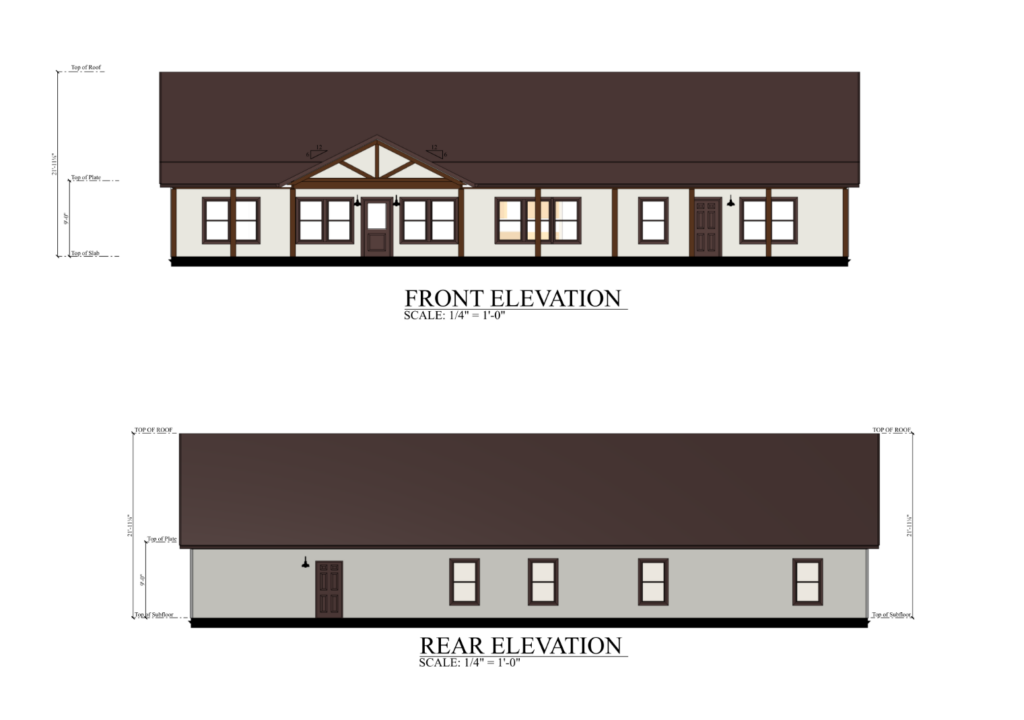 This 5 bedroom barndominium floor plan is a great example of what can be done with a little bit of careful planning. This plan uses the concept of surrounding the living area and kitchen with the bedrooms and offers a lot of options as far as how close or how far away someone might want their room to be from these areas. This plan also features two large master bedrooms with their own walk-in closets and bathrooms, which can be great for people who want to have space from the living area.
This 5 bedroom barndominium floor plan is designed around having an almost square layout, which can be difficult to pull off but with careful execution can also work incredibly well. This plan also features an extra home office that could potentially be used as a guest bedroom if you so desired. The shared bathroom of the two bedrooms toward the front of the home is a great feature as well and helps save space throughout this barndo.
This unique 5 bedroom barndominium floor plan is built on a long, narrow structure and is a great choice for people who want to maximize a piece of property that will hold these dimensions. This plan features a bedroom right off the main living area which can also work very well as a home office if you want a place to work that isn't completely cut off from the rest of the home.
If you are looking for a 5 bedroom barndominium floor plan that has a lot of living space and storage space, this one could be a great choice. With ample closets and 4 bathrooms, there is enough space in this relatively small area for a large family or a lot of visitors. With a 17×23 living area and a large utility room, this floor plan is perfect for functional living.
The massive living space in this 5 bedroom barndominium floor plan is enough to have large gatherings without feeling cramped and the open-concept kitchen is perfect for entertaining. All the bedrooms in this particular floor plan are relatively small but this leaves enough room for things like a large utility area and all the space up front for the kitchen and living room. It also features a lot of closet space so you don't have to worry about tripping over peoples' belongings, which is perfect for a relatively small layout like this one.
This is one of the smaller floor plans on our list and is a perfect example of what can be done even if you don't have that much space. Even though there isn't much room in this 5 bedroom barndominium, the design creates an illusion of space and is a great choice for people who want to be able to fit a lot of people in a small area. It even has a large 8×12 laundry room which can also be used as a utility area if you like.
This large 5 bedroom barndominium has a wonderful, open feel that is perfect for people who want to house a lot of family members but don't want to feel like everyone is on top of eachother. The massive 25×40 living area and kitchen opens up in a fairly grandiose manner and this can be a fantastic solution if you want that kind of room. It also features enough storage space for everyone and relatively large bedrooms.
This compact 5 bedroom barndominium floor plan features a unique design that puts the laundry room right in the center and creates some excellent hallway flow. It also has a large walk-in pantry and enough bathrooms for a lot of people to live comfortably.
Conclusion
Knowing what to look for in a floor plan for your 5 bedroom barndominium can help you make the right decision when the time is right. By taking a look at these floor plans, you should have a good idea of what your own barndo can look like and what options are available to you.
If you would like more helpful guides like this one, be sure to check out the rest of Barndominiums.co. There, you will find more floor plans as well as in-depth looks at building a barndominium in different states and information on things like taxes and barndominium insurance. You will also find featured barndominiums to help you get some inspiration for your own custom dream home.