They say everything is bigger in Texas and this barndominium is proof. The Heritage House Homestead Houston barndominium sits on 40 acres in the Houston, Texas area, giving you all the room you need to dream big. Lacey Harwood's 4,000 sq. ft. home features three spacious bedrooms, carefully designed outdoor spaces, and a huge, professional-quality kitchen. Not to mention a super cozy receiving area within the garage. This home is built with lots of taste and utmost comfort in mind.
Houston Barndominium Exterior
Kitchen
The kitchen is the heart of the home, and this home's heart is bigger than most. From the massive built-in refrigeration units to the professional quality range, this kitchen is designed to be highly functional.
A large center island features a dishwasher and sink on the business side, and on the other, comfortable bar seating for three.
Living and Dining
This barndominium features several different living areas. The living room/dining room space is well-suited for the family to gather, with dining for six and a convenient wet bar with sink, cooler, and handy storage.
This multipurpose space is perfect for guests, with a living room set and bunk beds.
Still not enough seating? There is another common area with a kitchenette, washer/dryer, and wall-mounted television. We love how flexible this space is, and the way it is convenient to the garage and work areas.
This home also features a mudroom and entryway. No need to track muddy boots into the house. Brilliant.
Bedrooms
This home also features three large bedrooms, one of which has an ensuite bathroom.
We love the vanity area that leads to the bathroom, especially that massive full-length mirror.
Bath
Whether you prefer quick showers or long soaks in the tub, this barndominium has what you need. This home's bathrooms feature high-quality finishes, exquisite tile showers, and a whimsical claw-foot tub. Check out the massive double vanity and separate water closet with sink!
Outdoor Living
Living in Texas, you will want to embrace the beauty of the outdoors, and this barndominium is designed with that in mind. From the expansive acreage with a seemingly limitless view to the spacious covered patio with firepit and ceiling fans, this property is meant to be enjoyed both inside and outside.
Bonus Features
One of the unique advantages of a barndominium home is all the space you have to play with. This home has space to accommodate every need and includes a wine storage room, home library, and hobby room.
For many people, happiness is a glass of wine and a good book. This home offers both simple pleasures with built-in wine storage racks and a beautiful library with floor-to-ceiling built-in bookcases.
The hobby space in this home is a crafter's dream come true! We love how much storage space is available here. The central storage island is full of shelves and drawers, and the large cabinets let you keep the mess hidden away.
Garage
No barndominium is complete without space for all your toys and tools. Plenty of room here for all your power tools and space to pull in one or even two vehicles for storage or tinkering.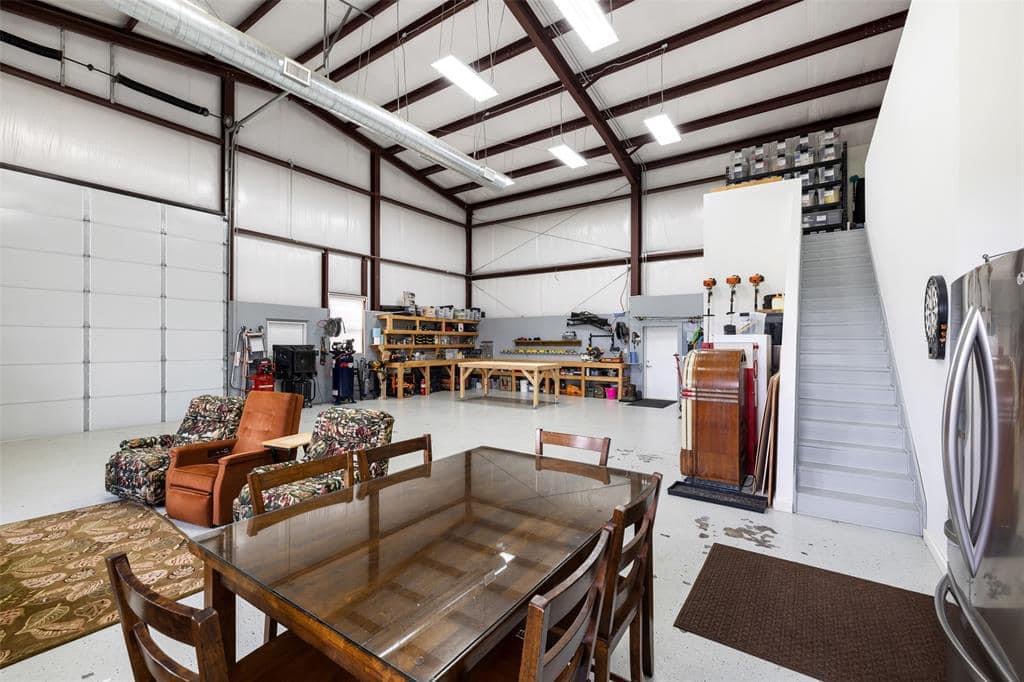 Houston Barndominium Floor Plans
If you're like us, you're finding it hard to believe that it's possible to fit so much living under one roof, but it's true. These floor plans make the most of every square foot. Whether you want to create your own plan or get the help of a professional, undoubtedly designing your floor plan is one crucial part of the process where you decide what features you want to include in your forever home.
If you'd like to learn more about this home, you can check it out on Instagram at @heritagehousehomestead. (All images in this post are courtesy of Lacey Harwood.)
Can't wait to get started on your own Barndominium in Texas? Check out Barndominiums.co to learn more about the exciting possibilities! You can also browse for other guides that will greatly help with your build such as barndominium cost, securing funding, and finding a company that will give you the right insurance coverage for your home.