Building your own home can be incredibly rewarding and can also give you the opportunity to create a living space that is customized to your exact specifications. This can be especially appealing if you have a big family with a lot of needs and requirements when it comes to your way of life. If you have always wanted a specific floor plan or extra rooms, building your own home can be a great way to get those things for yourself.
However, if you have ever looked into doing this kind of a project before, you probably have stopped dead in your tracks. The amount of time and money it takes to get a home build started, let alone finished, can be enough to put a stop to your fantasies of building your own house.
That's why building a barndominium in Texas could be such a great choice for someone who has been discouraged by the prospect of building their own home. Barndominiums are a great option for all kinds of people with all kinds of lifestyles. Plus, with alternative housing being as popular as it is with the advent of van homes, container houses and shouses, there has never been a better time to build a unique house.
In this guide, we have compiled everything you need to know about building a barndominium in Texas. By understanding everything that goes into a project like this, you can be prepared for your own build and start yourself on the right path.
What Is a Barndominium and What Are Some of the Advantages?
Barndominiums are custom homes that are constructed from the metal shells of new or existing barns. These shells are known as metal pole structures or post frame buildings and they are generally used for agricultural or industrial purposes like stables or shops. However, they can also be used for residences and turned into beautiful custom homes. By framing up the interior just like a traditional home, you can create an indoor space that is just like any other house with one of these structures.
One of the main advantages of building a barndominium in Texas is how easy they are to construct. A traditional home can take over a year to get the initial construction done. A barndominium can be built in about half the time.
Because of this, you can end up saving yourself a lot of money along the way on both labor and materials. This opens up the idea of building a custom home to a much wider variety of people who might not otherwise be able to afford this type of project.
One of the other advantages of building a barndominium in Texas is that they are incredibly durable. Due to the all metal construction, you can rest assured that you will not be dealing with rot, mold, or mildew in the same capacity that you would with a traditional home.
This is especially important in a state like Texas where the climate can be very moist. Humidity can cause a lot of damage to a wood-framed home and a barndominium can help stave off some of these potential issues with the structural elements.
Cost of Building a Barndominium in Texas
When you are budgeting for your barndominium in Texas, one of the first things you need to do is figure out your cost per square foot. This is the best way to decide on a budget since it will allow you to find out exactly how much space you can afford.
Once you figure this out, you can then decide what your particular barndominium will have in it as far as bedrooms and bathrooms go. Knowing your budget this way can help you determine just how much space you will have and how your barndo can be designed.
The cost of building a traditional home in Texas is somewhere in the ballpark of $270 per square foot. This amount will get you the initial construction of the building, but it doesn't include any of the extra things that you would want in a custom home. Cabinetry, countertops and appliances will all have to be purchased separately and for the most part, this price will not include any kind of cosmetic work like painting or trim carpentry.
The cost of building a barndominium in Texas is, on average, $240 per square foot. At first glance, this doesn't seem that much cheaper, however, once you consider that many barndominiums can reach upwards of 2,000 square feet, this $30 difference starts to really matter. With this extra money, you can afford all of the things that you would want to be included in a custom home build.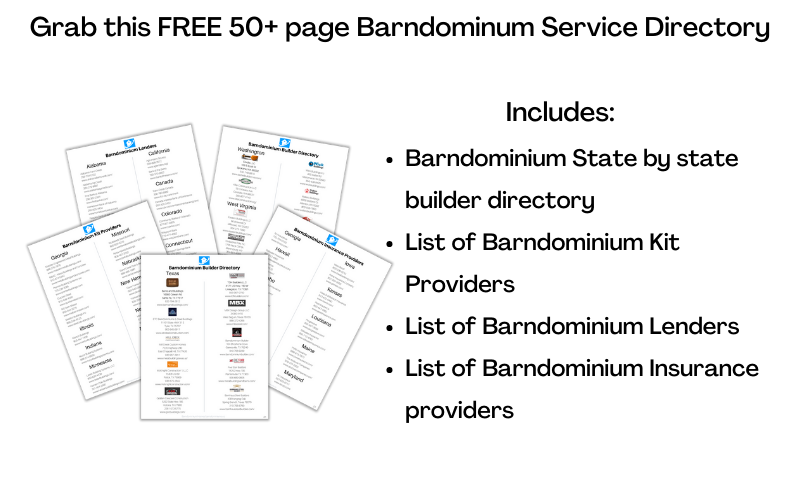 Barndominium Builders in Texas
After you have finished budgeting for your barndominium in Texas, you can start thinking about more of the practical things you will need for your build. One of the most important decisions you will have to make is who you are going to hire to do the actual building.
While you can possibly handle some of the construction yourself, if you want to make sure your barndominium in Texas is safe and up to code, it is best to hire a professional to do some of the more complicated jobs. Construction can be a complex industry to navigate. Luckily, there are a few things you can look for in a builder that will help you decide if they are going to be a good fit.
One of the first things you should look for in a builder for your barndominium in Texas is the experience in building metal post-frame buildings. While some builders will have a bit of experience with this type of structure, it is important that you find someone who has enough of a history with this kind of project that they can bring a level of expertise to the table.
You should also find a builder that has a good relationship with the people they have worked with in the past. Building a home is a very complicated project and you will have to deal with your builder on a day-to-day basis. Look for reviews online and make sure that any builder you are going to hire has been able to maintain good relations with their previous clients and that they were able to get them the final product they wanted.
Texas Country Charmers
Texas Country Charmers is dedicated to helping its clients get the home they want in time and under budget. If you want to work with a company that has streamlined the building process for a barndominium in Texas, they are a great option.
HL Custom Homes
HL Custom Homes is a builder that is heavily focused on the customer experience. They want to ensure that their communication is on point and that you are satisfied with the entire build. On top of this, they are very experienced with metal post-frame buildings.
CMW General Contractors
CMW General Contractors is connected to the community in Texas and they work hard to ensure that their clients are satisfied with the end result. They have built all kinds of metal post-frame buildings and can help you build the barndominium in Texas that you have been dreaming of.
Barndominium Kit Providers in Texas
If you are not interested in building your barndominium in Texas from the ground up, you could look into getting a barndominium kit. Barndo kits are prefabricated and designed to be built in as little time and with as little effort as possible. This makes them a great choice for people who are first-time home builders or inexperienced with construction in general.
Many barndominium kit providers offer comprehensive support for anyone who purchases one of their kits. This means that you can get help with the build process throughout the entire thing. Many kit providers also have contractors that they work with on a regular basis who can come out to your build site and supervise. Check out these barndominium kits under 50k and barndominium kits under 100k
Barndominium Financing in Texas

One of the best resources for getting barndominium financing is by using BarndominiumLoans.com. They are a quote service that takes down your information and works behind-the-scenes with vetted lenders who are best for your location and financial situation.
Whether you have a perfect credit score or a subpar one, and whether you're located in South Carolina or South Dakota, you can submit your information to get a quote within 24-48 hours.
Barndominium Financing Request
Texas Farm Credit
Texas Farm Credit is an agricultural bank that understands the needs and issues that arise from building a barndominium in Texas. They want to help the people in the community not only get the financing they need for their projects but also support and understanding.
Lone Star Ag Credit
Lone Star Ag Credit prides themselves on offering hometown-quality service to its customers. Their loan officers are committed to the people they work with and they will make sure you get the right financing for your barndominium in Texas.
Barndominium Taxes in Texas
Just like with any other home, you will need to pay property taxes on your barndominium in Texas. However, sometimes, the rate at which you pay your taxes will be different than it would be with a traditional home build. This is due to something called dual-use construction.
Many barndominiums fall under this category because they are often used for both residence and storage. A tax assessor can come out to your barndominium in Texas and determine if it falls under this tax category. If so, you will pay a different rate based on the percentage of each type of section.
Where to Find Barndominium Insurance in Texas
You will also need to get barndominium insurance for your home if you plan on living in it for an extended period of time. Insurance for your barndominium in Texas will help protect you and your home from potential disasters.
If you live in an area that is especially prone to certain types of disasters like, for example, wildfires, make sure your insurance has a wildfire clause. An insurance agent can work with you to ensure that you are getting the right type of coverage for your particular home.
Barndominium Floor Plans in Texas
When you are starting on your barndominium in Texas, you will probably have a lot of ideas for things that you want. It is best if you put these ideas into writing and make a list of all the things you need to include as far as bedrooms and bathrooms. Then, take these ideas to a professional draftsman.
A draftsman can take all of your ideas and put them into a cohesive floor plan. This plan will be drawn to scale and will be practical enough to be made a reality. Your builder will then use this floor plan to construct your barndominium in Texas. Also, you can use a barndominium design software to design your own plan.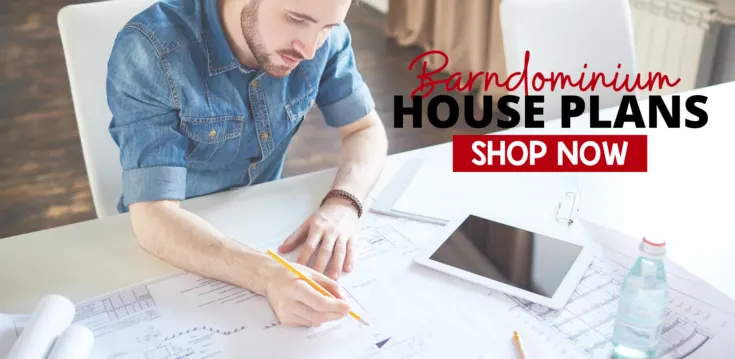 Don't want all the hassle of building a barndominium from the ground up? Then you may want to buy an existing barndominium in Texas! With our Barndominiums for Sale Marketplace, you can browse to your state and find a barndominium for sale near you.
The beauty of buying an existing barndominium is that it can be really easy to customize the floor plan to your liking. The previous owners' setup is just a starting point! Also, by buying a barndominium in Texas, you bypass the potential troubles of the building process – delays, dealing with contractors and subcontractors, and city or county bureaucrats trying to make your build process a nightmare.
Don't delay – find a barndominium for sale in Texas now!
Conclusion
By reading this guide, you should now have a good idea of what it takes to build a barndominium in Texas. Understanding what goes into this kind of project will help you be prepared for the kind of work that is ahead of you. This will start you off on the right track and increase your chances of success.
If you would like more helpful information about building a barndominium in Texas, check out the rest of Barndominiums.co. There, you will find all kinds of in-depth guides from the pros as well as several tips and tricks that can help you along the way. Having all the information you can will set you on the right path towards building your custom dream home.