Building a barndominium is a great way to get the home of your dreams. A traditional home build can be incredibly expensive and will take months, if not years. A barndominium will take about half this time, though it will still require a lot of planning and dedication. One of the most important aspects of the build is the barndominium foundation.
Your foundation will support the entire home and ensure that it is structurally stable. Because of this, you will want to make sure that it is poured and constructed correctly. In this article, we have laid out everything you need to know about a barndominium foundation. By understanding some of the basics, you can set yourself up for success.
What is a Barndominium Foundation?
The barndominium foundation is the base on which your home will be built and where most of the weight is distributed.
Because of this, it is incredibly important that your barndominium foundation is as well-made as possible. While some aspects of a barndominium can be built yourself, the foundation is best left to the pros. They will know everything about building codes and safety issues that you might not be aware of.
Your foundation can make or break your home build. There is a reason why people use the word foundation to represent the most basic, structural aspect of something. Your barndominium foundation supports the entire home. Making sure that is laid and poured correctly will give you the best chance of a quality home.
How is a Barndominium Foundation Different?
Most barndominiums use concrete slab foundations instead of traditional ones. Concrete slab foundations are one big chunk of concrete that is the size of the entire home. A traditional foundation goes around the perimeter of the home and is not filled in the middle. With a concrete slab barndominium foundation, you get more support and better stability.
Barndominiums are built from the structure of post-frame metal buildings. This means that their posts are driven into the ground around the perimeter of the home. Because of this, a concrete slab foundation is perfect for this kind of home. The posts holding up the structure of the home can be driven into the slab, which will make them very stable.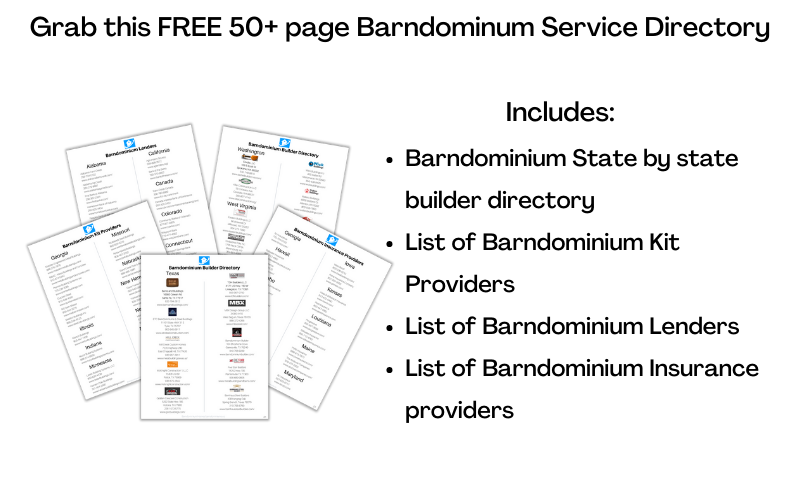 Requirements of a Barndominium Foundation
The requirements for a barndominium foundation will be different for each region of the country. Depending on your state, you may need to adjust the following rules. For the most part, though, your slab foundation will have to be at least two inches longer than the home. The width, though, can be exactly the same.
Your slab will also have to be at least four inches thick, as well. However, it is usually a better idea to have the slab be six inches thick. This will be more expensive, but it will also ensure that the home is stable and safe no matter what. It will also be less likely to crack in cold weather.
Can a Barndominium Have a Crawl Space or Basement?
One of the things people wonder about with a barndominium foundation is whether you can have a basement or crawl space. If you are laying down a concrete slab foundation, you will not have room for a crawl space or basement. The foundation will be completely solid and there won't be any space between the ground and the floor surface.
However, it is possible to include a basement or crawl space if you have the right design. One of the things you will need to do, though, is check your local building codes. Some municipalities will not allow you to have anything aside from a slab for a metal building. This is an incredibly important consideration and will save you money on fees and rebuilds down the line.
Can I Pour My Foundation Myself?
One of the benefits of building a barndominium is the fact that it is so much cheaper. This is partially because a lot of the work that has to go into a barndominium can be done yourself. However, you should not try to pour your barndominium foundation yourself. This is an incredibly precise part of the job and should be done by a professional.
When choosing a builder for your barndominium foundation, experience is key. If possible, find a concrete contractor who specializes in these kinds of foundations. They will know how to solve any problems that come up and can ensure that everything is done correctly. They will also be sure that everything is up to code and that it will last for years.
What to Consider When Choosing a Barndominium Foundation
One of the most important things to consider when laying a barndominium foundation is plumbing. Because the slab is completely solid, you will have to lay out the plumbing at the same time. This means that the design will have to be correct before beginning. Making sure that your plumbing fixtures are in the right spot will keep the whole process running smoothly.
The best way to make sure that your barndominum plumbing will be ready to go is to have a detailed floor plan. Your floor plan will dictate where all the rooms are and what spaces need plumbing access. Nailing down your floor plan will have benefits far beyond the planning stage. You and your builder can follow it for the foundation pouring and it will keep everything organized.
Conclusion
By understanding the basics of a barndominium foundation, you can start yourself on the right foot. Getting everything planned and ready to go will streamline the whole process. With the right floor plan and a good builder, you simply can't go wrong. Your barndominium foundation is crucial and you will have to have it planned down to the last inch.
If you would like more guides like this one, be sure to check out the rest of Barndominiums.co. There, you will find more tips and tricks from the pros, including information about financing and insurance. You will also find featured barndominiums. These homes will get you thinking about your own home and get you inspired to design your own floor plan.