Whether you've been inspired by the tiny home trend or you've always wanted to build a custom home on the East Coast, you're in the right place. Combining attractive aesthetics with unrivaled durability, a barndominium in Delaware provides the best of both worlds. Not to mention saving you time and money versus a traditional build. Keen to learn more? Read on for the key things to consider if you're thinking of building a barndominium in Delaware.
Barndominiums in Delaware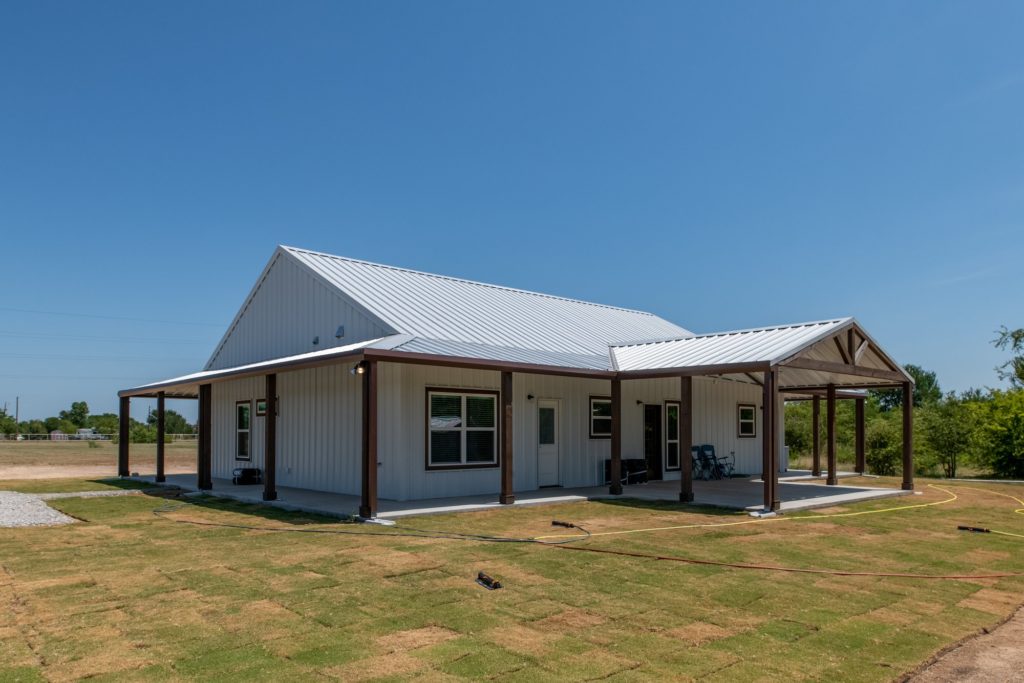 With a moderate climate all year round and coasts on both sides, Delaware is a stunning place to build a barndominium. Despite being the second smallest state in the US, it offers a choice of rural countryside, bustling cities, and smaller coastal towns to suit your preference.
Whether you'd like to live inland near Harrington, at the heart of the action in Wilmington, or a stone's throw from Bethany Beach, there's somewhere for every aspiring barndo owner.
In this guide, we'll touch on everything you need to know about building a barndominium in Delaware. And, if you need further advice from the experts, you can learn more in our handy Dream Barndo eBook, which will walk you through the entire process from start to finish.
What is a Barndominium and what are its advantages?
A barndominium is a dual-purpose home built around the shell of a metal post frame building or pole barn. Initially intended to combine living spaces with agricultural buildings and animal shelters, barndominiums in Delaware now have a range of different functions.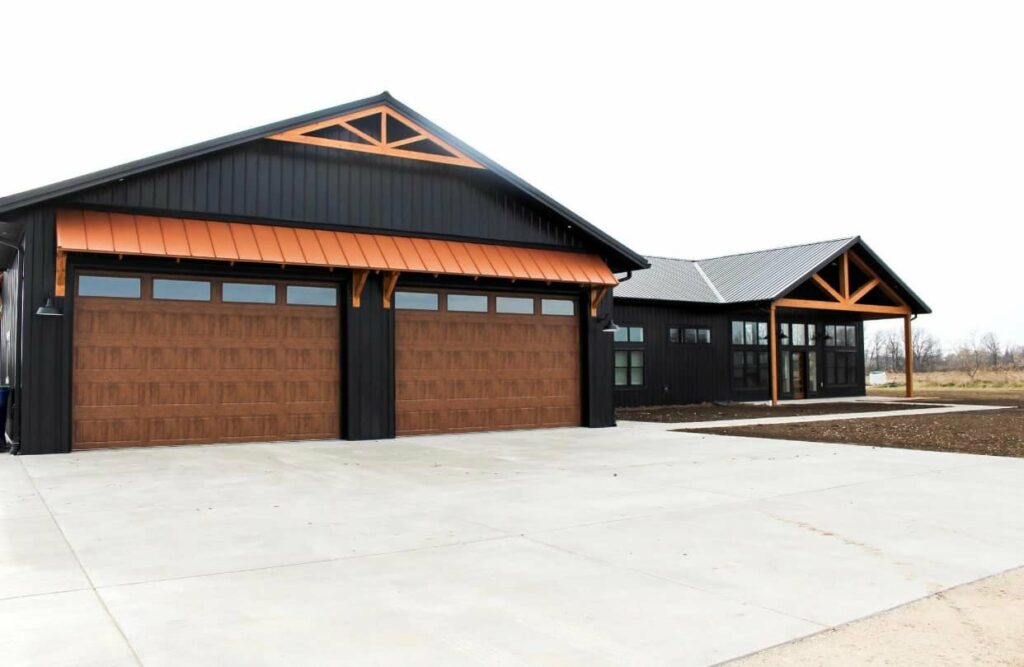 Their open design can incorporate anything from boat and RV storage to workshops, studios, and shops. Plus, thanks to their robust steel construction, barndominiums are very sturdy. This means they can withstand all kinds of weather, including the heavy rainfall and snow-covered winters that Delaware is known for, without rusting, rotting, or warping.
In addition, building a barndominium in Delaware is considerably cheaper than constructing a brick-and-mortar home. On average, a traditional home in Delaware starts at around $153 per square foot, just for the shell of the building. Meanwhile, you can build a barndominium on a budget for around $125 per square foot, which makes a significant difference when it comes to larger homes.
Plus, the utilities on a steel barndominium are typically much lower due to their superior insulative qualities, helping to further reduce your costs over time. Explore even more barndominium home advantages on our blog.
Barndominium Builders in Delaware
As post-frame buildings are very different from traditional homes, you'll need a specialist firm to help you build your barndominium in Delaware. You should look for builders with a large portfolio of properties, lots of experience, and great customer reviews. They should also be knowledgeable about the area, to make sure your home meets the relevant barndominium requirements. Below are some barndominium builders in Delaware to consider:
Country Builders, Inc
Serving Delaware and eastern Maryland, Country Builders is a leading contractor of high-quality post-frame buildings at affordable prices. They design and construct everything from houses and garages to commercial buildings and RV storage units. They also offer a wide range of customization options, along with free estimates to ensure there are no surprises.
Green Diamond Builders, Inc
Based in Kent County, Green Diamond Builders specializes in residential and commercial pole buildings. Their varied portfolio includes a large collection of custom designs in all kinds of shapes, sizes, and styles. They also sell rural lots in a small neighborhood just outside of Felton. Here, you can buy a spacious lot with gardens for your custom home to be built on.
MBX Design Group LLC
With over 20 years experience in constructing custom buildings from steel, MBX Design Group is a great choice for your barndominium in Delaware. Whatever configuration you'd like, they can design and engineer comfortable living spaces around everything from garages to workshops and even small business premises.
Barndominium Kit Providers for Delaware
If designing a custom home from scratch feels a bit daunting, why not go for a barndominium kit instead? Based on existing designs that have already proven successful, pre-fabricated barndominium kits take out any guesswork. They are also packed full of ideas to get you started, alongside a list of reputable suppliers, if you're currently drawing a blank.
Consider using a barndominium kit under 100k to save money and time on your barndominium build.
As well as supplying all the necessary parts, barndominium kit providers for Delaware can also help you find a post-frame builder in your area. That way, they can install your chosen design for you, saving you time and effort. Simply pick a style, size, color, and as many customization options as you like, and your kit will be delivered to your lot for construction.
Barndominium Financing in Delaware
If you're ready to build a custom barndominium in Delaware but finances are holding you back, find out where you can seek assistance below:

One of the best resources for getting barndominium financing is by using BarndominiumLoans.com. They are a quote service that takes down your information and works behind-the-scenes with vetted lenders who are best for your location and financial situation.
Whether you have a perfect credit score or a subpar one, and whether you're located in South Carolina or South Dakota, you can submit your information to get a quote within 24-48 hours.
Barndominium Financing Request
Horizon Farm Credit
Horizon Farm Credit is an independent co-op that has been providing financial support to rural communities for over 100 years. Their wide range of products includes farm, land, home, and construction loans, which can be used to finance the building of a barndominium in Delaware. Their team can also put you in touch with realtors to help you find the ideal plot.
Provident State Bank
Established in 1904, PBS is a community-owned bank with an extensive record of financing farmers and rural homeowners throughout Delaware and Maryland. Their products include personal and business loans, we well as construction loans for building or renovating rural properties. In addition, they offer lot of loans to help you secure the perfect spot for your home.
Delaware USDA Rural Development Loan
Another option, if you have a relatively low income, is a Delaware USDA Rural Development Loan. These government-issued loans are designed for primary residents who want to buy or build a rural home in Delaware but lack the funds to do so. If you're eligible, you won't even have to pay a deposit, so it's definitely worth looking into!
Barndominium Floor Plans in Delaware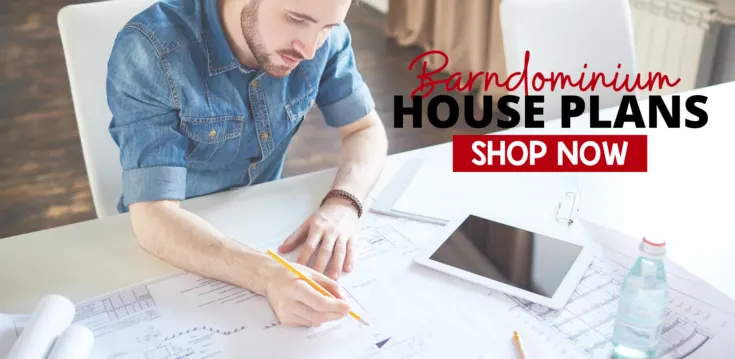 From luxurious 5 bedroom floor plans to our top barndominium bathroom ideas, take a look at the following posts for more inspiration:
Don't want all the hassle of building a barndominium from the ground up? Then you may want to buy an existing barndominium in Delaware! With our Barndominiums for Sale Marketplace, you can browse to your state and find a barndominium for sale near you.
The beauty of buying an existing barndominium is that it can be really easy to customize the floor plan to your liking. The previous owners' setup is just a starting point! Also, by buying a barndominium in Delaware, you bypass the potential troubles of the building process – delays, dealing with contractors and subcontractors, and city or county bureaucrats trying to make your build process a nightmare.
Don't delay – find a barndominium for sale in Delaware now!
Conclusion
After reading this guide, we hope you now know a whole lot more about building a barndominium in Delaware. If you're planning to start your own build soon, remember to order our Dream Barndo eBook, which provides a detailed breakdown of each stage.
Alternatively, feel free to browse our blog for more useful tips, including how to cool a barndominium, the various roof options available to you, and where to source insurance.