When building a barndominium, one of the first things you'll need to consider is the floor plan you're going to build.
Finding the right barndominium floor plan for you takes careful consideration of a number of factors, including your budget, your non-negotiable needs for the home, and how your use of the barndo might change over time.
In this post, we'll take a closer look at how you can find a plan that's right for you, as well as a list of some of our favorite barndominium floor plans with two master suites to help you find inspiration and direction with your own build.
Before we begin you may want to consider using a barndominium kit under 100k with your barndominium build. This can help you save time and money!
Barndominium Floor Plans – Things to Consider
When choosing a barndominium floor plan, there's practically no end to the factors you may want to consider.
Having said that, there are a few key things that should be on the top of your list when you first start looking for your ideal floor plan…
Space and Lifestyle
The space you need, and the kind of lifestyle you're hoping to accommodate for, is likely the most important thing to consider when weighing up different floor plan options.
To find a good benchmark for this factor, start by thinking about the kind of space your household occupies now, how much of it you use, and what your tolerance would be for downsizing in specific areas, for example, the bedrooms, kitchen, or dining room.
Are you expecting your household itself to downsize as your kids go off to college, or will it grow as you have more children?
If you're planning to use the barndo indefinitely, will you need a certain minimum space to accommodate for your retirement plans?
By considering these things and going in with specific minimums in mind, you'll be able to design your own or filter-out floor plans early and avoid disappointment further down the line.
The Flow of Traffic
Choosing your floor plan can also be made easier by thinking about the way you and your household move around the house in the course of a normal day, and what the "traffic flow" of your day-to-day domestic life looks like.
With a clear picture in mind, start looking at potential floor plans and imagining your household moving through them in the course of a normal day.
If you're going to be spending a lot of time in your shop, think of how long it would take you to get the shop to the kitchen, to the front and back doors, and anywhere else you might need to go.
If you've got small children, think of how your floor plan might need to help you stay close to them during the course of a day.
Asking yourself these kinds of questions will make it easier to review your options when it comes to floor plans, and help narrow down your search from the get-go.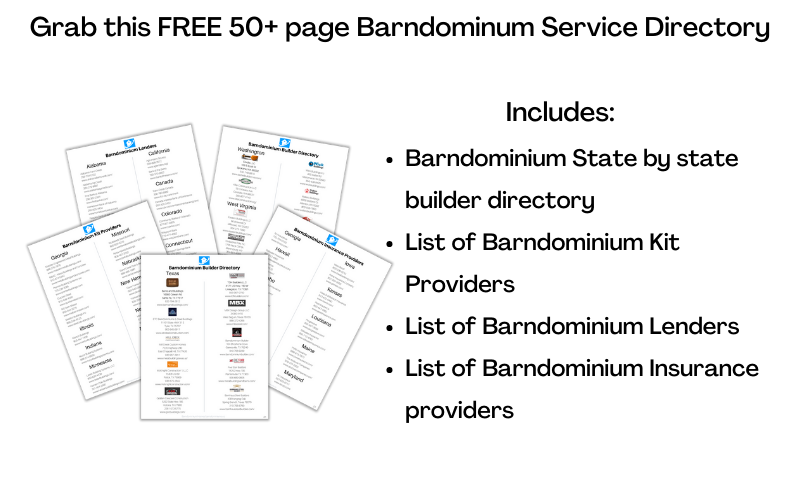 Resale Value
If you're hoping to build a barndominium as an investment property, then it's important to think about a property's assets from a buyer's perspective, and how a given floor plan can make the most of them.
Are the window placements in relation to the living areas going to afford nice views?
Will the building's place on the plot allow space for extensions and home improvement? How will the floor plan look from the point of view of retirees, newlyweds, and other people who might want to buy it?
By framing floor plans through these questions, you'll be able to come up with a list of criteria for your barndo, and do yourself a lot of favors when you come to sell.
Barndominium Floor Plans with Two Master Suites with Pictures
Now that you know how to assess your floor plans, here's a list of some of our favorite barndominium floor plans with two master suites.
We hope these will help you narrow your search and make finding your ideal barndominium floor plan that much easier!
This 60×54 barndominium floor plan conveys a lovely sense of symmetry along one wall, where each master suite bedroom gets its own full bathroom and walk-in closet of equal size. We love how the open-plan kitchen and living room provide ample room to move around and socialize and accentuate this floor plan's potent sense of luxury.
This is a distinctive and modern floor plan, where the two master suites have an offset, 'mirrored' placement where the attached bathrooms are placed at opposite ends of the open central living space.
We particularly like how the layout has allowed a large space for the smaller bedroom, which is set right next to the larger of the two suites, perfect for use as a kids' room.
This 60×60 floor plan has another pleasing, symmetrical layout, with the master suites next to each other with identical attached bathrooms.
The generous square footage allows plenty of space for two smaller bedrooms, and with the utility room, half bath, and kitchen unit creating a central pillar, there's plenty of space for free-flowing foot traffic around the house.
This is another floor plan with a beautifully luxurious layout, with four bedrooms centered around a large, open-plan living room and kitchen area in the center.
The ample communal spaces haven't needed to sacrifice anything in the way of the private bedrooms.
Even the smaller rooms have their own closets and bathrooms, making this floor plan perfect as a vacation home for large groups.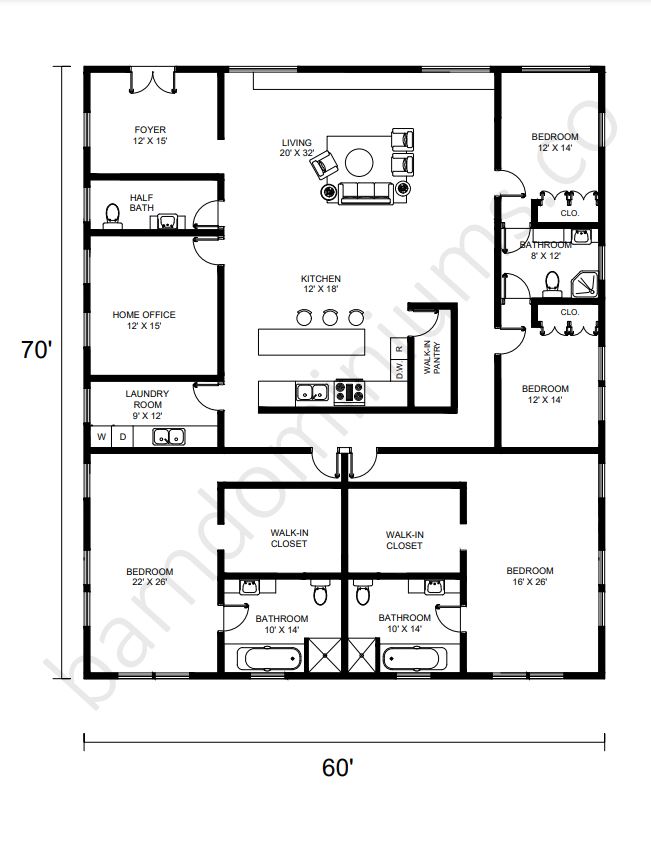 This is another floor plan that hasn't let the high number of rooms get in the way of a spacious, breathable profile.
We love how the kitchen and pantry act as a central column surrounded by space to walk around, allowing easy access to the master suites, smaller bedrooms, and home office.
In this plan, the master suites occupy opposite corners of the home, with a wide-open communal space in the center that allows great freedom of movement between the living area and the kitchen.
We love the positioning of the double-sided kitchen island with eight stools, which encourages delightful, memorable mealtimes for families and large groups visiting the barndo on vacation.
Here's another floor plan that's great for households that value their privacy, with a cozy living area and two luxurious master suites with plenty of space for relaxation and remote working.
The 19×20 master suite has a particularly interesting layout, with a walk-in closet set on the opposite side of the attached bathroom to the bedroom.
This barndo exhibits a simple, yet functional layout that will guarantee comfortable living for any household.
The two master suites have identical 16×26 bedrooms, 10×14 full bathrooms, and walk in closets, while two smaller bedrooms have their own built-in half baths and closets.
The front entrance leads directly into a central living and kitchen area, which allows easy access to the pantry, utility room, and all four bedrooms, as well as an extra half bath on the corner.
If you would like more helpful advice from the pros, be sure to check out the rest of Barndominiums.co. There, you will find information on barndominium costs, financing and insurance, and other tips and tricks. You will also find featured barndominiums to help get you inspired for your own custom home.