One of the reasons barndominiums have enjoyed such huge popularity as a self-build option is the impressive size they can offer for a relatively small cost.
Compared to more traditional self-build homes, you can build a barndominium that covers huge square footage for only a fraction of the cost.
Though a huge, sprawling barndominium might be an attractive prospect for some, many people will want a barndominium that's cozier, and just the right size for a small household or a specific purpose.
If this sounds like you, then this post is for you! Today, we'll be taking a closer look at smaller barndominiums, their common traits, and some of our favorite small barndominium floor plans. Let's jump in!
What is a Barndominium?
When the term first came about, barndominiums were steel buildings like barns or industrial constructions that had been repurposed as living spaces.
These days, however, there's a buzzing market for purpose-made barndominiums, and you should find it easy to find a range of small barndominium kits ideal for your needs and preferences.
Though some of the more old-school barndominiums look a lot like a regular barn from the outside, the market's now awash with builds that are clearly residential from first glance, with features like plumbing, energy-efficient windows, stained concrete flooring, and insulation in all the right places.
The Benefits of Small Barndominiums
When talking about property, many people place a lot of emphasis on being able to pay less for more square footage. However, there's a number of appealing benefits to smaller barndominiums which you may want to bear in mind as you weigh up your options.
The first and most obvious reason to go small is that it requires less land. Finding and buying a smaller plot of land is often much easier than going through the same process for a larger plot, and once you find one that's right for you, there'll also be less work involved in getting the land to a point where it's suitable for construction.
This not only means there'll be less money and stress involved with any landscaping work but will also reduce the overall impact on the environment that your barndo construction will have.
Small barndominiums also require less maintenance than a larger alternative.
Barndominiums require less maintenance in general compared to traditional homes on account of the metal walls and ceiling. Still, a large barndominium will mean more parts of the home are exposed to the elements, which means more risk of things going wrong, and more reason to worry about maintenance!
Small barndominium house plans also tend to be more energy-efficient than their larger counterparts.
With a reduced surface area in the ceilings and walls, there's less work involved in making sure that the place stays warm in the winter, and cool in the summer.
All told, a small barndominium will cost less, and require significantly less work to keep it looking great and feeling comfortable.
Small Barndominium Kits
Consider using a barndominium kit under 50k with your barndominium build. This can help you save time and money!
Unless there are highly specific nuances in the barndo design you have in mind, a barndominium kit is generally going to be your best option for building a small barndominium.
These kits will come with all the prefabricated components you'd need to build a given floor plan, meaning you won't need to worry about sourcing materials from different suppliers or getting involved with the particulars of the design.
Most barndominium kit suppliers also offer a fantastic degree of support for the process of actually building it, offering recommended builders and comprehensive guides that will walk you through the construction process.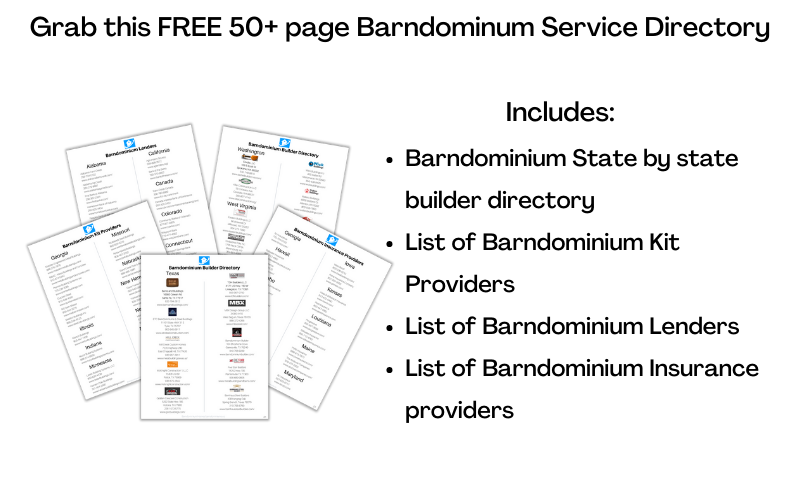 Small Barndominium Floor Plans
Now that we've run through the particulars of small barndominiums, here's a few of our favorite small barndominium floor plans to give you an idea of the options available, and some inspiration as you decide on the particulars for your own barndo.
PL-90203 – 40 x 30
Beds / Baths
2 Bedrooms, 2 Bathrooms
Overall Size
1200 Sq. Ft
Living Area Size
390 Sq. Ft
PL-90206 – 30 x 40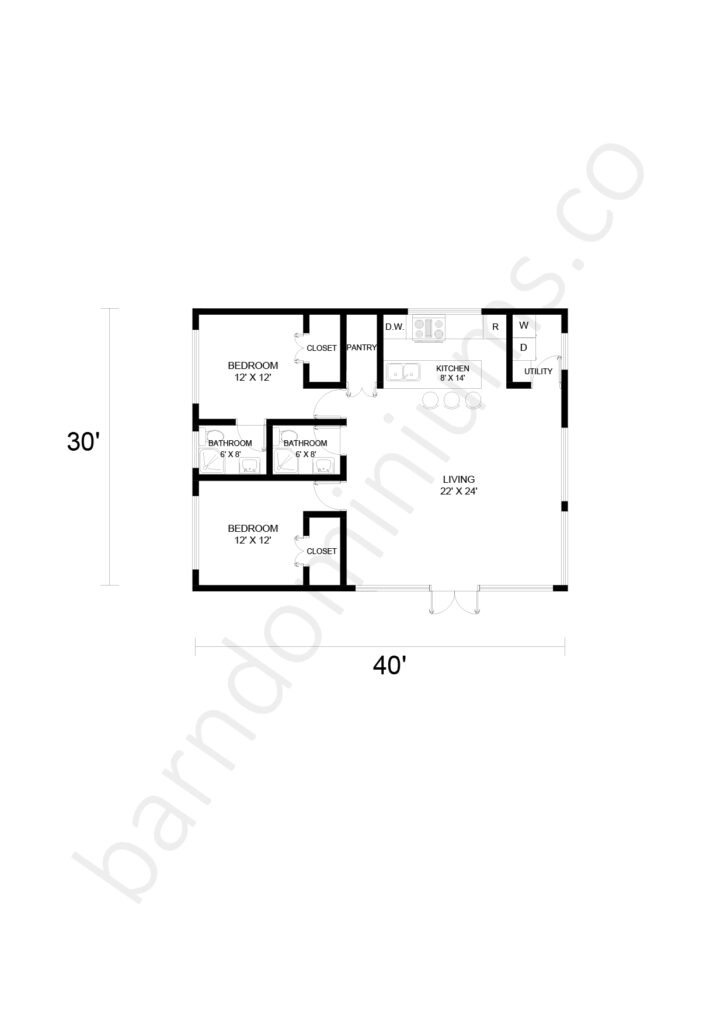 Beds / Baths
2 Bedrooms, 2 Bathrooms
Overall Size
1200 Sq. Ft
Living Area Size
528 Sq. Ft
PL-90207 – 40 x 40
Beds / Baths
2 Bedrooms, 2 Bathrooms
Overall Size
1600
Living Area Size
550
Small Barndominium Costs
Though the cost of a small barndominium will vary depending on your specific situation, it usually averages out somewhere between $95 and $125 per square foot.
However, the final price tag of the project will depend on a number of different factors, including the location where you're building, choices of materials, the builders you go with, optional features like energy-efficient windows, and more.
By carrying out your own research on sites like this, consulting with local construction professionals and kit suppliers, and looking into any regional zoning laws or taxes that might come into play, you'll soon be able to determine a much clearer picture of what your small barndominium will cost.
Wrapping Up…
We hope you've found this overview of small barndominiums useful as you map out your build project and work towards making your vision a reality.
If you would like more helpful advice from the pros, be sure to check out the rest of Barndominiums.co. There, you will find information on financing and insurance and other tips and tricks. You will also find featured barndominiums and our recommended barndominium design software to help get you inspired for your own custom home.