What could be better than having your very own barndominium? If you're not familiar with the term barndominium, a barndominium is a steel building used for residential and working areas.
While there are many different ways to go about building your dream barndominium, there are some things you'll want to keep in mind.
I have rounded up some great barndominium builds. We'll explore some of my favorite barndominiums and why they are excellent to pull inspiration from.
Take a look at each of these dream barndominiums and take note of what you would love to include when constructing your ideal barndominium.
Dream Barndominiums You Must See
Whether you're looking for rustic charm or sleek and modern design, you're sure to find something that catches your eye. So, take a look and start dreaming!
Spacious Barndominium
With a spacious barndominium, you will have the room and opportunity to host and have as many parties and family gatherings as your heart desires. With an open floor plan, this barndominium is perfect for just that.
Be sure to take a look at the master bathroom. With a ceramic tile wall, this bathroom is both modern and traditional. The elegant chandelier makes it feel like you're in an expensive hotel, while the black fixtures add some darkness for privacy to your master suite's space!
After a successful family party, the master bathroom is the perfect place to take a long, hot shower or soak in the tub.
Adorable and Quant Barndominium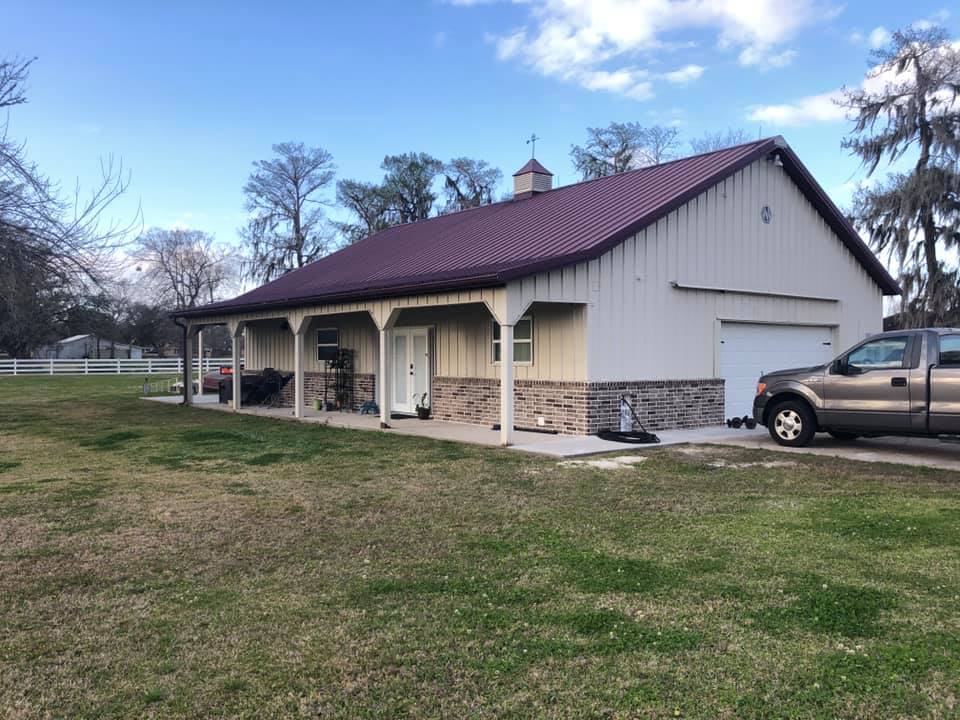 All details are what make this adorable and quant barndominium something to desire.
The exterior of this home can truly give you the inspiration you are looking for to make your barndominium your own.
This home helps you determine that no matter what you like or desire your home to look like you can truly make it happen.
The roof on this home really makes this home special. It helps tie in the brick coloring and the color choice of the siding.
Although this home doesn't offer much square footage for living, it is perfect for anyone looking for a smaller barndominium that they have been dreaming of making their own.
Luxury Barndominium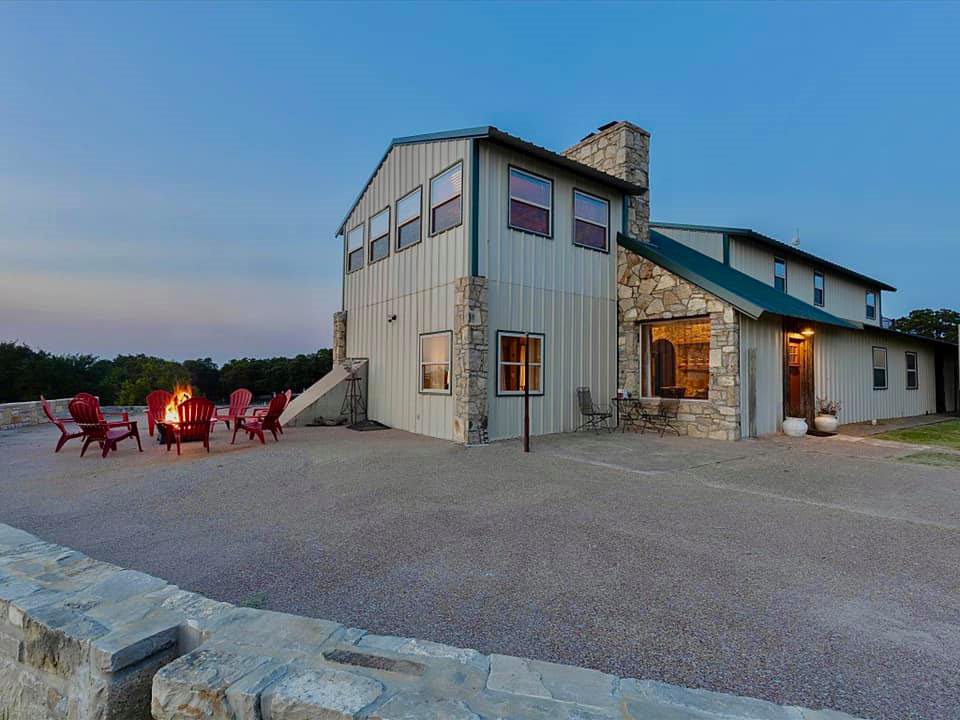 If you're longing for a barndominium that has a rustic ranch style then check out this 4,482 square feet within a 21-acre property luxury barndominium.
The property that the barndominium is built on is amazing. So much to do and so many possibilities to accomplish with that space.
The details in the interior are such a great start when pulling inspiration and ideas for your own build.
Note that the kitchen is a great place to prepare food, especially if you have your whole family with plenty of space. The bedrooms and living areas are modern while keeping the natural wooden walls that give this home its charm!
Everything that this barndominium is a dream from the property to the design of the inside.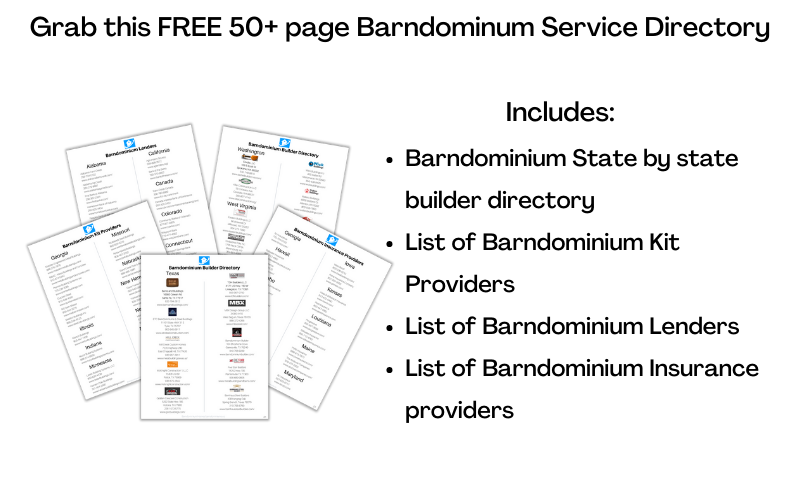 Country Charm Barndominium
This Dallas barndominium is full of country charm.
This home is full of things you likely have never seen before in a barndominium. Since barndominiums are typically all built of the same materials adding your own character and personality can be a bit harder than a traditional home.
The sliding barn door entrance is the first thing one would notice to make this barndominium something to dream about.
Who wouldn't love that when looking for a sweet country charm home?
The build of this home is well designed, and the added awning off the back of the home is where one can foresee many nights sitting out back watching the nightfall and possibly kids playing in the backyard.
Extraordinary Texas Dream Barndominium
A spiral stairway, walk-in pantry, murphy beds, walk-in closets, and so much more make this extraordinary Texas home something to dream about.
If you want a more luxurious home with plenty of space for storage, keeping hobbies, and plenty of rooms for sleeping, check out this home for inspiration.
Also, don't forget to check out the kitchen. The kitchen is a chef's dream come true. With its ample cabinet space and open design, it will be the perfect place to cook up some tasty treats with friends or family!
Georgia Barndominium with Chimney
If you are looking for a comfortable, homey feel to your new home, you will love this Georgia Barndominium with Chimney.
A stone fireplace, wrap-around porch, and plenty of space to park all your vehicles really make this barndominium one of the best to build and make you truly feel at home.
Hardwood floors are a great way to add some personality and charm to any home. You can see how great they look in this home.
The floors also help pull in the natural look from ceiling beams, which can be difficult without them!
This barndominium has many benefits and excellent design choices throughout. Use this property as inspiration when creating yours today so that it'll turn out exactly how you dreamed it to be.
Now imagine waking up every morning in a barndominium similar to this Georgia barndominium. Not bad, huh?
Realistic Barndominium
The exterior of this barndominium is what really draws you to fall in love with this realistic barndominium that is modest and elegant. Helps you really to focus on the interior, which uses more natural tones, making it the most perfect home to pull inspiration from not only from the exterior but also from the interior.
Interior design is all about the details, and it's important to go into great detail when designing your home.
You can make or break space with what you choose for these small but crucial aspects like color choices on stairs or cabinet finishes in kitchens – so take time choosing them!
The builders of this barndominium did just that, they took time to put the details into the interior of this home.
Ready to Build Your Dream Barndominium?
Check out more information on building barndominiums and example floor plans to help you plan and design your dream barndominium home. Also, be sure to read our other guides on barndominium cost, financing, and insurance.