Ever dreamt of building your own home in Nevada and designing it exactly the way you want it? Then you're not alone. In fact, the state has seen a boom in construction recently, due in part to its favorable tax laws and growing economy. But with housing prices rising exponentially, many buyers seeking traditional homes are being outpriced.
If you've found yourself in the same boat, then building a barndominium in Nevada could be a great solution for you. Read on as we cover the benefits of creating a custom barndominium in the Silver State, including where to find the best financing and builders for your property.
Barndominiums in Nevada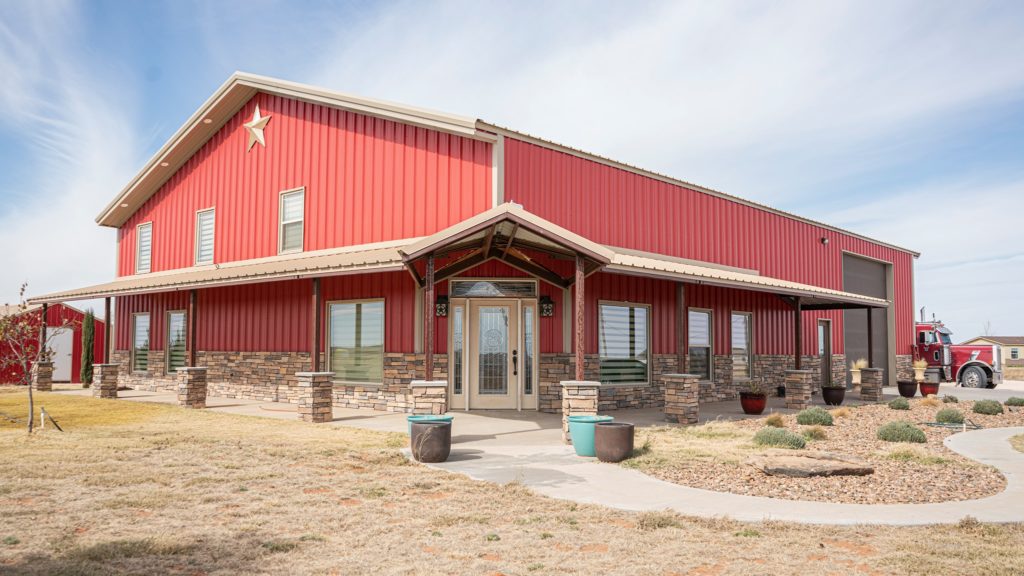 Best known for its desert landscape and the glittering city of entertainment, Las Vegas, Nevada, is a landlocked state on the western side of the US. Three-quarters of its 3.1 million residents live in Clark County, with the remainder dotted across its more rural regions.
While most of its landscape is semi-arid, Nevada is also home to several striking mountain ranges, forests, and rivers. In particular, the Sierra Nevada Mountains, located in the Great Basin to the north of the state, are a hotspot for skiing and snow sports in winter. Meanwhile, Lake Tahoe on the western border attracts thousands of tourists annually.
Additionally, the state boasts 68 designated wilderness areas and 24 state parks, which offer a stark contrast to the desert areas found in the south. However, these do come with the added benefit of very little rainfall, making Nevada the driest state in the whole of the US. Winters in the south are also generally shorter and milder than in the north.
Wherever you're considering building a barndominium in Nevada, this guide will provide the perfect introduction. And, if you're after a more in-depth guide, our Dream Barndo eBook contains all the information you need to create the home you've always wanted.
What is a Barndominium, and what are its advantages?
A barndominium is a hybrid of a barn and a condominium that combines a tailored living area with a large open space that can be used for work, recreation, storage, and more. While most barndominiums are made from steel or other high-strength metals built around a post frame design, they're usually rustic in design. As such, barndominiums are especially popular in rural areas, while being much simpler to maintain than traditional timber pole barns, as they won't rot or warp over time.
There are many advantages to owning a barndominium in Nevada. If you're looking for an alternative to a classic home but don't want to scrimp on comfort or mod-cons, a barndominium might be perfect for you. You can fully customize the design and layout to suit your needs and select your own materials and finishes to ensure that your home is built to your standards.
Another benefit of building a barndominium in Nevada is that it will cost you significantly less than constructing a traditional property from scratch. At around $250 per sq ft versus $150 per sq ft for a brick-and-mortar home, barndos come in at a fraction of the cost. Plus, they also take shape much faster, so you could move in within as little as six months.
Barndominium Builders in Nevada
While they're becoming increasingly popular, barndominiums are still relatively new, so you may be wondering how to find a suitable builder. First, you'll want to find an experienced contractor who has worked on multiple projects similar to yours, to make sure they understand the unique challenges that come with building a barndominium in Nevada.
You should also ask to see their portfolio, references from previous clients, and a copy of their insurance certificate to protect yourself against cowboy builders who will take your money and leave you with a sub-par home. To get started, here are two barndominium builders in Nevada that come highly recommended:
Desert West Builders
With 50 years of experience serving customers across both north and south Nevada, it's safe to say that Desert West Builders are custom steel building experts. From full barndo builds from scratch to the construction prefabricated designs, these guys have created designs for everything from agriculture to storage, offering a fast, attentive service that you can rely on.
Petra Construction
Operating throughout Las Vegas and the surrounding areas, Petra Construction has built up a great track record since opening its doors in 2008. This commercial construction company specializes in the supply and erection of metal buildings across various industries. Whether you're based in Spring Valley or Centennial Hills, you can rest assured you're in safe hands.
Barndominium Kit Providers for Nevada
Designing a floor plan and obtaining materials can be daunting for many people. But what if you could find a turn-key solution that would allow you to build your dream home without the hassle? Enter barndominium kit providers for Nevada.
Consider using a barndominium kit under 100k to save money and time on your barndominium build.
Prefabricated barndominium kits remove uncertainty from your build, as they are based on tried-and-true designs. If you're having trouble coming up with ideas, they are also jam-packed with inspirational photos and custom options, along with a list of trustworthy vendors.
Once you've made your choice, your kit supplier will deliver all the components you need to your lot. They can also point you in the direction of a local pole frame building firm to help you construct it, saving you time while making sure the job is done right.
Barndominium Financing in Nevada

One of the best resources for getting barndominium financing is by using BarndominiumLoans.com. They are a quote service that takes down your information and works behind-the-scenes with vetted lenders who are best for your location and financial situation.
Whether you have a perfect credit score or a subpar one, and whether you're located in South Carolina or South Dakota, you can submit your information to get a quote within 24-48 hours.
Barndominium Financing Request
If money struggles are preventing you from purchasing the lot you want or making buying materials difficult, here's where you may find help with barndominium financing in Nevada:
Farm Loan Financial
With a nationwide network of lenders, Farm Loan Financial offers a wide variety of farm, land, and rural property loans for those looking to invest in or expand large acreage properties in Nevada that don't fit standard residential lending guidelines.
Nevada State Bank
Established 60 years ago, Nevada State Bank has a long history of providing agricultural banking services for ranches and farms across the state. Whether buying or extending your rural property, you can expect low down payments and affordable monthly installments.
Farm Bureau Bank
Having served rural Nevada since 1999, Farm Bureau Bank is a great option when it comes to financing a barndominium built in the state. This community-focused, non-profit lender offers both personal and business loans depending on your property's intended purpose, with a choice of fixed and adjustable rates to suit your needs.
Barndominium Floor Plans in Nevada
Looking for floor plan ideas to help you design a barndominium that will fit your needs? Browse some popular layouts below: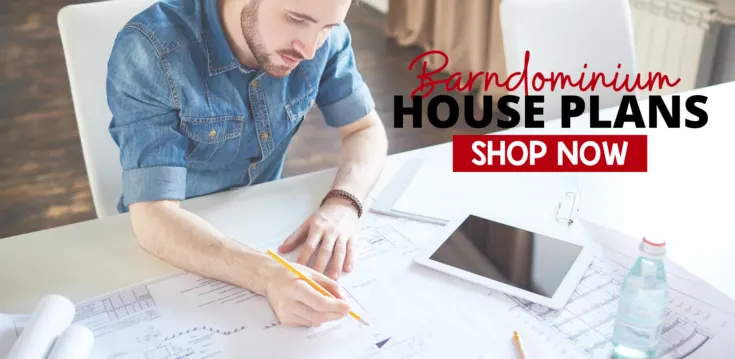 Don't want all the hassle of building a barndominium from the ground up? Then you may want to buy an existing barndominium in Nevada! With our Barndominiums for Sale Marketplace, you can browse to your state and find a barndominium for sale near you.
The beauty of buying an existing barndominium is that it can be really easy to customize the floor plan to your liking. The previous owners' setup is just a starting point! Also, by buying a barndominium in Nevada, you bypass the potential troubles of the building process – delays, dealing with contractors and subcontractors, and city or county bureaucrats trying to make your build process a nightmare.
Don't delay – find a barndominium for sale in Nevada now!
Conclusion
Ready to learn more about building a barndominium in Nevada? Order a copy of our Dream Barndo eBook and discover top tips and advice from specialist builders and designers to guide your journey.
On our blog, you can also learn more about how to keep a barndominium cool in the hot summer months, alongside tips for saving money when you're working on a tight budget.