Many individuals dream their entire lives about designing a home from the ground up that will meet all of their individual family's needs. And thanks to the recent work-from-home trend, our values have shifted to making our home spaces work for us in a variety of ways. Maybe for you, it even means building a barndominium with a gym!
Building a barndominium with a gym can give you the opportunity to afford a new build residential space with all the customized workout equipment and floor plan setup you've ever dreamed of. With a dedicated workout space in your home, you'll never have to pay for a gym membership again. Plus, your remote work routine can now include all sorts of regular fitness breaks, from yoga to weightlifting to shooting a few hoops.
If you don't know where to start when it comes to building a barndominium with a gym, you've come to the right place. Read on to learn tips about buying the right equipment to keep you on a manageable budget and set up your home gym for long-term success.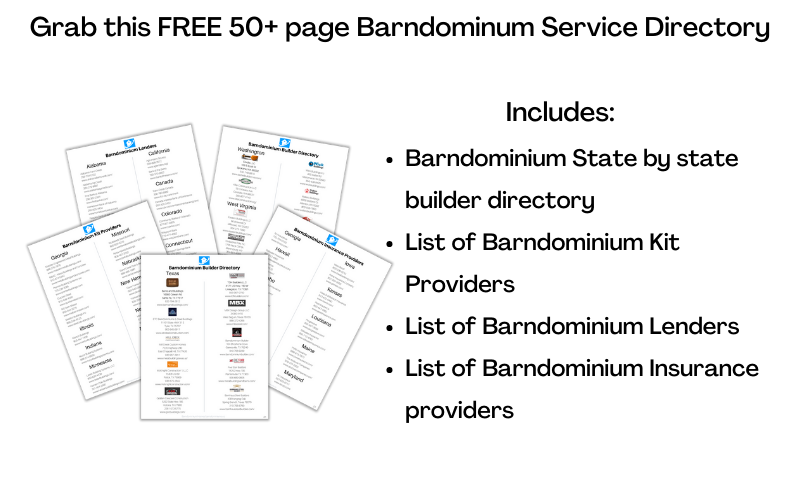 Custom barndominium alternatives
Let's start with a quick review of what we mean by "barndominium." The goal of a barndominium is to combine the long-lasting materials and open concept floor plan of a barn with all the customizable design opportunities of a condominium. The basic setup uses a metal post frame structure and concrete slab floor, and the rest is up to you. You can experience the chic lifestyle of a converted barn home while creating the floor plan ideas of a new build home on a budget-friendly timeline.
You may have heard of shopdominiums or garagedominiums as well. These custom barndominium ideas combine home storage and play with lofted or attached living quarters. A barndominium with a gym works to achieve the same goals, as you now never have to leave your home to make time for physical activity.
If you constantly have to fight to carve out time to make it to the gym, if your workout routine requires unique physical support, or if you're tired of being judged for your weightlifting form, a barndominium with a gym could be the barndominium floor plan you've been waiting for.
Why build a barndominium with a gym?
While it requires more money upfront, building a barndominium with a gym is going to save you time and money long-term. You'll no longer have to arrange for childcare when you want to work out. You don't need to buy fancy gym clothes to look good around other people. You'll get the time back that you would normally spend driving to the gym. And more than anything, you're more likely to actually take the time to work out when the gym is already around the corner from your bedroom.
It's also important to remember that building material prices are at an all-time high, so you need to think about your budget from the moment you break ground on your barndominium with a gym. Any barndominium build takes less time to construct and few materials to create, so you can see the return on your building investment faster than in a traditional home. A barndominium with a gym is also easy to maintain and can be built on almost any property you choose to buy.
A barndominium with a gym is guaranteed to maintain a higher market value over time. As you consider the investment you're putting into a new home build, you are more likely to achieve a higher profit, thanks to the popularity of barndominium homes. The convenience of a home gym will only increase its appeal to potential buyers in the future.
Pros of a barndominium with a gym
You already have a lot of great ideas for how you plan to customize your affordable barndominium home. The money and time you save on designing a barndominium with a gym should already speak for themselves. But if you're still on the fence about including a designated workout space in your new barndominium home, here are a few more top reasons a barndominium with a gym could be right for you:
Customizable floor plan
When you choose to build a barndominium with dedicated gym space, you have the opportunity to set up your barndominium floor plan however you want. Maybe you prefer to follow along with online workout instructors, or you want to be able to hear your workout playlist without having to wear headphones. You can easily add a Bluetooth projector screen on one wall or install surround-sound speakers in your gym space.
No matter what, remember your goal is to create a space where you can focus on burning those calories. So make sure to only add details that will help keep your body and mind in the mood for a good workout.
DIY gym projects
If you are willing to put in the time, your barndominium with a gym is going to come with a lot of great DIY projects. Instead of buying something at the store, you can create your own weight storage racks. You can put together several plyometric workout boxes for jumping exercises. Or you can even install your own pull-up bar along one wall of your barndominium with a gym.
Adding any of these details allows you to take more personal pride in your barndominium with a gym. And it also means you are more likely to use the space to work out in the future.
Matching equipment with goals
You can easily spend too much money on equipment when setting up your home gym. But this is easily fixed by setting specific goals for how you will use your barndominium with a gym space. Do you plan to work on strength training, or do you want a relaxing yoga getaway for the middle of your day? Do you prefer to use a stationary bike whenever possible?
Maybe you can even talk with a personal trainer to help set your fitness goals. Then you can intentionally purchase gym equipment that matches your personal objectives.
Cons of a barndominium with a gym
There are a few downsides to a barndominium with a gym. There are potential workarounds for each issue, but it's important to keep these in mind before you commit to your new build.
Cost of equipment
If you are determined to buy everything brand new for your barndominium construction, new gym equipment is not cheap by any means. You can treat it like an investment, knowing that brand-new workout gear will last for many years.
However, you can also consider purchasing used gym equipment. This allows you to benefit from other people's mistake of over-purchasing workout gear, and often you will end up with high-end products that have only been gently used.
The need for storage
Unless you want the centralized workout space in your barndominium with a gym to always look cluttered, you will need to add specific storage options to your home gym space. This could include closets, wall pegs with hooks, store-bought baskets, or wall-mounted shelving units.
Adding storage to the floor plan for your barndominium with a gym will also leave space for larger machines or other furniture you might want to add to your home gym. Online marketplaces like Offer Up or Facebook Marketplace are great places to start, or you can even check out websites like Used Gym Equipment, where commercial gyms resell their used gear.
Expensive flooring
To help maintain the quality of your gym equipment – and to help keep you comfortable during high-intensity fitness training – you need to add a custom layer of gym flooring to your concrete slab floor. This could include interlocking rubber gym floor mats, artificial turf, carpet tile, or even vinyl gym flooring. It's easy to install yourself, but based on the size of your gym, this requires some specific attention in your budget breakdown.
Good home gym flooring can cost anywhere from $2.00 per square foot to $12.00 per square foot. Your barndominium with a gym could include a workout space of at least 250 square feet, which means you might be looking at a flooring budget of at least $3000 for one room of your home.
Conclusion
Now that you've read through our ultimate guide on building a barndominium with a gym, you have all the tools you need to dream up your own barndominium with a gym today. Then the only thing left is to start building your barndominium with a gym!
Feel free to also look for further barndominium inspiration on our Barndominium FAQs, including a complete guide to barndominium plumbing and cooling system options for your barndominium home. Then there is also our featured barndominium gallery, including a stunning shouse in Tennessee and a ranch-style barndominium in Oklahoma.
Want to learn more before you commit to building your garagedominium? Then you should check out our program, "Barndominiums Made Easy." It's affordable, informative, and will give you every resource you need to move forward confidently with your barndominium build.