What if you could get a home with high ceilings, an open concept, and interior details customized to your exact taste at an affordable east coast price? If you have dreamed of designing your perfect home, but have been turned off by the schedule and cost of a new build, you should consider investing in a barndominium in Maine.
Made famous by southern house renovation TV shows, barndominiums are a great combination of style and affordable construction. Read on to learn all there is to know about building a barndominium in Maine.
Barndominiums in Maine
Maine is known nationwide for its lobster rolls, acres of wild blueberries, and stunning coastal views. However, as Maine is the most rural state in America, it also offers wide open spaces ideal for establishing a barndominium on the east coast.
Barndominiums in Maine offer peaceful and private living opportunities, combined with easy travel to popular tourist locations like Bar Harbor, Portland, and Ogunquit. When you are in the backwoods of Maine, you are always a scenic drive away from beautiful hiking and wildlife viewing at Acadia National Park. Plus, you can enjoy the autumn colors and cross-country skiing or snowshoeing after the first big snow. Enjoy the quieter side of Maine in your barndominium sanctuary!
What is a Barndominium?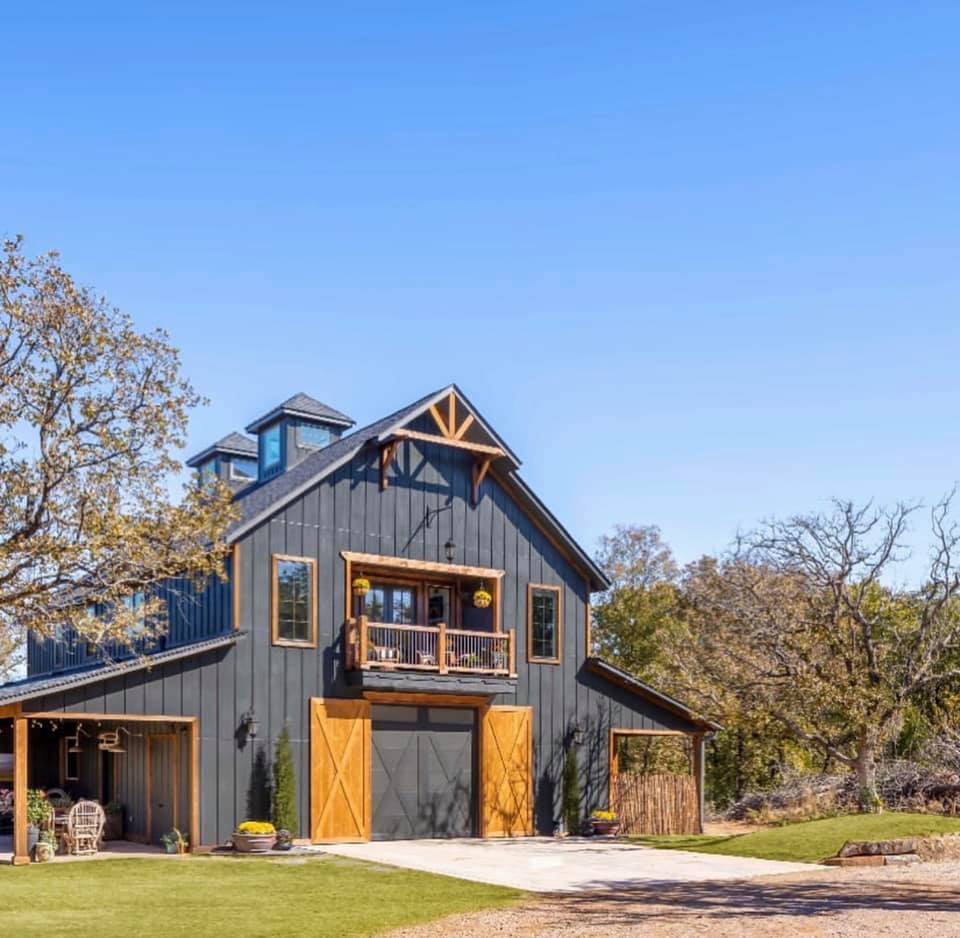 Once you learn what a barndominium is, you'll never forget. Just as its name is a customized combination of "barn" and "condominium", so also barndominium life is all about personalization.
A barndominium uses the structure of a metal pole barn or post frame design to give you the popular, clean facade of a 21st-century farmhouse. Even though we can thank Waco, Texas, for this modern housing trend, the barndominium origin can actually be traced back to 1980s Connecticut. This is why the barndominium structure is perfect for the changing seasons in Maine. From the cold of winter to the heat of summer and everything in between, a barndominium in Maine will withstand the test of time and temperature.
The open concept structure of a barndominium will always include a living space and customizable open floor. This means bedrooms can be on the main floor or lofted. And the rest of your square footage can be used as a maker's space, workshop, home gym, or designer kitchen – you dream it, the barndominium can be personalized to fit it!
How much does a barndominium in Maine cost?
The greatest advantage of a barndominium is the dollar amount attached to its building. As of 2022, the average cost of construction on a new home in Maine is almost $285,000, or more than $140 per square foot. This price can be deceiving, as new build costs do not include the purchase of the land where you plan to build. Reports like this also don't include any custom materials you might want to add to the home once it's built, such as countertops, appliances, or light fixtures. All of this results in a much higher final number than you might think.
Barndominium Builders in Maine benefit from an almost $30 decrease in cost per square foot, meaning that a 2,000 square foot home is going to cost closer to $220,000. With a $60,000 difference, your budget can be opened up to develop a living space tailor-made to your unique way of life.
The two main reasons barndominiums can cut on cost are the shorter amount of supplies and the time it takes to build a barndominium over a traditional home. All you need is a team that can set up a solid metal frame and concrete slab foundation, and then you have your barndominium's bones in place. With the decision to build a barndominium, you suddenly have the option of moving into your new home in half the time of a more classic house design.
Barndominium Builders in Maine
When you're already saving on time and cost with your dream barndominium, it can be easy to try to cut corners at a construction company as well. However, it is crucial to pick barndominium builders in Maine with the experience and expertise to develop your barndominium into a long-lasting reality. Once you've researched construction crews in your area, make sure to talk to other clients who have worked with them. Or you need to know the right questions to ask to find out if they've worked on metal home construction before. These could include
Have you worked on metal building construction before?
Can you help me set up utility access on my property?
What building regulations do I need to be aware of for my barndominium?
How can you help me get supplies to build my barndominium?
If you're not sure where to start in your search, we have 3 great choices of established barndominium builders in Maine for you to consider:
First, there's Maine Metal Buildings. They are an award-winning builder known in the state of Maine for their work on metal building construction.
You could also check out Patco Construction, with over 35 years of construction experience, including metal building design.
There is also Newport Structures, a building company that specializes in quick-build storage units, including steel building construction.
The benefit of working with a reputable local Maine company is that they should know about building regulations and material access in your area. This will only guarantee an even smoother and faster construction timeline for your barndominium.
Barndominium Kit Providers for Maine
If you want to save even more time and energy on your new build, you could invest in a barndominium kit in Maine. A barndominium kit relieves you of the hassle of designing a new home literally from the ground up. Each kit includes plans that have already been proven to work for barndominium homes in your state, along with easy access to barndominium supplies near you.
Consider using a barndominium kit under 100k to save money and time on your barndominium build.
All you have to do is choose the size of your ideal barndominium, along with any custom interior and exterior layout plans. Then barndominium kit providers for Maine will help you complete your new home with ease and speed. Think of it as a giant set of adult building blocks!
Barndominium Financing in Maine
When it comes to paying for your barndominium construction, you might want to consider options beyond a traditional housing mortgage. There are a variety of loans and financial aid options that are unique to the barndominium lifestyle, and this is especially true in the state of Maine. Here are the top three options you should consider when building a barndominium in Maine:

One of the best resources for getting barndominium financing is by using BarndominiumLoans.com. They are a quote service that takes down your information and works behind-the-scenes with vetted lenders who are best for your location and financial situation.
Whether you have a perfect credit score or a subpar one, and whether you're located in South Carolina or South Dakota, you can submit your information to get a quote within 24-48 hours.
Barndominium Financing Request
Maine Farmland Trust
Maine Farmland Trust is a unique option for barndominium financing in Maine. This program is designed to help connect individuals to agricultural land access, specifically through state-funded loans and grants. Especially if you plan to use some of your barndominium lands for farming, this could be a great build-funding option for you.
Maine Harvest Federal Credit Union
For the past century, Maine Harvest Federal Credit Union has worked to support farmers and agricultural land owners through their banking services. This could be a great financing option for you if you're looking for a bank that is invested in its local community and committed to building a client basis that trusts them.
Where to Find Land for a Barndominium in Maine
While you may be looking to build a barndominium for a secluded getaway, you still need to consider road and utility access. If you can find land that is already connected to local sewage, water, and electricity, you're going to save yourself a lot of time and money. It also helps if you buy a property that is already cleared for building or that can be easily cleared with little to no cost.
It's also helpful to think through accessibility to nearby grocery stores and schools, depending on who will live with you in your barndominium or if you ever plan to sell your barndominium in the future.
Barndominium Floor Plans in Maine
Are you still waiting for inspiration to strike for your barndominium design? You don't have to buy a barndominium kit to see how other people have already customized their barndominiums.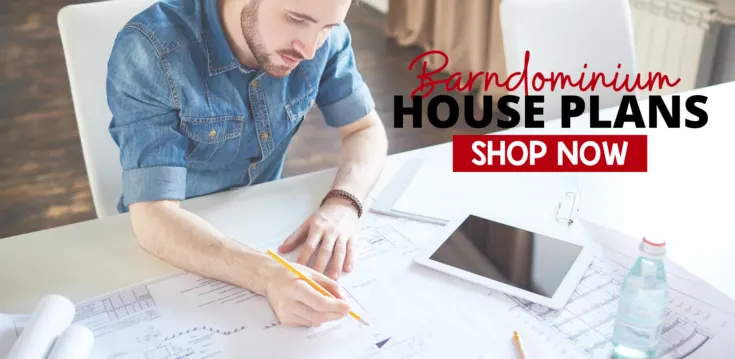 Check out these 5 blueprint inspirations for barndominium floor plans in Maine:
And you can check out even more barndominium floor plans at this link!
Don't want all the hassle of building a barndominium from the ground up? Then you may want to buy an existing barndominium in Maine! With our Barndominiums for Sale Marketplace, you can browse to your state and find a barndominium for sale near you.
The beauty of buying an existing barndominium is that it can be really easy to customize the floor plan to your liking. The previous owners' setup is just a starting point! Also, by buying a barndominium in Maine, you bypass the potential troubles of the building process – delays, dealing with contractors and subcontractors, and city or county bureaucrats trying to make your build process a nightmare.
Don't delay – find a barndominium for sale in Maine now!
Conclusion
Now that you've read through our Building a Barndominium in Maine guide, the only thing left is to start building your barndominium! Feel free to also check out our barndominium FAQs, including what to do with your new concrete slab floor.
If you want to learn more before you commit to building your barndominium in Maine, check out our program "Barndominiums Made Easy". It's affordable, informative, and will give you every resource you need to confidently move forward with your barndominium build.