Whether you're just starting out on the property ladder or you're ready to take the next step in designing your own home, building a barndominium in Minnesota could be right up your street. But what exactly is a barndominium and why is Minnesota a great state to build one? Read our guide below to find out! We'll also cover potential builders and financing options to help you get started on your journey toward building a barndominium in Minnesota.
Barndominiums in Minnesota
Nestled between North Dakota and Wisconsin in the Upper Midwest region, Minnesota is the most northerly state in the US. Coined the "Land of 10,000 Lakes", the state is known for its stunning scenery and continental climate which brings warm summers and snowy winters.
Minnesota boasts five national parks, tranquil lakes, open prairies and multiple vast forests which cover a third of its landscape. This makes it the perfect spot for anyone who enjoys outdoor activities like hiking and mountain biking. Also, as 60% of its 5.3 million residents live in its main metropolitan area, Twin Cities, Minnesota's countryside is relatively sparse.
So, if you're after a quiet lifestyle and want to get closer to nature, building a barndominium in Minnesota's rural Red River Valley or Buffalo Ridge regions could be ideal. Or, if you want to be closer to the action, there is plenty of land around the Twin Cities on which to build.
Need some help getting started with your barndominium project? From designing floor plans to finding the right materials for your build, our Dream Barndo eBook will guide you through the process from planning to completion, with top tips and advice from the experts.
What is a Barndominium and what are its advantages?
Built around the frame of a metal pole barn or post frame building, barndominiums are multifunctional. They typically combine residential living space with a spacious area that can be used for extra storage or as a garage or workshop. Some people even merge their barndo home with a commercial space, such as a shop, stables or an agricultural building.
Consisting of solid steel posts and panels on top of a concrete foundation, barndominiums in Minnesota are designed to withstand all types of weather that the different seasons bring. From holding the heat in during the winter to helping you stay cool in the humid summer months, a high-quality, insulated barndominium will keep you comfortable all year round.
Plus, you won't have to worry about any potential damage during heavy rainfall, as unlike timber buildings, steel barndominiums are fully watertight and rot-proof. They are also easy to clean and maintain – simply hose down the siding when it's dirty to refresh the exterior.
Another major benefit of building a barndominium in Minnesota over a brick-and-mortar home is the price. Constructing a standard family home in the state will set you back between $300-350 per square foot – and potentially even more in the Twin Cities area. In comparison, the cost of a barndominium in Minnesota is around $240 per square foot.
As a result, opting for a barndo could save you a huge amount of money, especially if you plan to build a large home. You can then spend any leftover cash on tailoring the interior to suit your exact needs and wishes, in order to make your dream home a reality.
Barndominium Builders in Minnesota
As post-frame buildings are very different from traditional properties, it's important that you choose a builder with the right know-how to get the job done right. Look for barndominium builders in Minnesota with several years of experience in constructing the type of home you're after. Also, read through some of their online reviews to find out how satisfied their previous clients were with their work. Here are a couple of reputable builders you could try:
RAM Buildings
Based in Winsted, RAM Buildings has been designing and constructing wood and steel frame buildings since 1998. As post-frame building experts, they use industry-leading materials and the most up-to-date building techniques to create fully tailored residential, agricultural and commercial buildings. They've also received several accolades including Outstanding Builder and Building of the Year at the National Frame Builders Association.
Ameribuilt Buildings
Founded in 1997, the team at Ameribuilt Buildings are specialists in post frame and steel buildings. Based in Waite Park, they can help you with the entire building process, from planning and design right through to construction. Their varied portfolio includes homes, storage units, garages, equestrian buildings and more. Plus, they offer a full building and roof guarantee for the first year for added reassurance.
Looking for the quickest and easiest way to build a barndo? Then a pre-fabricated barndominium kit could be the perfect solution. Instead of having to design your custom home from scratch, barndominium kits providers for Minnesota can provide ready-made plans and supply the materials needed to bring your new home to fruition.  Consider using a barndominium kit under 100k to save money and time on your barndominium build.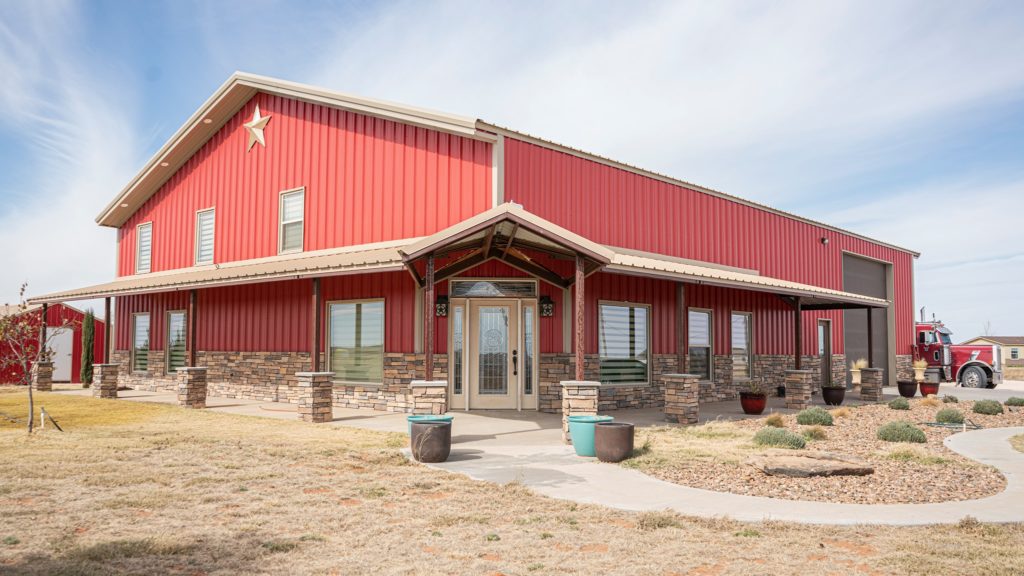 Simply browse their catalog to find your favorite design, then choose a size, color, and any optional extras to customize it in a way that suits you. Everything you need for your build will then be delivered to your plot of land, ready for your chosen building firm to erect it.
Barndominium Financing in Minnesota
Whether you go for a pre-fabricated kit for ease or choose to design a custom barndo from scratch, many rural banks can assist you with barndominium financing in Minnesota. Here are just some of the options you could explore:

One of the best resources for getting barndominium financing is by using BarndominiumLoans.com. They are a quote service that takes down your information and works behind-the-scenes with vetted lenders who are best for your location and financial situation.
Whether you have a perfect credit score or a subpar one, and whether you're located in South Carolina or South Dakota, you can submit your information to get a quote within 24-48 hours.
Barndominium Financing Request
MinnStar Bank
With offices in Lake Crystal and Mankato, MinnStar Bank is a local community bank that offers a range of rural banking services. From mortgage loans to agricultural real estate loans for purchasing farmland, they can help with barndominium financing in Minnesota.
United Prairie
With roots in rural Minnesota, United Prairie is a family-owned and community-focused bank that provides a number of real estate and farming loans to local customers. They can also help you access USDA mortgage loans with no upfront fees if you're eligible.
Heritage Bank
Established in 1930, Heritage Bank has been serving customers in and around Northfield, West Concord and Dennison for decades. Whether you're looking to acquire or renovate a barndominium in Minnesota, they offer various business, farm, and real estate loans to suit.
Barndominium Floor Plans in Minnesota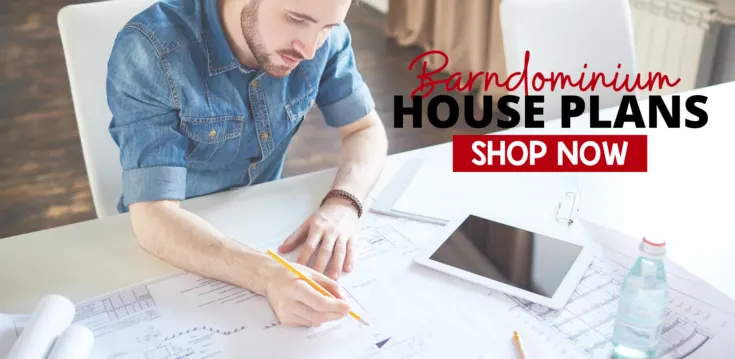 Need more inspiration? Take a look at some popular barndominium floor plans below:
Don't want all the hassle of building a barndominium from the ground up? Then you may want to buy an existing barndominium in Minnesota! With our Barndominiums for Sale Marketplace, you can browse to your state and find a barndominium for sale near you.
The beauty of buying an existing barndominium is that it can be really easy to customize the floor plan to your liking. The previous owners' setup is just a starting point! Also, by buying a barndominium in Minnesota, you bypass the potential troubles of the building process – delays, dealing with contractors and subcontractors, and city or county bureaucrats trying to make your build process a nightmare.
Don't delay – find a barndominium for sale in Minnesota now!
Conclusion
Hopefully, you're feeling more confident about building a barndominium in Minnesota. However, if you still have questions, why not order a copy of our Dream Barndo eBook before getting started? Packed with helpful advice from industry experts, you can refer to it for guidance as you progress.
You can also find more information on our blog, including how to build a barndominium on a budget and some useful things to consider when building in a cold climate for best results.