When the time comes to build your own barndominium, it can be hard to choose a style. The modern style is one of the most popular looks for homes today and has a lot of benefits. Knowing what modern barndominiums look like can help you decide if it's right for you.
In this article, we have laid out some of the best modern barndominiums. By looking at what people have already done with this aesthetic, you can start thinking about your own, and even design your own floor plan. Gaining inspiration is one of the best ways to come up with unique, personalized ideas.
What are Modern Barndominiums?
Modern barndominiums have a very distinct look that might be different from what you consider the barndo style. Modern homes have very clean lines and geometric patterns that create their own accents. They are also usually very cleanly painted with neutral colors like white, gray, and black.
One of the things you might think about modern barndominiums is that they are minimalist. While this is certainly an aspect of the look, it is not a hard and fast rule. You can have all the design elements you want while still maintaining the modern aesthetic.
This 5-bedroom barndo in Texas is a perfect example of a modern barndominium that isn't minimal. While there are a lot of textures and colors in this home, it is also very intentional. This is one of the things that makes this style so great and very versatile.
The geometric patterns on the ceiling of this barndo create a modern look and add to the textures. It is outside-of-the-box ideas like this that really make the modern aesthetic work. You can use things like this to create a unique, personalized feel for your home.
This Wisconsin home is one of the most modern barndominiums we have seen. The use of bold, yet neutral colors is a great example of what can be done with this style. We especially love the natural wood accent pieces and large, symmetrical window array.
The interior is another great example of what can be done with modern barndominiums. The all-white paint and incredibly clean lines are very striking. This, combined with the glass and wood textures create that contemporary look that is so appealing.
This barndominium in the Texas Panhandle has so many modern elements and works so well. The stark contrast of the black and white is absolutely stunning and feels incredibly clean. The trim pieces on the loft edge are also a hallmark of modern barndominiums.
One of the joys of designing modern barndominiums is the different elements you can choose. Things like this amazing spiral staircase can take the contemporary look to the next level. The black metal and natural wood create an endearing contrast that is incredibly eye-catching.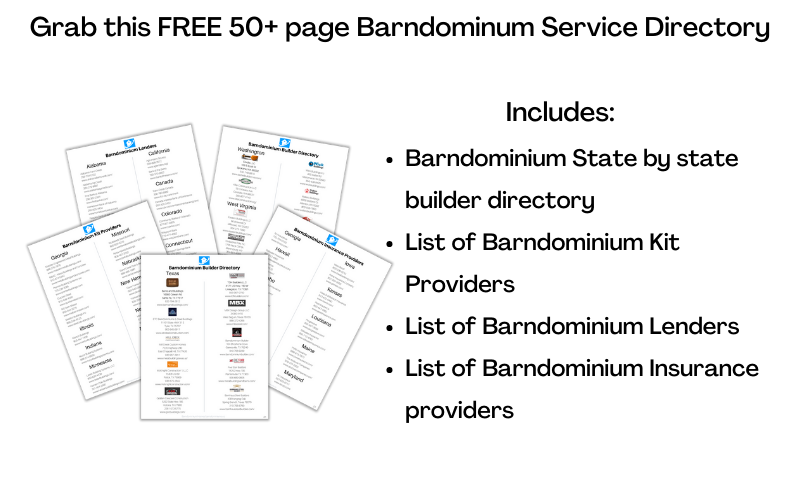 When designing modern barndominiums, windows are an incredibly important consideration. This Georgia barndo has been outfitted with an incredibly unique window array. This creates those clean lines that are so unique to the modern style and can elevate your barndominium.
One of the other crucial elements of the modern style is the use of textures. This barndo makes great use of textures and materials in the wood and stone. These contrasts create a unique feel and a combination of contemporary and organic.
With the modern style, you can choose the rules you want to follow and break. The designers of this barndo have done this by choosing a higher number of thin, tall windows. This gives the exterior a simple, yet unique look that is not too overwhelming or complicated.
The interior of this barndo also makes great use of sharp, bold lines. The staircase here is a great example of what you can do using geometric lines that cut the room. This, combined with the glass fireplace makes for a fantastic, contemporary look.
One of the great things about interior design is that it is always changing and evolving. One of the things that modern barndominiums have done is reject old notions of what modern means. This is a perfect example of organic materials and reclaimed wood in a modern style.
The newest iteration of the modern style makes use of rustic materials and textures. This can be seen here in the rise of the steps with the patina of the recycled raw materials. We love the way this looks and how it has been incorporated in a new, exciting way.
Another important touchstone of modern barndominiums is the use of neutral colors with striking textures. This Tennessee barndo does this perfectly with the stone fireplace and stark white walls. The natural wood along the loft edge also adds a wonderful accent.
Most kitchens in modern barndominiums will also use stainless steel appliances. These look great with the neutral colors and bring an industrial feel to the table. They are also very functional and will last for many years of regular use.
Modern barndominiums will also make use of bold patterns and this is a great example of that. The complicated pattern of the tile contrasts so well with the organic wood here. This is a great way to make everything pop and give the eye a place to settle.
When designing a modern barndominium, you can also make use of unique accent pieces. Things like the deer antler chandelier in this barndo can add so much to the room. They can also be an extension of your personality and allow you to express your individuality.
Conclusion
Barndominiums are known for being simple and rustic with a country-style look. However, modern barndominiums can be just as exciting and be as much of an expression of your taste. Understanding what modern barndominiums look like can help you decide if they are right for you.
If you would like more helpful tips and guides, check out the rest of Barndominiums.co. There, you will find advice from the pros and featured barndominiums to help you get inspired. You will also find information on cost, financing, and insurance that can help you plan for your custom dream home.