Barndominiums are one of the most affordable options for people looking to build their own home, and building one with a shell kit is one of the most affordable options within the category.
These barndominum shells are often sold as a set of walls and a roof without flooring, doors, windows, or similar features, are rapidly becoming one of the most popular ways to approach a barndominium build thanks to their low cost and high accessibility.
Related: Check out our Build your Dream Barndominium eBook on Amazon.
With suppliers offering barndominium shells starting at $7,000, there's a vast selection of barndominium shells on the market that require very little up-front investment and give any owner a fantastic starting point from which they can have an exciting, hands-on role in seeing their barndominium come to life.
If you've decided that a barndominium shell is a way to go for your project, or you're weighing up shells against other options, then this post is for you. Here are 3 of our favorite barndominium shell suppliers, along with details on the kind of set-ups they can offer you.
Check out these barndominium kits under 50k and barndominium kits under 100k to make building your barndominium even easier.
Barndominium Shell Suppliers – Our Picks
A prominent barndominium specialist who's been designing and manufacturing steel-framed buildings since 1999, Absolute Steel is one of the most well-established barndo shell suppliers in the southern states.
While based in Texas, Absolute Steel maintain branches throughout the US, and stock a range of products made specifically for DIY build projects. With excellent craftsmanship and expertise built on more than 20 years experience, you could do a lot worse than Absolute Steel!
What You Get
Absolute Steel will ship all the shell components to you (walls, roof, flooring, and fasteners).
One of their more popular shells, the Teton, which can be built up to 1200 sq ft, features heavy-duty exterior panels, which are designed to imitate wooden shiplap sidings. This timeless design, along with a particularly large eave overhang, gives it a classic, welcoming look.
The Teton shell is also made to be easy to erect for first-time builders. In Absolute Steel's own words: "Because of the way the Teton's walls and roof are engineered, home kits in this style are also a bit easier to erect than other styles. That saves time and effort if you're a do-it-yourselfer, and can reduce labor charges if you've hired a contractor."
What You Don't
The main component that's lacking from this Absolute Steel shell is a quality cement slab, which you'll have to contract for separately. Aside from that though, you'll find everything you need to construct a great barndominium.
The Bottom Line
Despite their position as a well-established barndominium shell supplier, Absolute Steel offers a range of highly affordable barndominium shells, with many starting at $10,000 depending on the size of the building you require.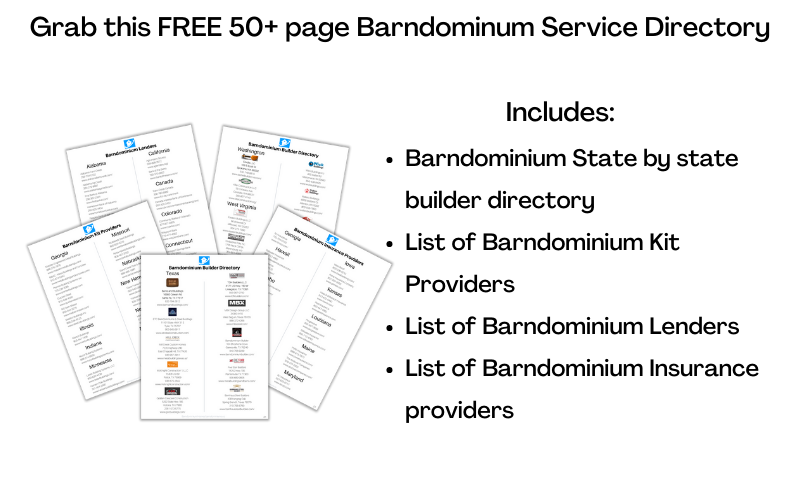 Based in Missouri, Worldwide Steel Buildings will ship your barndo shell kit anywhere in the US, and offer a variety of resources to help your barndominium project run smoothly, including this great 3D designer you can use on their website. They've been operating since 1983, and are known for the exceptional quality of their rust-proof trusses.
What You Get
Worldwide Steel Buildings specialize in custom kits, and the shell you settle on is going to depend on your unique wants and needs. To give you an idea of what's available however, here's the materials you'll receive for a standard 30 X 40ft kit:
What You Don't
Though they may have trouble accommodating particularly unique, "outside the box" designs, their nature as a custom shell supplier means there's very little in the way of conventional barndo shells that Worldwide Steel Buildings won't be able to provide.
The Bottom Line
A highly flexible and well-established barndominium builder, Worldwide Steel Buildings come highly recommended for anyone looking for a barndominium shell with plenty of room for customization.
Shelter Kit is a New Hampshire-based barndominium builder that's been specializing in assembly kits for almost 50 years for people with no prior construction experience. They offer a number of one and two-story houses, along with barns, garages, and custom steel building designs, all with a wide range of options to suit anyone's needs.
What You Get
Their shells start at 875 square feet (16 x 16) constructions, with the simplest designs able to be built in as little as 10 days!
With every shell they offer, you'll have a range of detail options to choose from, including Higher ceilings, siding choices, full second stories, windows, doors, stairs, dormers, partial cathedral ceilings, and their own double-stud wall system which allows for more insulation.
They also offer porches, decks, and a whole host of additions, which can be added at the time of ordering, or in many cases added to the barndo in the future.
These shells cost $28 to $49 per square foot of living space, depending on the final size and the options you choose.
Each of their kits will include all the materials you need to construct a weatherproof shell, including a pre-cut frame, sub-flooring for one or two stories, exterior wall sheathing, siding, roof sheathing, trim, shingles, hardware, as well as comprehensive instructions written specifically for inexperienced builders.
What You Don't
Like Absolute Steel Texas, Worldwide Steel Buildings don't supply cement slabs in their kit, which you'll have to source yourself. You'll also have to find your own supplier for the interior framing, doors and windows, and any other materials that we haven't listed above.
The Bottom Line
With several decades of experience in the industry and a specialty in providing kits for people with no prior construction experience, Shelter Kit is an excellent choice for anyone who wants to take an active role in their own barndominium building project. Although the kits don't provide every last material you'll need, the varied options and accessibility more than make up for it!
Wrapping Up…
Taking a DIY approach to your barndominium building can be a hugely rewarding experience, provided you have the right shell for the job. We hope this brief overview of our favorite suppliers has given you a good start to finding the shell that's right for you.
You can also DIY your barndominium floor plan with any of these user-friendly software. Get inspired with these example floor plans and see what best fits your taste and lifestyle. Here are even more guides on barndominium financing and insurance that you need to check out.