Looking for the perfect two bedroom barndominium floor plans to choose from? Look no further because we are sharing some great options that you will fall in love with!
2 Bedroom Barndominium Floor Plans
Building a custom home is an incredibly exciting and invigorating prospect. If you have ever dreamed of creating a home completely from scratch, you know how your imagination can be ignited by the prospect of your own space built to your exact specifications and for your exact needs. Being able to design a home for you and your family can be a great way to ensure that you are happy for many years to come. However, if you have ever looked into building your own home, you know how time-intensive and expensive it can be.
That's why building a 2 bedroom barndominium is such a great choice for such a wide array of people. By fitting all of your rooms into a small space, you can save yourself a lot of time and money down the line and throughout the construction process since building a barndominium costs way less than a traditional home. And finding the right company to finance your build can also help with your budgeting.
The floor plan for your 2 bedroom barndominium is one of the most important things you will put together. You can design your own floor plan or seek the help of a professional.
This plan will determine how your rooms relate to one another and how the home feels and functions. Being able to figure out the perfect layout for your home is an essential part of the design process and is not one to be taken lightly. A good barndominium floor plan makes all the difference when it comes to your comfort.
Using a barndominium kit under 50k or a barndominium kit under 100k will make building your barndominium even easier.
In this article, we have provided some excellent examples of 2 bedroom barndominium floor plans. By checking these out, you can either get inspiration for your own floor plan or use one directly to get the best possible layout for your 2 bedroom barndominium.
2 Bedroom Barndominium Floor Plans – Things to Consider
Your Design Style
Your particular design style is one of the first things you should think about when putting together the floor plan for your 2 bedroom barndominium. How you lay out your rooms will determine the look and feel of your home as well as how functional it is.
You can use the floor planning process to make decisions regarding the look of your home.
If you are thinking about including certain elements of style, such as a loft, you will need to include these in your floor plan. If, for example, you like the idea of a sunken living room, including this in the floor plan will allow your builder to make structural decisions and get the home prepped for this particular choice. It will also allow you to see if you need to make any more changes as you move through the floor plan design.
Your Family's Needs
While your design needs are important, your family's needs are just as important, if not more so. One of the major benefits of building your own 2 bedroom barndominium is the fact that you can create something that is specific to your life.
This includes how the home is laid out and the type of floor plan you create. How your rooms and spaces relate to one another can help you create something that you and your family can be comfortable in, no matter your life.
One of the things you should consider as you put together your floor plan is where the bedrooms are located.
With a 2 bedroom barndominium, you can put the rooms toward the back of the house. This allows your family to be active in the living areas without disturbing the people sleeping in the back rooms. This is a great layout if you have people who work odd hours in your home. It will allow those people to get the sleep they need without having to restrict activity in the living area of the home.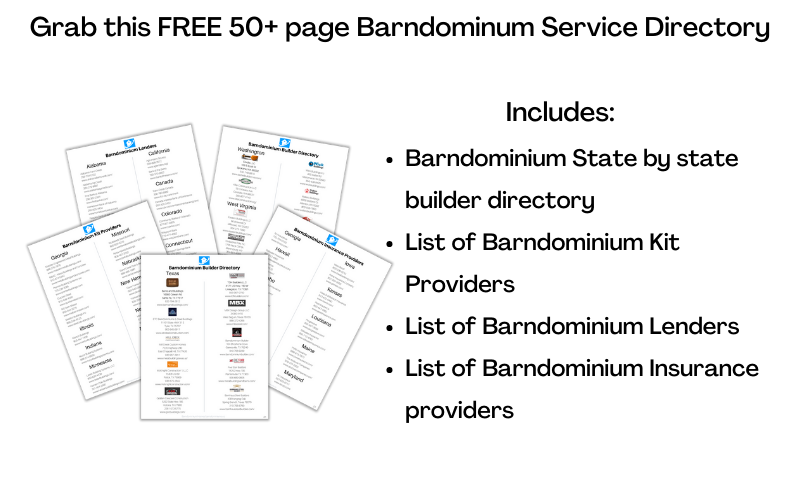 Storage
With a smaller barndominium, one of the most important things to think about is storage.
Having enough space to store your things without having them clutter up an area is an important consideration. Closet space should be included in your floor plan and you should not only think about having enough room but also where the closets are located.
Accessibility is just as important as storage, and how your closets are situated will play a big part in that.
One of the best ways to efficiently store your belongings in your 2 bedroom barndominium is to use built-in shelving.
Built-in shelving units can be an excellent addition to your home because they allow for all the storage you need without having to add bulky shelves and large pieces of furniture to the home.
This is especially helpful with a 2 bedroom barndominium because you may not have enough room to add these things without taking up much of the available living space.
Traffic Flow
Perhaps the most important consideration you will have to make when putting together the floor plan for your 2 bedroom barndominium is the flow of traffic.
A well-thought-out floor plan will allow for freedom of movement within the home without having everyone be on top of each other or bumping into one another. It can also make the home feel more spacious than it actually is if the layout is well-designed.
One of the most important decisions for traffic flow is whether you are going to have an open or closed floor plan.
An open floor plan is when your kitchen and living area are connected and have no separation from one another.
This is becoming more and more popular than a closed plan which is more old-school and has the kitchen as its own separate room. Deciding between these two will let you set the tone for the home and give you the space you need.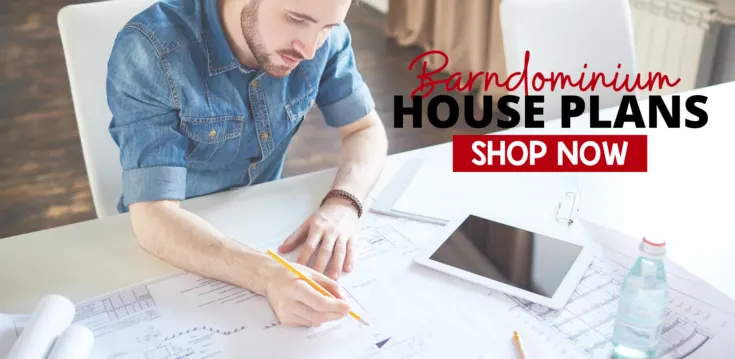 2 Bedroom Barndominium Floor Plans – Get Inspired With These Floor Plan Ideas
This is a classic work-from-home plan with a big shop area to match. It has all the essentials of a good two-bedroom plan but also the addition of shop space. This means that for those who wish to work from home, this is the best option. It is well-designed to give you living comfort and a good impression when you have guests around.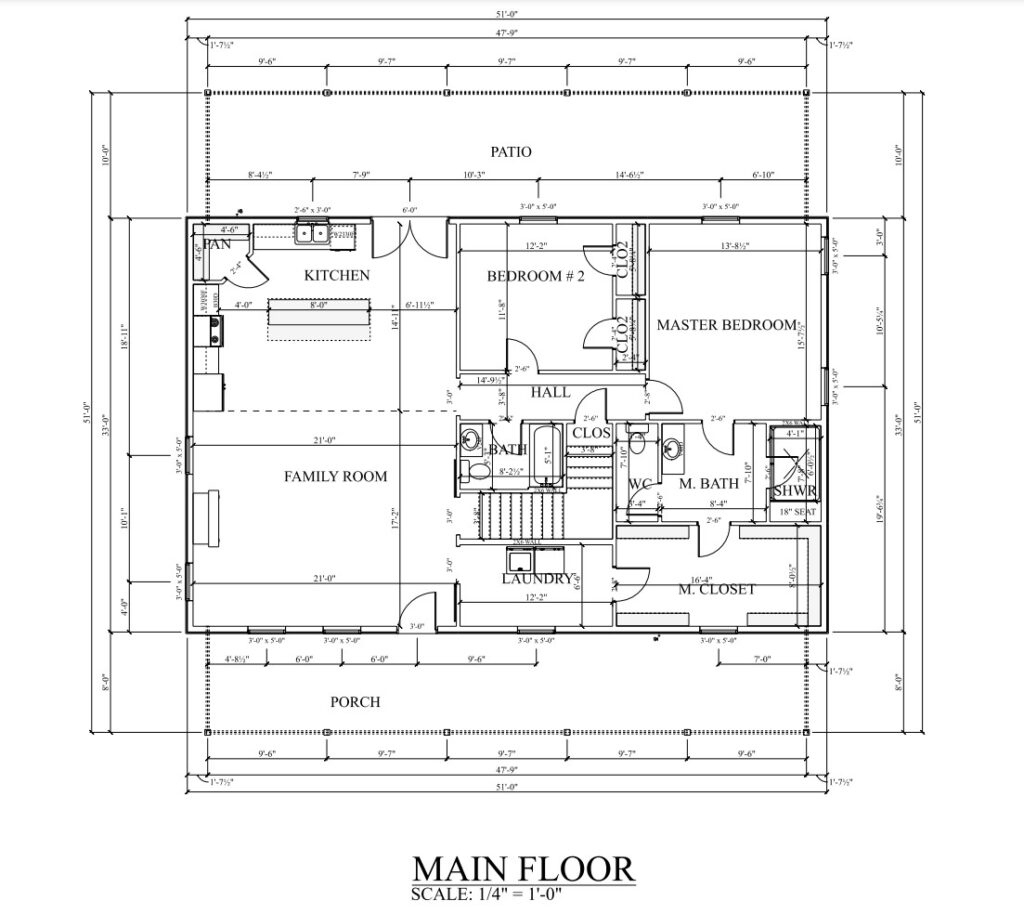 This layout is great for a smaller family who doesn't need a ton of bedrooms but still wants the versatility that a loft can provide. With only one open room up top that looks down over the family room, this loft would be a great spot to escape for playing, studying, or sleepovers.
The PL-62510 Jordan Barndominium is a stunning and spacious home with a well-designed layout spanning 2,939 square feet. It features two bedrooms and two bathrooms. The barndominium offers a contemporary design with thoughtful details. The home's seamless flow and smart design make efficient use of every square foot, and including a 2-car garage accessible through the kitchen adds practicality. Whether enjoying the front porch or hosting gatherings in the open living space, this floor plan offers a harmonious blend of comfort, convenience, and style, where modern living meets rustic elegance.
Featuring 2 bedrooms and 2 bathrooms spread across 1233 square feet, this luxurious home was built with your comfort and convenience in mind. Walking in, you'll see a huge great room/kitchen combination, and the kitchen is a cook's dream. Enjoy all that PL-60001 offers in style, comfort, and convenience.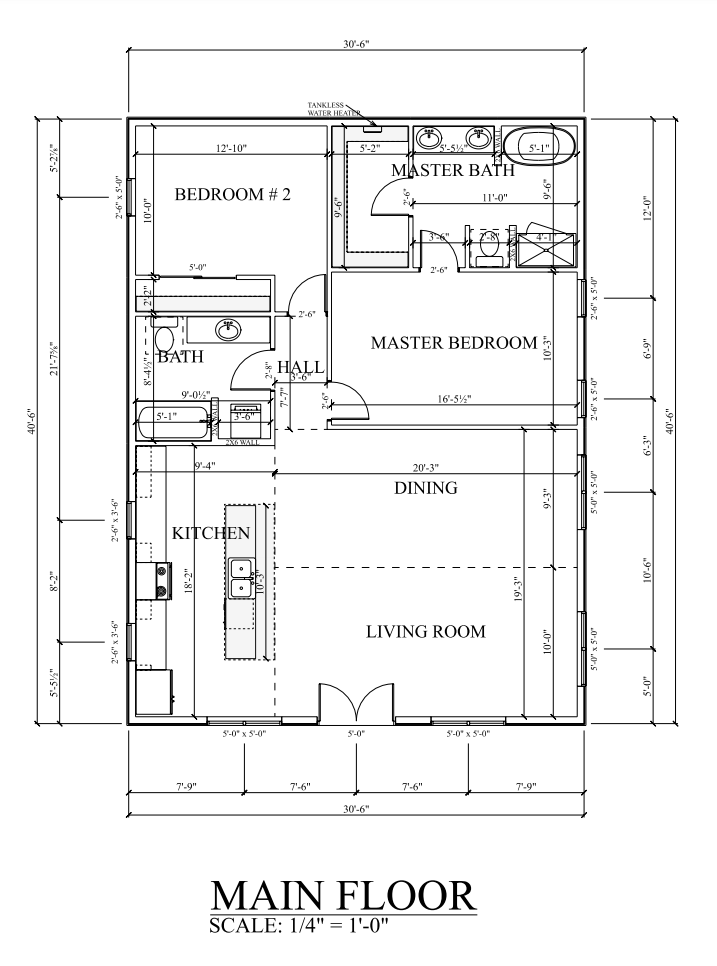 This barndominium is rustic and modern with 2 bedrooms and 2 baths. The open-concept living room, dining room, and kitchen will immediately wow you. The main bedroom's ensuite bathroom adds luxury to this spacious room. The second bedroom is also well-appointed and flexible. It can be a guest room, office, or playroom. Residents and guests can use the nearby bathroom.
This 2 bedroom barndominium floor plan is an excellent example of what you can do to utilize space in your home and bring as much functionality to the table as possible. With a large closet in the master bedroom and a smaller one in the second bedroom, there is enough storage space for everyone's belongings with enough room leftover for comfortable living. This plan also features an extra home office space that can be used as a spare bedroom if need be.
This large example of a 2 bedroom barndominium has enough space for all kinds of families and applications. With two living areas and enough room for at least five people, this is a great choice if your family is a little bit larger but you don't want to build a barndominium that takes up too much room on your piece of land. It also features a large rumpus room which has all kinds of possibilities when it comes to what you can use it for.
Even though this 42×40 2 bedroom barndominium is on a small lot, it has a lot of space and a lot of options. This is a great floor plan if you work from home and need a big shop space but you don't want to sacrifice too much in the way of living areas. The shop is 20×21 but the living room still comes in at a respectable 27×14, which is large enough for almost any gatherings of family or friends.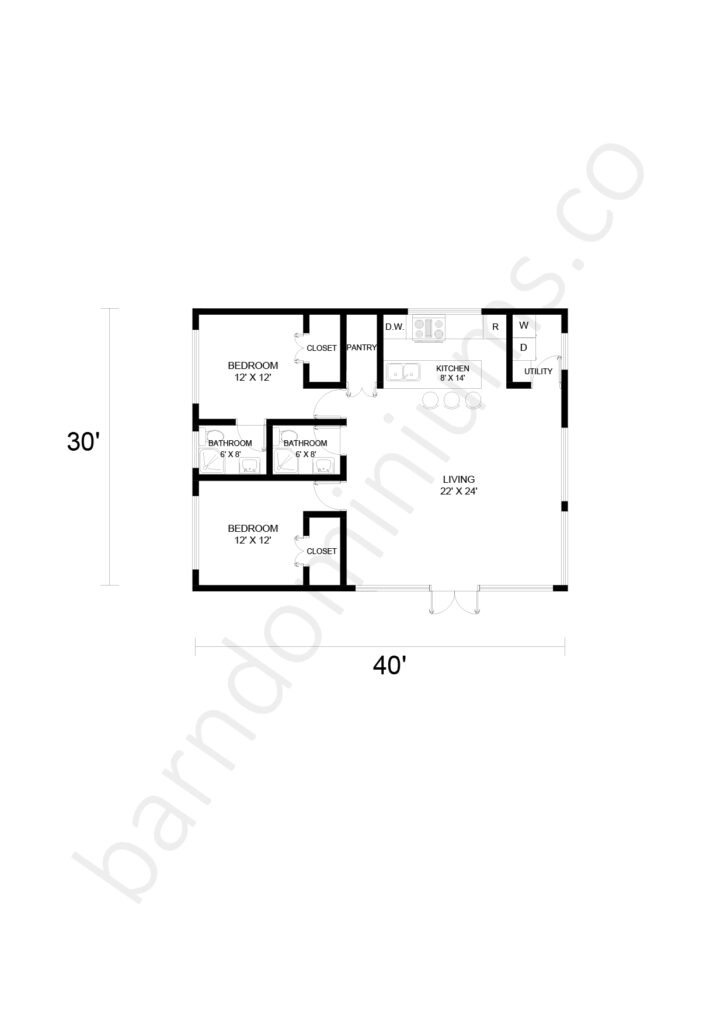 If you are looking for a simple but elegant 2 bedroom barndominium, the 30×40 floor plan is perfect. With such a small lot, it can be difficult to find a solution that works for you and your family. However, this floor plan features two large bedrooms and a utility room for laundry or other applications. It also has two bedrooms and a walk-in pantry right off the kitchen for even more storage options.
This 2 bedroom barndominium floor plan is one of the larger options we have on our list but it is still relatively small in the grand scheme of homes. However, because of its size, there is a lot going on here. With a large shop that features a half bathroom, this plan also features a utility room that hides the entrance to the shop space. This is a great way to make the most of the space you have without encroaching on the actual livable areas in the home.
This 2 bedroom barndominium floor plan has an incredibly unique layout that is perfect for getting the optimal traffic flow in your home. The living area sits right in between the bedrooms and doesn't break up any of the flow but being off to the side or towards the back or front. It also features a large closet off the living room as well as a half bathroom that is perfect for guests to use without having to go all the way to the bedrooms.
One of the easiest ways to get the most out of your 2 bedroom barndominium floor plan is to set up all the rooms around the perimeter. That's exactly what this floor plan does and it has a lot of uses for all kinds of families. With a half bathroom, large closet, and walk-in pantry right off the living room, it has everything your guests might need right in the common areas.
Having a large living room is a great way to get the most out of your 2 bedroom barndominium without having to sacrifice space on your actual lot. The living area is one of the first things people will see when they walk in and this floor plan has a 14×30 living room that is sure to give the illusion of space and give you a much more opulent feel.
Conclusion
By having a good idea of what different 2 bedroom barndominium floor plans look like, you can give yourself a head start on your own plan. You can even use one of these examples for your own barndo if it seems like it is going to work for you and your family.
If you would like more helpful guides like this one, be sure to check out the rest of Barndominiums.co. There, you will find state guides on building a barndominium, where to find insurance, and much more. You will even find featured barndominiums to help you get inspired and start thinking about your custom dream home and what it will look like.