Building your own home can be incredibly exciting, especially if you are in the initial planning stages. Thinking about all the different things you can do and all the amazing features you can add is a lot of fun and can be very inspiring. By understanding the possibilities of a project like this and how many different style touches you can add, you can create something that is very much your own and designed to your exact specifications.
However, if you have ever looked into what it actually takes to get a project like this underway and the amount of red tape you have to go through, you know how frustrating it can be and how inaccessible it can quickly become.
That's why building a barndominium in Wyoming can be such a great option. With so many people getting into the idea of alternative housing, they are more available and accessible than ever and have become viable for more people. Plus, bankers and builders are starting to see how profitable projects like this can be, so there has never been a better time to build a barndominium in Wyoming.
In this guide, we have put together everything you need to know about building a barndominium in Wyoming. By knowing what to expect and what a project like this takes to get done, you can build yourself something that is both affordable and up to your standards.
What Is a Barndominium and What Are Some of the Advantages?
A barndominium is a home built using the shell of a metal post frame structure or pole barn. These types of buildings are built on top of concrete slab foundations and use metal pole frames that are driven into the ground instead of traditional stick frames like regular homes. Because of this, they can be built in about half the time that a traditional house takes, which can save you time, money, and stress. There are a number of benefits to building a barndominium in Wyoming and knowing what they are can help you make the right decision.
One of the major benefits of building a barndominium in Wyoming is the fact that it can be so inexpensive. Because they can be built in half the time as a regular home, you can end up saving yourself a lot of money. This is because both time and materials are less expensive and there are fewer things that can eat into your budget. This makes them much more accessible to people who might not otherwise be able to build their own homes.
The other advantage of a barndominium in Wyoming is how durable and easy to maintain they are. Because of their all-steel construction, they are less susceptible to things like mold, mildew, rot, and other moisture-based damage. This can end up saving you thousands of dollars over the course of your ownership of the house.
Cost of Building a Barndominium in Wyoming
Once you have decided to build a barndominium in Wyoming, you will then want to figure out how much you will be able to spend. When you are building a project like this, you will want to figure out how much the project will be by square foot. This allows you to have some information beforehand such as how large your piece of property will have to be as well as how many bedrooms and bathrooms you can afford. Doing this by the square foot lets you decide just how much house you can afford.
The cost of building a traditional home in Wyoming is around $290 per square foot. It should be noted that this price does not include any of the finishing work you might need in order to make your barndominium in Wyoming actually livable. Because of this, you will need to add some extra money to your budget if you want to do this finishing construction. This can quickly increase your cost and make your home more expensive.
The cost of building a barndominium in Wyoming, however, is on average, $266 per square foot. While this may not seem like much of a difference right off the bat, when this extra $24 is spread throughout your whole project, you can end up saving a lot of money. This can keep you under budget and make your home much more affordable.
Barndominium Builders in Wyoming
After figuring out your budget, you will then want to decide who you are going to hire to do your construction work. There are certainly some things you can do yourself, but when it comes to the actual structural work and keeping your barndominium in Wyoming up to code, it is always best to hire a professional. They can make sure that you are in compliance with all your local building codes and that your home will be safe. It can be difficult to figure out who the best builder is but there are some things you can look for to find out if you are choosing wisely.
One of the main things to look for in a builder for your barndominium in Wyoming is experience. While many construction companies will know how to build a traditional home, not all of them will have experience with building metal post-frame buildings. It is always best to choose someone who has built this kind of project before or, if possible, specializes in them.
You should also look for a builder who has a good reputation when it comes to customer service. Building a home is an incredibly personal experience and takes a lot of people skills and quality interpersonal communication. Look through online reviews and find a builder who has a good relationship with their previous clients. To help you get started, we have put together a short list of some of the best builders for your barndominium in Wyoming.
H&H Custom Buildings
H&H Custom Buildings has a specialization in steel buildings and they work with their clients to make sure they get the final product they have been looking for. They will work with you to find out what your needs are and will help you design the ideal barndominium in Wyoming.
FMP Steel Buildings
FMP Steel Buildings has been in business for over 70 years and in that time they have learned what their customers need and what it takes to get a project like this up off the ground. They pride themselves on providing excellent customer service and will help you feel comfortable throughout the whole process.
Sapphire Construction
Sapphire Construction has a streamlined process that they have developed over their 65 years in business. They can get a barndominium in Wyoming built about 30 percent faster than other companies, which makes them a great choice if you are anxious to get your project finished.
Barndominium Kit Providers in Wyoming
If you are not interested in building your barndominium in Wyoming from scratch, you do have other options. One of those is to get a barndominium kit. Barndominium kits come prefabricated with everything you need to get your project up off the ground. These can be a great choice if you don't want to spend time sourcing materials and getting all the parts you need.
One of the nice things about using a barndominium kit is that you get comprehensive support from the provider. Some of them even have lists of contractors in your area that has experience with your kit and can help you get it built.
Barndominium Financing in Wyoming

One of the best resources for getting barndominium financing is by using BarndominiumLoans.com. They are a quote service that takes down your information and works behind-the-scenes with vetted lenders who are best for your location and financial situation.
Whether you have a perfect credit score or a subpar one, and whether you're located in South Carolina or South Dakota, you can submit your information to get a quote within 24-48 hours.
Barndominium Financing Request
Wyoming Community Bank
Wyoming Community Bank has a wide range of loan products for people looking to build a barndominium in Wyoming. This makes them a great choice if you need flexible terms and a lot of different options.
Platte Valley Bank
Platte Valley Bank has been in business since 1996 and they believe that you should have a partner when getting financing for your barndominium in Wyoming. Because of this, they could be a good option for people looking for help throughout the whole process.
Barndominium Taxes in Wyoming
You will need to pay taxes on your barndominium in Wyoming just like you would with a traditional home. However, barndominiums often fall under the category of "dual use" construction. This means that you will pay different rates for different areas of your home. A local tax assessor can help you figure out what you need to pay for your barndo.
Where to Find Barndominium Insurance in Wyoming
You can usually find insurance for your barndominium in Wyoming anywhere you get traditional homeowner's insurance. However, some companies may have trouble valuing your home. Because of this, it is a good idea to keep detailed records of everything you spend during the building process so you can have a final count. A good insurance agent will help you get the policy you need to cover yourself and your investment.
Barndominium Floor Plans in Wyoming
Your floor plan is one of the most important things you will put together for your barndominium in Wyoming. This plan will lay out everything you want in your home including bedrooms, bathrooms, and living areas. It also figures out how these spaces will relate to one another. To get started on this project, sit down and write out everything you want to include with your barndominium. Then, take this list to a professional draftsman who will turn it into a workable floor plan for you and your builder.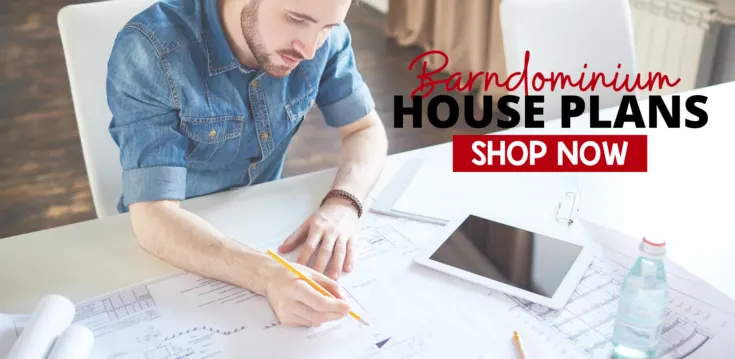 Don't want all the hassle of building a barndominium from the ground up? Then you may want to buy an existing barndominium in Wyoming! With our Barndominiums for Sale Marketplace, you can browse to your state and find a barndominium for sale near you.
The beauty of buying an existing barndominium is that it can be really easy to customize the floor plan to your liking. The previous owners' setup is just a starting point! Also, by buying a barndominium in Wyoming, you bypass the potential troubles of the building process – delays, dealing with contractors and subcontractors, and city or county bureaucrats trying to make your build process a nightmare.
Don't delay – find a barndominium for sale in Wyoming now!
Conclusion
By reading this guide, you should have a good idea of what it takes to build a barndominium in Wyoming. Having this information handy can help you make the right choices as you move through your project and work to get it done.
If you would like even more helpful information, be sure to check out the rest of Barndominiums.co. There, you will find more guides like this one and information like how to find insurance and what to pay in taxes. You will also find featured barndominiums to help give you some inspiration for your own custom dream home.