Looking to build your dream barndominium? check out these 4 bedroom barndominium floor plans that you may just fall in love with!
4 Bedroom Barndominium Floor Plans
If you have ever dreamed about building your own home, you know how exciting the prospect can be. There are so many possibilities when it comes to the customization and personalization of a home, and if you are one of the lucky people who are able to go through with this rewarding and challenging project, there are a lot of benefits. However, not everyone can make this kind of project happen, and it can be incredibly expensive and time-consuming. Perhaps you have even looked into what it takes to get a project like this up off the ground and been turned off by the amount of work and money you would have to put up to make it happen.
That's why building a barndominium can be such a great alternative. With unique housing like container homes, tiny homes, and shop houses becoming more and more popular, there has never been a better time to build a barndominium.
If you have a large family, a 4 bedroom barndominium is absolutely within the realm of possibility, and planning one out can be a thrilling and incredibly fun process.
To help get you inspired, we have put together a list of some charming 4 bedroom barndominium floor plans.
You can either use these barndominium floor plans as inspiration to create your own floor plan or use one of them as the basis for your custom home.
By taking a look at what is possible, you can create a 4 bedroom barndominium that is perfect for you and your family.
4 Bedroom Barndominium Floor Plans – Things to Consider
Before you start putting together a plan for your own 4 bedroom barndominium, there are some things you should consider. By understanding the different aspects of a home build, you can make sure that your floor plan is perfectly suited for your purposes and will be the ideal setup for you and your family. You can then incorporate all those ideas into the perfect plan and make sure that you will be comfortable and productive in your new home.
Your Design Style
The whole point of building your own home is to use your own design style to create something that is unique to you.
Odds are, if you are considering building a 4 bedroom barndominium, it is because you have not been able to find a home that suits you and your particular aesthetic.
Thinking about the design of your layout and planning ahead for any stylistic elements will allow you to get the perfect home for your unique vision.
The layout of your 4 bedroom barndominium is important because it will dictate many of the design choices you want to make.
For example, if you want a loft or if you like the idea of a spiral staircase, this will need to be included in your floor plan. Thinking ahead about these things will allow your construction to go as smoothly as possible without having to backtrack.
Your Family's Needs
While your design choices are important, you should also be thinking about the needs of the other people who are going to be living in the house.
The way your bedrooms and bathrooms are laid out will greatly affect how comfortable everyone is in your 4 bedroom barndominium. Thinking about your day-to-day life will allow you to come up with the ideal design.
For example, you should consider everyone's schedule when you are putting together your 4 bedroom barndominium floor plan.
If there is someone in your family who works different hours than everyone else, consider placing their bedroom further away from the rest of them. This will allow them to do what they need to do without disturbing the other residents of the home.
Storage
Storage is one of the most important things to consider with a 4 bedroom barndominium.
Because you are going to be having so many sleeping areas, you may not have as much room for a large living area. This means that you will need more storage than you otherwise would in a home with fewer bedrooms. Having the right amount of storage is essential for keeping everything organized.
One of the ways you can maximize the amount of space you have is to plan for built-in shelving units. Not only do these types of shelves give your home a finished, craftsman-type look, but they also save you space and eliminate the need for large external shelving units.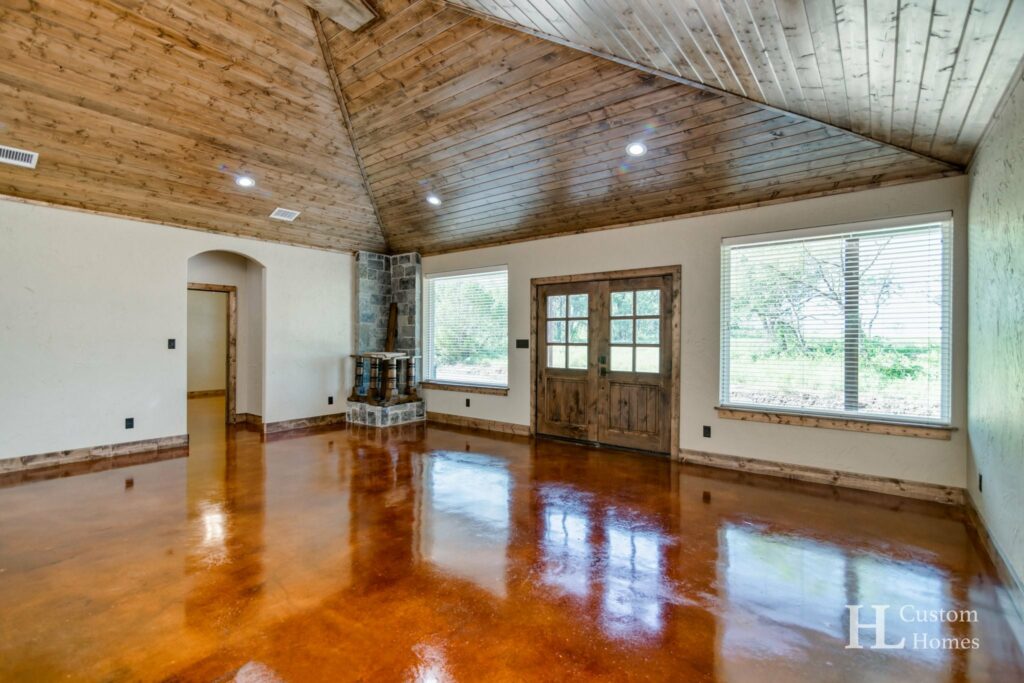 Traffic Flow
The flow of traffic is another incredibly important aspect of your 4 bedroom barndominium floor plan. You should consider how people will move through the building and how it will be able to accommodate lots of people living in one space. The way all the different bedrooms and living areas are laid out will determine how comfortable it is and how easy it will be to go through your day-to-day life.
One important consideration is whether or not you will have an open- or closed-concept home. Open concept homes leave an open space between the kitchen and the living area and can be a great way to save space and make the whole home feel open and inviting at the same time. This layout is highly recommended, especially if you are going to have 4 bedrooms in your barndominium.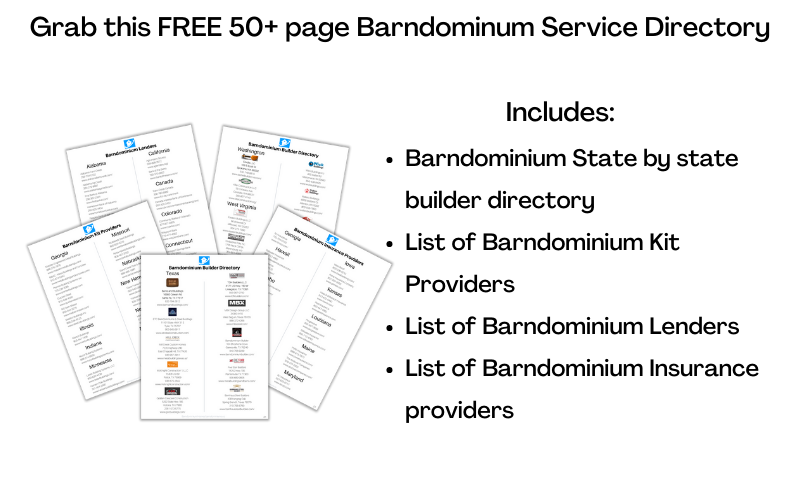 4 Bedroom Barndominium Floor Plans – Get Inspired With These Floor Plan Ideas
This 4 bedroom shouse is packed with features that we absolutely love. Not only is the garage/shop connected to the house, but it's also a bit separate so you don't get dust and particles inside the house. Also, the garage is huge which leaves plenty of room for activities. Last, don't miss out on this shouse's master bedroom area. It's absolutely huge and I love how it connects to the kitchen pantry and laundry through the closet.
This lovely barndominium is perfect for those who love lots of space. The highlights of this home are the huge master bedroom with a walk-in closet and bathroom, a huge kitchen for those who love to cook, and the Jack-and-Jill bathroom shared by 2 bedrooms on the other end opposite the master bedroom.
This 40×50 barndominium has 4 bedrooms and 2 bathrooms, wraparound porch. The 10″ vaulted ceiling and open concept living area with a fireplace up to the kitchen area create an airy atmosphere. Each bedroom has its own closet. A huge detached 2-door garage is built a few steps from the living area.
When you have a growing family, or even when you just love to have guests over, this floor plan works perfectly for you. 4 Bedrooms will surely have everyone at home comfortably settled with lots of additional space at the loft. The front and back patios are great spaces for outdoor relaxation or small gatherings.
60×50 4 Bedroom Barndominium Floor Plan
This 4 bedroom barndominium floor plan is a fantastic open concept that utilizes a large living area. With most of the bedrooms towards the back of the home, there is a lot of space up front for gatherings and togetherness so you don't have to feel separated or crammed together. This plan also features a half bathroom right off the living area and kitchen as well as a walk-in pantry.
70×30 4 Bedroom Barndominium Floor Plan
If you are interested in having your 4 bedroom barndominium be longer and more narrow so you can get the most out of the length of the home, this floor plan could be a great option. With 2.5 bathrooms including one in the master towards the back of the house, there is plenty of space for everyone to have their own private area. This plan separates the bedrooms from the living area and kitchen, which makes it a great choice if your family keeps different hours.
60×40 4 Bedroom Barndominium Floor Plan
This is a smaller floor plan that really makes good use of all the space it has to offer. With the bedrooms effectively surrounding the living area, there is enough separation between the back master bedrooms and the two smaller ones off the living area and kitchen. This makes it a great 4 bedroom barndominium floor plan for people who want to possibly use one of the bedrooms as an office but don't want to feel isolated from the rest of the home while working, which can be a challenge.
60×40 4 Bedroom Barndominium Floor Plan with 3.5 Baths
One of the things that makes having a 4 bedroom barndominium difficult is the fact that there may not be enough bathrooms for everyone. However, this floor plan makes use of an extra full bath to bring the count up to 3.5, which should be more than enough for the number of people living in the 4 bedrooms. On top of this, there is a large amount of closet space that will allow everyone to keep their belongings organized and out of the way.
60×40 4 Bedroom Barndominium Floor Plan with Extra Storage
As mentioned above, one of the challenges with a 4 bedroom barndominium is that you need to be able to keep everything organized with so many people living in the space. This floor plan takes that into consideration and has seven different storage areas including a utility room, a walk-in pantry, and five large closets. Being able to organize everyone's things allows you to keep your 4 bedroom barndominium neat and clean without having to sacrifice any space.
80×40 4 Bedroom Barndominium Floor Plan
This large, open concept 4 bedroom barndominium is a great option for people who want absolute separation between the bedrooms and the living areas. With the kitchen centered towards the middle of the home, there is a massive 21×40 living area that should be more than enough for large gatherings and parties. Plus, there is a full bathroom right down the hallway behind the kitchen as well as a large closet for guests' belongings off the kitchen area next to the pantry.
60×60 4 Bedroom Barndominium Floor Plan
This square 4 bedroom barndominium floor plan is a very unique example of what can be done in a small space. With a large 18×34 porch, this plan still has room for all the bedrooms with three of them located in the back and one right off the living area that can be used as an office if need be. This plan also has a unique layout with the utility room, walk-in pantry, and a large closet all located right off the kitchen.
48×50 4 Bedroom Barndominium Floor Plan
One of the best ways to utilize small space is to create a symmetrical floor plan. This 4 bedroom barndominium layout is a great example of that and while it might be on a relatively small plot, it still has enough living and storage space for everyone. With the kitchen relegated to its own area, there is enough living space and 2.5 baths so no one will feel cramped or like they are living on top of each other.
Conclusion
By understanding what can be done with a 4 bedroom barndominium floor plan, you can start thinking about how you will use the space you have to create something truly unique. Taking some inspiration from these floor plans should get your creative juices flowing and help you come up with the perfect layout for your barndominium.

If you would like more helpful guides like this one, be sure to check out the rest of Barndominiums.co. There, you will find more floor plans, information on financing, insurance, and costs; as well as guides on building a barndominum in each state. If you're also interested in trying to create your own floor plan, here's an article on our recommended barndominium design software.