Building a custom home is something everyone dreams about at some point in their life. Creating a house that is designed to your specific needs is both challenging and incredibly rewarding. However, if you have ever looked at the cost of a project like this, you know how inaccessible it can be. That's why building a barndominium in Wisconsin is such a great alternative.
A barndominium in Wisconsin can allow you to get the home of your dreams. In this article, we have laid out everything you need to know about this project. By understanding what goes into something like this, you can create something that is both beautiful and functional. Being as prepared as possible to build a barndominium in Wisconsin is your best chance at success.
What is a Barndominium in Wisconsin?
A barndominium is a home that is built using the steel shell of a metal post frame building. These structures are usually reserved for industrial purposes like agriculture or storage. However, when properly modified, they also make fantastic homes. They can be framed up inside just like a traditional house and will be just as comfortable and inviting.
Post-frame structures use concrete slab foundations and the posts are driven into the ground. This is different from a traditional home which uses a foundation and framing. Because of this, a barndominium in Wisconsin will be sturdy and easy to build for most people. This opens up a world of possibilities and accessibility to people who might not otherwise be able to build a home.
What Are the Benefits of a Barndominium?
There are all kinds of benefits to building a barndominium in Wisconsin. Perhaps the most important one is the fact that they are much less expensive than a traditional home. Because they are so much easier to build, barndominiums take about half the time in the construction process. This saves you money on both labor and materials and makes the whole thing less stressful.
One of the other important benefits of building a barndominium in Wisconsin is its durability. Due to their all-steel construction, barndominiums are perfect for snowy, wet climates. They don't have the problems with mold, rot, and mildew that a traditional home will have. This will save you a lot of money throughout the course of your ownership of the house.
Cost of Building a Barndominium in Wisconsin
With any home building project, one of the first considerations is going to be the cost. Building a traditional home in Wisconsin costs somewhere between $200,000 and $350,000 depending on your design. While this is more or less around the national average, it can still get very expensive. This price also doesn't include any of the furnishings or extra things you might want in your home.
The cost of building a barndominium in Wisconsin, however, is quite a bit less. For the most part, you can get a barndominium built for between $147,000 and $168,000. This is due to the fact that the whole construction time is much shorter with a barndominium.
With this extra money, you can afford to add all the elements and extra features you want with a custom home.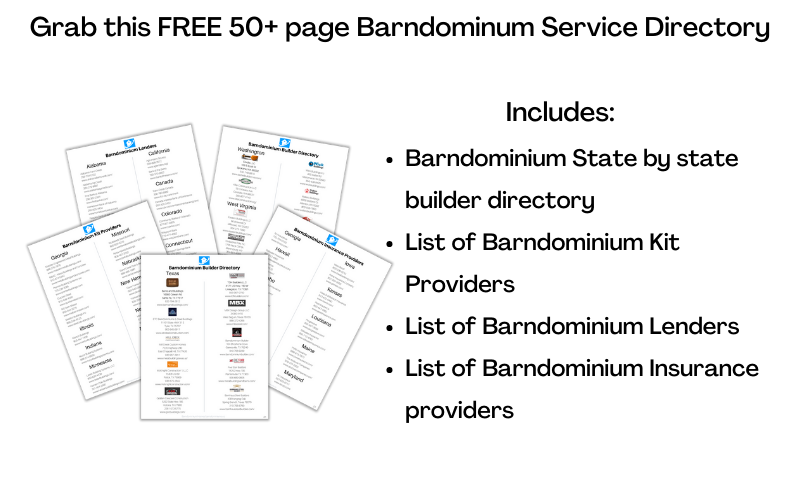 How to Choose a Builder for a Barndominium in Wisconsin
One of the most important decisions you will make for your barndominium in Wisconsin is the builder. Who you choose to build your home is incredibly important and it can be difficult to navigate the construction business. Fortunately, there are things you can look for that will help you make the right choice.
One of the things you should look for in a builder for your barndominium in Wisconsin is experience. Any builder you choose should have experience with post-frame buildings and, ideally, specialize in them.
You should also look for a builder who knows how to treat their customers. Look for reviews online and find builders who have good relationships with their previous clients.
Barndominium Builders in Wisconsin
Cleary Building Corp.
Since 1978, Cleary Building Corp. has been building pole barns, pole buildings and other metal structures for clients all over Wisconsin. If you are looking for a builder that has years of experience with this specific type of structure, they could be a great choice. They have a focus on providing a stress-free construction process that is perfect for building a barndominium in Wisconsin.
Wick Buildings

Wick Buildings has been in business for 65 years in the Wisconsin area. They specialize in commercial buildings, equestrian buildings and barns for their clients. They also have a deep well of experience building barndominiums from scratch and know the ins and outs of that kind of project.
Pinno Buildings
Pinno Buildings understands the stress and uncertainty that comes with building a custom home. They also know the best ways to turn your dream barndominium into a reality. This kind of client-based focus makes them a fantastic choice for building your barndominium in Wisconsin.
Barndominium Kit Providers in Wisconsin
If you are not interested in building your barndominium from the ground up, there are also a great deal of barndominium kit providers around the country. These kit providers will send you a prefabricated barndominium kit that includes everything you need to get your metal pole structure up off the ground.
One of the main benefits of using a barndominium kit provider is that you will receive all parts and materials at once. Having this kind of security in knowing that everything is included is well worth the price. Some kit providers even allow you to order a kit to your exact specifications including custom floor plans.
Designing a Floor Plan for a Barndominium
You will have to design a floor plan for your barndominium as one of your first steps. A floor plan is a layout of where all the rooms and hallways will be in your barndominium in Wisconsin. Then, you and your builder will use it to design the framing and layout of the interior of the barndo. To get started, write out a list of all your needs for your barndominium and what you want from it.
Once you have written out your list, take it to a professional draftsman in your area. They will work with you to create a floor plan that suits all your needs. Consider things like your family's schedule and sleeping habits when working out where bedrooms will be. You should also think about things like whether or not you want an open floor plan.
If you can't find a barndominium floor plan you love, use this barndominium design software program to design the barndo of your dreams!
Barndominium Financing in Wisconsin

One of the best resources for getting barndominium financing is by using BarndominiumLoans.com. They are a quote service that takes down your information and works behind-the-scenes with vetted lenders who are best for your location and financial situation.
Whether you have a perfect credit score or a subpar one, and whether you're located in South Carolina or South Dakota, you can submit your information to get a quote within 24-48 hours.
Barndominium Financing Request
Where to Find Insurance for Your Barndominium in Wisconsin
No matter what kind of barndominium in Wisconsin you build, you will need to have insurance. Barndominium Homeowners insurance protects you and your family in the event of a disaster or accident. One of the issues with a barndominium, though, is that it can be difficult to find the right policy. Because of the nature of this kind of home, many insurance providers have difficulty covering them.
One of the ways to get around this is to keep detailed financial records throughout the construction process. Then, once the home is built, get it appraised by an experienced home appraiser. Take this information to an insurance agent who has worked in alternative housing before. They will be able to find a policy that will work for you and your family and keep you safe.
Don't want all the hassle of building a barndominium from the ground up? Then you may want to buy an existing barndominium in Wisconsin! With our Barndominiums for Sale Marketplace, you can browse to your state and find a barndominium for sale near you.
The beauty of buying an existing barndominium is that it can be really easy to customize the floor plan to your liking. The previous owners' setup is just a starting point! Also, by buying a barndominium in Wisconsin, you bypass the potential troubles of the building process – delays, dealing with contractors and subcontractors, and city or county bureaucrats trying to make your build process a nightmare.
Don't delay – find a barndominium for sale in Wisconsin now!
Conclusion
Building a barndominium in Wisconsin can be an incredibly rewarding project. By reading this guide, you should have a good idea of what you need to do to get your build underway. Knowing what you need to be ready for can help you get your home built successfully.
If you would like more guides like this one, be sure to check out the rest of Barndominiums.co. There, you will find helpful tips and guide on financing from the pros. You will also find featured barndominiums from around the world. These featured homes will get you inspired and get you thinking about your own custom dream home.