Building your own home is one of the most rewarding things a person can do. Being able to create a home that is perfectly suited and customized to your specific needs is incredible. However, if you have looked at the costs associated with this kind of project, you may have been turned off. That's why building a barndominium in New Mexico is such a fantastic alternative.
Barndominiums are amazing homes and offer a lot of benefits to the people who build them. Knowing everything about this kind of home before you start your build can help you be successful. In this article, we have laid out the basics of building a barndominium in New Mexico. By taking the time to lay the groundwork, you can set yourself up with a beautiful custom home.
What is a Barndominium in New Mexico?
Barndominiums are homes built from the shell of a post-frame structure or pole building. These structures use posts that are driven into the ground and concrete slab foundations instead of traditional construction methods. These types of buildings are usually used for agricultural purposes such as stables or warehouses. However, with a little imagination, you can turn one into a unique, beautiful custom home.
Barndominiums look like barns on the outside but on the inside, they look like any other modern home. In fact, with the right design choices, you can even make the outside look like a traditional house. They are framed up and insulated like a normal home and can be just as trendy and comfortable. A barndominium in New Mexico can act as a blank slate for your own personal style and design choices.
What Are the Benefits of a Barndominium?
One of the major benefits of building a barndominium in New Mexico is the cost. Because of their unique construction, barndominiums are incredibly easy to build. This cuts down on construction time, which, in turn, cuts down on costs. This makes building a barndominium in New Mexico much more accessible.
One of the other benefits of a barndominium is its all-steel construction. Because they have steel exteriors, they will not be as susceptible to damage from harsh weather. In a desert climate like New Mexico, this is incredibly important. Your barndominium will last much longer and be cheaper to maintain than a traditional home.
Cost of Building a Barndominium in New Mexico
Building a traditional home in New Mexico is on par with the cost in the rest of the country. In general, you can expect to pay around $480,000 for a 2,000-square-foot traditional house. Because of this, you may not have extra money for things like furnishings and custom design elements. This price will only get you the basic structure and you will need more money for the rest of it.
On the other hand, building a barndominium in New Mexico is quite a bit more affordable. On average, you can build a 2,000-square-foot barndo for around $208,000. This means you will have much more money left over for all the things you would want to include in a custom home. High-end furnishings, custom cabinets, and more are all much more accessible to you.
How to Choose a Builder for a Barndominium in New Mexico
One of the most important decisions you will have to make for your barndominium in New Mexico is the builder. Choosing the right builder is essential and will set the tone for the whole project. One important thing you should look for in a builder is experience. Not all construction companies will have experience in barndominiums, so it is crucial that you find one that does.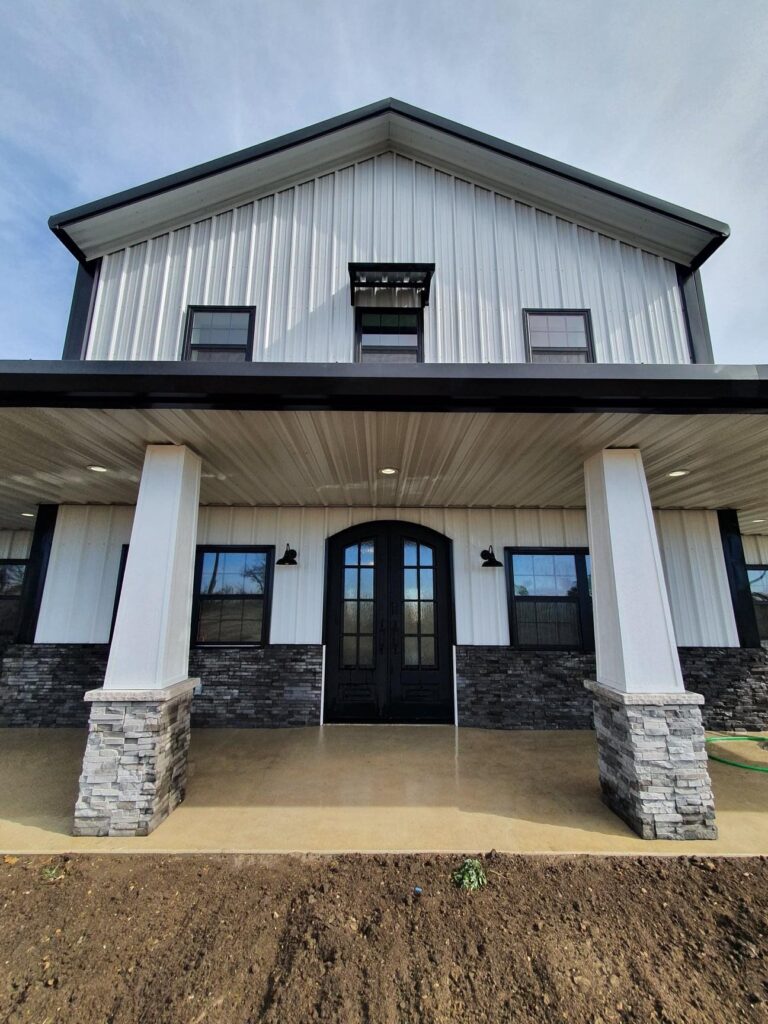 The other important thing to look for in a builder is their customer service. Look at online reviews and see which builders have provided a fantastic client experience. Building a home is incredibly personal and you should feel like your builder is on your side. Their service should be as amazing as their general work and these two qualities will determine their eligibility for the project.
Barndominium Builders in New Mexico
Metal Building Specialists
Metal Building Specialists is a construction company in New Mexico that does just what it says in the title: They specialize in metal buildings. Because of their focus on this specific type of structure, they could be a great choice for building a barndominium in New Mexico.
Magnum Steel Buildings
Magnum Steel Buildings has been in business for over 35 years and in that time they have honed their skills in the metal building world. This means that they know everything there is to know about putting up the kind of structure you need for your barndominium in New Mexico. If you want to work with a company that is incredibly experienced, they are a great choice.
Bilt-Wel Buildings
Bilt-Wel Buildings does everything in the realm of metal buildings and metal fabrication. Anything you need made out of steel, they have the know-how to do it. Because of this, they would be a great choice if you are looking to build something unique that needs a lot of customization.
Barndominium Kit Providers in New Mexico
Not everyone wants to build the structure for their barndominium in New Mexico from scratch. For those people who want something a little bit easier, there are barndominium kit providers all over the country. Barndominium kits are a great way to get everything you need for your barndo project in one convenient package.
The nice thing about barndominium kits is that everything is prefabricated. All the parts are designed to fit together and they don't require you to source all the materials yourself. You will still more than likely need to hire a builder, but the whole process is streamlined and meant to be as convenient as possible. 
Consider using a barndominium kit under 100k to save money and time on your barndominium build.
Barndominium Financing in New Mexico

One of the best resources for getting barndominium financing is by using BarndominiumLoans.com. They are a quote service that takes down your information and works behind-the-scenes with vetted lenders who are best for your location and financial situation.
Whether you have a perfect credit score or a subpar one, and whether you're located in South Carolina or South Dakota, you can submit your information to get a quote within 24-48 hours.
Barndominium Financing Request
Designing a Floor Plan for a Barndominium
You will have to design a floor plan for your barndominium before you begin construction. The floor plan determines things like the layout of all the rooms and the utilities. It will also help you decide things like the size of your concrete slab foundation. A high-quality floor plan will start you off on the right foot and ensure that everything stays on track.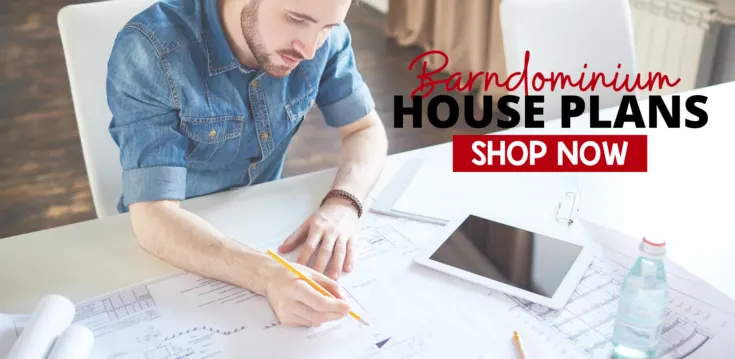 To get your floor plan started, sit down and write out everything you want out of your barndominium in New Mexico. Then, take this list to a professional draftsman. They will work with you to come up with a workable floor plan for you and your builder. They will also ensure that the plan will work for you and your family. You can also use a barndominium design software program to design the barndo of your dreams!
Where to Find Insurance for Your Barndominium in New Mexico
You will also need to get insurance for your barndominium in New Mexico. This can be a challenge since many insurance companies don't quite know what to do with alternative housing. However, it isn't impossible. There are a few things you can do to streamline the process and get the coverage you need.
One thing you should do is keep a list of all your expenses throughout the construction process. Then, you should get the home evaluated by a professional home appraiser. Take this information to an insurance agent who has worked with alternative housing. They will be able to work with you and come up with a policy that suits your needs and protects your home.
Don't want all the hassle of building a barndominium from the ground up? Then you may want to buy an existing barndominium in New Mexico! With our Barndominiums for Sale Marketplace, you can browse to your state and find a barndominium for sale near you.
The beauty of buying an existing barndominium is that it can be really easy to customize the floor plan to your liking. The previous owners' setup is just a starting point! Also, by buying a barndominium in New Mexico, you bypass the potential troubles of the building process – delays, dealing with contractors and subcontractors, and city or county bureaucrats trying to make your build process a nightmare.
Don't delay – find a barndominium for sale in New Mexico now!
Conclusion
By understanding the basics of building a barndominium in New Mexico, you can start off on the right foot. Having this information handy will allow you to be prepared every step of the way. It will also let you give yourself the best chance at success for your custom dream home.
If you would like more helpful guides, be sure to check out the rest of Barndominiums.co. There, you will find tips and tricks from the pros as well as some featured barndominiums. These will help get you inspired and get you thinking about some ideas for your barndominium in New Mexico.