A custom home build can be an incredibly rewarding project to take on for people of all skill levels and incomes. Being able to design something that will be up to your specific, exact standards is a wonderful thing to do and can allow you and your family to be happy in your home for many, many years to come.
When thinking about building your own home, there are probably ideas you have that you want to include and things that you just wouldn't be able to find in a home that has already been built. However, if you have ever looked into what it takes to get a custom home built and the amount of money and time you need to do it, you have probably realized how inaccessible it can be for people.
That's why building a barndominium in Maryland is such a great option. Barndominiums are popping up all over the place and are becoming more and more popular as time goes on and people realize the potential of these homes. Plus, with more banks and builders starting to get on board, there has never been a better time to start working on one of these amazing, unique custom homes.
In this article, we have put together a guide for building a barndominium in Maryland. By having a general understanding of what it takes to get a project like this built, you can give yourself the best possible chance at finishing your build and moving into your custom dream home.
What Is a Barndominium and What Are Some of the Advantages?
A barndominium is a home built using the structure of a metal pole barn or post frame building. These buildings are usually used for things like industrial applications, agriculture, and storage. They are built on top of concrete slab foundations and use poles that are driven into the ground instead of the stick frames that are used in traditional houses. With a little bit of modification, these structures are perfect for building unique homes that are truly unlike anything else you have seen available on the market.
One of the main benefits of building a barndominium in Maryland is the fact that they are so inexpensive to build. Barndominiums can usually be built in about half the time it takes to build a traditional home, which can save you a lot of money when it comes to labor and materials. Plus, you can also reduce the amount of stress you have to deal with while you are building your home and spend more time enjoying the process and making the decisions you need to be making.
The other major benefit of this type of home is the durability and ease of maintenance. Because of their steel construction, barndominiums can withstand all kinds of weather elements and years of abuse. On top of this, they are very easy to clean and maintain and you don't have to worry about water damage like mold, mildew, and rot, which can be very expensive to fix once they have had a chance to set into the home.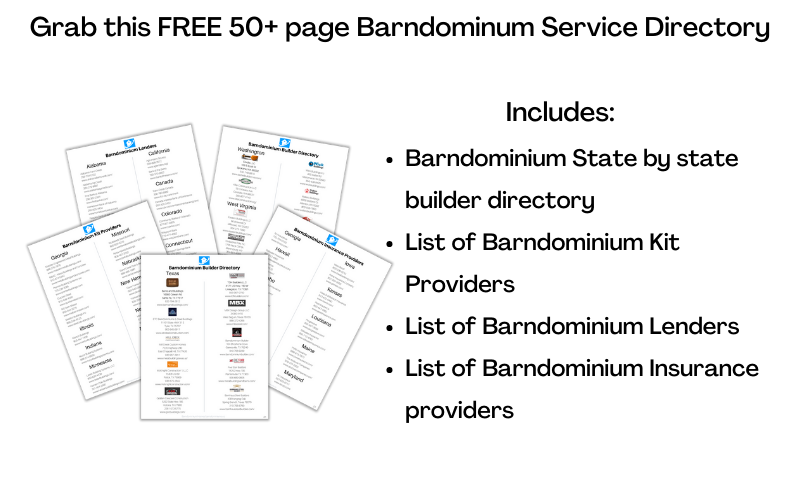 Cost of Building a Barndominium in Maryland
Once you have decided to build a barndominium in Maryland, you will then want to decide on your budget. This can be one of the more challenging aspects of any home building project, especially if you are trying to build a home that is as unique as a barndominium is. Because of this, you will first want to figure out how much a barndominium costs by square foot. This will allow you to decide how big your plot of land needs to be as well as how many bedrooms, bathrooms, and living areas you can afford to put in your barndominium in Maryland.
The cost of building a traditional house in Maryland is around $374 per square foot. With this amount of money, you will only get your basic structure and will not be able to include any of the finishing work or things you need in order to make your home liveable. Because of this, you will need to include extra money in your budget so you can actually live in your home, which can increase your budget rather drastically.
The cost of building a barndominium in Maryland, however, is an average of $265 per square foot. This $55 savings by the square foot allows you to include all the things you would want to include with a custom dream home including furnishings like custom cabinets and countertops.
Barndominium Builders in Maryland
Once you have figured out your budget, you will then want to decide on who you are going to hire to actually build it. Sometimes, people decide that they want to do some of the work themselves, which can be incredibly rewarding while also saving you some money. However, you will want to make sure you are building your barndominium in Maryland up to code and that you are in compliance with all your local zoning laws. To do this, you should hire a professional. The construction business can be a difficult one to understand, but there are some things you can keep an eye out for that will help you make your decision.
One of the things you should look for in a builder for your barndominium in Maryland is expertise with metal buildings. While some builders might have some experience with this type of project, it is best to find one that specializes in it. This will ensure that you are getting the best possible final product.
You will also want to look through reviews of local builders and find one that has a reputation for good customer service. Making sure that you can get along well with your builder is an essential part of the process and the one you hire should be able to communicate effectively and work with you throughout the build.
Stoltzfus Builders
Stoltzfus Builders has been building metal structures around Maryland for years and in that time they have built a reputation for friendly customer service. They also have a very specific knowledge and expertise post frame buildings and can guide you throughout the process of building your barndominium in Maryland.
CHA Pole Barns
CHA Pole Barns has been in business since 2004. They work to make sure that your barndominium in Maryland is designed to last for many years and that it has the longevity you are looking for in a custom home.
Holler Contracting
Holler Contracting began as Staumbaugh Pole Buildings and since coming under new ownership in 2005, has developed a reputation as one of the best builders for a barndominium in Maryland. Their years of experience as well as their stellar customer service makes them a great choice for your project.
Barndominium Kit Providers in Maryland
If you don't want to build your barndominium in Maryland from scratch, you have other options. One of these is to get a barndominium kit. These kits come prefabricated and have everything you need delivered in one package to your build site. Because you don't have to spend time sourcing materials, you can be sure that you have everything you need as soon as your package is delivered and you can get started on your barndominium in Maryland right away. 
Check out these barndominium kits under 50k and barndominium kits under 100k to make building your barndominium even easier.
Barndominium Financing in Maryland

One of the best resources for getting barndominium financing is by using BarndominiumLoans.com. They are a quote service that takes down your information and works behind-the-scenes with vetted lenders who are best for your location and financial situation.
Whether you have a perfect credit score or a subpar one, and whether you're located in South Carolina or South Dakota, you can submit your information to get a quote within 24-48 hours.
Barndominium Financing Request
Maryland Farm Bureau Bank
Maryland Farm Bureau Bank is dedicated to helping the people of Maryland get the financing they need for their barndominiums and other projects. They have a partnership with the Farm Bureau which allows them to be flexible and offer terms that work for you.
Peoples Bank
Peoples Bank works closely with its clients to make sure they can get a loan that will be stable and sustainable for a long time. By taking the time to make sure you are satisfied with your loan, they could be a great choice for your barndominium in Maryland.
Barndominium Taxes in Maryland
You will need to pay taxes on your barndominium in Maryland as you will for any other home. However, your barndo might fall under something called "dual-use" construction. This means that you may have to pay different rates for the portions of your home that are for storage like the garage and the portions that are for residential purposes. A local tax assessor can help you figure out what you need to be paying.
Where to Find Barndominium Insurance in Maryland
You can usually find insurance for your barndominium in Maryland anywhere you will be able to get traditional homeowner's insurance. However, some companies may have a hard time classifying and valuing your barndominium. This is why it is very important that you keep detailed records throughout your build. An insurance agent can get you the coverage you need with a policy that will work for your particular barndominium in Maryland.
Barndominium Floor Plans in Maryland
Your floor plan is perhaps the most important thing you will put together for your barndominium in Maryland. This is a layout of where all the rooms and different areas will be located and how they will relate to each other. To get your floor plan done, you can have the option of creating your own design with available software or sit down and write out everything you need in order to be comfortable in your home including the number of bedrooms and bathrooms you need. Take this to a professional draftsman who will make up a workable floor plan that you and your builder can use to start construction.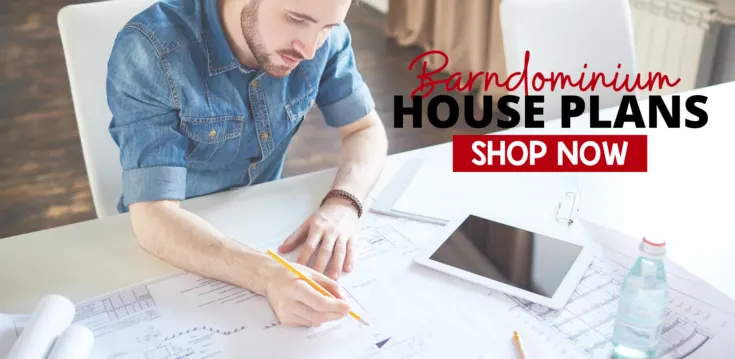 Don't want all the hassle of building a barndominium from the ground up? Then you may want to buy an existing barndominium in Maryland! With our Barndominiums for Sale Marketplace, you can browse to your state and find a barndominium for sale near you.
The beauty of buying an existing barndominium is that it can be really easy to customize the floor plan to your liking. The previous owners' setup is just a starting point! Also, by buying a barndominium in Maryland, you bypass the potential troubles of the building process – delays, dealing with contractors and subcontractors, and city or county bureaucrats trying to make your build process a nightmare.
Don't delay – find a barndominium for sale in Maryland now!
Conclusion
By reading this guide, you should have a good idea of what it takes to build a barndominium in Maryland. Understanding the process and everything that goes into it will help you be prepared as the build gets started so you won't be caught off guard.
If you would like more helpful information, be sure to check out the rest of Barndominiums.co. There, you will find more in-depth guides like this one and tips and tricks from the pros on things like insurance and barndominium costs. You will also find some featured barndominiums to help you get inspired and thinking about your own custom project.