Building your own home is something that can be incredibly challenging but also rewarding. By designing and building your own home, you can make sure that everything is exactly how you want it and that it is built to your specifications. By taking the time to design your own house, you and your family can be very happy for many years. However, anyone who has looked into building their own home understands just how difficult an undertaking it can be. All of the money, red tape and construction time it takes to get a project like that done is enough to put anyone off the idea as soon as they really start to think about it.
That's why building a barndominium in Arizona is such an exciting idea. With the popularity of alternative homes like shop houses, shipping container homes and vans, banks and builders are starting to come around to the idea that people want to build homes in different ways and that the times are changing. Because of that, there has never been a better time to build a barndominium in Arizona and create the home of your dreams.
In this guide, we have laid out everything you need to know when building a barndominium in Arizona. By having this information at hand, you can prepare yourself for this project and ensure that you are prepared for every step.
What Is a Barndominium and What Are Some of the Advantages?
A barndominium is a home that is built from the shell of a metal post frame or pole barn structure. These structures can be new or already existing and they are designed to be built incredibly quickly. They can be framed up on the inside just like a traditional home and once you step inside, you wouldn't even know that it was built from the frame of a barn or stable. There are many advantages to building a barndominium in Arizona over a traditional home and understanding what they are can help you decide if one is right for you.
One of the main advantages of building a barndominium in Arizona is the price. Since barndominiums can be built in about half the time it takes to build a traditional home, you can end up saving a lot of money on construction costs. This means that you can have money leftover to include all the things you might want with a custom home. You can also save a lot of stress by cutting down on your construction time.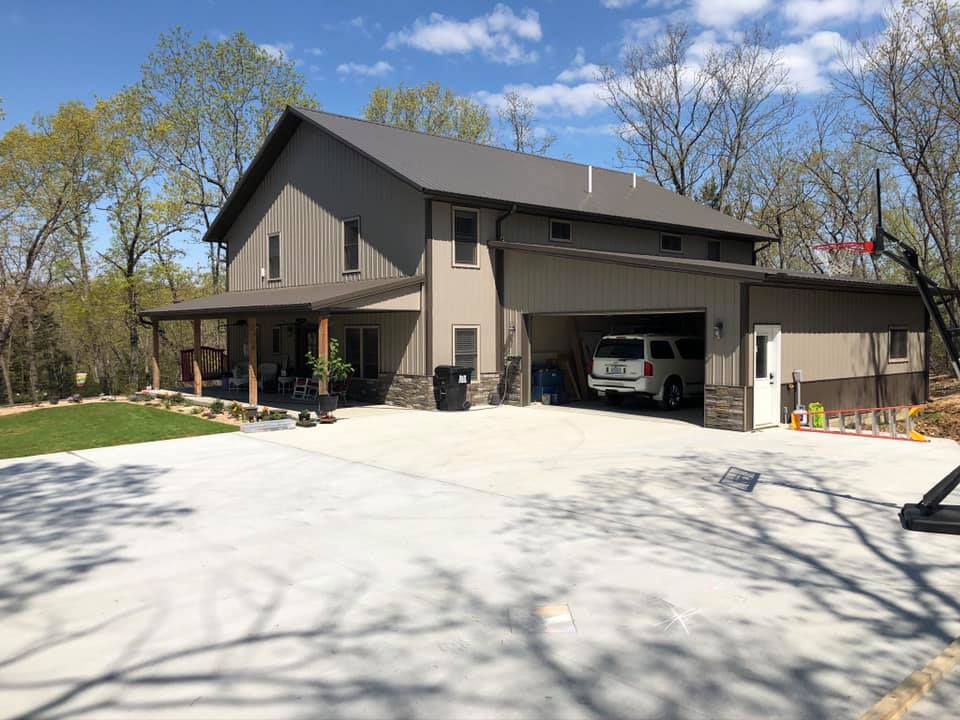 One of the other advantages of building a barndominium in Arizona is the lower maintenance. Since barndominiums are built using mostly steel, you don't have to worry about things like dry rot, termites, or other things that can cause structural problems down the line with a traditional home. This can save you a lot of money on repairs over the course of the home's life.
Cost of Building a Barndominium in Arizona
When you are deciding on building a barndominium in Arizona, one of the first things you will want to do is figure out how much it will cost. Home build costs are generally calculated by the square foot. This means that you will figure out how much house you can afford before you start deciding on how many bedrooms and bathrooms it will have. By doing this, you can get a ballpark idea of your home's price before you put together a floor plan.
The cost of building a traditional home in Arizona is around $300 per square foot. It should be noted that this will just be for the initial construction and will not include any of the things you might want for a custom home. Furnishings, cabinets and countertops will all have to be bought separately and will have to be added to your budget after the initial structure is built.
On the other hand, the cost of building a barndominium in Arizona is, on average, $230 per square foot. While this may not seem like much of a difference, when it is spread out over the course of an entire home, you can end up saving a lot of money. With this extra money in the budget, you can afford all of the furniture, electronics, and more that you would want to include when you are building your own custom home.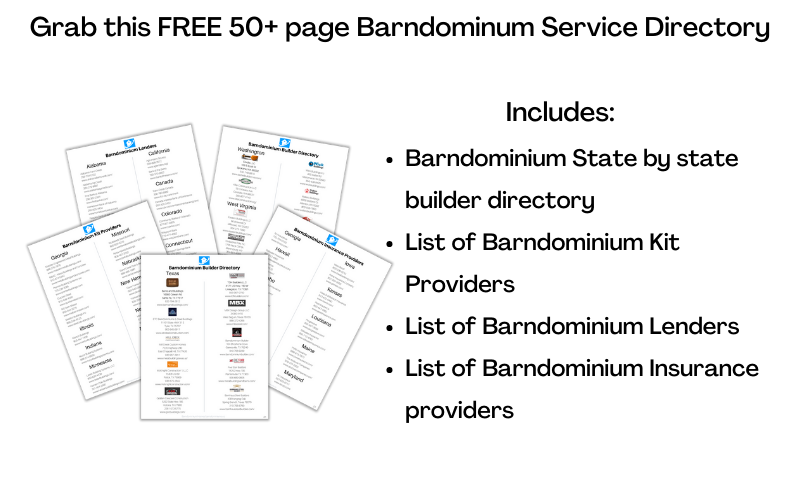 Barndominium Builders in Arizona
After you have decided on a budget for your barndominium in Arizona, you will want to then find someone who can build it. While it's entirely possible to do some of the work yourself, it is always a good idea to find a professional who can help you with some of the structural work and make sure that your barndo is up to code and in compliance with all zoning laws. The construction business is very wide-ranging and varied so it can be difficult to find a builder who works for your particular project. Luckily, there are some things you can look for that will help you make a decision.
One of the things you should look for in a builder for your barndominium in Arizona is experience. Not every builder will have the expertise you need in order to build a metal pole barn or post frame structure. There are, however, some builders who specialize in this kind of building and can help walk you through every step of the way and ensure that you get the kind of final product you are looking for.
You should also look for a builder who is friendly and who you are able to work with easily. You will be spending a lot of time with the staff and crew of any construction company you decide to work with. It's important that they can offer a good customer service experience. Look for reviews online of any company you are considering hiring and make sure they have a good relationship with their previous customers and that they were able to provide them with a positive experience in general.
Steel Building Systems
Steel Building Systems has been in business for over 25 years and in that time they have been able to help all kinds of people build a barndominium in Arizona. They have experience in every facet of steel buildings and metal pole structures so you can be sure that they can offer you what you're looking for.
Desperado Steel
Desperado Steel has been working in the metal post frame and steel building space for years. Because of that, they can walk you through the entire process and can even help you design your barndominium in Arizona.
Barndominium Kit Providers in Arizona
If you aren't interested in building a barndominium in Arizona from scratch, there are other options available for you. One of them is a barndominium kit from one of the many kit providers. Barndominium Kits come completely prefabricated so you can be sure that everything will fit together perfectly and that it will come straight to your build site.
Most barndominium kit providers offer comprehensive technical support for their kits. They also come with detailed instructions so you can be sure that you are constructing everything properly. Many providers also have contractors that they can recommend who are familiar with the kits and can supervise the entire build. Check out these barndominium kits under 50k and barndominium kits under 100k
Barndominium Financing in Arizona

One of the best resources for getting barndominium financing is by using BarndominiumLoans.com. They are a quote service that takes down your information and works behind-the-scenes with vetted lenders who are best for your location and financial situation.
Whether you have a perfect credit score or a subpar one, and whether you're located in South Carolina or South Dakota, you can submit your information to get a quote within 24-48 hours.
Barndominium Financing Request
Western Banks
Western Banks is located in Devil's Lake and can help you find the financing you need for your barndominium in Arizona. Their lenders are very connected to the area and can work with you to find the terms and loans you need.
Farm Plus Financial
Farm Plus Financial has years of experience working with people to get the financing they need for all kinds of projects. They can help you find the right terms for your barndominium in Arizona. They understand the ins and outs of a project like this and will work with you every step of the way.
Barndominium Taxes in Arizona
You will need to pay taxes on your barndominium in Arizona just like with any other kind of home. However, some barndominiums and steel buildings fall under something called "dual-use" construction. This means that you will pay a different rate for different areas of your home. A local tax assessor can come to look at your barndominium in Arizona and work with you to find the correct tax rate for your home.
Where to Find Barndominium Insurance in Arizona
You can find insurance for your barndominium in Arizona anywhere you get homeowner's insurance. However, you should make sure that you are getting the right coverage for your particular area and situation. For example, if you live in a region of Arizona that is prone to fires, you should make sure that you have a fire clause in your insurance coverage and that you will be covered. Protecting your home and investment is incredibly important and can save you a lot of trouble down the road.
Barndominium Floor Plans in Arizona
You will need to come up with a floor plan for your barndominium in Arizona. To do this, write down all your ideas for your home and everything you and your family will need to make your barndo perfectly suited to your life. Then, take that list to a professional draftsman in your area. A barndominium design software is also a huge help when designing your plan.
A draftsman will take your ideas and turn them into a workable floor plan for your barndominium in Arizona. With that, you and your builder can turn your ideas into a reality that suits you perfectly and will provide you with years of good living.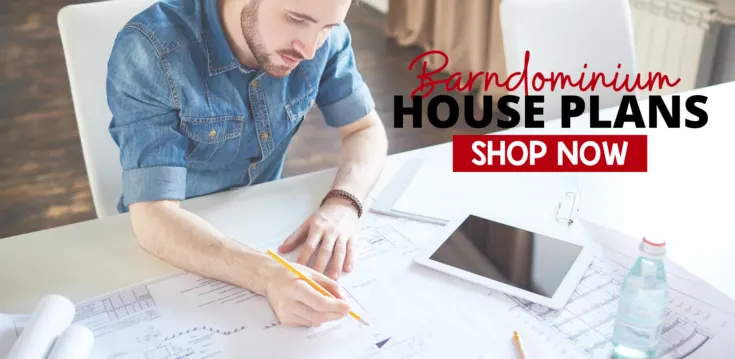 Don't want all the hassle of building a barndominium from the ground up? Then you may want to buy an existing barndominium in Arizona! With our Barndominiums for Sale Marketplace, you can browse to your state and find a barndominium for sale near you.
The beauty of buying an existing barndominium is that it can be really easy to customize the floor plan to your liking. The previous owners' setup is just a starting point! Also, by buying a barndominium in Arizona, you bypass the potential troubles of the building process – delays, dealing with contractors and subcontractors, and city or county bureaucrats trying to make your build process a nightmare.
Don't delay – find a barndominium for sale in Arizona now!
Conclusion
By reading this guide, you should have a better understanding of what it takes to build a barndominium in Arizona. With this information, you can be ready for anything that might come your way during the process and be armed with the best possible information.
If you would like even more tips and tricks from the pros regarding your barndominium in Arizona, be sure to check out the rest of Barndominiums.co. There, you will find all kinds of in-depth guides like this one that can help you turn your ideas into the custom dream home you have always wanted.