Modular homes and barndominiums are affordable choices for anyone who wants to build a new home. Depending on the features that you choose, building a modular home or a barndominium could cost half the price of a standard home.
So, should you build a barndominium or a modular home?
The answer depends on your preferences. Where you want to live, your budget, timeframe, and other details can help you choose between a modular home and a barndominium.
What Is a Modular Home?
Modular homes are built in factories and delivered to building sites, instead of building the home from the ground up at the site. About 80% to 90% of the home is completed in the factory and is transported in multiple parts.
The parts are set on a foundation and assembled. The finished home resembles a standard house. The exterior often has aluminum or vinyl siding while the interior comes fully finished with bathrooms and a kitchen.
What Is a Barndominium?
Barndominiums are typically metal buildings. The original concept came from a real estate developer who converted old barns. Modern "barndos" are built from scratch as low-cost dwellings.
The basic design resembles a large warehouse. The home is built with a metal frame, along with metal siding and roofing. However, the design of siding, trim, and windows help make the barndominium look more like a regular home.
The interior includes traditional living spaces, including bedrooms, bathrooms, and a kitchen. Many barndominiums take advantage of the large metal frame by adding open-concept floor plans. An open-concept floor plan includes fewer walls separating the rooms. You can stand in the kitchen and see into the living room or dining area. Floor plans are available for sale online, or you can create your own with the help of barndominium design software.
Advantages of Building a Modular Home
Modular homes are cost-effective compared to building a traditional home but may cost a little more than building a barndominium. The benefits of buying a factory-built home include:
Build your home faster
Build your home in cities and suburbs
Adding a second floor is easier
Modular homes do not take long to build. Each manufacturer has a limited set of designs, allowing them to easily produce new parts. The average time to fabricate a modular home is three to four months. However, some manufacturers may have parts already completed.
If parts are available for your new home, constructing a modular home may only take a few weeks. The longest timeframe is about four months. Barndominiums typically take six months to complete. However, some barndominium construction projects require up to nine months to complete.
While zoning requirements vary, you can build modular homes in more areas. Most cities and suburbs count modular homes as standard residential properties.
Modular homes are available in a variety of designs, including two-story homes. Barndominiums are built with large frames that may reach more than two floors tall. However, adding a second floor requires extra work, such as adding columns. Instead of adding a full second floor, barndominiums may include a mezzanine or loft.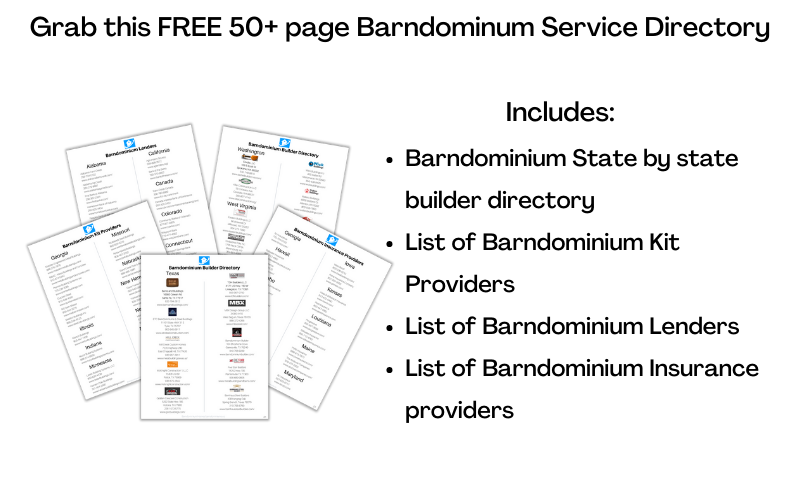 Advantages of Building a Barndominium
Barndominiums provide many advantages that you cannot get with modular homes, including:
Protection against severe weather
Do-it-yourself (DIY) building kits
Less risk of manufacturing defects
Possible increase in the value of your property
Greater range of customization options
Barndominiums are more durable and provide more protection against severe weather. As they are built with metal frames, barndominiums can withstand strong wind. You can also build part of the barndominium yourself with a DIY kit, which is not an option with modular homes.
Modular homes are built in factories. Mass-produced modular homes are occasionally rushed, increasing the risk of manufacturing defects. Modular homes may also lose value over time. Barndominiums are more likely to retain or gain value, as with a traditional home.
One of the best reasons to choose a barndominium vs modular home is customization. You can choose from endless design options or even hire an architect. Modular homes offer a limited selection of premade floor plans.
Barndominium vs Modular Home: Which One Costs More?
Modular homes and barndominiums typically cost less than building a standard stick frame house. Traditional homes cost $150 to $200 per square foot. Modular homes cost $50 to $100 per square foot. Barndominiums cost $30 to $125 per square foot.
The cost to build any home depends on the size, location, and extra features. A barebones modular home may cost close to $50 per square foot. Adding the best quality windows, doors, and fixtures could bring the cost closer to $100 per square foot.
The base materials cost about $10 to $15 per square foot. The interior finishes may add another $40 to $100. If you hire a contractor and pay for the best of everything, you may pay a little more compared to a high-end modular home. However, the typical barndominium is likely to cost a little less.
Building a barndominium also provides the chance to handle some or all the construction yourself. You can buy DIY barndominium kits that include everything needed for the rough framing and foundation. Completing some or all the work yourself brings down the cost even more.
Other crucial things to consider when building a barndominium include financing and insurance.
Conclusion: Barndominium vs Modular Home
Barndominiums and modular homes provide unique advantages for home builders. Either option allows you to save money compared to building a traditional home. Yet, barndominiums are typically the most affordable type of new home construction.
The main advantage of a modular home is the convenience of buying a factory-built house. You can order a modular home and have it shipped and assembled in just a few weeks. You can also build modular homes in more areas, including most cities and many suburbs.
Barndominiums include a longer list of benefits. Compared to a modular home, a barndominium is often more durable. You gain more protection against severe weather, leaks, and the need for household repairs.
Barndominiums also provide greater customization and design options. You can build a large barndominium with an open floor plan and 14-foot vaulted ceilings. A portion of the barndominium can also be used for storage or work.
In the end, a modular home is a good option for those who need to live in a city or a suburb. If you do not mind living in a rural area, a barndominium is likely to provide more comfort for many decades.