Should you consider building a barndominium vs pole barn? Use the following comparison to explore the pros and cons of each option. But first, a little background on barndominiums.
Barndominiums are typically built using the same type of construction for pole barns. In fact, the first barndominiums were constructed using old barns on a former horse ranch. Pole framing, or post-frame construction, has been used since the 1930s to quickly build stable barns and other farm buildings. Due to the stability of the typical barn, real estate developers decided to convert horse barns into living spaces.
The original barndominiums were built in the 1980s. Several decades later, barndominiums are now a popular alternative to standard homes. Building a barndominium may also eliminate the need to build a separate pole barn.
Barndominium vs Pole Barn: What's the Difference?
A barndominium is a home that is built with the same construction method used for building pole barns. A pole barn is built using large poles driven deep into the ground. The poles support the walls and roof, creating a large interior for housing and feeding animals.
The pole frame makes it easier to build tall single-level buildings. Most barns have a ceiling height of 12 feet while standard homes have a ceiling height of eight or nine feet. The upper portion of the barn may also include a loft or mezzanine area.
Barndominiums share many features with pole barns, starting with the frame. However, before building the frame, a foundation is poured. Most barndominiums are built on concrete slab foundations. The poles or posts are anchored to the foundation to create a more stable frame.
The main difference between a barndominium vs pole barn is the interior. The inside of a barndominium is framed to create living space, including bedrooms, bathrooms, a kitchen, a dining room, and a living room.
Barndominiums also include the same plumbing, electrical, and heating systems found in standard homes. A furnace heats the home during the winter while a water heater supplies hot water. Pole barns are typically left unheated unless temperature control is needed for animals or equipment.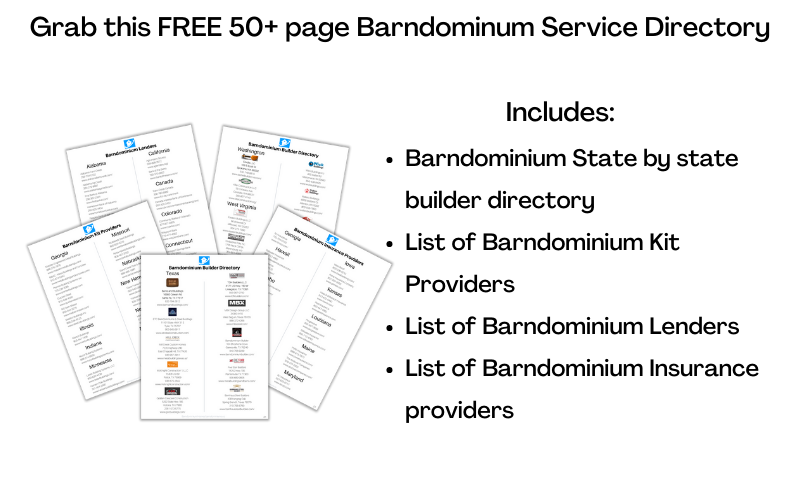 Top Reasons to Build a Pole Barn
A pole barn is typically built to provide extra space for a specific purpose. Some of the most common uses for a pole barn include:
Animal housing
Equipment storage
Hay storage
Workshops
Garages
Personal storage
Hobbies
If you do not need extra space for any of these uses, you may be better off simply building a barndominium. However, a pole barn is a great way to add a roofed structure to your land at a minimal cost.
Building a pole barn is quick and affordable. If you hire a contractor, you can expect to pay about $15,000 to $30,000 for a pole barn. DIY costs start at about $4000. The average cost of construction is $20 to $35 per square foot. The frame itself may cost about $8 per square foot while a wood stud frame can cost closer to $10 per square foot.
Top Reasons to Build a Barndominium
If you are thinking about building a pole barn, you likely need extra space that cannot be provided by a standard wood home. A barndominium can provide the space that you need, along with living quarters. A barndominium is essentially a large pole barn with a finished interior. However, a portion of the interior may be left unfinished.
The unfinished portion of the barndominium can be used for the same purposes as a pole barn. You can store equipment or animals or use the space as a workshop.
You gain an attached barn, which offers several advantages:
Convenient access
Increased cost-efficiency
More efficient use of land
Building a home with an attached barn or workspace is convenient. You do not want to step outside to walk from your house to the barn. Depending on the layout of the barndominium, the living area may be connected to the barn space via a door or hallway. You can find floor plans available online or you can create your own design with a barndominium design software, or you can take your drawings to a professional.
Barndominium construction is also more cost-efficient compared to building a pole barn and a separate home. Instead of paying for two separate construction projects, you can build the space that you need with a single crew. This is likely to save time and money compared to building the structures separately. While providing dual function, building a barndominium still costs less than building a regular home.
An attached barn is also a more efficient use of your available land. Building two separate structures take up more land compared to combining the two into a single building. Using less of your land gives you more room for future additions. Given these, you also now need to even more include in planning your barndominium financing and insurance.
Barndominium vs Pole Barn: Which Should You Build?
If you are happy with your home and just need storage, building a pole barn is the easiest solution. You can build a pole barn within a few days with the right help.
If you need the storage provided by a pole barn but also want to update your living space, building a barndominium may make sense. Building a barndominium is a cost-effective option for those who may eventually require a new home. For example, you may have an aging farmhouse.
You can build an entirely new home that combines the living quarters with a barn. Instead of constructing two separate structures, you can build a single building. This may save time and money compared to building a barn and a new home separately.
Yet, building a barndominium is not the right choice for everyone. You may prefer to keep your barn and home separate, instead of combining the two into a single structure. For example, keeping the barn away from your house eliminates noise from animals or a workshop. The noises from the barn may not disturb people in the home.
Summary
Pole barns are typically built to provide space for animals or storage. Barndominiums are built as residential properties but may include space that could serve the same function as a pole barn.
If you need space but already have a home, consider building a pole barn. If you want a new home and a pole barn, consider building a barndominium.