If you want to build an affordable home with lots of space, shouses and barndominiums are two great options. Both types of homes are typically built with metal frames and include spacious interiors.
Barndominiums and shouses also offer a few separate advantages. Use the following comparison to explore the pros and cons of building a shouse vs barndominium.
What Is a Barndominium?
A barndominium is a type of home that is based on the design of a barn. It uses the same construction method to erect large homes with less of a need for load-bearing walls. The large frames are often built with steel posts spaced up to 12 feet apart.
Most barndominiums are built in rural areas, cities often have restrictions on building metal structures in residential zones. However, the design of a barndominium typically resembles a cross between a farm building and a home. Barndominiums often have tall roofs, metal siding, and large porches.
What Is a Shouse?
A shouse is a type of shophouse. As with traditional shophouses, a shouse includes a workspace that could be used for commercial purposes. However, the design is closer to a barndominium.
Shouses are typically built with metal frames, giving these homes an industrial look with a few residential touches. A shouse often has a large garage door with high clearance and a separate entrance for the living area. The siding is often metal but includes trim to increase its curb appeal.
Common Features of Shouses and Barndominiums
Shouses and barndominiums share several important characteristics, including:
Metal frames
Post-frame construction
DIY building kits
Shouses and barndominiums can be built with wood or metal frames, but metal is more common. Building a home with a metal frame helps increase its structural integrity. Metal frames are stronger and able to withstand more severe weather conditions.
Shouses and barndominiums are both often built using post-frame construction on concrete slab foundations. Post-frame construction adds to the overall durability of shouses and barndominiums, along with allowing for more open interior designs.
You can buy do-it-yourself (DIY) building kits to construct shouses or barndominiums. Many manufacturers specialize in each type of home, giving you plenty of options for selecting the shouse or barndominium of your dream. Check out these barndominium kits under 50k and barndominium kits under 100k to make building your barndominium even easier.
Shouse vs Barndominium: Which Costs Less?
The cost to build a shouse is about the same as building a barndominium. Shouses and barndominiums provide many of the same advantages over building a traditional home. Both options are durable and more likely to withstand strong wind. Shouses and barndominiums also tend to cost less.
The average cost of building a new traditional home is $100 to $200 per square foot. Shouses and barndominiums cost between $30 and $150 per square foot. The base material for erecting the frame costs about $15 to $30 per square foot, whether you build a barndominium or a shouse. The rest of the cost comes from the electrical work, plumbing, and interior finishes.
As a shouse may include a larger portion of unfinished space, it may cost a little less compared to a fully finished barndominium. The workshop may not need finished flooring, drywall, and other interior features that add to the cost of construction.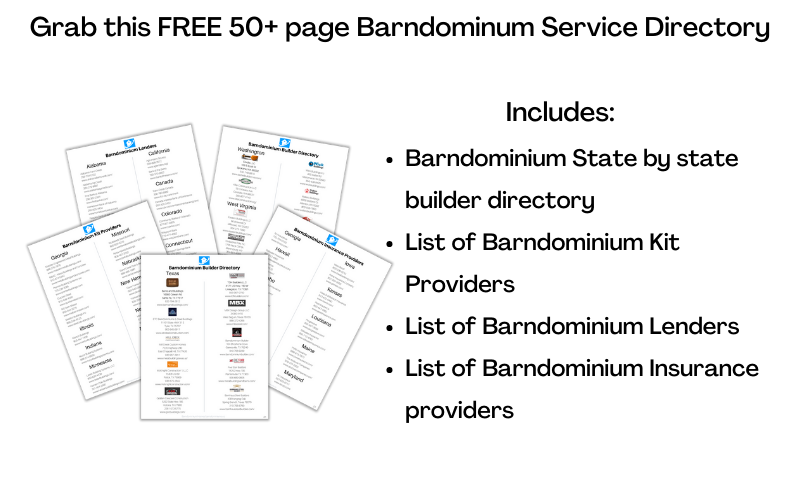 Benefits of Building a Barndominium
Barndominiums are a good choice for anyone who wants a large living space. Shouses may offer fewer design options for the living area, as a portion of the square footage is used for a workshop.
The inside of a barndominium provides a large open space for incorporating a wide range of floorplans. You can include an open concept floor plan, a mezzanine, or any other design features that you can imagine. You can either buy designs online or create your own design.
If you decide to build a barndominium, you can still build a detached workshop. Some people may prefer to have a workshop that is not connected to their home, due to the noise and dirt.
Benefits of Building a Shouse
A shouse includes a workshop, which is its main distinction from a barndominium. Building a home with an attached workshop provides several advantages:
Have convenient access to work
Spend less time traveling to work
Dedicate more space to a hobby
Keep your work or hobbies separate from home life
If your profession involves work that you can complete independently at a workshop, a shouse is a convenient choice. Your work is always a short walk away. Even if you only work out of your workshop part-time, you spend less time commuting to work.
If you do not have a job that you can carry out at a workshop, you could use the space for a hobby. Instead of filling the garage or shed with equipment, you can spread things out in the workshop area of the shouse.
The dedicated space that you gain may also help keep your work or hobbies separate from your home life. You may spend less time working on projects inside the house when your workshop is a few steps from the living room.
Conclusion: Should You Build a Shouse vs Barndominium?
Shouses and barndominiums are similar homes. Both types of homes are often built with steel frames and use post-frame construction. The style of the home and intended use are the main differences.
Most shouse designs more closely resemble traditional homes. The roof often has a taller pitch. The interior is also less likely to have an open concept living space and exposed ceiling beams. Shouses also have a dedicated space for a workshop.
Barndominiums are often built using premade blueprints purchased online or from a building company. Barndominium designs rarely include workshops or barns.
If you want to work and live in a single building, a shouse is a great idea. A workshop may also be useful for storing equipment or carrying out a hobby. If you do not need a large workshop and would prefer to have extra living space, consider building a barndominium. You can choose from a wide range of open concept floor plans and other great features.
No matter which option you choose, you are likely to save money compared to building a traditional home. Also, you need to consider including financing and insurance for whichever option of affordable housing you choose to build.