Building your own home is one of the most rewarding projects you can take on. There are so many benefits to creating a custom home and a lot of things you can include to improve your life. A barndominium is a great way to get the home of your dreams without spending a fortune. However, getting a barndominium construction loan can be slightly difficult, especially if you don't know how to navigate the process. 
Getting a barndominium construction loan can be a challenge. Many banks don't quite know how to classify barndominiums, despite the fact that the alternative housing movement is more popular than ever.
That being said, it is not impossible to get the loan you have been wanting for your dream home. To help get you started, we have put together a complete guide to getting a barndominium construction loan so you can have a head start.  
What is a Barndominium Construction Loan?
A barndominium construction loan is just like any other construction loan that you would get for a home. Essentially, you are getting financing for the construction of a home and then converting that loan into a regular mortgage.
The initial payout of the loan will go toward the materials and labor needed to build your home. Generally, you will have a set period of time that you have to get that home built in order to comply with the terms of the loan. 
Construction loans are notoriously difficult to get unless you are completely prepared. This is even more true with a barndominium loan because banks don't have ready-made loans for them. Because of this, you will have to be as prepared as possible when going in to meet with lenders. Knowing what will be required and what you have to have ready can be a big help.
How to Get a Barndominium Construction Loan?
Before you start thinking about getting a barndominium construction loan, you have to have a few things ready. The thing to understand is that the bank will not just give you the money to build your barndo. They will have complete control of the money, including paying the vendors. This means that all of this will have to be lined up beforehand.
It is also worth mentioning that you will have to qualify for a barndominium construction loan, just like you would with any other kind of financing project.
You should make sure that your credit score is in good shape and that you have a fairly low debt-to-income ratio. Doing so will take that part of the approval process off the table so you can focus on the other requirements. This will go a long way toward getting you the financing you need. 
Choose a Property
The first thing you should do before shopping around for a barndominium construction loan is have a piece of property lined up. You will need to get the property with a separate loan before you can even think about getting a barndominium construction loan.
There are a few ways you can save money on this so you can focus on your building loan. Buying the land in cash or buying it with a personal loan will be a good way to keep your credit secure for the barndominium construction loan. 
Your piece of land should be suitable for your barndo before you get started. Make sure it does not need to be cleared and that it is level enough for construction.
With the right piece of land, you can make the whole process go smoothly. Plus, your lender will want to know if the land itself needs any work before construction can begin. 
Choose a Barndominium Builder
Who you choose to build your barndominium is one of the biggest decisions you will make. Before you can get a barndominium construction loan, you will have to have your builder all lined up. Be sure to pick a builder who has deep experience with barndominiums. If possible, a construction company that specializes in them will be your best option.
Many people wonder if they can save money by doing the construction themselves. While this is possible, it will make it incredibly difficult to get a barndominium construction loan. Many banks require you to pick from a list of approved builders that they will provide. If you like, you can become a licensed contractor and get on that list, but this is a prohibitive workaround.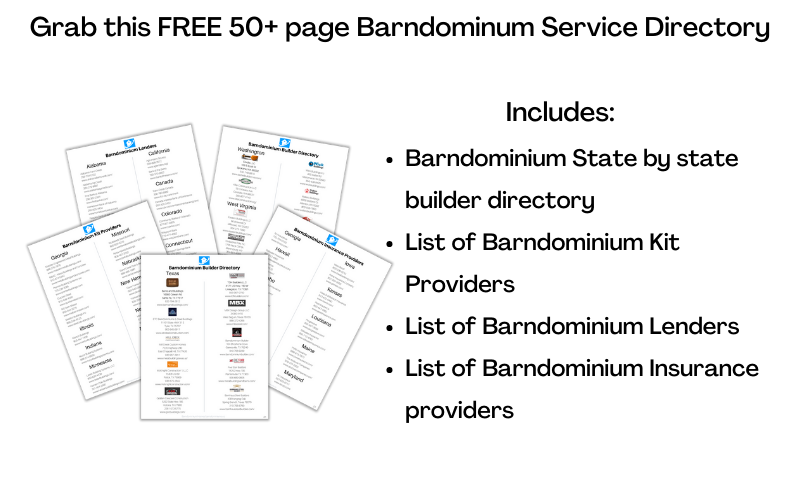 Create a Detailed Construction Plan
Before you start meeting with banks, make sure you have a detailed construction plan. This plan should include things like the builder you are going to use, the property you have, and all your timelines. This will show the bank that you are serious about the project. They want to be sure that you will finish it and that lending to you is not a risk.
You should also think about having your construction plan appraised by a professional appraiser. They will let you know the cost of your plan and what you can expect to borrow. This will also help the bank figure out if your barndominium construction loan is viable. The more information you have at hand, the better.
Converting Your Barndominium Construction Loan into a Long-Term Loan
Once you have gotten your barndominium construction loan and built the home, you will need to convert the loan into a mortgage. This is generally done with refinancing through the same bank. In general, a bank will prefer to approve a 15-year mortgage instead of a 30-year mortgage. Speak with your bank before getting your loan to find out which is a more reasonable option.
Conclusion
While it can be difficult to get a barndominium construction loan, it is not impossible. By preparing yourself and your project, you can greatly increase your odds of approval. With the right preparation in place, you can build the home of your dreams to your exact specifications.
If you would like more helpful tips and guides, check out the rest of Barndominiums.co. There, you will find advice from the pros and featured barndominiums to help you get inspired. You will also find information on cost and insurance that can help you plan for your custom dream home.