Building a barndominium is an excellent way to get the home of your dreams, especially if you are working on a budget. However, choosing who you are going to hire to do the building is a big decision and many people get stuck on it. There are all kinds of options out there, and not every builder is going to be familiar with barndominiums. That's why choosing Amish barndominium builders is such a good choice. 
Amish barndominium builders have a cultural appreciation for post-frame buildings and a long history with the craft. This makes them an excellent option for all kinds of barndominium types and designs. To help you get started, we have put together your complete guide to Amish barndominium builders. By knowing what to expect and which ones are the best, you can end up with the best possible final product. 
Why Choose Amish Barndominium Builders?
There are all kinds of benefits of using Amish barndominium builders for your project. One of the most important, though, is their superior skill. Amish barndominium builders are known for having a high level of craftsmanship.
They are also known for their intricate attention to detail and amazing finished products. If you want something that is unbelievably beautiful, Amish barndominium builders are going to be your best bet. 
Amish barndominium builders are also known for working incredibly quickly. Because of a time-tested technique known as "barn raising," Amish craftspeople can get your barndominium built fast. This not only saves you time, it also saves you money on labor. If you want to move into your new barndominium as soon as possible, this could be the way to go. 
Best Amish Barndominium Builders
JDM Structures
JDM Structures is located in Ohio, and they have built barndominiums all over the region. Since the age of fifteen, their owner has been building barns and honing his skills as a craftsman. This is one of the reasons they are one of the premier Amish barndominium builders in the United States. If you are looking to work with the very best, they might be a good option for you. 
Not only does JDM Structures care about helping their customers and clients, they also work to make the world a better place. They have even done work in Haiti, helping people rebuild after the 2010 earthquake. This kind of dedication to their craft makes them a great choice for all kinds of projects. You can trust that they are good builders and good people. 
Stoltz Co.
For over 25 years, Stoltz Co. has been building barndominiums all over the country. They are based in Lancaster, Pennsylvania, which is a hub for Amish barndominium builders and craftspeople. They are deeply rooted in the traditions of high-end carpentry and construction. If you are looking to work with one of the best Amish barndominium builders in the world, they are your best bet. 
Mahlon Stoltzfus and his brother Will are two of the hardest working Amish barndominium builders in the world. They will work with you every step of the way and make sure your barndo is up to your exacting standards. With their experience and dedication to the craft, you can be sure that your project will be exactly what you want. They believe that there is no substitute for quality and that every home is important.
Kauffman Structures
Finding authentic Amish barndominium builders is a matter of looking in the right places. Kauffman Structures is located in rural Iowa, and they have been in business since 1980. As a true family business with generations of ownership and craftsmanship, they are a great choice for your home. All the traditions have been passed down through the family to create an excellent builder for your barndo project. 
Since Kauffman Structures is dedicated to family life, their work reflects that. Their main goal with any project is to ensure it will last for many generations. If you are looking for a home to pass down, they should be the ones to build it. 
Hilltop Structures
Many Amish barndominium builders have a dedication and passion for the community. Hilltop Structures is no different, and their projects always have a personal touch that you can count on. They believe that it is their responsibility to make a place the community can be proud of. No matter where you are building, their goal is to create something beautiful for future generations. 
Located in Cumberland Furnace, Tennessee, Hilltop Structures is one of the premier Amish barndominium builders in the south. They have a deep connection to the area, and they keep their business small so they can maintain that. They are perfect for barndo builders who want to work with a family builder that they can have great communication with. This is one of the things that makes them one of the ideal Amish barndominium builders for your project.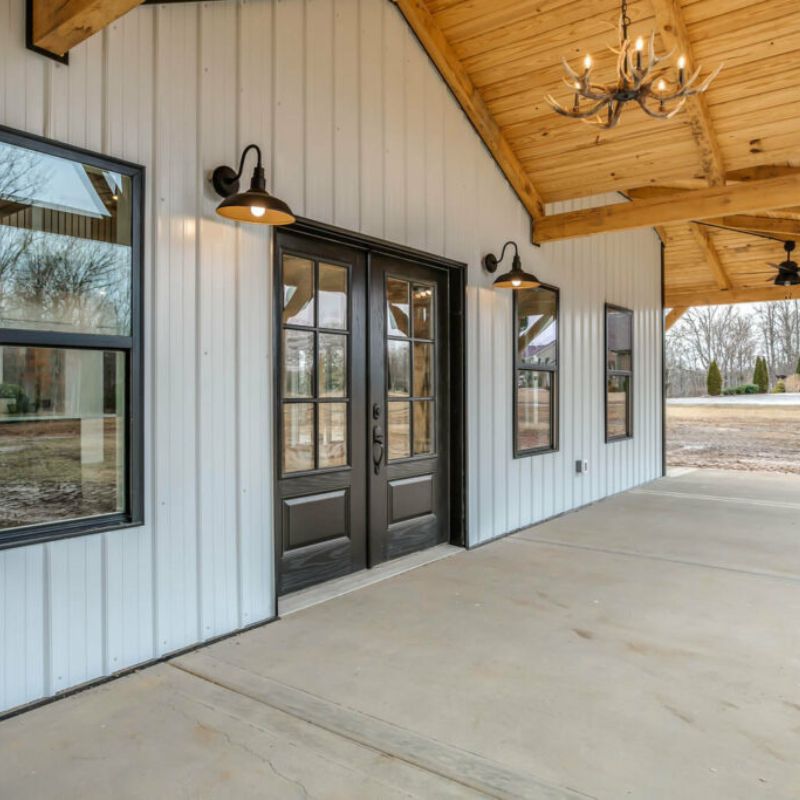 Fetterville Sales
Fetterville Sales has been in business since the early 1980s and they have spent that time improving and mastering their craft. As an early adopter of barndominiums, they have done business throughout many different trends. This means that they can navigate nearly any idea you might be bringing to the table. With their years of experience, they will come up with a solution to any design or building problem you have. 
One of the things that Fetterville Sales is focused on is an easy process. For first-time barndominium builders, the process can be somewhat intimidating. This means that Amish barndominium builders are an excellent option. With a deep well of experience and an understanding of what you are looking for, they will walk you through everything. 
Conclusion
Building a barndominium is no small task, and you need the best people on the job. Working with Amish barndominium builders is a great way to get the very top end of craftspeople to build your home. Knowing where to look and who to hire is a big part of making your dream home a reality. 
If you would like more helpful tips and guides, check out the rest of Barndominiums.co. There, you will find advice from the pros and featured barndominiums to help you get inspired. You will also find information on cost and insurance that can help you plan for your custom dream home.