Building your own home is an excellent way to make the most of your living situation. However, if you have ever looked into what it takes to get a home built, you have probably been put off of the idea. That being said, there are other options, such as building an alternative home like a barndominium. However, you need to do proper preparation, and looking at some 50×100 barndominium floor plans can help.
The right barndominium floor plan can work wonders when it comes to how well your home suits you and your family. If you have a very specific plot of land that requires creativity, this size is an excellent option. Knowing what your choices are and how you can create the perfect layout will help you design your ideal home. To help get you started, we have put together a collection of 50×100 barndominium floor plans.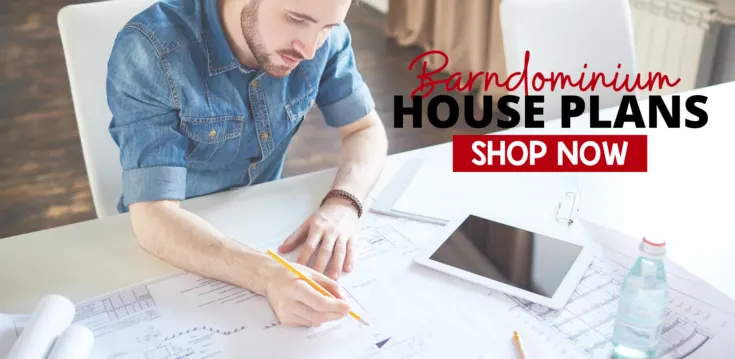 When designing 50×100 barndominium floor plans, it is important to figure out what your needs are for different spaces. These plans include four bedrooms as well as an office space that can be used as a flex room. This abundance of rooms as well as the large walk-in closets and pantry space makes for an incredibly versatile floor plan. Making sure that you have enough separate sleeping and living areas can be your best bet when it comes to usability.
When you design your floor plan, be sure to think about the flow of the home and how it will feel with a lot of people in it. These 50×100 barndominium floor plans include bedrooms on either side of the living area, which can be a great way to have an easy flow. The open floor plan of the kitchen also makes for a great social space, especially with the kitchen island with bar stools. This keeps the social space open while closing off the sleeping space, which is very smart.
Separation is an important consideration when designing 50×100 barndominium floor plans. These plans have all the sleeping spaces on one side of the home with the living spaces on the other. This is a great way to make sure that people sleeping in the bedrooms won't be disturbed by activities in the main living area. These plans also include a cleverly-designed hallway that connects all the rooms and makes great use of the space.
Having enough entrances and exits in your 50×100 barndominium floor plans is another crucial part of the design process. These plans have doors on either side of the living area, which makes for an excellent flow and reduces bottlenecks. The main entrance also opens right onto the kitchen, which is perfect for gatherings and parties. Since people tend to congregate in the kitchen anyway, it is a good idea to have the entrance open onto it right away so guests can be included in the festivities as soon as they show up.
Storage space is an imperative part of designing any 50×100 barndominium floor plans. These plans have a massive walk-in closet in the main master bedroom, which is ideal for people with a lot of clothing or an important sense of style. The more storage space you have, the less likely your barndominium will be cluttered or feel like it is too small. These plans also include a large utility room, which is perfect for putting your washer and dryer in and getting them out of the way.
Anyone who has grown up in a big family or frequently has guests over will tell you that having enough bathrooms is crucial. If you don't have enough bathrooms for everyone, getting ready in the morning can be a major chore. These 50×100 barndominium floor plans include five bathrooms, including enough for all the sleeping areas. This ensures that you don't end up with issues when it comes to morning routines and other times of the day when people are getting ready.
Making good use of the space you have is one of the most essential things you have to consider when designing 50×100 barndominium floor plans. These plans use hallways to create a good flow for everyone living in the home. These hallways lead to the bedrooms and bathrooms in the back, which gives a nice separation and keeps the sleeping areas isolated. They also include a very large home office, which is perfect for anyone who works from home and wants a dedicated space for it.
Depending on your family situation, sleeping areas may be more important to you than living areas. These 50 x100 barndominium floor plans include much more real estate for the bedrooms than for the living room or kitchen. If you have a big family and people need their own dedicated space, this could be an excellent way to give it to them. Plus, there is less space to clean and maintain and everyone will be responsible for their own area.
Conclusion
If you are going to build your perfect home, you need to have a floor plan that is right for your needs. Understanding how a floor plan can affect the usability of your home and its style can help you make the right choice. These 50×100 barndominium floor plans are a great start for figuring out your needs and the needs of the people living with you. With a little bit of preparation and some creativity, you can design your custom dream home.
If you would like more helpful tips and guides, check out the rest of Barndominiums.co. There, you will find advice from the pros and featured barndominiums to help you get inspired. You will also find information on cost and insurance that can help you plan for your custom dream home.